What We Know About The Chrisley Family's New Project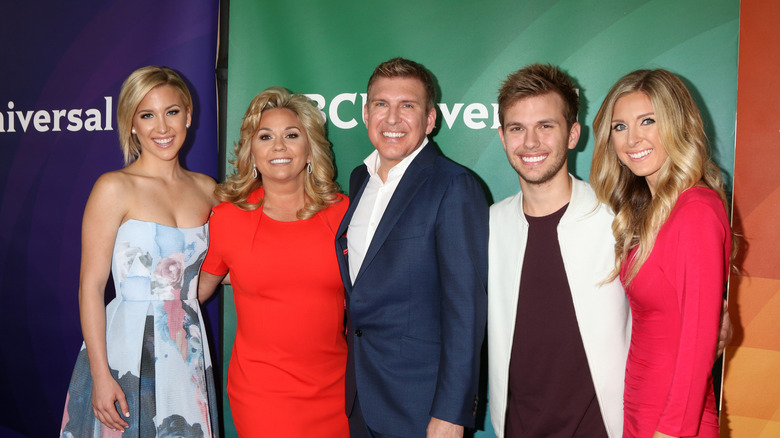 Kathy Hutchins/Shutterstock
It has been a few months since reality stars Todd and Julie Chrisley had the last word before prison. Respectively, Todd and Julie are serving 12- and seven-year prison sentences for tax fraud. Their daughter, Savannah Chrisley has stepped into a parental role, raising her 16-year-old brother Grayson and her 10-year-old niece Chloe, whom the Chrisleys had custody of. Now that the dust has settled and the family is adjusting to their new normal, Savannah has confirmed that the family will be returning to television screens very soon.
Back in February, the entrepreneur announced that a new series was in the works. During an episode of her "Unlocked" podcast, she shared that multiple networks were interested in documenting the family's journey with the parents now behind bars. Both Savannah and her grandmother, Nanny Faye, said they were ready to get back to work. Now, it looks like their wish has come true with the show seemingly making some significant progress.
The series will show Savannah Chrisley raising her siblings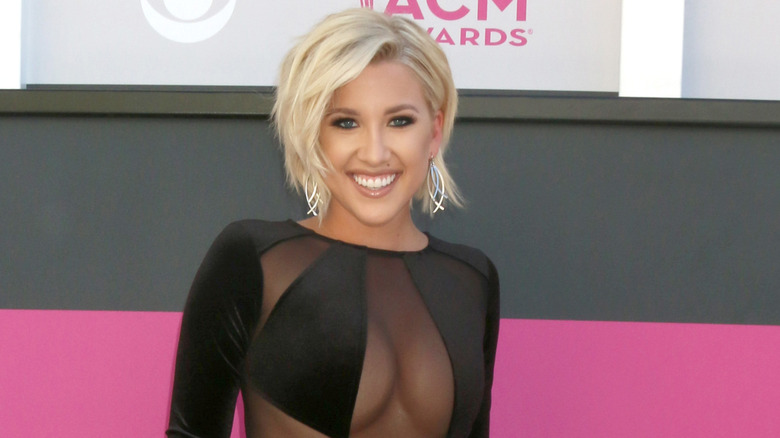 Kathy Hutchins/Shutterstock
During a recent episode of her "Unlocked" podcast, "Growing Up Chrisley" star Savannah Chrisley offered some insight into what fans can expect with their all-new docu-series. Per the 25-year-old, the new production will offer a glimpse into life raising her younger brother Grayson and niece Chloe as they go through different milestones and changes without the guidance of Todd and Julie Chrisley. "You're going to see literally every single aspect and there is no holding back, including Chloe asking me what tampons are," Savannah revealed.
Savannah's desire to show off her new family dynamic comes as no surprise. While first teasing the show earlier this year, she shared that there would be a heavy focus on the underaged children in the family. The goal was to ensure that the transition is as painless as possible for Grayson and Chloe. Savannah described a team effort of sorts where everyone steps in to help out. "[H]aving two kids and all of us stepping in to make sure that they have what they need emotionally, psychologically, physically, all the things, I feel like there's a level of humor to it as well," she described.
Though the new series is a fresh look at their current lives, Savannah did confirm that "humor" would be present, a refreshing approach, as viewers have grown accustomed to Todd's numerous quirky moments.
Savannah Chrisley promises full transparency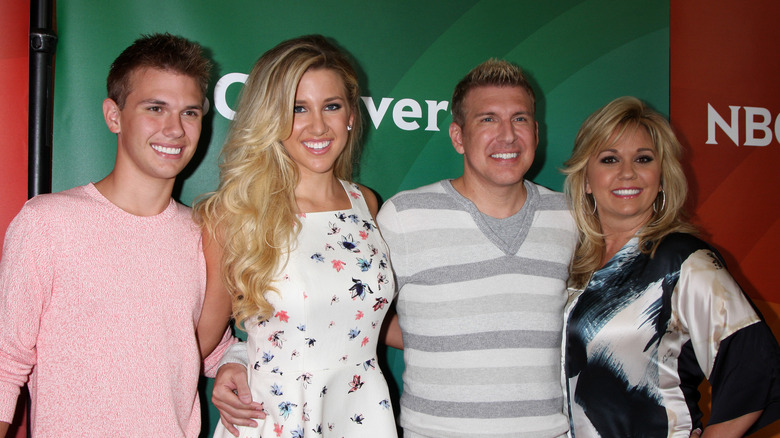 Kathy Hutchins/Shutterstock
Media personality Savannah Chrisley promises nothing will be off limits in the forthcoming Chrisley television show. Even "uncomfortable conversations" between herself and her siblings, including Chase Chrisley, will be on full display. She even admitted that she and her older brother do clash while the cameras are rolling, primarily over his upcoming wedding to fiancée Emmy Medders. Savannah admitted that she doesn't agree with the upcoming nuptials, though she did not elaborate. That is just one facet of their lives that will be showcased. Her grandparents will even make an appearance to express their feelings in Todd and Julie Chrisley's absence.
While the 25-year-old did not provide a name, during the previous chat on "Unlocked," Todd's mother, Nanny Faye, joked that it would be the "Bounce Back Chrisleys." Savannah seemingly approved of the name, though its not set in stone if that is what she went with. Another interesting aspect that remains to be seen is whether or not the Chrisley prison phone calls will be included in the taping, but the show is sure to explore how often Savannah visits Todd and Julie in prison.
No official release date has been announced.