Celine Dion's Son René-Charles Is Following In Her Musical Footsteps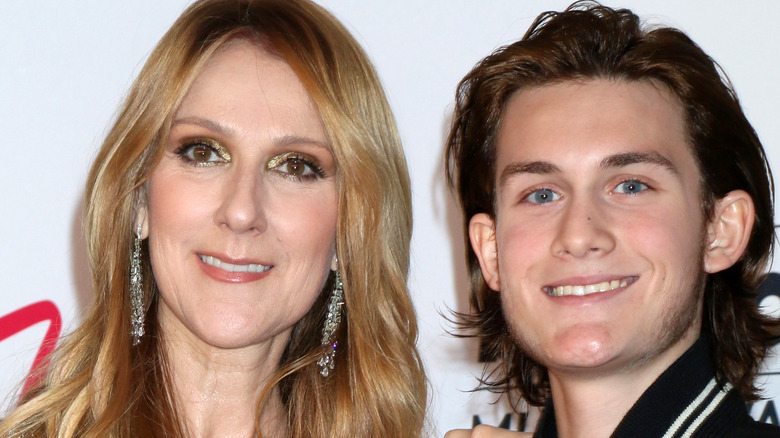 Kathy Hutchins/Shutterstock
Celine Dion is a mother of three boys, René-Charles and twins Nelson and Eddy, all of whom she welcomed with her husband, René Angélil. Sadly, Angélil — who was also Dion's manager — died in 2016 from throat cancer. In the years since Angélil's passing, Dion has dedicated herself to being the best mom she can be to her sons, who have all spent their lives out of the spotlight. However, in recent years, Dion's oldest son has shown a serious love for music, following in the footsteps of his famous parents. His mom, of course, is one of the bestselling female music artists of all time, and his dad was a well-known music producer, so this all checks out.
In May 2018, René-Charles released two songs, both covers of songs made famous by The Weeknd, according to People. The songs quickly rose to the top of the SoundCloud charts, leaving Dion's son "speechless," as he wrote on his Instagram Stories.
René-Charles, who was 17 years old at the time, later revealed that he actually didn't even tell his mom that he was going to release the songs. "I played it to her for the first time (Wednesday). I just felt like keeping it on the low. But she loved it. She was just kind of stunned at first, because she'd never heard anything from me," he told the Montreal Gazette. In the years that followed, René-Charles has taken his music career even further.
René-Charles Angélil released an EP in 2021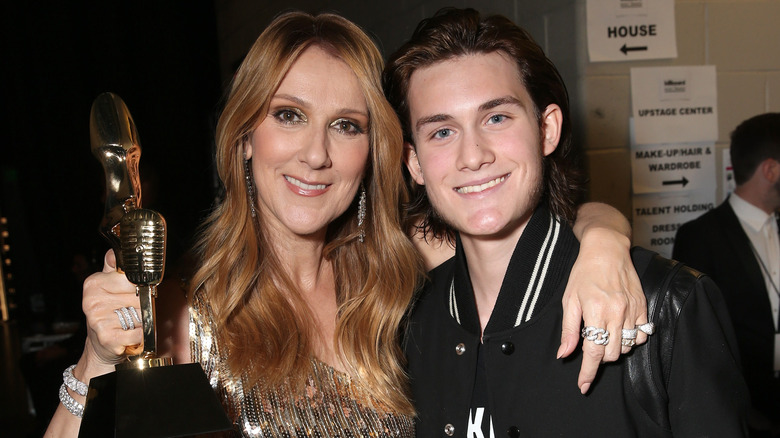 Todd Williamson/bbma2016/Getty Images
René-Charles Angélil took on the stage name "Big Tip" and set up social media accounts on Twitter and Instagram where he could share and promote his music. Following the success of his cover songs, René-Charles decided to record an EP that consisted of five original tracks. The songs "Mamba Mentality," "Money, Thrills, and Rest," "NO Ls," "GG4 (feat. PAKKA)" and "LV," are all on the album titled "CasiNo.5." 
"My first-ever project, CasiNo.5. Now available on Apple Music," he captioned an Instagram post on January 27, 2021. Shortly after its release, Dion took to social media to praise her oldest son. "I'm so proud of my son. My love for him is so strong, and it touches me deeply that one of his passions is also one of mine," she tweeted.
Two days earlier, Dion had shared a birthday tribute to René-Charles on Instagram. "You carry the color of the sky in your eyes and that same blue is the color of our love. Go out there and embrace life, and remember to never stop believing in yourself, because I believe in you. Remember also that your father is always watching over you and guiding you," she wrote, in part.
But despite showing a strong interest in music, it seems as though René-Charles may be going in a different direction with his life in 2023; he hasn't promoted music or even used his social media accounts in nearly two years.
René-Charles Angélil appears to have taken a step back from music
René-Charles Angélil appears to have taken a step back from the public eye following his mother's decline in health. While we can't say for sure that the two things are related, it does seem as though the timing of Celine Dion's stiff-person syndrome diagnosis coincides with her son's disappearance from social media. "While we're still learning about this rare condition, we now know this is what's been causing all of the spasms that I've been having. Unfortunately, these spasms affect every aspect of my daily life, sometimes causing difficulties when I walk and not allowing me to use my vocal cords to sing the way I'm used to," Dion said in a candid Instagram video on Dec. 8, 2022.
Dion hasn't stepped foot on a stage since 2019 and has been forced to postpone dozens of shows. Back in May, a source told People that Dion's three sons were showing her plenty of love and support as she fights to get herself on the right side of the debilitating disorder. "Céline just loves her boys so much. They are amazing. They give her all the support and love that she needs," the source said, adding, "They are her light right now."
Fans all over the globe are hoping that Dion is able to make a comeback — and it's possible that, when the time comes, René-Charles will do the same.