Kristin Chenoweth Is Mourning A Tragic Loss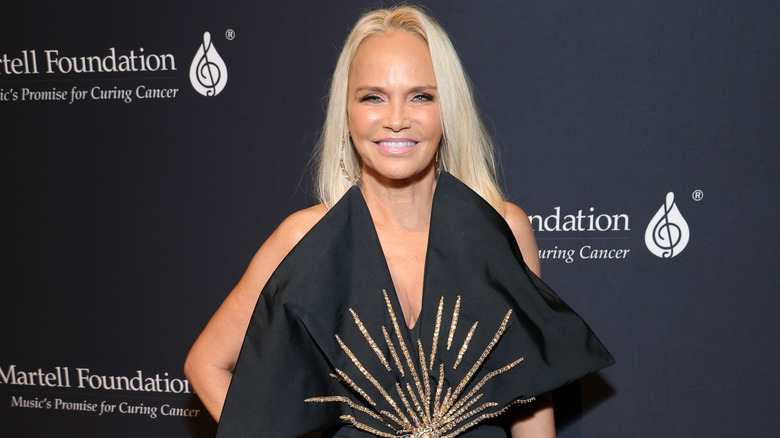 Kevin Mazur/Getty Images
The world knows Kristin Chenoweth as an insanely talented actor and singer equally at home on the stage and the screen. But she's also an outspoken advocate for adoption who has often shared her own story about being an adopted child. In an essay for HuffPost, Chenoweth described adoption as "a full-circle blessing." While not every adoptee is fortunate enough to have a loving relationship with all of their parents, Chenoweth did. Forever bonded to her parents, Junie and Jerry Chenoweth, the performer also met and connected with her birth mother, Lynn, as an adult. 
In an interview with Katie Couric (via the Daily Mail), Chenoweth gushed, "She's incredible. An incredible person." The Broadway legend added how grateful she would always be for Lynn's decision to let another couple give her child the loving home she couldn't. But on August 19, 2023, Chenoweth announced the heartbreaking news that Lynn — whom she called "Mamalynn" — had died. "So many things became clear to me about myself when I met her and came to really know her," she wrote on Instagram. "Those of us who knew her loved her light. Her love of music and all things artistic. An artist herself!" 
The news was met with heartfelt expressions of sympathy from famous friends including Reese Witherspoon, Rita Wilson, and Rosie O'Donnell. A fan who is also a birth mother wrote, "Thank you for honoring her, for loving her, for sharing about her goodness, for not allowing her to be a stereotype of society but to be seen through the lens of your love."
All of Kristin Chenoweth's parents nourished her love of music
Music was a big part of Kristin Chenoweth's life even before she was born. In her tribute to her biological mom, Lynn, Chenoweth credited both her and her biological father, Billy Ethridge, with passing along their musical abilities. "In her belly, I became fans of Stevie Ray and Jimmie Vaughan, Doyle Bramhall, Jimi Hendrix, and, of course ... my bio dad," the singer wrote. By contrast, her adoptive parents, Junie and Jerry Chenoweth, were chemical engineers who were less than musically gifted. Chenoweth joked in an interview with The New School for Drama that they have plenty of things in common besides music.
Still, they often played classical and jazz records for their daughter, and they supported her decision to study opera in college too. With both nature and nurture on her side, it would have been surprising if the "Wicked" star hadn't forged a career in music. Lynn first suspected the family connection after seeing Chenoweth appear on "The Tonight Show" around 2002, but it wasn't until 10 years later that they met (via the Daily Mail). 
Lynn asked Chenoweth to forgive her for not being able to raise her at the time, as the Broadway star recalled to Katie Couric, to which the performer assured her there was absolutely nothing to apologize for. They quickly made up for lost time, becoming close and sharing their feelings until Lynn's death. "We didn't leave anything unsaid in the end," Chenoweth wrote. "I will miss her till the end of my days."