William And Kate Kept It Diplomatic When Harry Was Called Out At An Awards Show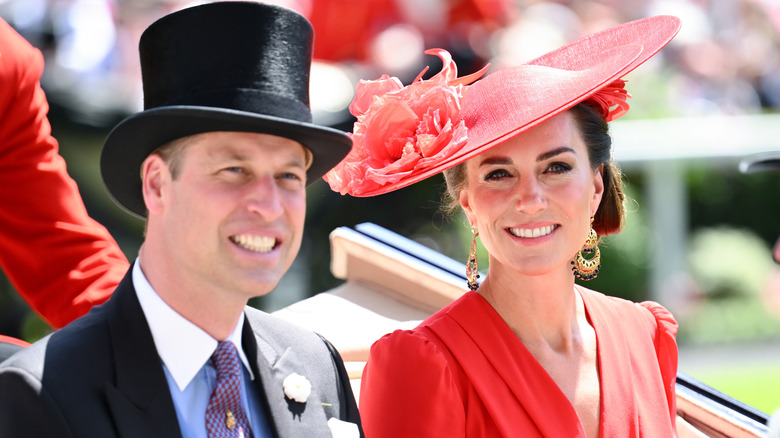 Karwai Tang/Getty Images
All eyes were on William, Prince of Wales, and Catherine, Princess of Wales following a dig made about Prince Harry at an awards show that they attended in 2020. It all went down at the BAFTAs around the time that Prince William and his brother were in the thick of their rift. At the time, "Barbie" star Margot Robbie accepted an award on behalf of Brad Pitt, as the actor was unable to attend the show, according to The Mirror. A source later told Cosmopolitan that Pitt's absence was due to "family obligations" ensuring that "nothing serious [had] happened." All things considered, Robbie didn't miss a beat.
As she held the award in her hands, Robbie poked some fun at the Duke of Sussex, though she says she was simply relaying a message from the "Ocean's Eleven" actor. "He says that he's going to name this Harry because he's really excited about bringing it back to the States with him. His words, not mine!" Robbie said before heading off the stage. The comment was in regard to Harry's decision to step down as a working member of the royal family and move to the United States with his wife, Meghan Markle. This, of course, caused some major tensions within the royal family. Naturally, everyone wanted to see Harry's brother and sister-in-law's reaction to the joke, which is likely why the camera quickly panned in their direction. 
Prince William and Kate Middleton laughed at the joke
While things between Prince William and Prince Harry weren't great at the time, the Prince of Wales appeared to take Margot Robbie's delivery of Brad Pitt's joke in stride. William and his wife, Catherine, Princess of Wales, were seated in the very front row at the 2020 BAFTAs, making it impossible for them to hide their reactions. Thankfully, they didn't have to. A clip of the royal reaction was shared on TikTok in August and it has been viewed more than 1.5 million times in a matter of days. Many commenters praised the prince and princess for being so diplomatic in their response. "Good sports haha," one person wrote. "Kate's enjoyment of that did not need to be faked," someone else said.
In the time since that awards show took place, things between William and Harry haven't gotten any better. "William hasn't reached out to Harry and vice versa. They haven't been arguing, but there hasn't been any contact made either. No telephone calls, no FaceTime and no Zoom calls," a source told OK! magazine in July. And then, in August, Meghan Markle's birthday came and went without any tribute from her in-laws, further suggesting that the family unit is still very fractured. And while silence speaks volumes, William and Kate have shown time and time again that they aren't going to air out their dirty laundry or speak poorly about Harry or his wife, at least not outright. 
Prince William has kept the family matters private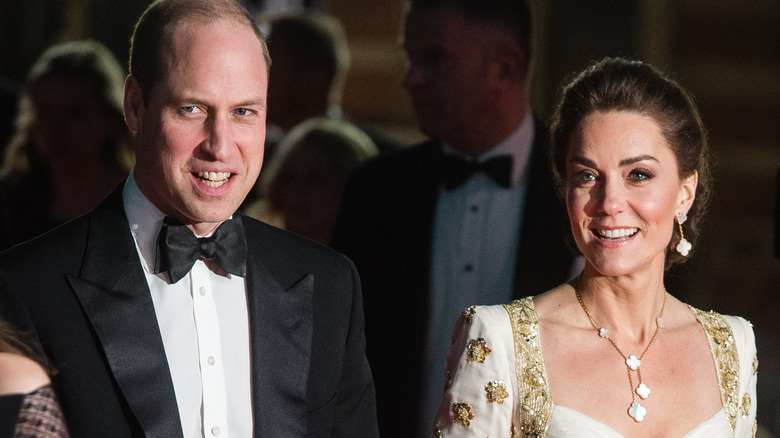 Samir Hussein/Getty Images
Although Prince Harry put out a memoir sharing personal details about his life, Prince William has taken a more private approach to what has transpired behind closed doors. Of course, the royal family is notorious for keeping family matters private, which could be one of the reasons that William has remained tight-lipped when it comes to his brother. "Dignified silence is a tried and tested format," royals author Katie Nicholl told Time.
That said, the Prince and Princess of Wales may be able to laugh off a joke about Prince Harry in front of thousands of people, but they certainly aren't going to speak out about internal family matters, taking a tip from Queen Elizabeth herself, who only issued a statement if it was absolutely necessary. And even then, she chose to keep things short and sweet, as Nicholl points out. As an example, when William was asked if he had read his brother's book back in January, he simply ignored the reporter and went about his day (per People magazine). Meanwhile, there have been plenty of reports that Kate Middleton has been instrumental in helping reunify the broken family, but she also seems to fall in line when it comes to sharing her thoughts and feelings in any public forum. 
Harry and Meghan, of course, no longer abide by the same unspoken rules.