How Rob Kardashian's Relationship With Blac Chyna Reportedly Affected His Health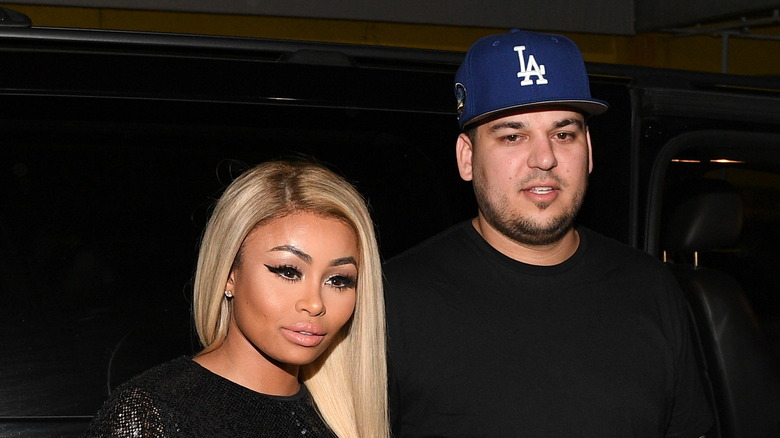 Prince Williams/Getty Images
Being in a mutually loving and supportive relationship is a source of tremendous joy, but sadly the opposite is equally true for toxic and unstable relationships. Dealing with an unhealthy relationship can be a massive mental drain that can heighten anxiety and depression, isolate you from loved ones, and even affect your eating habits. And while this is an extremely tough situation for anybody to navigate, celebrities have the added pressure of the world's eyes on them as they figure their way out of the relationship. 
Rob Kardashian is an apt example of how a deteriorating relationship can exacerbate underlying health issues. Although his relationship with Blac Chyna only lasted about a year, it was full of ups and down. Amidst a 2022 legal battle, Kardashian recalled how Chyna assaulted him when she was under the influence of drugs and alcohol. He alleged they were having a normal night, messing around and posting on social media, when suddenly Chyna pointed a gun at him. 
He detailed how she proceeded to hit him with a rod, which made contact with his face and back (per Page Six). Even though they were engaged and share a child, both have blocked each other on Instagram at various points. In fact, Chyna believed Kardashian was behind an Instagram hack where the hacker threatened to release messages allegedly showing her infidelity toward him. Given all this, it's unsurprising that he had to be hospitalized because of the mental toll of their explosive relationship.
Blac Chyna initially helped better Rob Kardashian's health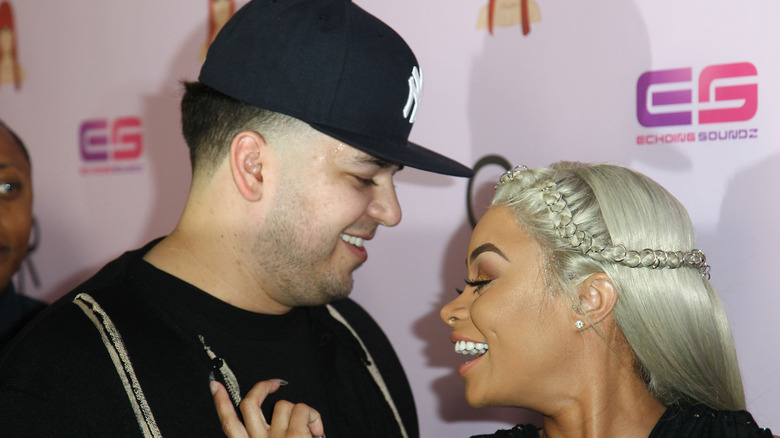 Leon Bennett/Getty Images
Rob Kardashian was diagnosed with Type-2 Diabetes in 2015, and the stress caused by the Blac Chyna relationship might've caused a flare-up. An insider informed People, "Rob has made some changes to his lifestyle, but all the latest drama with [Blac] Chyna has made him depressed." They explained that in addition to eating unhealthily, Rob "hasn't been taking care of himself, and that's why he's now sick again." Ironically enough, his former fiance helped Kardashian get back into shape after his diabetes diagnosis. 
After his first diabetes-related hospitalization, the former reality star realized he had to make some meaningful changes before his condition worsened. As a chronic binge eater, it wasn't easy for Kardashian to get his food intake under control to lead a healthier life. In the past, Kardashian also gained weight after a public breakup with Rita Ora. And unfortunately, people on the Internet weren't too kind to him, which gravely affected his self-esteem. 
It got to a point where Kardashian didn't feel confident enough to attend his sister, Kim Kardashian's, wedding to Kanye West, so he skipped it altogether. In 2016, the father-of-one enlisted the help of a nutritionist and his partner at the time, Chyna. After getting his diet plan, Kardashian's baby mama promised she would help him reverse his diabetes by cooking healthy meals for him. She even crafted a 5-week workout plan for himand motivated him through it. By August 2016, the former reality star proudly announced that he was diabetes-free, and showed off a stunning transformation that really turned heads.
Their relationship didn't get off to the best start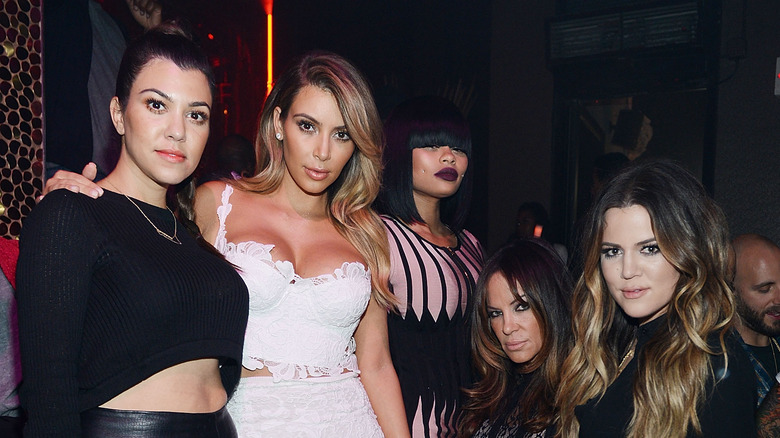 Denise Truscello/Getty Images
In 2011, Blac Chyna was dating Tyga, and things got pretty serious because they had a son together and even got engaged. But they called it quits three years later in 2014, right around the time he formed a friendship with Kylie Jenner. Although he denied a crossover, he reportedly started dating Kylie in 2014. Chyna's friend, Amber Rose, put Tyga on blast for supposedly leaving his family for Kylie. So, the reality star wasn't too happy to learn that her brother, Rob Kardashian, was dating Chyna. 
Although the couple seemed to have ironed these issues out during their relationship, old fires were reignited when Chyna filed a $100 million lawsuit against the Kardashians in 2017. Per the lawsuit, Chyna believed the famous family got her show, "Rob & Chyna," canceled and damaged her reputation by publicly slut-shaming her. Chyna also claimed that Kris Jenner had falsely told the show's head producer that she had assaulted Rob. 
The model also alleged that "Rob & Chyna" might've been taken off-air to reduce the promotion of her beauty brand, LASHED, which was a direct competitor of Kylie Cosmetics, which was heavily promoted throughout her spinoff, "Life of Kylie." In the same lawsuit, she also sued Rob for assault and harassment. She claimed that he caused her reputational damage by posting explicit photos of her to social media as revenge porn after they broke up. Ultimately, the lawsuit finally had a winner and it wasn't Chyna.