Hallmark Star Maggie Lawson Starred Alongside Justin Timberlake In One Of His First Roles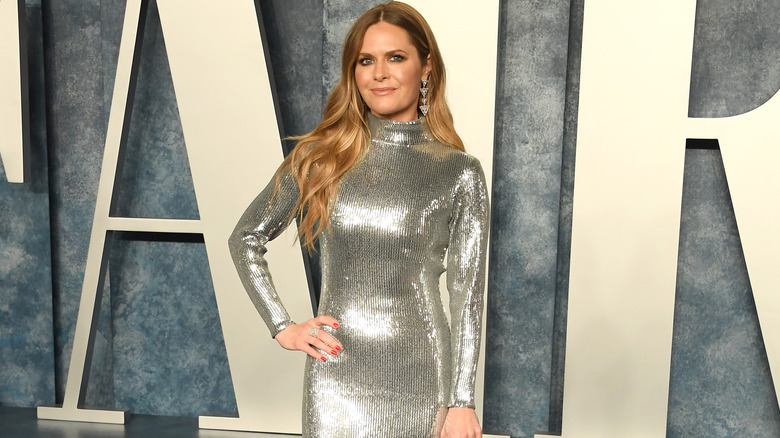 Steve Granitz/Getty Images
Long before Maggie Lawson hit the Hallmark sphere — and most likely around the time NSYNC member Justin Timberlake almost appeared on "Friends" — Lawson and Timberlake co-starred in a movie together. The Disney film was titled "Model Behavior" and premiered as part of the anthology programming "The Wonderful World of Disney." The film is based on a book by Michael Levin titled "Janine and Alex, Alex and Janine," and the story is a retelling of Mark Twain's "The Prince and the Pauper."
In 2000's "Model Behavior," Lawson portrays both normal-girl Alex and teen supermodel Janine. The girls are inexplicably identical and use this to their advantage to step into each others' shoes and lives. This was Timberlake's first movie role, and he plays Jason, the fake boyfriend of Janine and real love interest of Alex after the switch — but he's none the wiser and thinks she is Janine.
While speaking with TV Line about the movie, Lawson said, "That was my first lead role and I played two characters, so it was super challenging but one of my most favorite experiences." She also described how much fun she and Timberlake had, adding, "I think I was his first on screen kiss."
Timberlake joked that he couldn't relate to his character Jason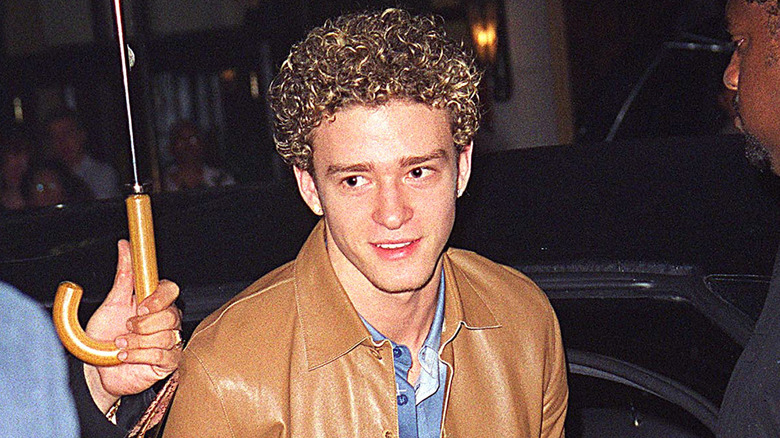 James Devaney/Getty Images
Although "Model Behavior" was Timberlake's first movie role, he was on "The Mickey Mouse Club" in his youth and took improv classes at that time. In an Access Hollywood interview from around the time of "Model Behavior," Timberlake was asked if he had wanted to continue acting for the foreseeable future. "Well," he said, "it's something I've been thinking about for a little while, and just the opportunity came up here to do this. So I was definitely happy to do it."
Timberlake also said the role of Jason in "Model Behavior" was similar to him in real life. However, when the interviewer asked about that, Timberlake couldn't help but joke around about it. "I think [Jason's] role, he kinda plays a teen role model, hunky kind of image. So — and I'm nothing like that," Timberlake quipped. "So that's why this is such a good experience for my acting." (Minutes before, Timberlake described how he'd sign autographs for fans lined up to watch him act, proving he is just as famous as his character.) The interview played along, adding, "It's a real stretch."
Lawson's tenure on 'Psych' gave her the chance to work with more big stars
Justin Timberlake is not the only big star that Maggie Lawson has shared the screen with. For eight seasons and three spin-off movies, Lawson portrayed Detective Juliet O'Hara on "Psych," a show about a man named Shawn Spencer pretending to be a psychic detective. "Psych" was known for its legendary guest stars, with many '80s and '90s stars making appearances over the course of the show's run. For example, "The Breakfast Club" actors Ally Sheedy, Molly Ringwald, Anthony Michael Hall, and Judd Nelson all appeared in "Psych" at some point.
Lawson even got the chance to play the on-screen daughter of "Star Trek" icon William Shatner — who in 2021, took a real star trek with Jeff Bezos. Shatner guest-starred as Frank O'Hara on "Psych" Season 6. Lawson told Starpulse in an interview, "Shatner — he came to set, he knew all of his lines, he's so funny, he's so dry. He had so many great ideas for the character." She added that "He is a dream guest star," (via Hypable). 
James Roday Rodriguez, who played Shawn in "Psych," told TV Line that the script for a fourth "Psych" movie is completed and hopefully will be picked up by Peacock. Perhaps Timberlake can be a guest star in the next installment of the franchise so he and Lawson can work together again.