How Amber Heard's Daughter Oonagh Paige Got Her Unique Name
For Amber Heard, the last few years have been life-changing. She welcomed her daughter, Oonagh Paige, in April 2021 — meanwhile, her legal battle with ex-husband Johnny Depp had already begun, triggered by a 2018 Washington Post op-ed. By April of 2022, the Depp v. Heard trial was headline news, with thousands poking fun at the "Aquaman" star's abuse allegations, per The Journal. Just as Oonagh celebrated her first birthday, Heard was well on her way to becoming public enemy number one.
But where does her unique name come from? As explained by The Bump, Oonagh means "lamb" and has Celtic origins. Her middle name, Paige, is likely inspired by Heard's own mother, who passed away in 2020. "I am heartbroken and devastated beyond belief at the loss of my mom, Paige Heard," the actor wrote on Instagram at the time, continuing, "She left us too early, clasping onto the memory of her beautiful, gentle soul." Now, her mother's memory lives on in her daughter. Per Nameberry, the name itself has English roots, and quite literally means page to a lord.
According to Page Six, Heard welcomed her daughter via surrogacy after years of fertility struggles. "Oonagh is absolutely gorgeous, and Amber is besotted. She always knew that she wanted to be a mom, and this is her greatest wish come true," an insider told the publication, adding, "She's so grateful to the wonderful woman who helped bring Oonagh into her life." No information has been shared publicly regarding the baby's father, although Heard did joke on Instagram that she's "the mom and the dad" and Oonagh is "the boss."
Oonagh Paige is a regular guest star on Heard's social media
Amber Heard was excited to announce the birth of Oonagh Paige Heard on Instagram in July 2021. "Four years ago, I decided I wanted to have a child. I wanted to do it on my own terms," she wrote, also posting a picture holding the newborn. "I now appreciate how radical it is for us as women to think about one of the most fundamental parts of our destinies in this way. I hope we arrive at a point in which it's normalized to not want a ring in order to have a crib," she added, referring to her choice to raise a baby as a single mother.
Oonagh Paige has made frequent appearances on the actor's Instagram account. In another post, the "Magic Mike XXL" star can be seen jokingly lifting a weight with one arm and Oonagh with another. On April 8, 2022, her daughter's first birthday, Heard shared how lucky she feels to be a mother, writing, "My little O is a year old today. I still can't believe you're here. The greatest year." The happy duo celebrated with pink balloons. She's also been known to call her daughter "mini me," a pretty cute nickname if you ask us.
Amber Heard and her daughter moved abroad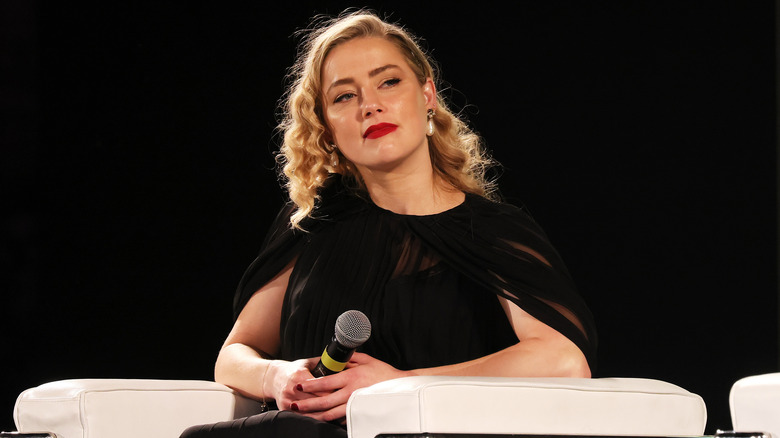 Ernesto Ruscio/Getty Images
After the infamous Depp v. Heard defamation case came to an end, Amber Heard and her young daughter, Oonagh Paige, moved to Madrid, Spain. Away from the States, they're able to enjoy a bit more privacy ... However, she does still field questions from the occasional reporter. In one TikTok video, she tells interviewers (in Spanish) that she loves living abroad and hopes to stay in Spain, per People. As one anonymous insider explained, "The trial was beyond stressful for [Heard] and she just wanted to start fresh out of the country," adding, "She is excited about working and filming again. She was exhausted and disappointed about the trial. She felt she was mistreated. This is all behind her now, though."
She's been enjoying taking Oonagh to playgrounds (via TikTok) and her latest movie, "In the Fire," finally premiered at The Taormina Film Festival in Sicily this summer. When Oonagh Paige gets older, Amber Heard will tell her about her legal battle. "I think no matter what, it will mean something," the actor said in an interview with Today. She seemed eager to refocus her attention on raising her daughter, adding, "I get to be a mom full-time, where I'm not having to juggle calls with lawyers."