How Rita Ora Responded To Rumors Of Her Alleged Jay-Z Affair After Beyoncé's Lemonade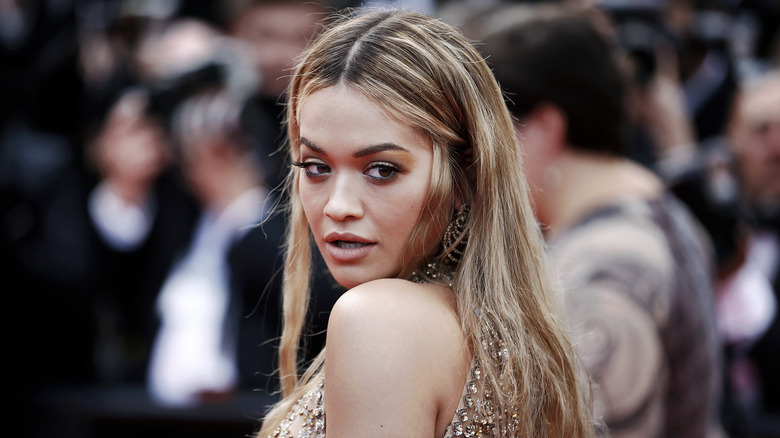 Andrea Raffin/Shutterstock
Jay-Z and Beyoncé's marriage is about as A-list as you can get, so it's no surprise that fans were on the case when news of Jay-Z's infidelity went public. Rita Ora quickly found herself at the center of the Beyhive's wrath in 2016, because she fit the bill of "Becky." The "Becky" character originates from "Sorry," a track on Beyoncé's critically acclaimed album "Lemonade." In the iconic breakup song, she provides the only descriptor the public has of Jay-Z's mistress: "He better call Becky with the good hair."
The "Black Widow" singer was presumed to be Becky due to her questionable outfit choices in 2016. Per People, Ora posted a selfie on Snapchat wearing a bra with lemon appliques, along with a necklace that appeared to have the letter "J." In 2022, she finally addressed the longstanding rumor on "Louis Theroux Interviews."
"Oh my god, it literally was a coincidence, I didn't even think about it, I swear," she told host Louis Theroux. "And it wasn't a J, it was an R. They flipped it 'round and then it looked like a J." As for the lemon-patterned bra, Ora said that the design came from a lingerie company she partnered with at the time. "This is what I mean, man. A pinch of salt," she said of the mishap-turned-rumor. "You've got to take things with a pinch of salt."
Rita Ora wasn't the only woman accused of being Becky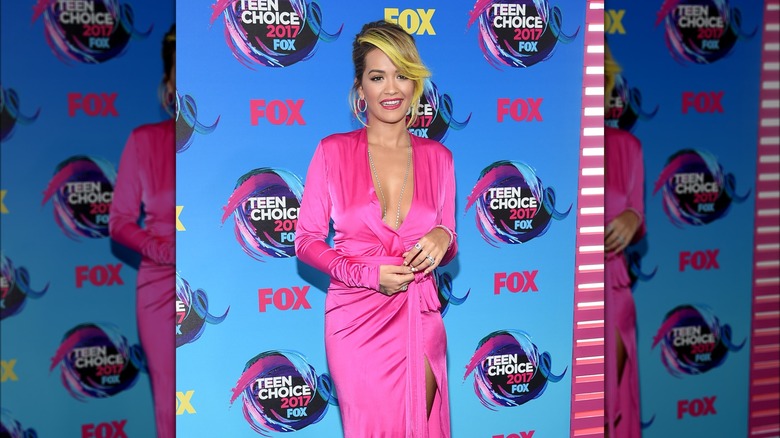 DFree/Shutterstock
Released in 2016, "Lemonade" is an ode to Beyoncé's healing process after finding out her husband cheated on her. The full "Sorry" lyrics reveal: "He only want me when I'm not there, He better call Becky with the good hair." While this revelation put Jay-Z into the doghouse, it also sent devoted Beyhive members on the hunt for "Becky."
Aside from Rita Ora, fashion designer Rachel Roy also became a woman of interest thanks to an untimely Instagram post. Just one day after the release of "Lemonade," Roy wrote in a now-deleted photo: "Good hair don't care ... live in the light #nodramaqueens" (per Time). Roy is also the ex-wife of Damon Dash, who co-founded Roc Nation with Jay-Z. Fans immediately flocked to the comments, accusing her of being Becky due to the suspicious caption and her proximity to Jay-Z.
Roy wholly denied these accusations, and Becky's identity still has not been confirmed (per People). Despite these speculations being debunked, Ora shared that, as the rumors continued, all she could do was wait for the storm to pass. "I had to just sit through that until a good friend of mine, Katy Perry, gave me a hilarious badge that said 'not Becky'," she told "Louis Theroux Interviews." When it comes to Queen Bey, rumors don't go down easy.
Jay-Z's controversial affair inspired a three-album project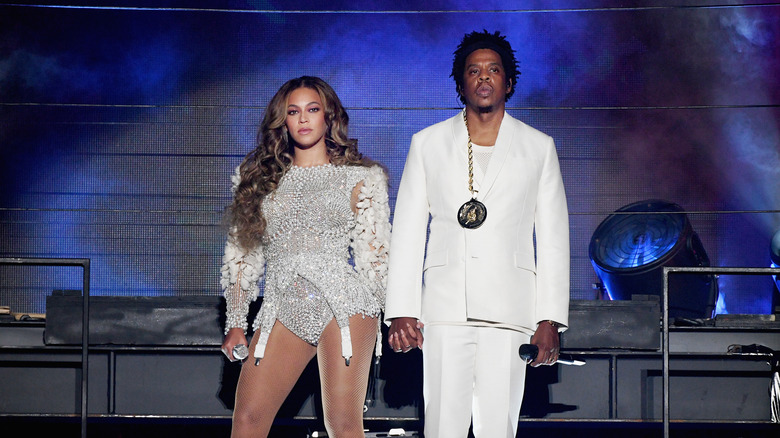 Larry Busacca/pw18/Getty Images
The real meaning behind "Sorry" is a story of betrayal that turns to apathy — creating one of the greatest breakup anthems of all time. However, Beyoncé saying "boy bye" to Jay-Z wasn't the end of their relationship. Throughout the album, it is revealed that the songstress was eventually able to forgive her husband's infidelity, and their relationship came back stronger than ever.
Their rocky path to redemption is the subject of a three-part music series between the couple. 2016's "Lemonade" was followed by Jay-Z's solo album "4:44" in 2017. In "Family Feud," he addresses "Becky:" "Yeah, I'll f**** up a good thing if you let me. Let me alone, Becky." The following year, they released a joint project titled "Everything Is Love" under the artist name "The Carters."
The woman in question is brought up once again in "Lovehappy" as Beyoncé reflects on crossing paths with her. She raps: "Yeah, you f**ked up the first stone, we had to get remarried ... Lucky I ain't kill you when I met that b-." While Jay-Z and Beyoncé keep details about their relationship private, they appear to be vulnerable about their marital woes through music — showing that the A-listers face the same problems as any married couple.