Serving Prison Time Can't Legally Stop Trump From Running For President — Here's Why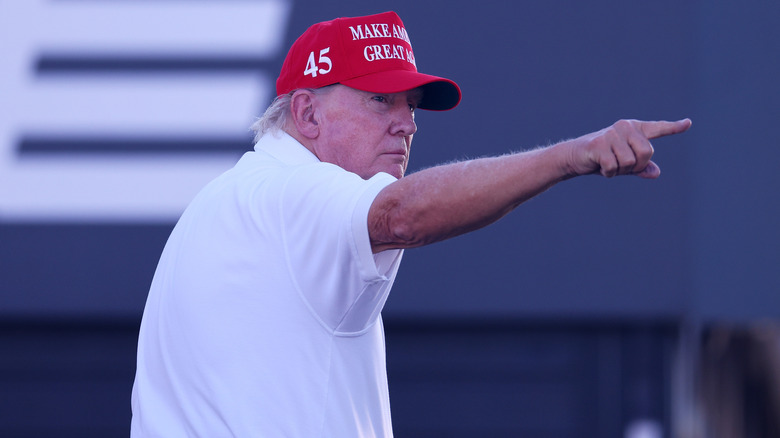 Mike Stobe/Getty Images
Former president Donald Trump is currently facing charges in Georgia including racketeering, filing false documents, and criminal conspiracy. The charges revolve around the assertion that Trump attempted to subvert the 2020 election process and change the outcome by illegal and intentional means (via FOX Atlanta). Fulton County District Attorney Fani Willis has given Trump until Aug. 25 to turn himself in, and he is expected to do so on Thursday, Aug. 24, at which point, he is to be released on a pre-agreed $200,000 bond (via NBC News).
The Republican frontrunner also faces several other charges in New York, Florida, and Washington, D.C. Specifically, in New York, he is being charged in connection with paying hush money to porn actress Stormy Daniels; in his Mar-a-Lago's home state of Florida, he is charged with taking and hiding classified documents; and in D.C. he faces felony charges for his attempts to overturn the 2020 election results (via Politico).  
In all of American history, no other president has ever been indicted, and Trump has now been indicted four separate times. What, if any, effect do all of these legal issues have on Trump's bid for the White House in 2024? 
The requirements for becoming president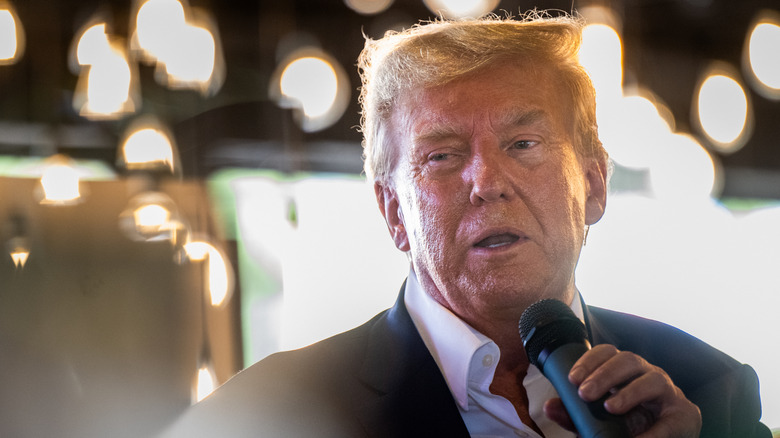 Brandon Bell/Getty Images
While it remains to be seen whether or not Trump will be convicted of any of the charges laid out against him, the seriousness of his legal troubles may leave many Americans wondering whether or not he will be able to continue running for president should he be found guilty. It may be surprising, but there actually are not any laws on the books that prevent a convicted criminal from becoming the president of the United States. 
As Richard L. Hasen, a law professor at the University of California, explained to CNN, "The Constitution has very few requirements to serve as president, such as being at least 35 years of age. It does not bar anyone indicted, or convicted, or even serving jail time, from running as president and winning the presidency."
You read that correctly. Even if Trump finds himself serving jail time, there is technically nothing stopping him from running for — and winning — the highest office in the land. This doesn't sit well with Trump's critics, and the question is being asked: Are there any legal avenues to preventing a convicted felon from running for the presidency? 
There is virtually no precedent for this situation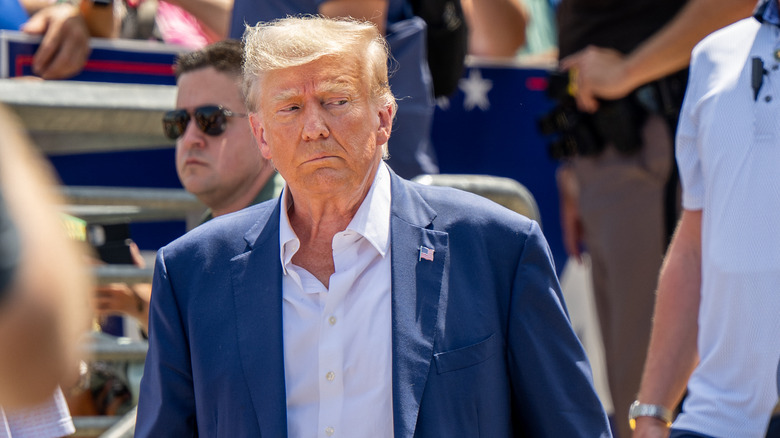 Brandon Bell/Getty Images
Legal experts have pointed out that Section 3 of the 14th Amendment might be an important bit of legislation in this regard, because it specifically bars anyone from becoming President of the United States if they have "engaged in insurrection or rebellion," which many claim Trump did when he encouraged his supporters to rally to his cause on January 6, 2021 (via The New York Times). 
The thing is, none of the charges currently facing Trump accuse him specifically of engaging in insurrection or rebellion, and therefore, even if he is convicted on any of the charges laid against him, this particular attempt to keep him out of office likely would not hold up in the Supreme Court. 
Of course, whether or not the Republican Party would truly endorse a convicted felon with the party nomination is another separate question, though Trump would not necessarily need the endorsement of his party to win the race. Running a campaign from prison would obviously create some majorly challenging logistical issues, but it is not impossible. While no Republican or Democratic candidate has ever tried, back in 1920 a man named Eugene V. Debs, who was a part of the Socialist Party in 1920, did run a campaign from a jail cell. But he only earned 3% of the vote. In short, should Donald Trump land in prison and still choose to run, the country will be in uncharted territory.