Michael Douglas' Son Dylan Thinks His Father Can Be Totally Embarrassing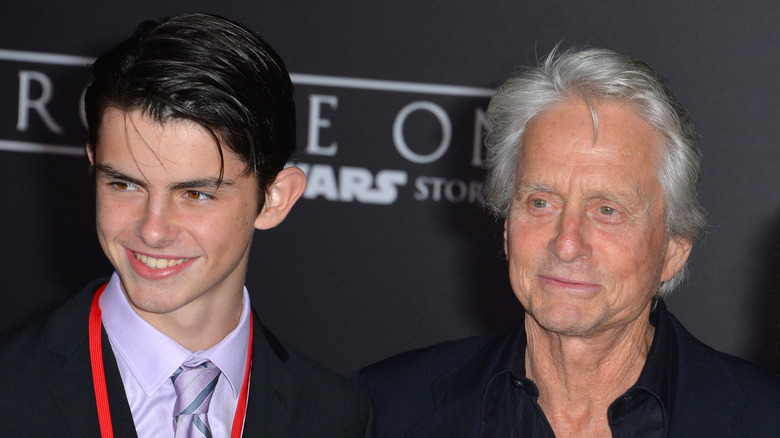 Featureflash Photo Agency/Shutterstock
Dylan Douglas and his father, Michael Douglas, appear to share a close bond. The Brown University alum regularly turns up at the premieres of his parents' movies to show his support. For example, he was there for his mother, Catherine Zeta-Jones, when she arrived on the "Wednesday" Netflix series red carpet. When an Access Hollywood reporter asked Zeta-Jones for the secret to her long-lasting marriage with Michael, Dylan chimed in and joked that it was "having kids."
We also saw all three family members showing up to support one another at Michael's "Ant-Man and the Wasp: Quantumania" premiere, where Dylan told Entertainment Tonight, "I mean, obviously they're great actors — both Academy Award-winning actors — but they're great parents. And that's a side that not everyone gets to see, but I get to see every day, in and out."
But maybe we should be glad we're not around Dylan's parents day in and day out. If Michael and Catherine's spicy golf game habits weren't likely embarrassing enough, Dylan says he has another item to add to his list of embarrassing parent moments.
Michael Douglas breaks out the dad jokes from time to time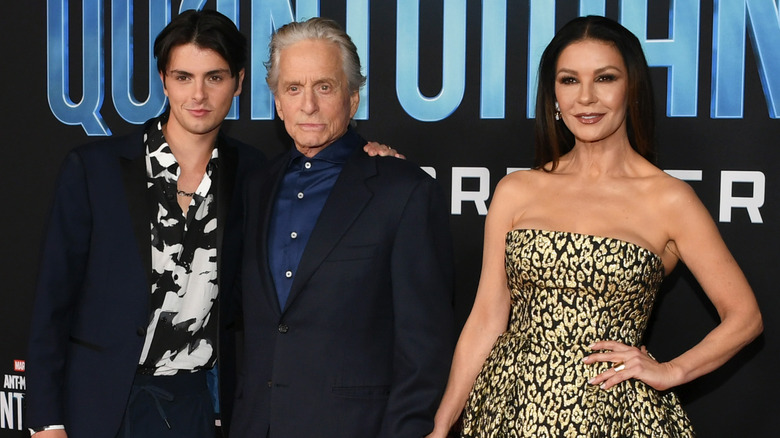 Jon Kopaloff/Getty Images
Sure, Michael Douglas may have given us a chuckle in his film with Diane Keaton, "And So It Goes," but in real life, he may have those around him groaning — especially his son Dylan. The 20-something-year-old told Page Six that his dear old dad can occasionally make him cringe with embarrassment. "More in terms of what he says, rather than who he is," Dylan clarified. Thankfully, Dylan isn't embarrassed to be seen with his award-winning father, though like any kid, sometimes he may wish his dad would keep his mouth shut. "[He's a] bit out of touch, bad jokes for sure!" Dylan confessed to Page Six about Michael. But who isn't embarrassed by their dad from time to time?
We love to hear that Michael seems like a down-to-earth dad who knows how to crack a corny joke from time to time, rather than a detached celebrity father who's always too busy for his kids. Hopefully, Dylan knows just how lucky he is!
Will Dylan inherit his dad's sense of humor?
Whether or not Dylan Douglas inherited his dad's penchant for bad jokes remains to be seen. But one thing he clearly didn't inherit is much of his features. Now, as an adult, Dylan grew up to be gorgeous and bears a striking resemblance to his mom, Catherine Zeta-Jones, with her darker features, wide-set face, and charming smile.
However, with a closer look, we might be able to see a little bit of young Michael in Dylan, especially if we recall the actor's work as the savage financier Gordon Gekko in "Wall Street." That resemblance peeks through when checking out a few of Dylan's Instagram pictures in which his hair is cut more similarly to one of his father's most iconic characters.
Regardless of who looks like who, it's apparent the Douglas/Zeta-Jones clan is very close. Michael once told The Guardian, "I'm not driven like I once was — these days I am consumed with being a father and with my responsibilities as a husband. I never anticipated starting a family at my age. I'm genuinely happy to let Catherine work, while I stay at home with the children. I cherish this time." Dylan should cherish his time with Michael, too, bad dad jokes and all.