Catherine Zeta-Jones And Michael Douglas Have A Very Spicy Tradition Playing Golf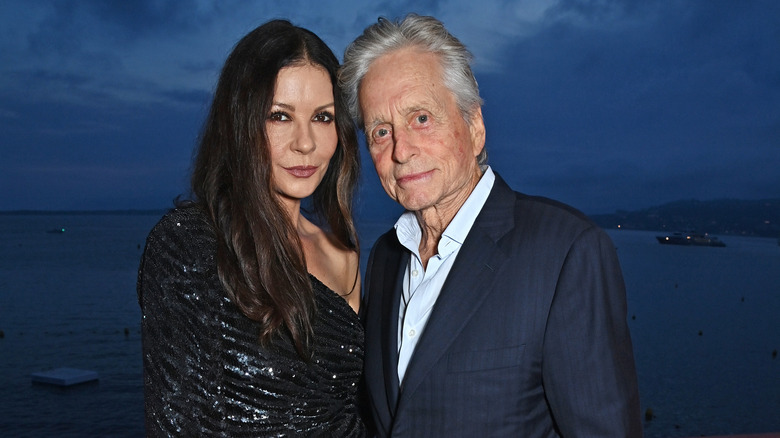 David M. Benett/Getty Images
There are a handful of "seasoned" Hollywood couples that don't get as much limelight as the up-and-coming generation. But they're out there, living glamorous lives under the radar and largely evading the public eye. Sometimes, so much so that it's easy to forget they're a dynamic duo, like "Chicago" star Catherine Zeta-Jones and the multi-talented Michael Douglas.
The couple met in 1998 when Douglas requested that his publicist set up a meeting. He was separated from his first wife, Diandra Luker and she was fresh out of a relationship with "Simply Red" frontman Mick Hucknall. Their first date wasn't a disaster, but Douglas' line, "You know, I'm going to be the father of your children," didn't exactly set Zeta-Jones' heart flutter (via The Jonathan Ross Show). Thankfully, Douglas got his act together, and a year after their first meeting, the pair became engaged.
It's been almost two decades since they wed at New York's Plaza Hotel; during that time, they've had two children. But years and parenthood haven't seemed to dampen their love for one another, as evidenced by their very spicy golf tradition.
Frisky business on the fairway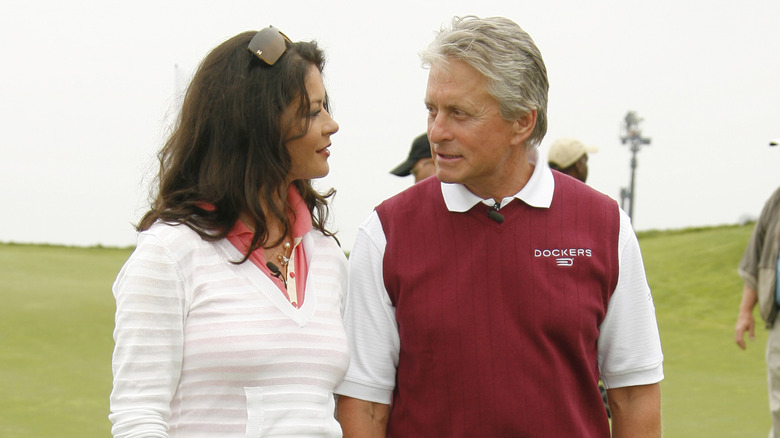 Mathew Imaging/Getty Images
In an interview with The Guardian, Michael Douglas was answering fan inquiries when one person popped a rather personal question. Referring to Catherine Zeta-Jones' 2016 comment on "The Graham Norton Show" that she makes Douglas "drop his pants" if his golf isn't up to par, the fan wanted to know if the couple's spicy rules are still in effect.
Douglas said they indeed are and elaborated saying, "The rules are I have to whip it out if I don't hit it past the ladies' tees." He went on to clarify that it's only during private rounds of golf, and usually, he doesn't have to give his wife a private show, but not always. Douglas was sure to add that he only flashes his wife, but during Zeta-Jones' retelling, she said she makes the rules applicable to "any man" she golfs with.
Zeta-Jones also told Graham Norton that she makes her husband go in the shrubbery so no one else gets an eye full. Whatever keeps the spark alive, we guess!
An open marriage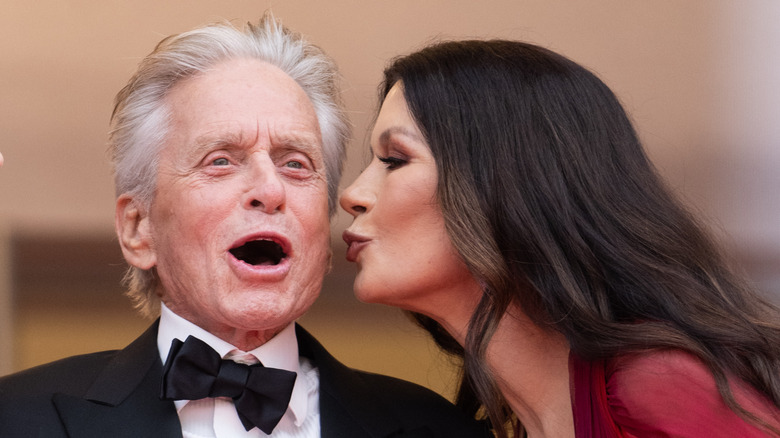 Samir Hussein/Getty Images
It's not the first time the couple has raised eyebrows with their romantic life. In 2018 while on "The Today Show," Catherine Zeta-Jones let it spill that she and Michael Douglas have an "open marriage." But before you jump to conclusions, U.K. newspaper The Times dug a little deeper, probing Zeta-Jones on exactly what that means. She explained, "You've got to be open and honest and share things that, probably, people at the drugstore wouldn't share over the counter." Alluding to the fact that they're probably not swingers, just a couple who are very vulnerable with one another.
It's a feature of their relationship that has likely served them well over their multi-decade marriage. Especially after Douglas came under fire for assault allegations, something that Zeta-Jones said put her in a difficult position and prompted another one of those bare-all conversations she was referring to. "The Mask of Zorro" star and Douglas have remained solid throughout Hollywood's scrutiny, though. In a recent interview with the Wall Street Journal about the key to a lasting marriage, Zeta-Jones disclosed that after 25 years, they still "enjoy each other's company." Probably most of all during a spicy game of golf!