The Iconic '90s Sitcom You Forgot Hallmark's Erika Christensen Guest Starred In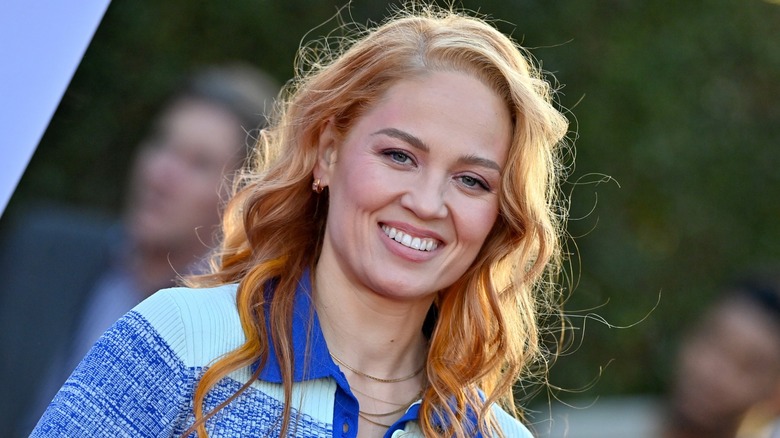 Axelle/bauer-griffin/Getty
Many Hallmark actors you know and love started their acting careers elsewhere and might be recognizable from those past roles. Erika Christensen, who starred in the Hallmark movies "My Boyfriends' Dogs" and "Anything for Love," is no exception. In fact, she had a guest appearance on the iconic '90s sitcom "That '70s Show."
In Season 4, Episode 10 of "That '70s Show," titled "Red and Stacey," Christensen played the titular Stacey. The character worked at Red Forman's Price Mart grocery store. Red (Kurtwood Smith) wanted to set her up with his son Eric Forman (Topher Grace). Unfortunately, when Red approached Stacey about his son Eric, she said she liked someone else and put her hand on Red's thigh. Shocked, he said, "Oh, oh no," before backing away and heading toward his office door.
Later in the episode, Eric — none the wiser to Stacey's crush on his dad — asked her out to dinner. "At your house?" Stacey said. "Will your dad be there? 'Cause I'll go if he's there!" Eric realized her crush on Red and was disgusted. When Stacey asked Eric if his dad was seeing anyone, he quipped, "Yeah. My mom! And they bought furniture together, so yeah, I think it's pretty serious."
Christensen's friend and 'Parenthood' co-star has a 'That '70s Show' connection too
In 2013, Erika Christensen posted a throwback photo on Instagram from her time on the set of "That '70s Show" approximately a decade prior. The photo is of her and fellow actor Dax Shepard. Although Shepard was never on "That '70s Show," he worked with Ashton Kutcher on "Punk'd." Christensen and Shepard later co-starred as siblings on the multigenerational family drama "Parenthood" from 2010 to 2015, where Christensen played Julia Braverman-Graham, and Shepard played her brother Crosby Braverman.
At a "Parenthood" reunion panel in 2022, Christensen complimented Shepard's acting prowess and mentioned how she could always tell when he switched from being himself to playing his character, Crosby: "Like, as an actor, I could see the millisecond that you changed from Dax to Crosby, and it's my favorite thing to see as an actor, is just, there's just a click where something — a viewpoint changes."
After she mentioned a special scene that the two of them shot together, Shepard admitted that in that scene, "That wasn't Crosby. That was just Dax saying it would be impossible not to love you, Erika." Shepard even pitched a "Parenthood" reboot during the panel, which caused the crowd to cheer.
Other now-famous actors appeared on 'That '70s Show' before their big break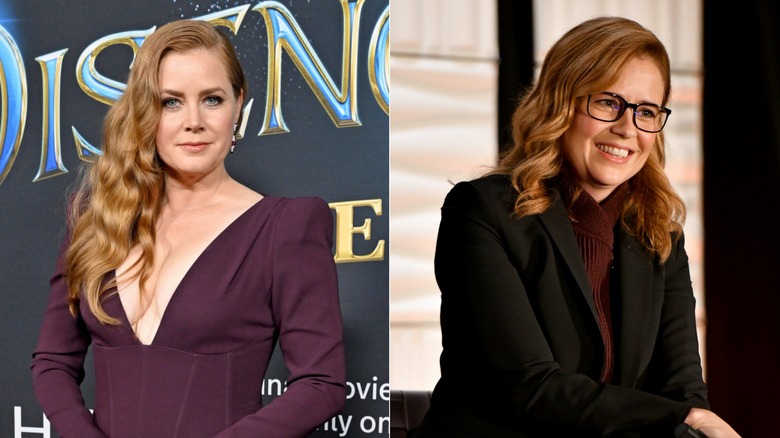 Axelle/bauer-griffin & Craig Barritt/Getty
If you're wondering what happened to the cast of "That '70s Show," some of the other guest stars are quite notable and have gone on to have flourishing careers, just like Erika Christensen. Amy Adams guest-starred in "Burning Down the House," Season 2, Episode 15 of "That '70s Show." In this episode, it's revealed Hyde is dating popular girl Kat (Adams), but she pretends not to know him when her friends are around. Adams went on to become a well-known actor by appearing in movies such as "Enchanted," "Night at the Museum: Battle of the Smithsonian," and "Leap Year." She also played Lois Lane in many DC movies.
"The Office" star Jenna Fischer also guest-starred in "That '70s Show" before the sitcom that rocketed her to fame was released. In Season 7, Episode 12, "Don't Lie to Me," Fischer plays another Stacy. Unlike Christensen's Stacey, this snooty Stacy works at a bridal shop and confuses Jackie for Donna. In addition to starring in all nine seasons of "The Office," Fischer starred in "You, Me and the Apocalypse" and "Splitting Up Together," and she is set to play Ms. Heron in the "Mean Girls Musical" film.