Sophie Winkleman: 12 Facts About The Other Actress Who Married Into The British Royal Family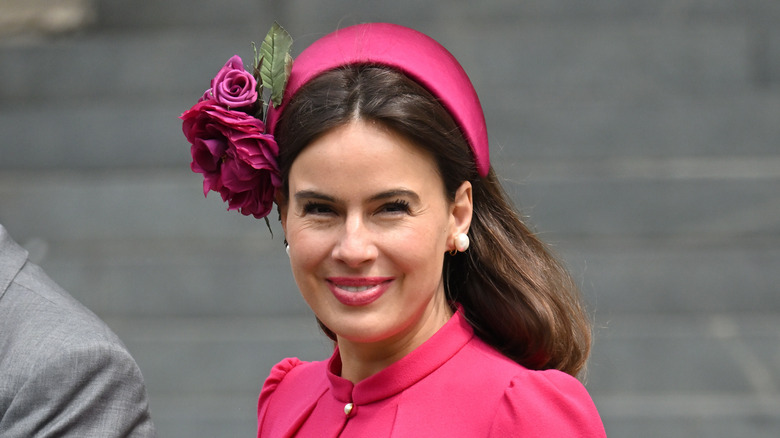 Karwai Tang/Getty Images
Meghan Markle is not the only actor in the royal family. In 2009, Sophie Winkleman married Lord Frederick Windsor. Frederick is the son of Prince and Princess Michael of Kent. Prince Michael was Queen Elizabeth II's first cousin, which made Frederick the queen's cousin once removed. As King Charles III's second cousin, Frederick is still very much a member of the royal family, and so is Sophie.
While Meghan is one of the few Americans to marry into the British royal family, the same cannot be said about Lord Frederick's wife. Sophie, who is the half-sister of TV presenter Claudia Winkleman, was born and raised in London. She went to the City of London School for Girls and then left for the University of Cambridge to pursue a degree in English. It's a good thing she didn't venture too far from home; Sophie met her prince charming in Soho one fateful night, and royal watchers have enjoyed following their love story ever since. If you've pretty much been in the dark about Sophie Winkleman's story thus far, read on to learn everything there is to know about the actor who stole the royal family's (and Lord Frederick's) heart.
Sophie Winkleman cried at her wedding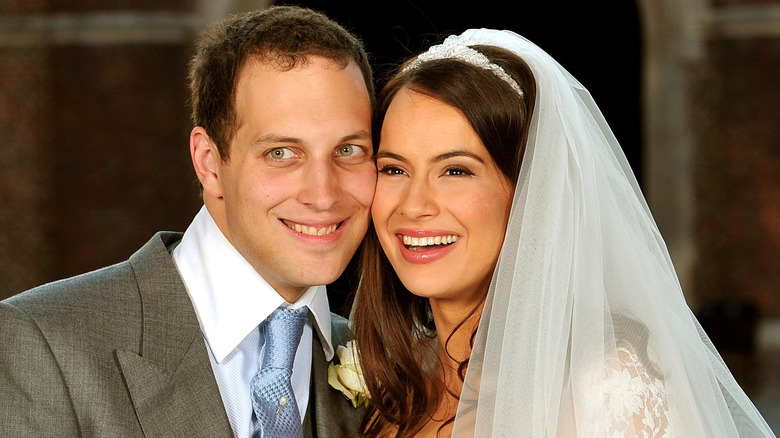 Wpa Pool/Getty Images
The year was 2009, the date September 12, and Sophie Winkleman was getting ready to say "I do" to Lord Frederick Windsor in what would be a very emotional ceremony. While their wedding didn't include all the fanfare that accompanies the weddings of senior royal members, it was special in its own right.
The ceremony was hosted at Hampton Court Palace. It was much smaller in comparison to other royal weddings, with only 400 guests in attendance. No senior members of the royal family were present at the wedding, but Princess Eugenie was spotted at the couple's nuptials, and naturally, Prince and Princess Michael of Kent were also there. The Daily Mail pointed out that Princess Michael nearly stole the show with her striking outfit, which featured a plunging neckline, but Winkleman appeared unruffled by her soon-to-be mother-in-law's fashion sense.
The wedding certainly got a lot of press, but Winkleman and Frederick didn't want to let their nuptials become a media circus. Per the Daily Mail, Winkleman and Frederick were offered a substantial amount of money to allow a magazine to cover their wedding day, but they respectfully declined. For Winkleman, her wedding day was every bit the fairytale she'd always hoped it would be, so much so that she couldn't keep the tears at bay. Throughout the ceremony, she found herself crying happy tears without avail. "I wept throughout the whole thing," she later said.
Sophie Winkleman built a successful acting career
John Sciulli/Getty Images
The day after Sophie Winkleman and Lord Frederick Windsor tied the knot, the couple made their way to Los Angeles, where Sophie was all set to go all in on her Hollywood acting career. Winkleman had already made a name for herself in the UK sitcom "Peep Show," where she portrayed the role of Big Suze. She also made an appearance in Disney's "The Chronicles of Narnia: The Lion, the Witch and the Wardrobe" as an older version of Susan Pevensie. Before that, she landed the role of Debbie Levine in "Suzie Gold." American TV watchers probably remember Winkleman from "Two And A Half Men," where played the role of Zoey opposite Ashton Kutcher.
Despite her moderately successful career abroad, Winkleman and Frederick eventually moved back to the UK after seven years in the States. By that time, they'd already welcomed two children, and the couple was excited to be close to their family once again. "After 'Two and a Half Men,' I got some wonderful offers of work in America which I didn't do because I couldn't imagine just vanishing to another country for months," she told Hello! in 2023. "You have to make compromises in your career when you have a family. So I do jobs in Britain, where I see them every week."
She shares two children with Lord Frederick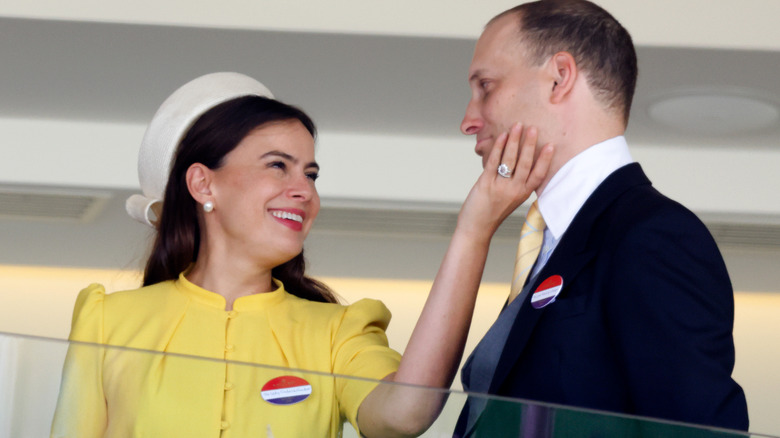 Max Mumby/indigo/Getty Images
During their time in Los Angeles, Sophie Winkleman and Lord Frederick Windsor added two daughters to their family. Their firstborn, Maud Elizabeth Daphne Marina Windsor, was born on August 15, 2013, barely a month after Princess Catherine and Prince William welcomed Prince George into the world.
There was plenty of cheer to go around among the royal family, and Frederick's parents, Prince and Princess Michael of Kent, released a statement expressing their joy at becoming first-time grandparents. They confirmed that Frederick had been at Winkleman's side during the birth and that little Maud weighed 7 pounds. "Prince and Princess Michael of Kent's family and Sophie's family have been informed and are delighted with the news," the statement concluded, per The Guardian.
In 2016, Frederick and Winkleman welcomed their second daughter, Isabella Alexandra May Windsor, on January 16, 2016. Princess Michael could barely contain her excitement, telling Hello! magazine that she was counting the days until Winkleman and Frederick made a trip to the UK to introduce their new baby girl to the rest of their family. "My granddaughter was two in August and I can't wait to play with her. I'm besotted and there will be lots of games. I'm sure I'll be just as besotted with the second one," she said.
Sophie Winkleman is very involved with her children's education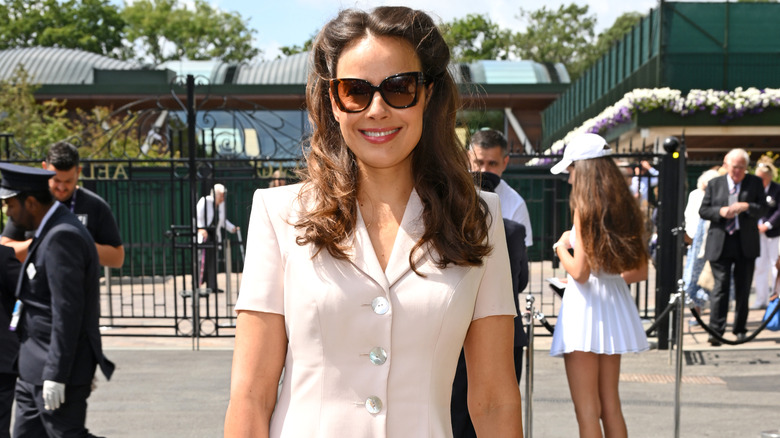 Karwai Tang/Getty Images
It's no secret that the use of technology is becoming increasingly prevalent in schools across the globe, but Sophie Winkleman is concerned about the effect so much screen time can have on her kids at such a young age. In fact, Winkleman even decided to remove her kids from Thomas' Battersea — a very prestigious school that both Prince George and Princess Charlotte attended — when she learned that they would be using iPads for much of their learning. 
"The internet is a toxic wilderness we're letting children stumble through without protection," Winkleman told The Times. Winkleman is very ardent about limiting young children's screen time and exposure to the internet, so much so that she's part of a group advocating to place an age limit of 16 on the use of smartphones. Winkleman believes that using apps for learning does more harm than good.
Winkleman's concerns aren't ungrounded. Even UNICEF has warned against leaving children to their own devices when it comes to screen time, warning that it can have a negative effect on their attention span and their ability to experience true empathy. Even more concerning is the possibility that it can hinder brain development.
She keeps her acting career and royal life separate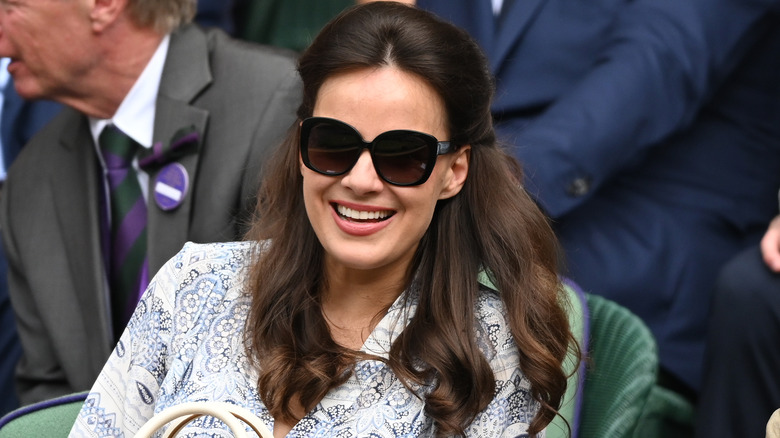 Karwai Tang/Getty Images
Not unlike Hannah Montana, Sophie Winkleman keeps her personal life and her professional life entirely separate. On one hand, she's an actor with a number of acting credits. On the other, she's a member of the British royal family. And if she had her way, those two hands would never shake.
Speaking to Insider in 2021, Winkleman revealed that she decided not to take Lord Frederick Windsor's last name because she'd already built an acting career under her maiden name. It wasn't exactly an easy choice — she admitted that Windsor has an "elegant" ring to it, but in the end, she opted to stick with Sophie Winkleman. While some working in the British film industry would likely have discovered Winkleman's "secret" soon enough, she told Insider that most of the Americans she worked with in her industry knew very little about the royal family, which meant it was pretty easy to blend in. "[T]hey'd just see 'Sophie Winkleman' on the sheet and I'd go and do the audition and then get the job or not," she said. "And they didn't find anything out about me. They just knew me from my acting, which was quite important to me," she added. In formal circles, however, Winkleman is known as Sophie, Lady Frederick Windsor, so she really does get the best of both worlds.
She felt very welcomed by the royal family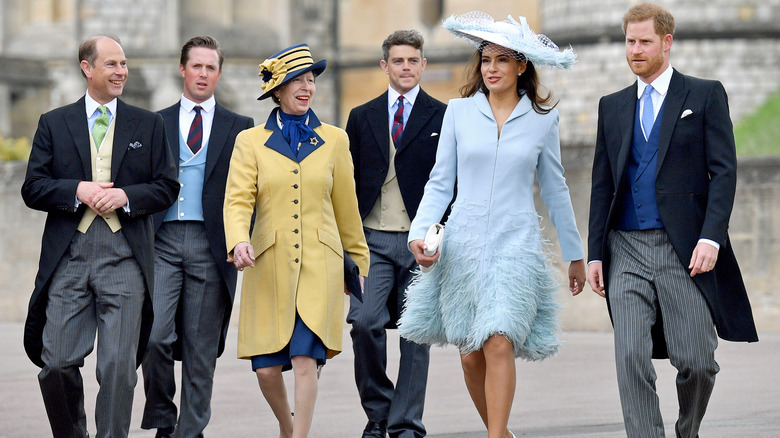 Pool/max Mumby/Getty Images
Meghan Markle has a complicated relationship with the British royal family, to say the least. After she and Prince Harry stepped down from their official roles in 2020, the Duchess of Sussex was free to speak about her struggles with royal life and the way she was treated by her husband's relatives. Though Meghan's relationship with Queen Elizabeth II was positive, she evidently had a difficult time fitting in with other royals. Sophie Winkleman's experience is another story. 
"I can only speak from personal experience, but when I first went to Buckingham Palace to meet the Queen for the Christmas lunch, she was incredibly welcoming and kind," Winkleman told Insider in 2021. "I've only had positive, caring, warmth from all of them."
Winkleman might be considered one of the royal family's biggest cheerleaders. In a piece she wrote for The Spectator, she praised the royals for their work and their ability to keep a stiff upper lip when it comes to all the media scrutiny and the fanfare brought about by shows like "The Crown." "I cherish my growing closeness to the senior members of the royal family who are so hardworking, uncomplaining and brave in the face of relentless and brutal media attention, criticism, lies, undermining and fictional TV programmes — and always so good to me that I'm honoured to know them," she wrote.
Sophie Winkleman was in a near-fatal car accident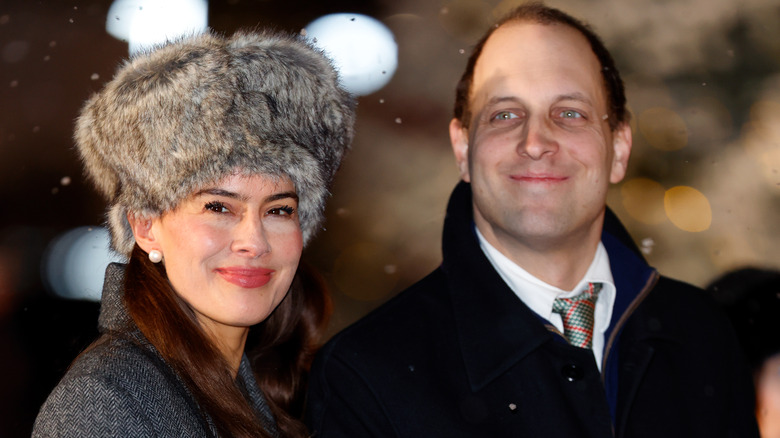 Max Mumby/indigo/Getty Images
In November 2017, Sophie Winkleman had a brush with death when she was in a scary car accident that nearly left her paralyzed. Speaking to Hello! magazine, Winkleman revealed that the royal family's kindness is what got her through a very tough recovery period.
The near-fatal crash was all thanks to a stag crossing the street. An oncoming car swerved to avoid the animal and crashed into Winkleman's vehicle. "Both cars were doing about 45mph and ours flew up into the air with the impact," Winkleman recalled, adding that she didn't immediately experience any pain in the aftermath. Instead, she felt a strange kind of calm, even when she realized she had no feeling in her legs. In these moments, she did consider the possibility that she might die. "[I]t took them about 30 minutes to cut me carefully out of the car, then they laid me out in the road while waiting for another ambulance to arrive," Winkleman said. Meanwhile, Prince William was calling one of his friends on the air ambulance team. "William called and said: 'Sophie is my cousin, please take good care of her,' which was very lovely," Winkleman told the outlet.
In the meantime, King Charles III offered up his chef to cook for Winkleman's family while she was in the hospital. Duchess Sophie of Edinburg paid Winkleman a visit in the hospital, and William and Princess Catherine made sure her room was filled with flowers.
She's passionate about supporting charities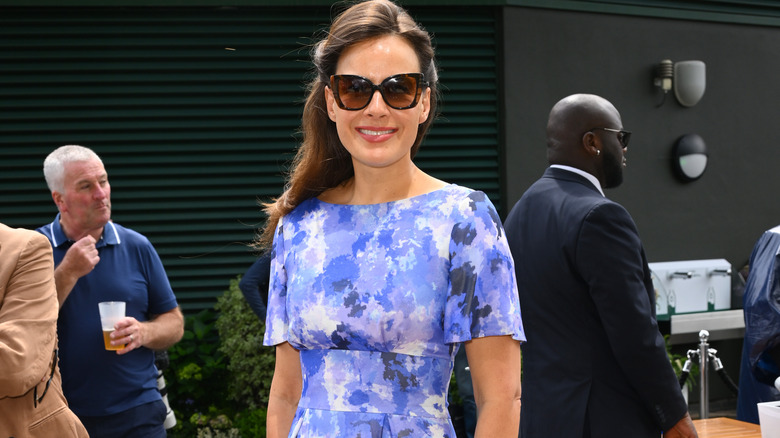 Karwai Tang/Getty Images
Charity runs in the royal family's blood, and Sophie Winkleman shares this passion. In 2020, the Children's Surgery Foundation welcomed her as a royal patron. This foundation's tireless work ensures that children who frequent hospitals have somewhat of a fun experience while they're there by making their environment inviting and magical. "Of course, when a child's experiences are improved the whole family's stress is alleviated. The work this charity does to improve (beyond measure) a child's experience while very ill is second to none," Winkleman said in a statement, per Hello! magazine.
Winkleman also became a royal patron of School-Home Support (SHS) that same year. The organization, which aims to help children overcome disadvantages so they can thrive in school, was delighted to welcome her as its first female royal patron, and Winkleman appeared eager to hit the ground running. "Their work is intensive, but it can transform lives for life. I wish SHS was in every school in England! I'm very excited about the work I'm doing with them," Winkleman was quoted saying on the SHS website.
Winkleman is also involved with the homelessness charity magazine "The Big Issue," and has worked tirelessly to get the publication back up and running after the pandemic nearly caused it to shut down. She credits the royal family's advice for her excellent fundraising skills. "Being a member of the royal family gives me a platform and the senior members have helped me hugely in terms of trying to fundraise," she told The Times.
Sophie Winkleman found lockdown challenging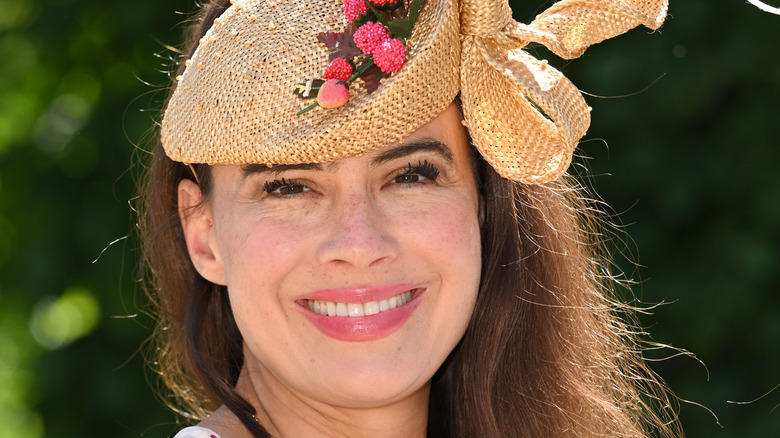 Karwai Tang/Getty Images
She might be a royal, but that doesn't mean Sophie Winkleman doesn't empathize with what the rest of the world went through during lockdown when the Covid-19 pandemic was in full swing. Speaking to Tatler in mid-2020, Winkleman admitted that it was a challenging time, especially for her daughters. "It's been alright, but I've been frustrated and tired and stressed out like everyone else," she told the outlet. "Children need to socialize and they get extremely bored if they don't, and I've not been covering myself in glory with this online learning thing," she added.
Given the fact that Winkleman isn't a fan of sticking her kids in front of a screen, she wasn't sure how to balance online learning and keep her kids from having too much screen time. It was quite the conundrum. She praised teachers for their hard work during such a tough and unprecedented time but admitted that she'd fallen behind on some of the classes with her kids. "She [Maud] hasn't done a lot of the lessons, so she's probably a bit behind. I'm not doing brilliantly, that's for sure," Winkleman admitted.
She also wasn't a fan of Zoom meetings and how disconnected it made her feel from the people on the other end of the screen. "I really, really don't like it all. What's wrong with an old-fashioned telephone call?" she lamented.
Sophie Winkleman is a theater nerd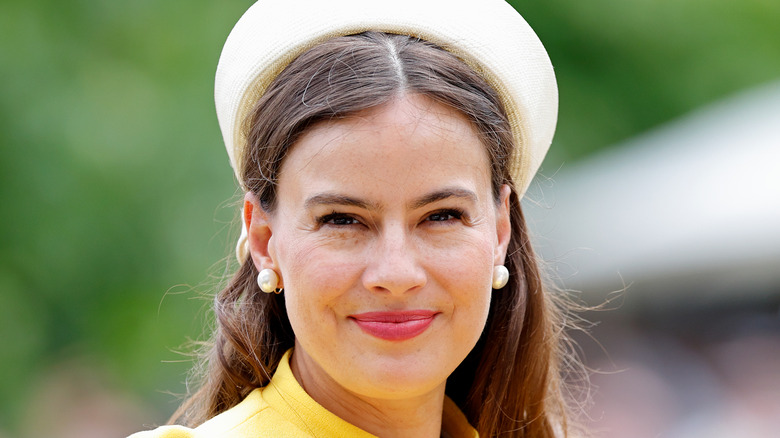 Max Mumby/indigo/Getty Images
Sophie Winkleman was heartbroken by the effect the pandemic had on theaters across the world. She told Tatler that theater had always been one of her favorite ways to escape from the world for a little while, and during the pandemic, when people really needed that escape more than ever, it wasn't available. Winkleman described it as "heartbreaking" and that theaters reopening was one of the things she was looking forward to most.
Winkleman was actually supposed to start working on a theater production of her own when the pandemic hit. Had it not been for Covid-19, fans would have been able to see Winkleman take on the lead role in "The Good Life," which was set to open in Bath at the Theatre Royal. It's no surprise that her acting skills extend to theater— Winkleman has been a fan since she was a young kid. "Theatre was always my most magical form of escapism as I grew up. I looked forward to my mum taking me to the Hampstead Theatre more than anything in the world," she told Tatler.
Another reason why she loves theater so much is because it offers something films never could. "It's an art which you get together in a packed auditorium and then are collectively taken somewhere else by the actors, the directors, the lighting magicians, and everyone who goes into making a play magical. And it's an experience that can't be replicated online," she explained.
Meghan Markle and Sophie Winkleman never got a chance to connect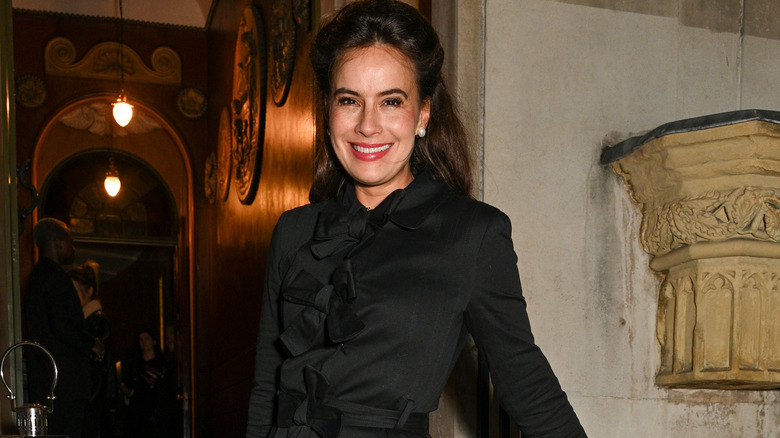 David M. Benett/Getty Images
One would think, given their shared career paths, that Meghan Markle and Sophie Winkleman would've hit it off instantly. Sadly, no such thing ever happened. Royal fans can rest easy, however — there's no bad blood between the two. According to Winkleman, the two of them simply never got around to really getting to know each other.
Speaking to The Times, Winkleman praised Meghan for her "admirable energy and focus" and divulged that, yes, their paths have indeed crossed once or twice during Meghan's time as a member of the royal family. "I've met her a few times over here, but not well enough to get to know her," Winkleman admitted.
Had things been different, the two of them might've become fast friends. It's very likely that Winkleman could've provided Meghan with some sound advice on all the royal protocols and day-to-day demands of royal life. Perhaps things could've turned out differently if Meghan felt she had a close, loyal confidante within the royal family she could lean on during challenging times. Oh, if only we could turn back time.
Sophie Winkleman is often spotted at royal events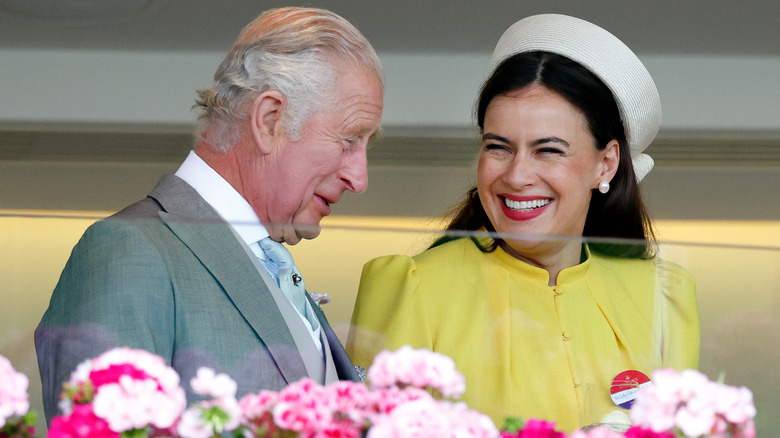 Max Mumby/indigo/Getty Images
She might not be a senior member of the royal family, but Sophie Winkleman is often spotted at royal events, to the delight of royal watchers everywhere. In 2022, she was seen attending Princess Catherine's Royal Carols: Together At Christmas event, which was hosted at Westminster Abbey.
Winkleman was also seen at the National Service of Thanksgiving in 2022 with fellow members of the royal family as they all came together to celebrate Queen Elizabeth II's 70th year on the throne. Town & Country even speculated that the neon pink outfit Winkleman wore at the event was a nod to the queen. Later that year, Winkleman attended the queen's funeral with the rest of the royal family. Some were surprised to notice Winkleman's absence at King Charles III's coronation the following year, but the two of them had a joyful reunion at Royal Ascot over a month later. Charles was all smiles in the photographs of him and Winkleman and the two appeared to be having a grand time in each other's company.
There's no doubt that Winkleman is a royal through and through, and we can't wait to see how her role within the family might grow in the years to come.