The Real-Life Inspiration For Willie Garson's AJLT Sendoff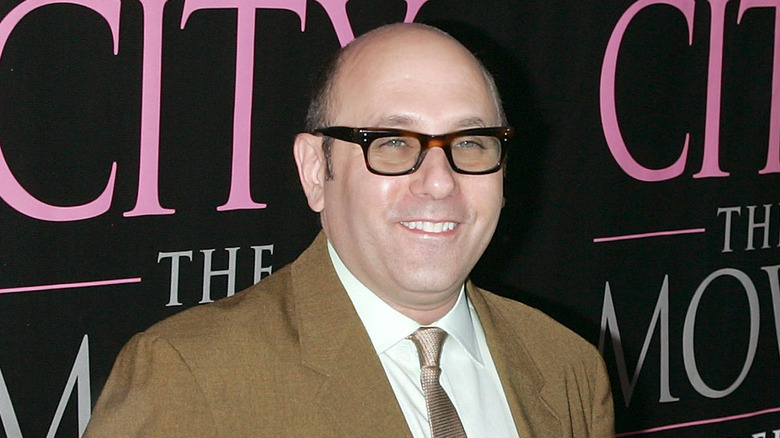 Jim Spellman/Getty Images
Willie Garson joined the cast of "Sex & the City" in 1998, taking on the role of one of Carrie Bradshaw's pals, Stanford Blatch. He appeared in more than two dozen episodes of the television series and had major roles in both "Sex & the City" films, which were released in 2008 and 2010, respectively. When the opportunity to reboot the show arose a decade later, Garson inked a deal to reprise his role. However, he only appeared in three episodes of the new series, "And Just Like That." The reason? Garson died in 2021. 
The 57-year-old actor had been diagnosed with pancreatic cancer but kept his ailing health private, according to People. "The death of Wille Garson was obviously, completely unlooked for, unknown," Cynthia Nixon, who plays Miranda Hobbes on the series, said during press interviews, per Deadline. "Sarah Jessica was the only one that knew he was sick when we were filming until things became undeniable, and then we were told," she added. 
Following Garson's death, a decision about his on-screen character needed to be made. Part of that was written into the end of Season 1, and, in Season 2, Garson got a sendoff inspired by a trip that Sarah Jessica Parker took with executive producer Michael Patrick King while filming the second "SATC" movie. On an episode of "And Just Like That... The Writers Room" podcast, King revealed why Garson's character was written off the show the way he was — and just how special his final goodbye really was.
Standford Blatch is on a magical journey in a far off place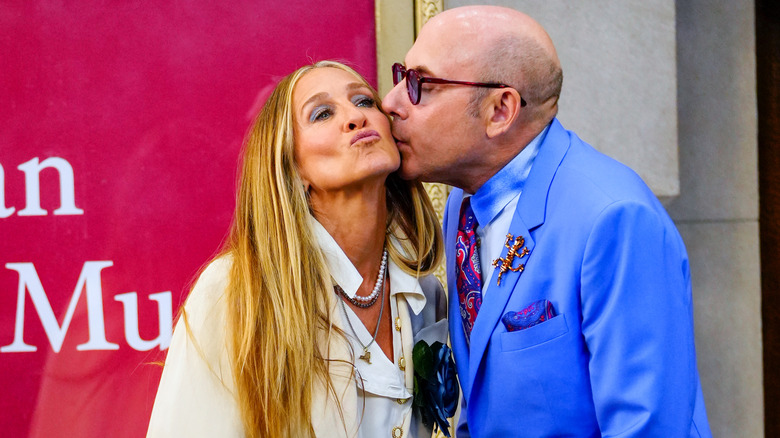 Gotham/Getty Images
Despite losing Willie Garson in real life, Sarah Jessica Parker and Michael Patrick King knew they didn't want Stanford Blatch to die. So, instead, they sent him to Japan on a journey of self-discovery and peace. In Season 1, King says they sent Stanford to Japan on a TikTok tour with some of his clients as a "band-aid." And while that may have taken care of things in the interim, the writers decided to tie up the loose ends in Season 2. On an episode of "AJLT" titled "The Last Supper, Part I: Appetizer," Carrie Bradshaw tells Stanford's ex-husband, Anthony Marentino (played by actor Mario Cantone), that she got a letter from Stanford explaining that he's staying in Japan and becoming a Shinto monk.
During the "And Just Like That...The Writer's Room" podcast, King explains how the decision was made. "I was in some sort of an emotional shock wave, and I was going from temple to temple with Sarah Jessica. I was sitting there trying to release these complicated feelings, and I felt kind of at peace," King recalls of his time in Kyoto with Parker. "Sarah Jessica was just sitting there with me, and it was so beautiful. There wasn't tears, but there wasn't laughs. It was just feeling the space and these beautiful temples," he explained, later adding, "So I thought, what if he just stayed there in that beautiful blissful temple?" And so, Stanford will live on.
Willie Garson is greatly missed on 'And Just Like That'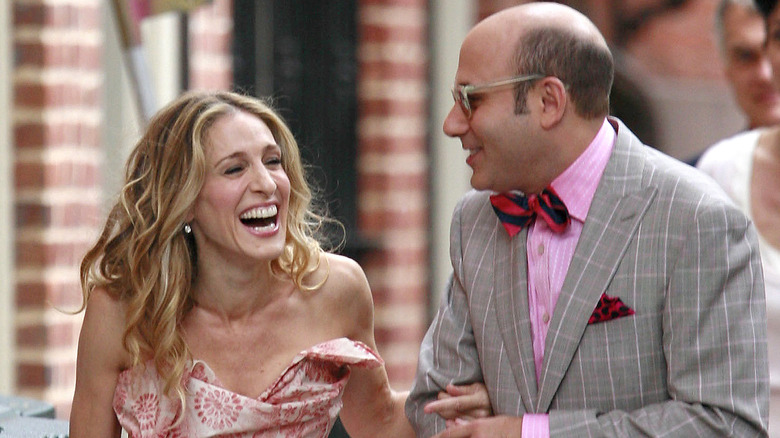 Marcel Thomas/Getty Images
Three days after Willie Garson died, Sarah Jessica Parker paid tribute to him in a heartbreaking Instagram post. "It's been unbearable," she began, reminiscing about their 30-year friendship. "A real friendship that allowed for secrets, adventure, a shared professional family, truth, concerts, road trips, meals, late night phone calls, a mutual devotion to parenthood and all the heartaches and joy that accompany, triumphs, disappointments, fear, rage and years spent on sets (most especially Carrie's apartment) and laughing late into the night as both Stanford and Carrie and Willie and SJ," she wrote.
Watching "And Just Like That," it's hard not to notice Stanford Blatch's absence. Who knows what would have happened if he was still married to Anthony Marentino? And we just know that he would have so many opinions on Carrie Bradshaw's on-again romance with Aidan Shaw (John Corbett). Nevertheless, it's nice to think that Stanford is still out there, as King says, "someplace where it [is] golden and filled with light, because I hope Willie's someplace that's golden and filled with light, and it was poetic, and it's very emotional." Who is cutting onions?