Who Were All Of Ridge's Wives On The Bold And The Beautiful?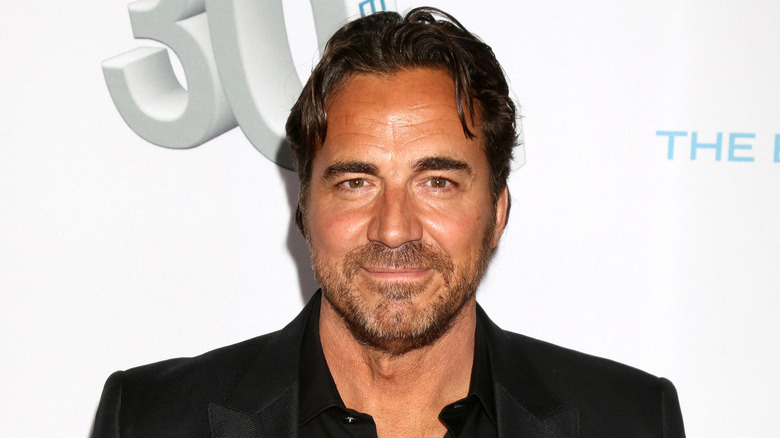 Kathy Hutchins/Shutterstock
Ridge Forrester is one of the most notorious characters on "The Bold and the Beautiful." Between getting thrown out of a helicopter by Bill Spencer and constantly being in the middle of Brooke Logan and Taylor Hayes' ongoing feud, he has been through it during his time on the soap. Ridge is also known for racking up the number of weddings he's had while in Los Angeles. It's no secret that he just loves getting married.
Since his debut on "The Bold and the Beautiful" in 1987, Ridge has been married to five different women as of August 2023. It started with Caroline Spencer, but he soon moved on to Taylor and Brooke, sparking the love triangle to end all love triangles that lasted the better part of 30 years. Between endless cheating scandals, trips to St. Thomas and Morocco, and a drunken wedding night in Vegas, Ridge has had quite the experience with marriages, and his number of wives — and multiple marriages to some of them — only adds to the drama.
Ridge Forrester married Caroline Spencer first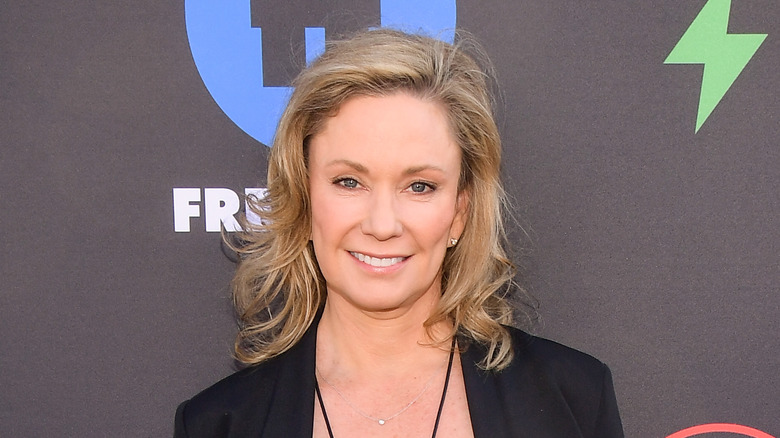 Matt Winkelmeyer/Getty Images
Ridge Forrester's first wife was the first Caroline Spencer — yes, there were two different characters by that name. Ridge and the original Caroline fell in love when he arrived in Los Angeles, and they planned to marry. Prior to the wedding, however, Ridge (then Ronn Moss) cheated on Caroline (Joanna Johnson) with Alex Simpson (Rosemarie Thomas). Upon discovering his infidelity, Caroline broke up with him. She went on to marry Ridge's brother, Thorne Forrester (Winsor Harmon), while Ridge moved on with Brooke Logan (Katherine Kelly Lang). He still wasn't over Caroline, though; Ridge slept with Caroline when she was drunk and believed that the man in her bed was Thorne, not Ridge. Things got even worse when Thorne found out what his brother had done and shot Ridge in the head. Fortunately, neither brother remembered the incident, as Thorne was drugged and Ridge was injured.
Ridge and Brooke got engaged, and they grew close after Brooke learned she was pregnant and then lost the baby. However, the pull between Caroline and Ridge was still there. Ridge broke up with Brooke and reconciled with Caroline, finally marrying her after all this time. Their happily ever after was not meant to be; soon after they married, Caroline was diagnosed with leukemia and died in Ridge's arms.
Ridge moved on with a wedding to Taylor Hayes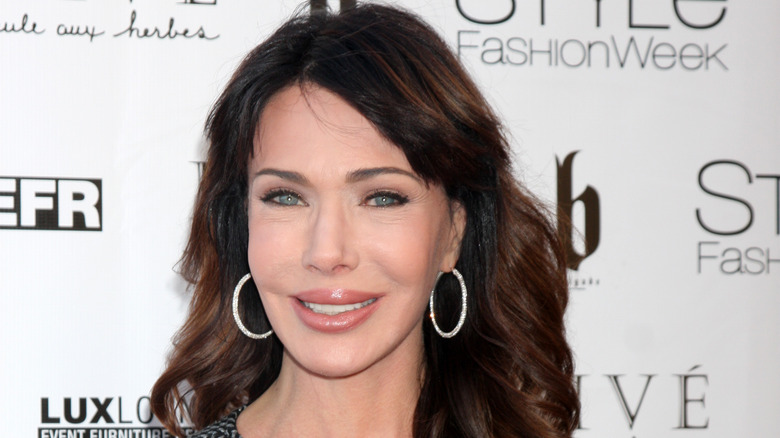 Kathy Hutchins/Shutterstock
Ridge Forrester's second wife was Taylor Hayes. Taylor (then Hunter Tylo) was Caroline Spencer's doctor before she passed away, and they grew close after Caroline's death. Ridge wanted Brooke back, but she had returned to her husband Eric Forrester (John McCook). Dejected, Ridge followed Taylor to St. Thomas when she escaped her ex-husband, Blake Hayes (Peter Brown).
They married and were happy until Brooke revealed her pregnancy, unsure if Ridge was the father of her baby or not. The paternity test confirmed that her baby was Ridge's child, even though it was later revealed to actually be Eric's. The husband and wife drifted apart even more when Taylor slept with James Warwick (Ian Buchanan) and kept the secret from Ridge. They found their footing just before Taylor's plane crashed and she was presumed dead on a trip to the Middle East. However, Taylor was alive and returned to Los Angeles to find Ridge with Brooke. Despite his wife's return from the dead, Ridge had found out about her infidelity and asked for a divorce.
Ridge and Taylor married a second time after Ridge found out that Brooke's child was not his. They had three children together and were in love until Taylor was shot and presumed dead. She was actually alive and returned to Los Angeles to find Ridge reunited with Brooke again. Ridge and Taylor tried to make their relationship work, but Taylor kissed another man and admitted her infidelity to Ridge, who annulled their marriage.
Ridge wed Brooke Logan (again and again)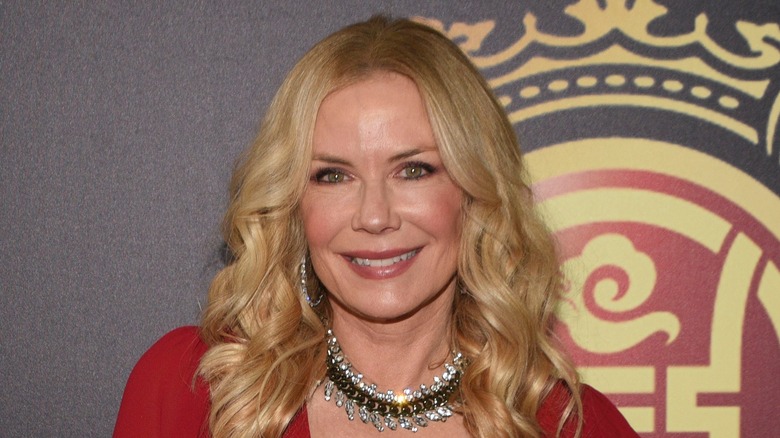 Michael Mattes/Shutterstock
Ridge Forrester's third wife was Brooke Logan. Even though the couple has been married more times than fans can count, they got married for the first time in 1994. At the time, Ridge's marriage to Taylor Hayes was dissolved due to her presumed death, and Ridge was considered a single man. He reunited with Brooke and they got married. This marriage was dissolved due to Taylor actually being alive. They married again in 1998 when Taylor was on her way to tell Ridge she was carrying his child. Ridge and Brooke eloped in 2003 in South America, but Ridge was kidnapped by Sheila Carter (Kimberlin Brown) and presumed dead.
Eventually, 2004 rolled around with another "Bridge" wedding, this time with Brooke's ex Nick Marone (Jack Wagner) interrupting the reception. In 2006, they held a small ceremony, which was again interrupted by Nick. They walked down the aisle in 2009 at Point Dume, the venue of their first wedding. This marriage was later declared invalid due to an error, but it was fixed at the courthouse soon after. In 2012, Stephanie Forrester (Susan Flannery) finally gave Brooke her approval and planned the ceremony. After their honeymoon, however, the couple separated. Their wedding in 2014 was a failed attempt, as Katie Logan (Heather Tom) faked an illness to stop Brooke from marrying Ridge (now Thorsten Kaye). In 2018, they finally had an uneventful wedding, and "Bridge" was reunited at last.
Ridge fell for the second Caroline Spencer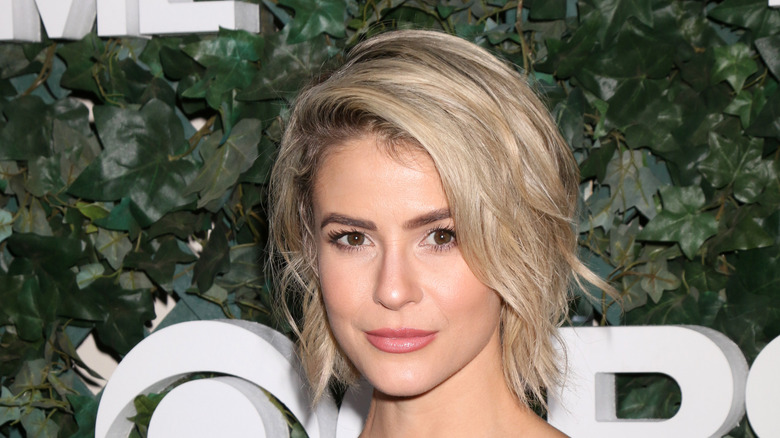 Joe Seer/Shutterstock
Ridge Forrester's fourth wife was the second Caroline Spencer (Linsey Godfrey), the daughter of Karen Spencer (Joanna Johnson) and niece of the original Caroline Spencer. After Ridge was thrown from a helicopter when he interrupted Brooke Logan and Bill Spencer's (Don Diamont) wedding, he returned to Los Angeles with amnesia and his ability to draw and design gone. Caroline helped him design a new collection, and they fell in love. This complicated her relationship with Rick Forrester (Jacob Young), whom she was married to at the time. Eventually, Caroline divorced Rick and gave her full attention to Ridge.
Caroline told Ridge that she wanted to have a child, but Ridge admitted that he couldn't give her the family she wanted. In a drugged and drunken state, Caroline slept with Thomas Forrester (Matthew Atkinson) but kept her one-night stand a secret. She married Ridge in Malibu and found out soon after the wedding that she was pregnant. Ridge knew that she had cheated, as he had a vasectomy years before. Caroline and Ridge tried to raise the child as their own, but the secret eventually came out and Caroline and Thomas were able to co-parent their son together.
Ridge wed Shauna in Las Vegas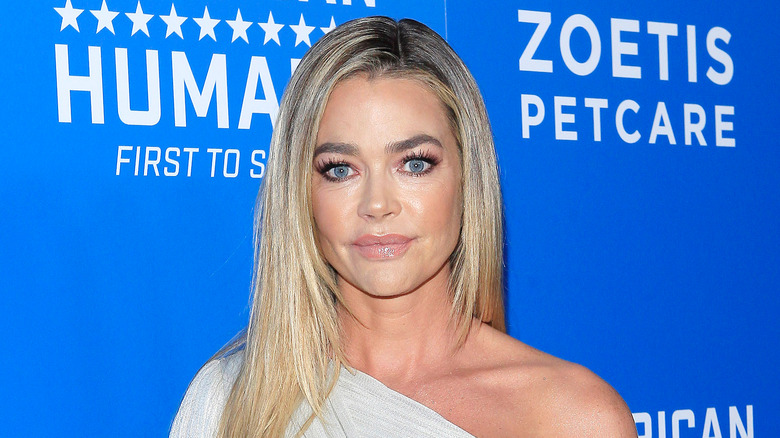 Joe Seer/Shutterstock
Ridge Forrester's fifth wife was Shauna Fulton (Denise Richards). As Ridge and Brooke Logan grew apart due to their children's relationship troubles, Ridge got drunk and turned to Shauna for comfort. As she took care of him, her feelings toward him grew, and she soon fell in love with Ridge. Brooke broke it off with Ridge, which left him single and able to pursue Shauna. He briefly strayed back to Brooke but they broke up again when it was revealed she had kissed Bill Spencer.
Ridge left Los Angeles and followed Shauna to Las Vegas, where they got drunk and Ridge let off some steam. Upon his return to town, it was revealed that in his drunken state, Ridge had divorced Brooke and married Shauna while in Las Vegas. Ridge was torn between the two women, but he soon found out that Shauna had lied, and Ridge hadn't actually married her in Vegas. Their marriage was declared invalid and he returned to Brooke.