The Stunning Transformation Of Jordana Brewster
The following article mentions eating disorders.
Jordana Brewster is perhaps most recognizable from her work in the "Fast & Furious" flicks, but her filmography goes way beyond high-speed car chase content. She began her career as a soap star when she was still in high school, and went on to star in films such as "The Faculty" and "The Texas Chainsaw Massacre: The Beginning," as well as on series like "Lethal Weapon" and "American Crime Story." 
The veteran actor was born into privilege — her father was an investment banker, her mother was a model, and her grandfather was the former president of Yale and American ambassador to Britain — but she rested on her laurels, balancing a rigorous academic schedule with auditions. And as her career continued to flourish, she didn't take her nose from the grindstone. 
Whether you know her as Mia Toretto, Nikki Munson, or any of the other characters she has embodied, let's take a look at the stunning transformation of Jordana Brewster.
Jordana Brewster experienced culture shock when she moved to the U.S. as a kid
Jordana Brewster was born in Panama in 1980, and she lived in London and Rio de Janeiro before moving to the U.S. at age 10. Brewster was excited when her family told her they would be heading to New York City, as she was a fan of American pop culture. "I grew up watching 'Baywatch' reruns in Brazil. I relished the Malibu Barbies and candy my parents brought home from trips abroad," the actor wrote in an essay for PopSugar.
But the reality of life in NYC was vastly different than what Brewster had imagined. For one, she didn't fit in at her private school. "Amid the L.L.Bean backpacks and Doc Martens, I stood out like a sore thumb, the last thing a girl in junior high wants," Brewster recalled. Her personal style wasn't the only issue. "My friends also found it extremely odd that I spoke with my mom about everything and actually wanted to hang out with her," she said, noting that her peers kept their own family members at arm's length. She also shared that shaking someone's hand instead of greeting them with a kiss on the cheek felt unnatural. 
But despite the initial culture shock, Brewster is grateful that she got the chance to experience different cultures at a young age, emphasizing the pride she feels about her Latin heritage. "I always considered being Latina one of my greatest assets," she said.
She got her start acting on soap operas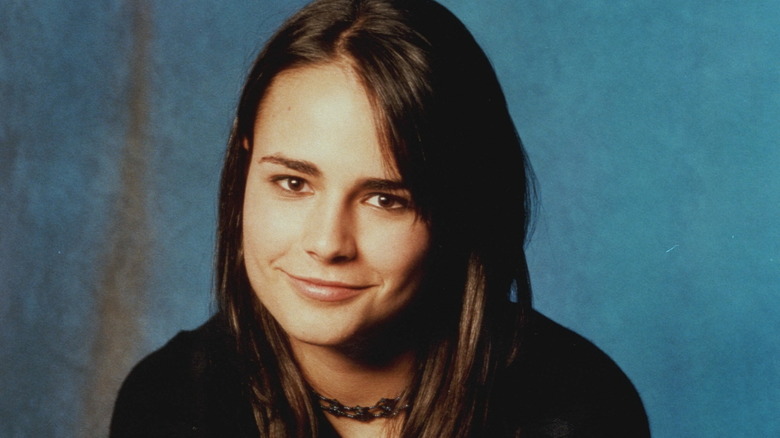 Ronald Siemoneit/Getty Images
While Jordana Brewster sometimes felt awkward among her peers when she first moved to the U.S., it clearly didn't affect her confidence when it came to pursuing her goals. In fact, by the time Brewster was in high school, she was already a working actor. And like many great actors before her, Brewster got her start in a soap opera. "From ages 15 to 18, I starred on 'As the World Turns' while attending the Professional Children's School in New York," she wrote in an essay for Glamour. "I wanted to prove to myself that I could do it while I was still a kid supported by my parents." Brewster is in good company, as fellow "As the World Turns" alumni include Meg Ryan, Julianne Moore, and James Earl Jones. 
While Brewster found steady work on playing Nikki Munson on "As the World Turns," it was not the only time she appeared on daytime television. The actor actually made her TV debut on yet another hit soap opera, "All My Children," in 1995.
Jordana Brewster went to an Ivy League school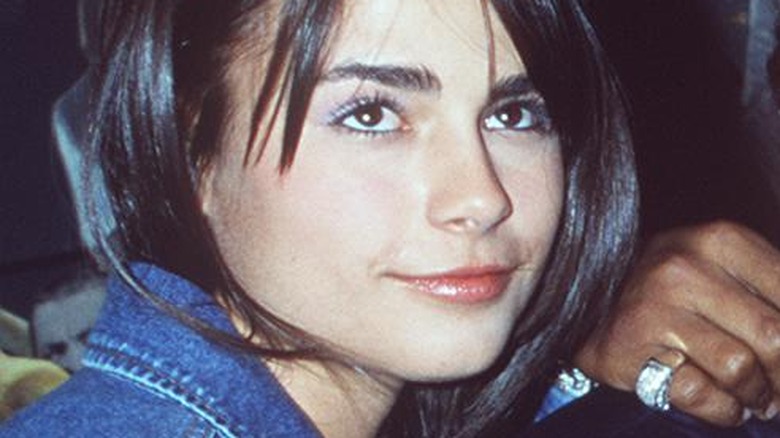 Robin Platzer/twin Images/Getty Images
Juggling academics with a full-time acting gig might be a challenge for some, but Jordana Brewster accomplished that feat and then some. She started at Yale University in 1999, at little two decades after her grandfather was the school's president. And even after she got into the prestigious Ivy League institution, Brewster was set on keeping up with her acting career. "I studied hard Monday through Thursday in New Haven and then took the Metro North train to New York to audition and — I won't lie — have fun," she wrote in Glamour.
Brewster, who studied English, made graduating sooner rather than later a top priority. "I was fearful of leaving school after freshman year or sophomore year and then having to go back with young kids and losing my momentum in terms of writing papers, attending seminars, taking tests," the actor told Collider. She graduated in 2003 — two years after her "Fast & Furious" journey began. 
While Brewster is proud of herself for completing her degree, she acknowledges that it doesn't really do much for her chosen career. "Only in as much as I think people give you a little more cred and take you a little more seriously sometimes," she shared.
She hit it big with The Fast and the Furious franchise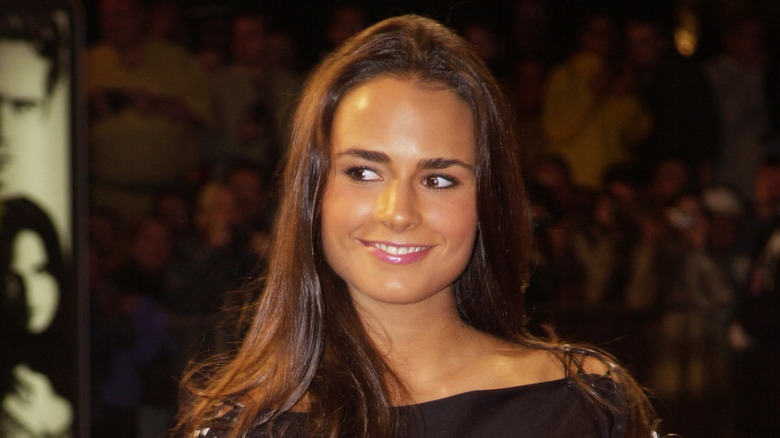 Toni Anne Barson Archive/Getty Images
Jordana Brewster made her film debut in 1998's "The Faculty," which wasn't as big of a hit as the studio hoped it would be. The following year, "The Fast and the Furious" hit theaters, and it was a wild success. Brewster certainly did not see those box office numbers coming — and she definitely did not expect the movie to change her career like it did. "With 'The Fast and Furious,' I was like, 'This is a small movie about cars. It's a really fun summer project," she told Collider.
That the film was so popular and spawned many sequels came as a pleasant surprise for the actor who reprised her role as Mia in 2009's "Fast & Furious," 2011's "Fast Five," 2013's "Fast & Furious 6," 2015's "Furious 7," 2021's "F9: The Fast Saga," and 2023's "Fast X." "I thought it was totally a one and done film. And then they reinvented it with '2 Fast 2 Furious' and then 'Tokyo Drift' went a whole different direction and then when I came back for four I was like, 'Oh my god!'" Brewster shared with Collider. "I was so excited and then I thought, 'Okay, maybe this is gonna keep progressing for me,' which was how it ended up."
Jordana Brewster had children via surrogate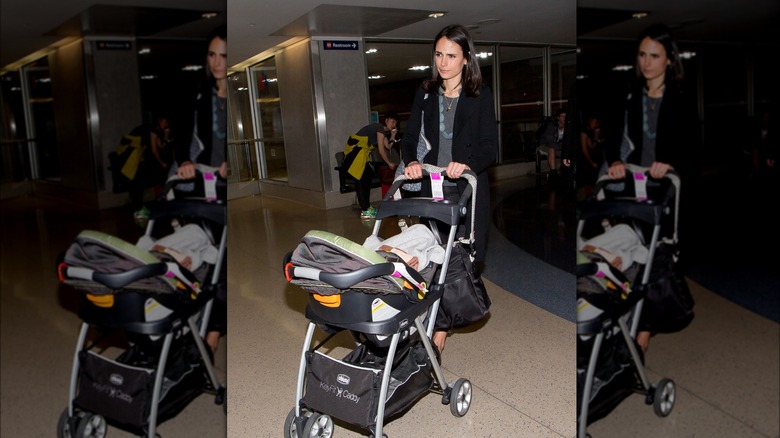 Gvk/bauer-griffin
After dating celebs like Derek Jeter and Mark Wahlberg, Jordana Brewster settled down and started a family. In 2007, Jordana Brewster married producer Andrew Form, whom she met in 2005 while filming "The Texas Chainsaw Massacre: The Beginning." "We started dating in secret — you know, hanging out in my trailer — because it would have been unprofessional otherwise," she once dished to InStyle Weddings (via Us Weekly). 
The pair went on to welcome two sons together: Julian was born in 2013 and Rowan was born in 2016, both via surrogate. Brewster has spoken at length about her decision to use a surrogate to carry her children and the complicated mix of feelings she's learned to navigate. "I'm really hard on myself," Brewster told People. "I was always like, 'I'm less than, as a mother, because I didn't carry.'" The actor went on to partner with Clearblue for their Conceivinghood campaign, which aimed to remove the stigma surrounding infertility and open up conversations about trying to conceive. "I thought [conceiving] would be no problem for me, which I think a lot of women do," she shared with People. "And then all of a sudden you realize, 'Wait, this is going to be a little more challenging than I thought.'"
Jordana Brewster gives back by helping young moms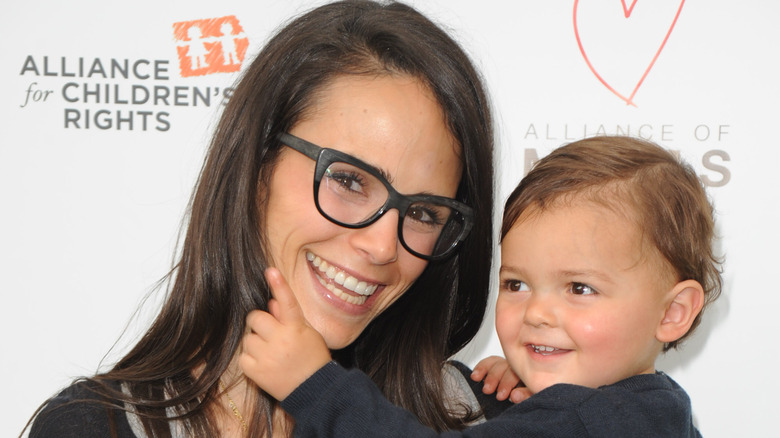 Lily Lawrence/Getty Images
As if Jordana Brewster was not busy enough with her acting career and raising her two kids, she uses her platform to help other mothers in need. Since 2014, she's worked with Alliance of Moms, a nonprofit that assists young parents who grew up the foster care system.
"I have a great community of moms with so much support," Brewster said in People. "But I think we're also responsible for taking care of moms who don't have as many resources." The organization offers an event for new moms called Raising Baby, which includes workshops about child health, wellness, and development — and it's an event that is near and dear to Brewster's heart. "The more resources and the more tools you can give, the better," she added. "It's just giving kids access to what they wouldn't usually have." 
The "Fast & Furious" star has also worked with No Kid Hungry, a nonprofit that seeks to eradicate childhood hunger. "I first got involved with No Kid Hungry because I personally was pretty obsessed with making sure Julian was eating the right things," she told Yahoo! in 2015. "They change kids' lives, like they implemented school breakfasts in New York City to make sure no child is going to class without eating."
She and her first husband split after 13 years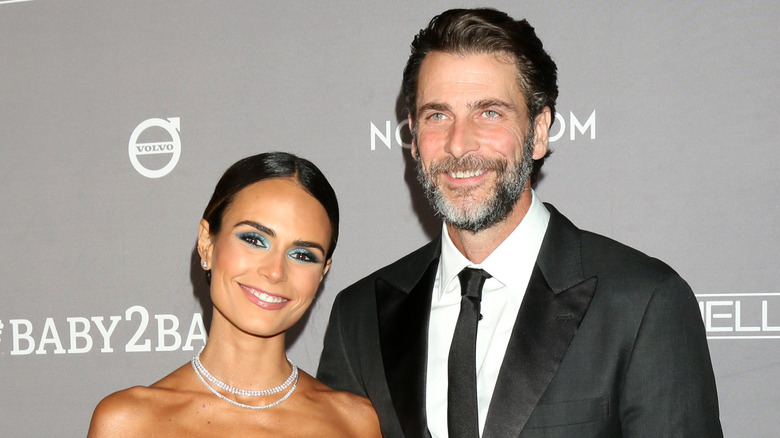 Kathy Hutchins/Shutterstock
In July 2020, Jordana Brewster filed for divorce from producer Andrew Form after 13 years of marriage. Per ET, the two "quietly separated" that March. The divorce was finalized the following year. 
In 2021, the "Fast & Furious" actor opened up to Glamour about the dissolution of the relationship. "Once we stopped jumping the initial hurdles that a couple does — baby, surrogacy, two house renovations — I realized something was missing for both of us," she wrote. "When there wasn't a project to invest in together, we didn't have much to say to each other."
The split didn't come cheap for Brewster, who was ordered to pay her ex $5 million as part of the settlement. But there seems to be no ill will, and Brewster has expressed that she and her ex-husband are good at co-parenting their two sons, Julian and Rowan. She shared with People, "We communicate better as co-parents than we did as husband and wife. ... there's no acrimony, which I think really helps."
Jordana Brewster struggled with an eating disorder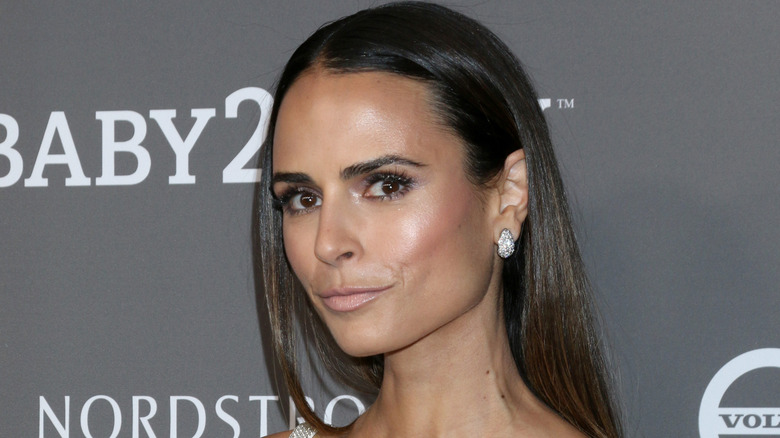 Kathy Hutchins/Shutterstock
Jordana Brewster has been very candid over the years when it comes to discussing her personal life. In the aforementioned essay she penned for Glamour, the actor opened up about living with an eating disorder, body image issues, and the steps she took to get help. She shared that she first struggled with binge eating when she was still married to Andrew Form, and then later struggled with restrictive eating. "The cliché that controlling your food gives you the illusion of control of your life is true," she wrote. "I was so focused on the number on the scale and the number of calories I consumed in a day that I ignored all other problems. I didn't look closely at my career, my marriage."
Brewster sought out therapy to help her cope with her disordered eating, and says she now has a healthy relationship with food and with her body. "If body issues do come up, I deal with them head-on," the mother of two shared.
If you need help with an eating disorder, or know someone who does, help is available. Visit the National Eating Disorders Association website or contact NEDA's Live Helpline at 1-800-931-2237. You can also receive 24/7 Crisis Support via text (send NEDA to 741-741).
Jordana Brewster found love again with a tech CEO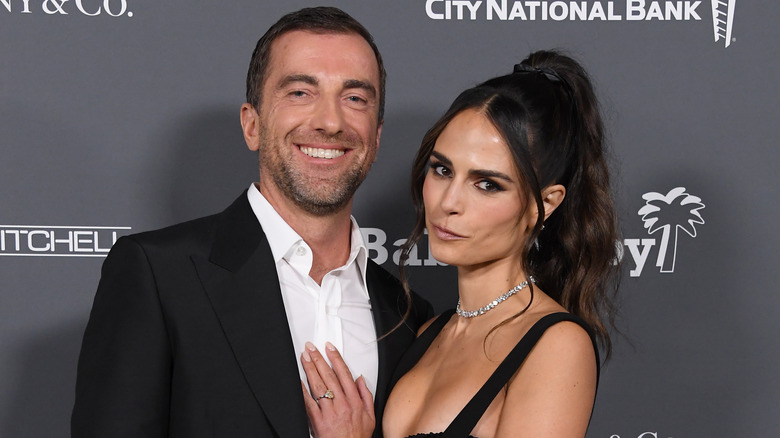 Steve Granitz/Getty Images
In September of 2022, Jordana Brewster married CEO Mason Morfit in a beautiful ceremony in Montecito, California. The couple met years before while both were still married to their exes, and they clearly had made an impression on each other. In her aforementioned essay for Glamour, Brewster wrote that she began following Morfit on Instagram shortly after they initially crossed paths. "My heart would leap as soon as he liked a post or commented on something I'd written," she admitted. It turned out the pair more in common than she initially realized. "We had similar backgrounds: We'd grown up abroad, ping-ponging from England to Brazil (me) and Indonesia (him)," Brewster shared.
The couple got engaged in September of 2021, with Brewster making a cute announcement on Instagram. The pic showed the happy couple cuddled up on the beach, a diamond ring visible on Brewster's finger. "JB soon to be JBM," the actor captioned the pic, referring to her initials.
The wedding, which took place a year later, was a family affair, as Brewster's sons walked her down the aisle. "They really wanted to hold my veil, but I kept saying 'no no no, we are walking into this together, as a team.' The symbolism of that meant a lot to me," she told Vogue.
She created a special wedding day tribute to Paul Walker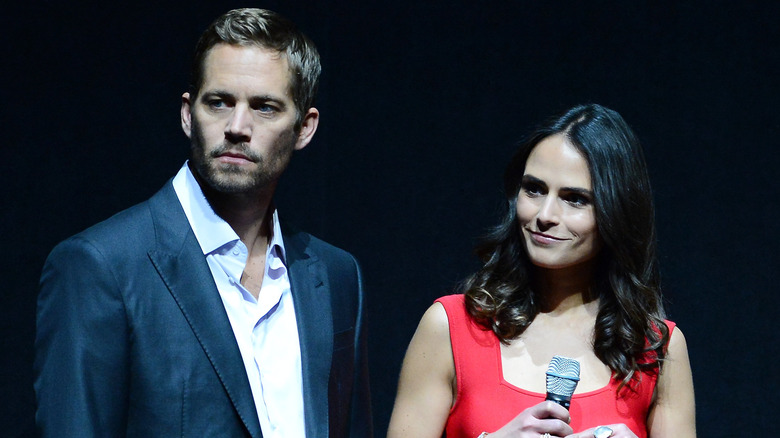 Ethan Miller/Getty Images
When Jordana Brewster tied the knot in 2022, "Fast & Furious" pals like Vin Diesel and Ludacris were there with bells on — as was a blue Acura Integra GS-R. The vehicle was a nod to Paul Walker, and it wasn't the day's only tribute to the late actor. As E! News reported at the time, a life-size photo of Walker and Brewster's characters was affixed to the driver's side window, making it look like Mia was driving Brian around in the car. "No matter what, he's always going to be an integral part of the franchise," Brewster told E! News. "We don't even have to make an effort to honor him, because he's just stitched into the legacy forever and ever."
While Walker's "Fast & Furious" family may not have to make an effort to honor him, that doesn't mean they don't continue to pay tribute to his memory. For starters, Brewster always wishes him a happy birthday on Instagram, and she's spoken candidly about her grieving process. "It just gets very intense and then sometimes it's less intense," she told People in 2021. "But it just comes in waves, regardless of whether it's that person's birthday or not."
Brewster and Walker, who played love interests in the franchise, clearly had a strong connection on the screen and behind the scenes. And while their relationship was always platonic, Brewster did develop a small crush on Walker. "I think on many levels, he knew," the actor said in a separate chat with E! News.
She mostly keeps her children out of the spotlight
If you follow Jordana Brewster on Instagram, then you have certainly seen pics of her adorable sons, Julian and Rowan. But in April 2023, Brewster revealed on the "Verywell Mind Podcast" that she was having second thoughts about sharing so much of her children's lives online. "I think I'm not going to do that as much because it's not fair. They're not consenting to it. So, I'm going to stop that," the actor told the host, therapist Amy Morin.
For now, Brewster can make that call, but it seems one of her sons is enjoying the spotlight and just may become famous in his own right. In 2021, Brewster's older son, Julian, made a cameo in "F9: The Fast Saga," following in his mom's footsteps. And it sounds like he had a blast. "He was so good," Brewster told Access. "He then wore the uniform that he had, his costume, for days. He was so proud."
Jordana Brewster says she is thriving in her 40s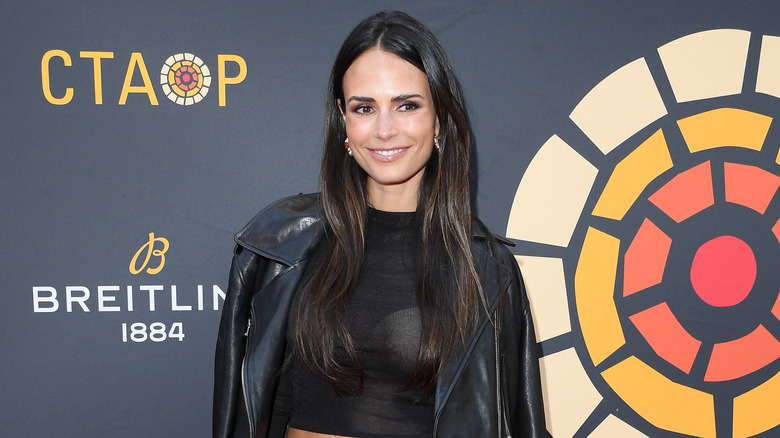 Steve Granitz/Getty Images
Aging gracefully can be easier said than done — especially in Hollywood — but Jordana Brewster isn't one to fear getting older. Rather, she was more than ready to turn the big 4-0 in 2020. "I'm an old soul. I felt like, when I'm in my 40s, I'm totally going to fly," the actor told Us Weekly. Brewster expressed that her career has taken more interesting turns now she falls in a different age range, and has much to look forward to. "The actresses I most admire are in their 40s and 50s," she shared with Us Weekly. "The roles are more complex. For a while, I was sidelined to the girlfriend or the good-girl parts. I'm having more fun now than I did in my 20s."
But it's not only Brewster's professional life that has gotten more exciting with age. Her personal life has changed considerably, as Brewster explained in her aforementioned Glamour essay. "At 40, I cracked myself open and put it all on the line. With that came the collateral damage of my first marriage, but by risking it all I gained the love of my life," she wrote. You've got love to see someone not only accept age, but revel in it.