Inside Zara Tindall And Peter Phillips' Sweet Sibling Relationship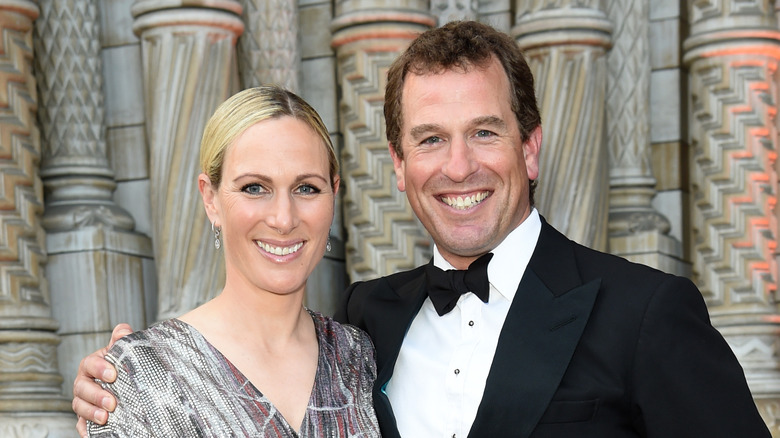 Antony Jones/Getty Images
Peter Phillips and Zara Phillips Tindall probably aren't the first to come to mind when you think of the royal family. Queen Elizabeth II's eldest grandchildren are not only a little ways down the line of succession, but they don't have royal titles. Princess Anne and Captain Mark Phillips decided against giving their kids titles shortly after Peter's birth in 1977. When Zara came along in 1981, she too was born without a royal title. Thanks to their commoner status, Tindall and Peter don't generate as many headlines as some of their cousins. Still, they have managed to attract plenty of fanfare — whether for Zara's impeccable fashion sense or for Peter's dashing good looks (he was dubbed "sexiest royal" by People in 1998). Over the years, the siblings have proven themselves to be icons in their own right — royal titles be damned.
A former press secretary for the royal family once told The Sun, "It was a masterstroke of the Princess Royal when she decided not to give her children titles." In lieu of working for the Crown, Tindall and Peter were free to forge their own paths in life. Today, Tindall is a world champion equestrian, and Peter has found success as a business executive. There's plenty to admire about these discreet royals — but one of their best qualities is their sweet sibling relationship. From living as neighbors to sharing many common interests, this sibling dream team gives us major warm fuzzies. 
Growing up, Zara Tindall and Peter Phillips bonded over hobbies and sports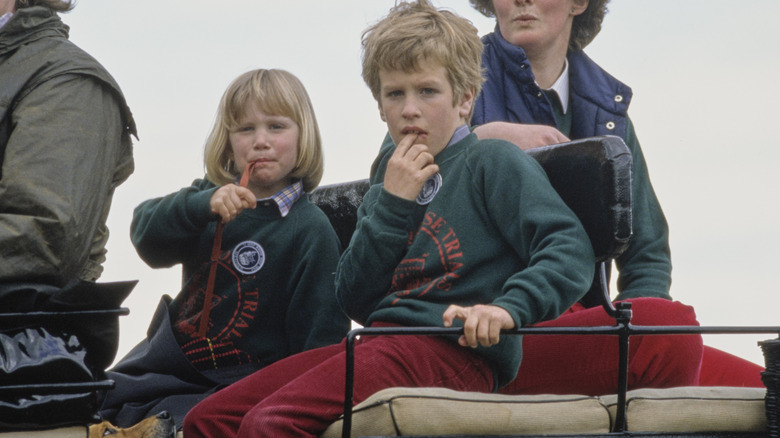 Tim Graham/Getty Images
As the children of Princess Anne, it's no secret that Peter Phillips and Zara Tindall had an astoundingly lavish upbringing. The pair grew up on a sprawling Gloucestershire estate known as Gatcombe Park. In addition to being their childhood home, the property is also home to the Festival of British Eventing, an annual equestrian competition that attracts swarms of athletes and spectators. Given their proximity to the equestrian world, it's no surprise that the siblings are natural-born riders. "I was on a pony before I could really remember," Phillips told ABC News in 2014. Tindall eventually took her riding skills to the Olympics, earning a silver medal in 2012. 
While the siblings bonded over equestrian sports, they also found common ground in performing chores around the estate. "The water jump was frequently filled with algae and weed and so before the event started the younger ones amongst us were sent in in our swimming trunks to go and weed the pond," Phillips recalled to ITV News. In addition to their pond-wading adventures, the siblings spent ample time exploring the lush grounds of Gatcombe Park. They became skilled at identifying different types of flora and learned about the local plants by collecting and pressing them.
As children, they had an adorably relatable sibling rivalry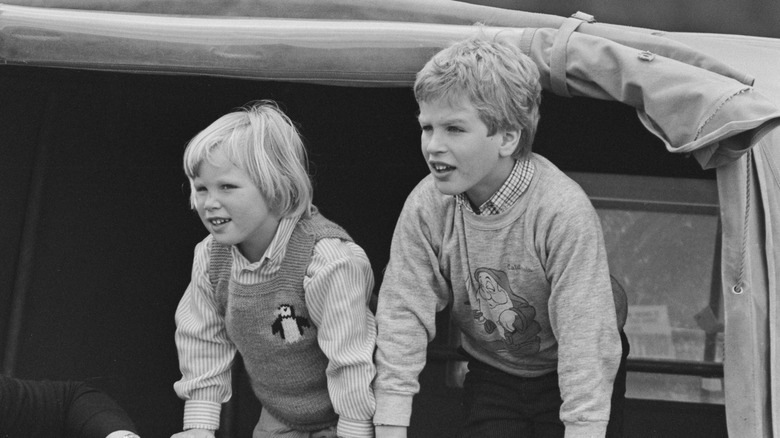 Express/Getty Images
Like many folks who hail from a multi-child household, Zara Tindall and Peter Phillips are no strangers to sibling rivalry — and they'll be the first to admit that their childhood did include the occasional skirmish between them. In 2018, Phillips opened up about his adorably plucky relationship with Tindall. "Most little sisters are annoying, and Zara was no exception," Phillips quipped to The Sunday Times. "She tried to boss me around and tell me what to do." He went on to dish that his sister was always "at the centre of anything that was happening that was fun and boisterous." In 2010, royal watchers got a glimpse of Tindall's bossy side when she hilariously scolded Phillips for swearing during a televised interview.
Tindall shared her perspective on the sibling rivalry, telling The Sunday Times that Phillips was "pretty mischievous, but he would often say that if I did something, he would get in trouble for it." Despite some intermittent bickering, there doesn't seem to be any ill will between these royal siblings. In fact, Tindall is quite transparent about her admiration for her brother. "Pete is someone who I've looked up to all my life," the royal said. "When I was growing up, he was a great person to have around, he was very level-headed, very calm, considered, and grounded. He'll be there no matter what I need."
Zara Tindall and Peter Phillips leaned on each other during their parents' divorce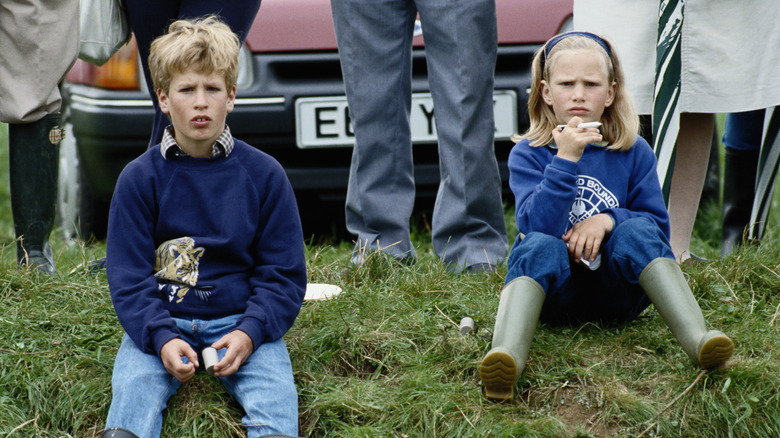 Tim Graham/Getty Images
In 1989, Princess Anne was famously outed for cheating on Captain Mark Phillips with the queen's equerry, Sir Timothy Laurence. The story broke when their private love letters were stolen from the palace and handed over to a British tabloid. Although the letters were never published, their existence confirmed the scandalous romance. But the princess wasn't the only one two-timing — in fact, one of Mark Phillips' illicit affairs resulted in the birth of a daughter in 1985. Finally, after a tumultuous marriage, Mark Phillips and Princess Anne announced their separation in 1989. The pair confirmed their divorce three years later, and Princess Anne went on to marry Laurence.
When their parents split, Zara Tindall and Peter Phillips were 8 and 11 years old. Amid the separation, The New York Times reported that Mark Phillips would move to a nearby farm and "have full access to the children." In 2018, Tindall told The Sunday Times, "When [my parents] separated, it was obviously sad, but the way they did it was not harmful to us." You might assume that the young royals were devastated by the divorce — but fortunately, their sibling bond gave them strength. "I don't remember it as a painful time. And I had Pete," Tindall recalled.
Peter Phillips is a huge supporter of Zara Tindall's riding career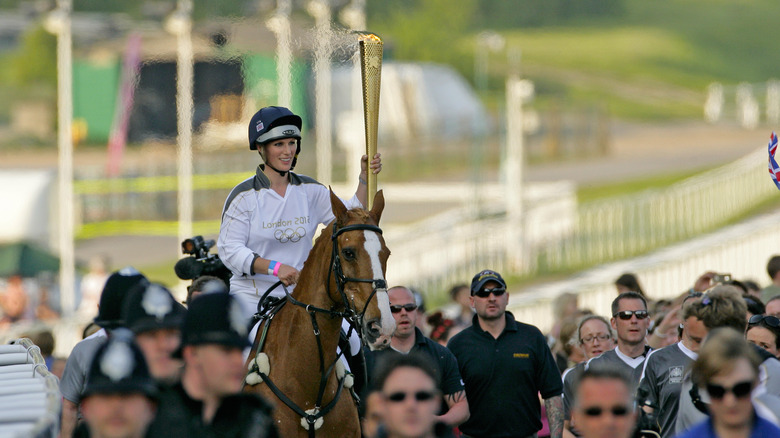 Max Mumby/indigo/Getty Images
To the royals, equestrian sports are truly a family affair. Queen Elizabeth famously adored horseback riding — and many other royals have followed in her stirrups. A few have even become decorated equestrian athletes. Zara Tindall's parents, Princess Anne and Captain Mark Phillips, both had Olympic riding careers. King Charles III was an ace on the polo field until he retired from the sport. Even the youngest of the royal children can be seen perched atop their ponies, poised to become the next generation of regal riders. That said, it's no surprise that Tindall herself has become a world-class equestrian. "I think just the passion and love for horses that's been passed down through our family," the royal gushed to People. "We're very lucky to have them in our lives. Being able to do it every day is incredible, and it's such an amazing sport." In 2012, Tindall proved she's the real deal, earning a silver medal at the Olympics. 
Admittedly, Tindall owes some of her success to her family — especially to Peter Phillips, who is always there to cheer her on. Her brother's support has been a constant throughout the ups and downs of Tindall's riding career. "I have a huge sense of pride in Zara as an equestrian," Phillips told The Sunday Times in 2018. "What she achieved at the age she did was remarkable."
Peter Phillips is protective over Zara Tindall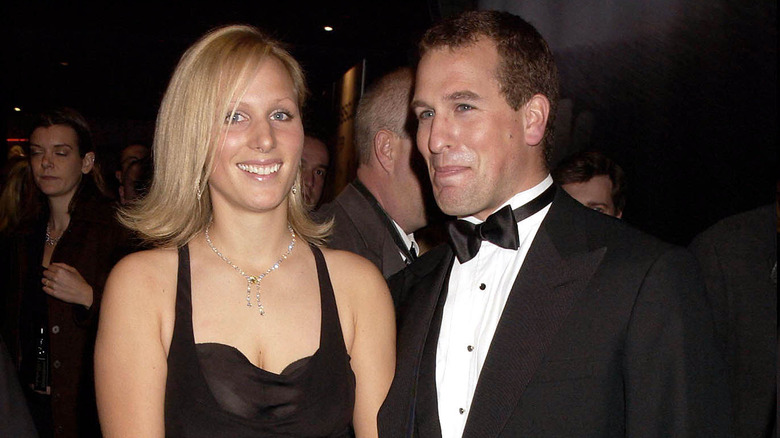 Dave Benett/Getty Images
In addition to being one of Zara Tindall's biggest supporters, Peter Phillips is also her protector. During the siblings' teenage years, Phillips was serious about shielding his sister from creeps and playboys. Regarding his friends, Phillips had rules for interacting with Zara — and his number one rule, as Zara recalled, was "Don't go near my sister." Reflecting on her brother's protective nature, Zara said in The Sunday Times, "Did I ever hook up with any of his friends? No way. It was the complete opposite."
In 2004, Zara began dating former rugby star Mike Tindall. While some brothers might've been star-struck over the famous athlete, Phillips had much greater concerns for Zara. Before the pair made it official, Mike had to earn Phillips' trust. "In the beginning of our relationship, Pete was very watchful of how Mike treated me," Zara told The Sunday Times in 2018. "He wanted the best for me." Evidently, Mike passed muster, and he and Zara tied the knot in 2011.
Funny enough, Phillips was there when Zara and Mike first met. As Mike recalled on an episode of "I'm a Celebrity... Get Me Out of Here!" (via People), they all struck up a conversation at a pub during the 2003 Rugby World Cup. Sparks flew between Zara and Mike, so they decided to meet up again. "First actual date, just went out for lunch locally. And ended up being quite a boozy one," Mike shared.
Peter Phillips supported Zara Tindall during a tragedy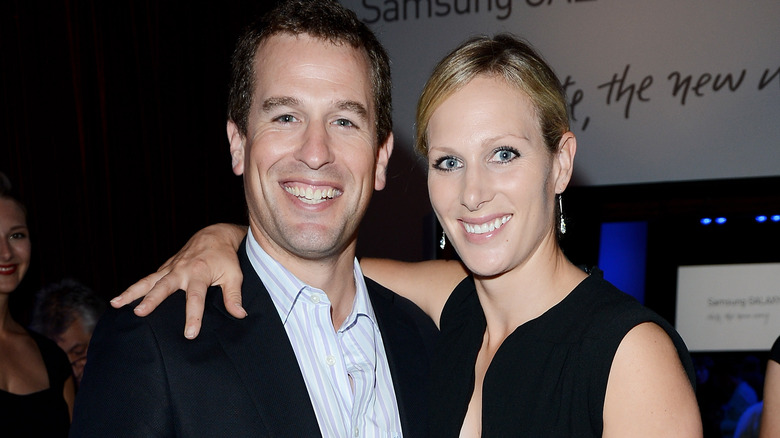 Dave M. Benett/Getty Images
Shortly after announcing that she was pregnant with her second child in 2016, Zara Tindall suffered a miscarriage. Tragically, the pregnancy was so far along that Tindall had to undergo labor and delivery after losing the baby. While mourning her pregnancy loss, Tindall was also impacted by the lack of privacy. "I think that's the hardest thing in our situation is that everyone knew," the royal told "BBC Breakfast." "[W]hen things like that happen, normally it's just your family and friends, but unfortunately, everyone knew about it" (via Daily Mail).
Thankfully, Tindall soon realized that she wasn't alone. Peter Phillips was one of several family members who stepped up to support the grieving mom in her time of need. "At the time, Pete was again very much the protective brother; he was very concerned about me," Tindall told The Sunday Times in 2018. "It was a time when my family came to the fore and I needed them."
Tindall's family rallied around her again when the royal suffered another miscarriage before finally giving birth to her second daughter, Lena. This time, however, she was able to grieve privately. In 2018, Peter Phillips spoke out about his sister's ordeal, telling "Good Morning Britain," "Of course you want to be protective of her. It's a testament to us as a family that she did manage to go through the second miscarriage without the world knowing" (via Woman & Home). 
They chose similar career paths
Max Mumby/indigo/Getty Images
Sans royal titles, Zara Tindall and Peter Phillips don't have the same obligations as some of their family members. Unlike the working royals — such as King Charles III, Prince William, and Princess Anne — Tindall and Phillips benefit from having royal blood without all the built-in royal duties. But being a non-working royal comes with its share of challenges. For example, the siblings had to choose their own career paths — and with so many choices came enormous pressure to succeed. "We were always brought up on the understanding that we were going to have to go to work, we were going to have to go out and earn our living, regardless of the fact of who our grandmother was or who our mother was," Phillips said on the ITV documentary "Anne: The Princess Royal at 70." Tindall added, "I think it made us fight harder as well to try and be as successful as we could be."
While most working royals studied humanities — a very practical discipline for those traveling the globe and mingling with other world leaders — Tindall and Peter had flexibility when choosing their higher educational destinies. They both attended Exeter University and pursued sports-related studies. Tindall holds a degree in equestrian physiotherapy and earns money from various athletic sponsors, including Rolex and Land Rover. Phillips studied sports science and has found success working for companies like Jaguar, Williams F1 Racing, and Sports & Entertainment Limited.
They supported each other through Queen Elizabeth's death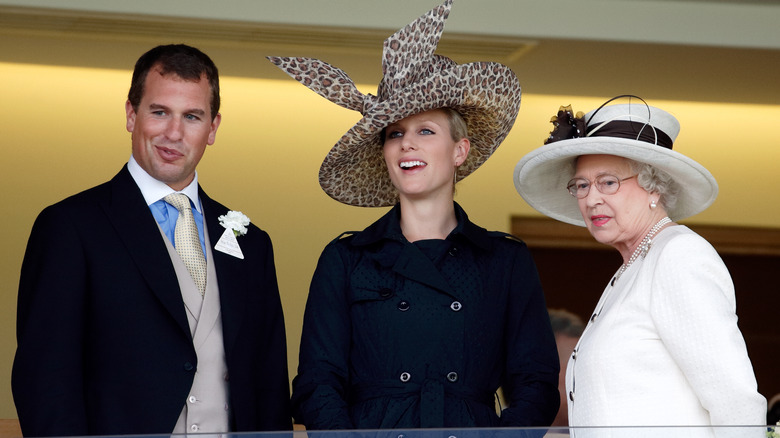 Max Mumby/indigo/Getty Images
The late Queen Elizabeth II adored all eight of her grandchildren, but she was purported to have a special bond with Zara Tindall and Peter Phillips. Some observers even believe that Phillips was her favorite grandson. In 2016, Phillips praised his grandmother's hardworking and charitable nature. "I've always been very close to my grandmother, and we speak often," Phillips wrote in the Telegraph. "She has been an inspirational person throughout my life." Queen Elizabeth was also an essential fixture in Zara Tindall's life. To some royal watchers, the pair seemed like kindred spirits. "They have a lot in common as they talk horses and the Queen has invested in several horses for her," royal expert Ingrid Seward told Fabulous Digital. "The Queen has always adored Zara and is so proud of her riding success" (via The Sun).
To the world, Queen Elizabeth's death in 2022 was a historic moment. But for her family members, it was much more raw and personal. Tindall, Phillips, and the other royals were front and center during an official mourning period for the late sovereign. Amid their obvious grief, the world also glimpsed their sweet sibling relationship when the pair banded together to comfort their mother, Princess Anne. In another heartwarming moment, Zara and Mike Tindall were seen tending to Phillip's young daughters, Savannah and Isla, during Queen Elizabeth's state funeral.
Zara Tindall and Peter Phillips are neighbors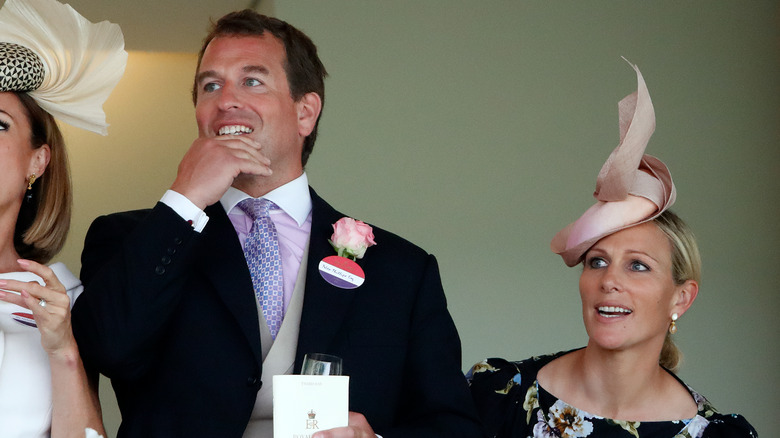 Max Mumby/indigo/Getty Images
Zara Tindall and Peter Phillips are all about keeping it in the family, from attending the same college to choosing similar professions. Based on their proximity, the siblings seem to have built a genuine friendship and mutual support system. In an even sweeter twist, they both settled in their childhood home of Gatcombe Park, a 700-acre property in the Gloucestershire countryside. The estate is home to several other residents, including Princess Anne and her ex-husband, Captain Mark Phillips. In addition to being their home sweet home, the estate boasts a vibrant gathering space — known as the "party barn" — where the royals host social events and movie screenings. It's easy to see why Tindall and Phillips decided to raise their own families in such an idyllic setting.
In 2018, Phillips revealed that his two daughters have a special bond with Tindall's three kids. "Zara and I live 200 yards apart," he said in The Sunday Times. "It's very difficult to keep my daughters and her elder daughter apart. At weekends it's always, 'What's Mia doing?'" And the children aren't the only ones who benefit from the living arrangement. According to Tindall and Phillips, Princess Anne is a doting grandmother who loves spending time with the kids. As Phillips shared in ITV's "Anne: The Princess Royal at 70," "She loves seeing them ride, she loves having them around for Sunday lunches and taking them for walks."
They've been glamming it up together since childhood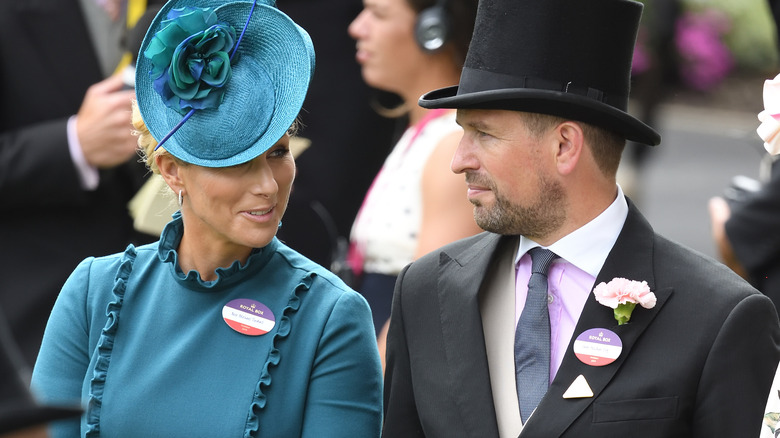 Karwai Tang/Getty Images
As far as royals go, Zara Tindall and Peter Phillips keep relatively low profiles. But when it comes to fashion, the siblings are perfectly in step with their more famous family members. Their stylish moments go way back to childhood, as does their ability to complement each other's looks. As small children, Tindall and Phillips often sported coordinated outfits — including an adorably similar kilt and sweater combo they wore during a visit to Scotland in 1985. As adults, they continue to flaunt their exquisite sibling style. 
In 2019, the pair stunned at the Royal Ascot. Arriving in the same carriage, Tindall wore a gorgeous turquoise dress while Phillips looked dapper in a full-length suit and black top hat. The pair went full glam in May of 2022 for the Tusk Ball, a charity function dedicated to conservation in Africa. Tatler noted that the siblings apparently left their partners at home in order to spend quality time together at the posh event. Tindall looked regal in a printed metallic gown with long puff sleeves. She topped off the look with silver pumps and a matching clutch. In an equally chic moment, Phillips sported a luxe suit jacket and a black bowtie. Tindall and Phillips have claimed their place amongst the best-dressed royals thanks to their synergistic fashion sense.