Where You've Seen Julian Morris Before He Became A Hallmark Star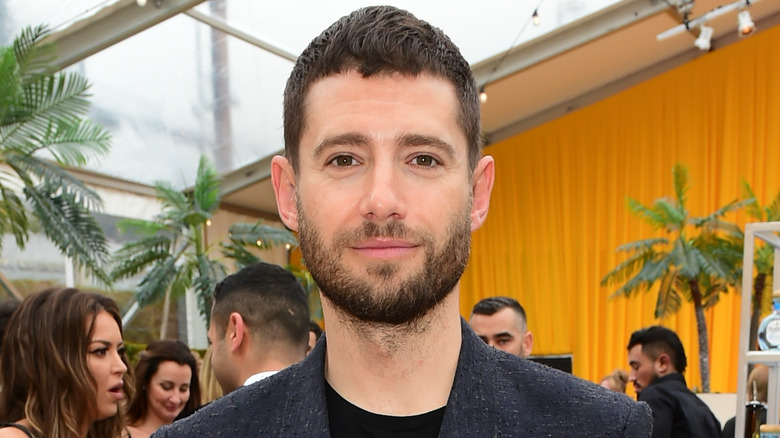 Vivien Killilea/Getty Images
London-born actor Julian Morris has starred in the Hallmark films "A Royal Queens Christmas" and "Presence of Love." However, if you are also a fan of the teen drama genre, you will recognize him as the character Wren Kingston from "Pretty Little Liars." Morris portrayed the doctor for over 20 episodes and appeared in five seasons of the show. Wren was a love interest for the character Spencer Hastings, along with both her sisters.
Morris was rooting for a relationship between Spencer and Wren to come to fruition during his tenure on "Pretty Little Liars." In an interview with The Hollywood Reporter from 2013, Morris talked about an episode where Wren and Spencer go on a date. He said, "I've been wanting to see that happen for them for a long time." Prior to his appearance in the final season, Morris spoke with MTV about Spencer and Wren. "I always thought — and this is how I played it — that he was in love with and loved Spencer, so it would be great to resolve that," he told the outlet.
In addition to the teen drama genre, Morris has experience with fantasy. He played Prince Phillip for six episodes of "Once Upon a Time." However, his best show romance may not be Wren and Spencer or Phillip and Princess Aurora, but instead a couple from a popular sitcom.
Morris has played love interests in a beloved sitcom and a classic book-to-show adaptation
If you're wondering what the "Pretty Little Liars" stars are doing now, Julian Morris has played a variety of other roles since then. He portrayed one of Jess Day's boyfriends, Ryan Geauxinue, on the FOX sitcom "New Girl." He is introduced as a new teacher at the school where Jess works as vice principal, and the two spark up a romance despite Jess' attempts to stop romantic fraternization between staff members. Morris can be seen in a variety of episodes in Season 4.
Morris has also brought an iconic book character to life — he played Meg March's husband John Brooke in the BBC's 2017 adaptation of "Little Women." Willa Fitzgerald from "Reacher" and "Scream: The TV Series" played Meg in that adaptation, which also starred "Ant-Man and the Wasp: Quantumania" star Kathryn Newton as Amy March and "Stranger Things" star Maya Hawke as Jo March.
Morris played a 'dark reverend' in 'Hand of God'
Not all of Julian Morris' characters can be sweethearts like Ryan, John, and Morris' Hallmark protagonists, Colin and Daniel. Some of them are more twisted, like Reverend Paul Curtis in Amazon Prime's "Hand of God." In an interview with Young Hollywood about that show and his character in it, Morris called Paul a "dark reverend," adding, "He is this actor-turned-con-man-turned-preacher." Despite the intense subject matter of the show, Morris had a very enjoyable time on set.
Morris' co-star, Ron Perlman, gave him advice that really helped Morris with a tough episode, which Morris shared in his Young Hollywood interview: "And [Perlman] said to me, 'In terms of acting, make every word count.' Which is simple advice but, you know, you're thinking about, sort of, the melody of the line and just every word having a meaning behind it. And then of course you get onto set, you're in your scene, and then you forget about it and just have fun."
Now, Morris has joined the ranks of Hallmark's leading men that can make you sweat. Fingers crossed he will appear in one of the network's feel-good romances again soon!