Hallmark Channel Leading Men That Make Us Sweat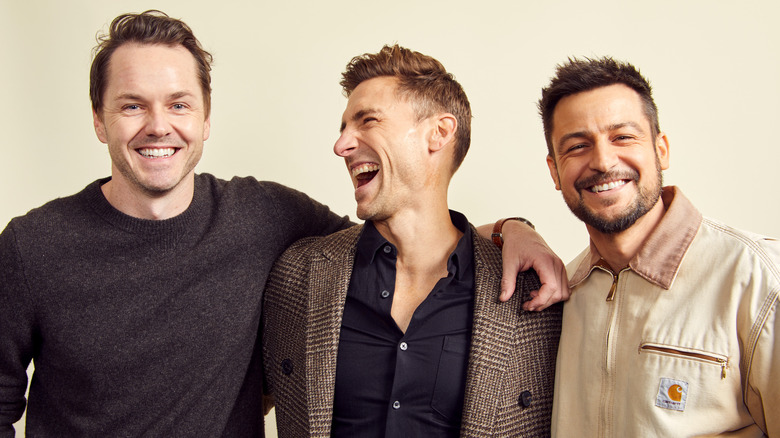 Emily Assiran/Getty Images
Hallmark Channel has been pleasing fans with its feel-good, formulaic approach to movies since 2001 and Forbes reported that the network generates one-third of its advertising revenue from its fan-favorite Christmas movies alone. Women are the specific demographic that keeps the Hallmark Channel at the top of network rankings, and there's a comfortable predictability that induces contentment in viewers. "There's a lot of dopamine and oxytocin that gets released in watching these things," T. Makana Chock, a researcher of media psychology told The Lily. "They can be very de-stressing. They make you feel happier."
Women have also leaned into the network because programming on the Hallmark Channel is led by women and the executives know the stories and character arcs that women want to experience. The Observer reported that even men love to watch Hallmark movies for the consistent and reliable way in which the network tells love stories. Most importantly, network executives also know what women want to lay their eyes on — the handsome men of the Hallmark movies.
The Hallmark Channel has been a movie star launching ground for some actors, as well as a place where well-established actors like Jesse Metcalfe and Cameron Mathison have enjoyed landing. Get an eyeful of the gorgeous leading men who set us ablaze on the Hallmark Channel.
Andrew Walker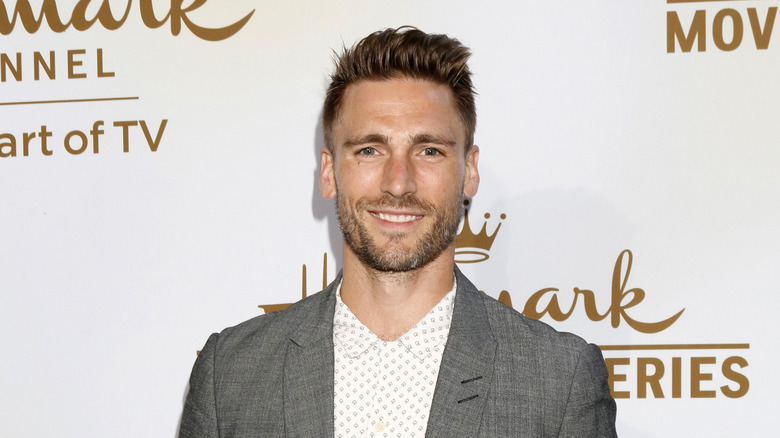 Kathy Hutchins/Shutterstock
Ever since Andrew Walker joined the Hallmark Channel in 2012, he's been a go-to lead, starring in over 20 of their movies. His popularity as a Hallmark hottie has allowed him to be picky about the roles he chooses, but he keeps saying "yes" because he genuinely enjoys making movies for the channel. "Nine and [a] half times out of 10, I usually take the project no matter what because, it's great — Hallmark has a 'No a–hole' policy so, usually I'm working with really great people," Walker told Us Weekly.
Viewers might recognize Walker from his role as Cole Harper on "Sabrina the Teenage Witch" or smaller TV roles before he joined Hallmark. Walker and his wife, Cassandra Troy, also run a side hustle juice business called Little West that has grown into a premiere brand that serves hotels and high-end grocery chains. 
Walker is looking forward to promoting the network with fellow Hallmark hunk Kris Polaha when the pair set sail with fans on a five-day Royal Caribbean cruise that departs from Fort Lauderdale in late 2023. The lucky 250 guests will get to participate in engagements with the stars while they cruise to the Bahamas.
Tyler Hynes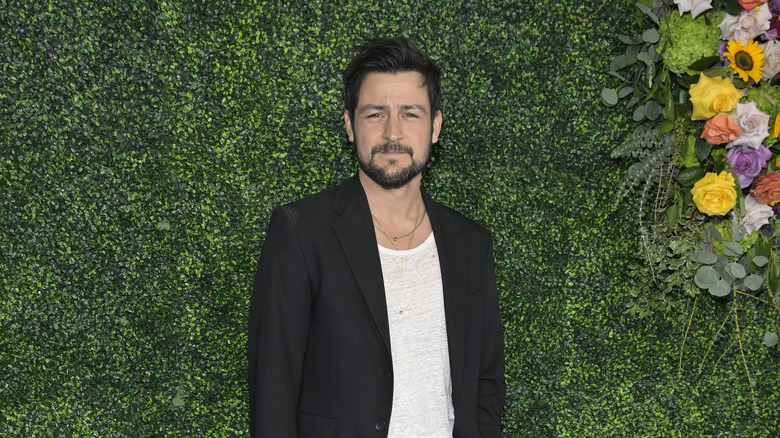 Michael Tullberg/Getty Images
Tyler Hynes joined the Hallmark family in 2018 when he starred in "Falling for You." Hynes began working on the stage as a child, and he was also an accomplished writer, editor, producer, and director of short films and music videos prior to joining the network. He has been the leading man in more than 10 Hallmark films and has grown a fervent fan base of people who refer to themselves as "Hynies."
Hynes is besties with fellow Hallmark actor Andrew Walker, and Hynes' cousin is Walker's wife, Cassandra Troy, so the Hallmark actors talk weekly and spend plenty of bro time together. "I've known the guy for 19 years since he started coming to her house for Christmases when I first met my wife. We have a deep appreciation for each other," Walker told Us Weekly.
Hynes' fans also love to follow the chronicles of his adorably fluffy Pomeranian, Rusty James, who the actor often shows on his Instagram. The pup has garnered quite a bit of attention, and Hynes even had Mr. Rusty James join him on a Facebook Live when his fellow actor Rhiannon Fish had to back out of the promotion at the last minute. Naturally, the little cutie stole the show.
Luke Macfarlane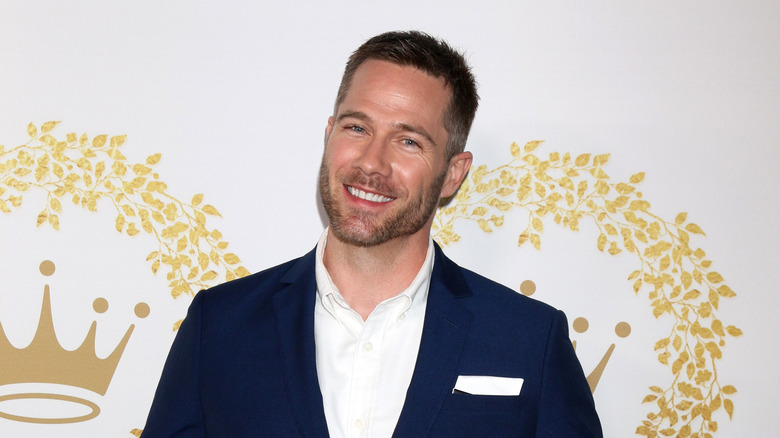 Kathy Hutchins/Shutterstock
Luke Macfarlane is an anomaly amongst his fellow Hallmark hunks because he is an openly gay actor who joined the list of Hallmark hunks playing straight leading characters. Macfarlane admitted that he didn't know the cultural juggernaut he was stepping into when he snagged his first Hallmark lead in "Memory Book" in 2014, but he ended up starring in over a dozen Christmas movies. "I sometimes wonder if Hallmark even knew I was gay when they first started to put me in the movies," he told Vanity Fair. "I remember reading the script and being like, 'What is this? It's very light, and there's flannel, and a canoe ride. And it's delightful!' I didn't understand."
Macfarlane is a classically trained actor who attended Julliard and has been working in theater, television, and film his entire adult life. In 2022, he starred in the first major studio-released gay rom-com, "Bros," with Billy Eichner, and crossover fans were amused to see that Macfarlane's Hallmark Channel connection is lightheartedly parodied throughout the entire movie. He may not make any more Hallmark movies, but Macfarlane credits the network with helping him build a film career when no other projects were lining up for him.
Brennan Elliott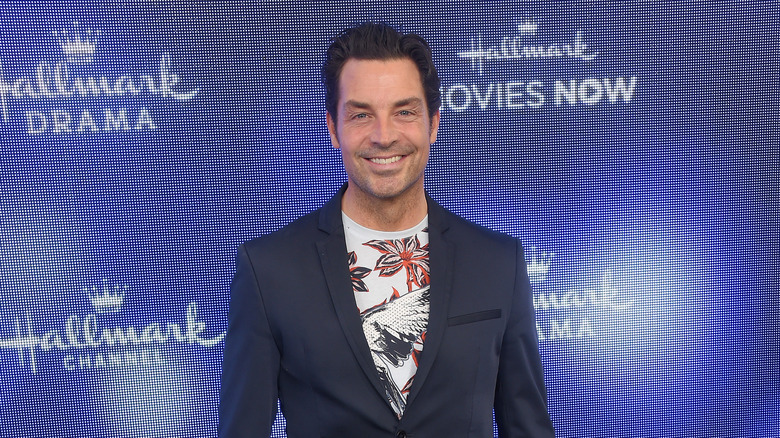 DFree/Shutterstock
Brennan Elliott had an impressive resume of feature film credits when he joined Hallmark for its prime-time show, "Cedar Cove" in 2013. Elliott signed a multi-picture deal in 2022 to make more movies with the network. "It's been a dream to have worked with the wonderfully creative and supportive team at Hallmark over the years," Elliott told Deadline. "I'm thrilled to continue this relationship that's meant so much to me and have the opportunity to bring to life new characters and tell stories that will make people smile."
One of Elliott's favorite Hallmark projects was "Christmas at Grand Valley." It was a special role for him because he worked with Danica McKellar, who is also known for her breakout childhood role as Winnie Cooper on "The Wonder Years." Elliott admitted to Extra TV that he had a childhood crush on her, but he was especially thrilled to work with McKellar alongside Dan Lauria since the pair co-starred in the '80s sitcom together.
Elliott is often cast opposite Lacey Chabert and they are a Hallmark couple favorite, but in real life, he's happily married to psychologist Cami Elliott. He credits his wife with helping him further his career with Hallmark and be a father to their two children at the same time.
Paul Campbell
Emily Assiran/Getty Images
Labeled as one of the most recognizable Hallmark hunks by Us Weekly, Paul Campbell is a multi-skilled actor who has been an asset to the Hallmark Channel for over a decade. In 2017, he went behind the camera to take on producing and co-writing roles in several films for the network, including "Three Wise Men and a Baby," which he also co-starred in with fellow hunks Andrew Walker and Tyler Hynes.
Campbell — who has hunk-worthy hobbies outside film production like drag racing and carpentry, — is also a super present father. He even told Us Weekly that what matters most about his career with Hallmark is that he can show his work to his children. "I really like the content, and now that I have a family, it's a nice sort of pleasant content where I don't have to worry about racy, questionable stuff. It's definitely the direction that I feel I'm headed," Campbell said. He even had his son, Kingston, join him on the set of "Sun, Sand, and Romance" in 2017.
Ryan Paevy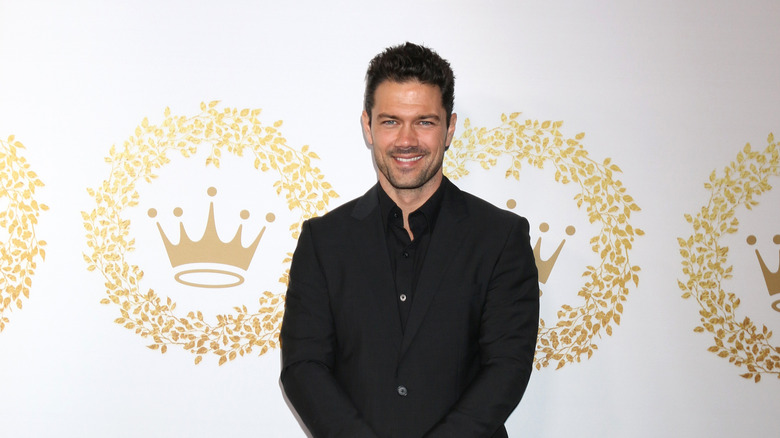 Kathy Hutchins/Shutterstock
Ryan Paevey first gained a large fan base by playing detective Nathan West for six years on "General Hospital." By the time he joined Hallmark, he already had a successful career in modeling and had landed opportunities in noteworthy music videos, including being the body double for Robin Thicke in his iconic "Sex Therapy" video. Despite a career that depends on him staying incredibly handsome, he told Entertainment Tonight that he's happiest when he is being incredibly risky and doing adventurous activities that may cause him bodily harm!
However, Paevey doesn't mind toning down his adrenaline-junkie side for charming roles on the Hallmark Channel. He has always appreciated working for the network because he genuinely enjoys the people around him and never feels the need to be fake. The actor also explained, "It's nice to be a part of a team that cares about its stars, that produces good product, that's doing well."
Cameron Mathison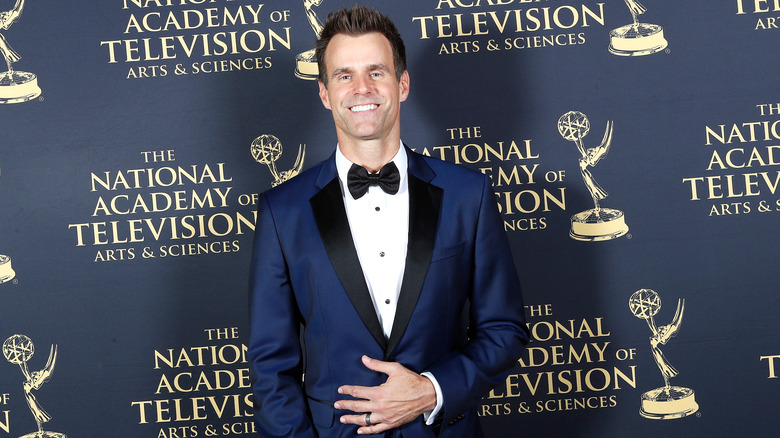 Joe Seer/Shutterstock
Cameron Mathison's entertainment career ranges far beyond the Hallmark Channel, but he still considers the network one of his homes. In addition to acting, Mathison has been a host and a correspondent for "Good Morning America" and "Entertainment Tonight." He's also well-known to his fan base for roles on the soap operas "All My Children" and "General Hospital."
The Hallmark Channel has kept Mathison in constant rotation since he joined the network in 2014. In addition to co-hosting "Home and Family" for nine seasons, he plays a detective in the "Hannah Swensen Mysteries" and has acted in over a dozen Hallmark movies.
These days, Mathison stays busy as an avid athlete, competing in triathlons, golf tours, and slam-dunk competitions. However, his activity levels stand in stark contrast to his childhood spent overcoming a degenerative bone disease called Legg-Calve-Perthes disease. The condition is characterized by a loss of blood supply to the head of the femur, which causes the bone tissue to start dying. Mathison posted to his Facebook that he remains grateful to the children's hospital which preserved his health as a child.
Jesse Metcalfe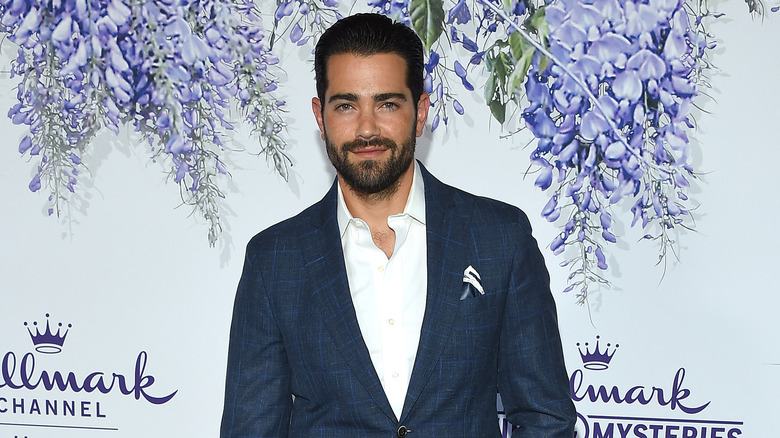 DFree/Shutterstock
Jesse Metcalfe came to the Hallmark network with a sizzling hot reputation for playing television bad boy John Rowland on "Desperate Housewives," but he had to switch gears into a much sweeter world when he made the transition to Hallmark after the ABC hit wrapped. But he brought with him his experience as a major hunk in entertainment. "Being a sex symbol is very much about the roles that you play and my roles put me up on a pedestal," he told People. The star admitted he felt constant pressure from the media to maintain his physique at all times.
Since joining the channel in 2010, Metcalfe has split his time between Hallmark movies and the network's series "Chesapeake Shores." Metcalfe is a self-described musician, philanthropist, and actor and his songwriting credits include the song "Begin Again" which he wrote for the Hallmark show "Chesapeake Shores."
Outside of entertainment, he has spent his time and energy raising support and awareness for North Texas Food Bank as the head of the Celebrity Board. He also traveled to Botswana as a UNICEF ambassador to help towns and villages affected by poverty.
Chad Michael Murray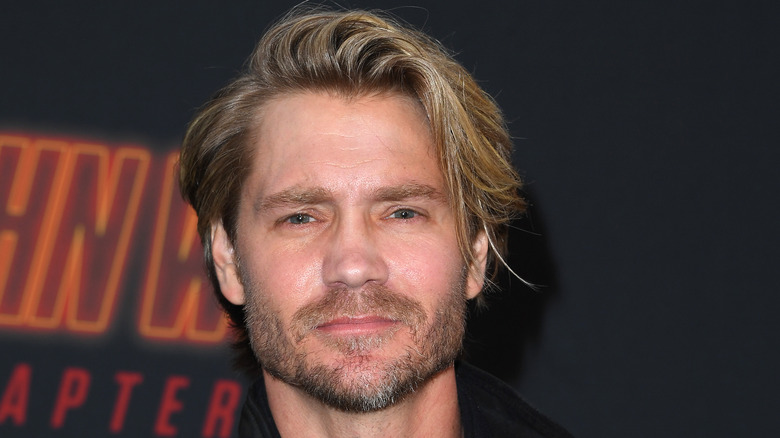 Steve Granitz/Getty Images
Chad Michael Murray is arguably the most famous actor to find their way to the Hallmark Channel after an illustrious career on some iconic television shows, including "One Tree Hill," "Gilmore Girls," and "Dawson's Creek." Murray also starred on the big screen opposite Hilary Duff in "A Cinderella Story" in 2004. Since joining Hallmark in 2018, Murray has made five movies for the network, including "Love in Winterland," and "The Beach House."
Murray could probably go in any career direction he wanted at this point, but he plans on staying with Hallmark and making more Christmas movies for now. "It's incredible for the world. We all love the holiday season. We all love these films," Murray told People at Christmas Con. He added, "I'm going to do them for as long as I can."
Murray is married to model and actress Sarah Roemer, but he keeps the details of his life with his wife and three children extremely private. Recently, he has added writing to his professional resume, including scriptwriting for Hallmark movies. Murray also co-wrote a romantic thriller called "American Drifter" with author Heather Graham.
Kristoffer Polaha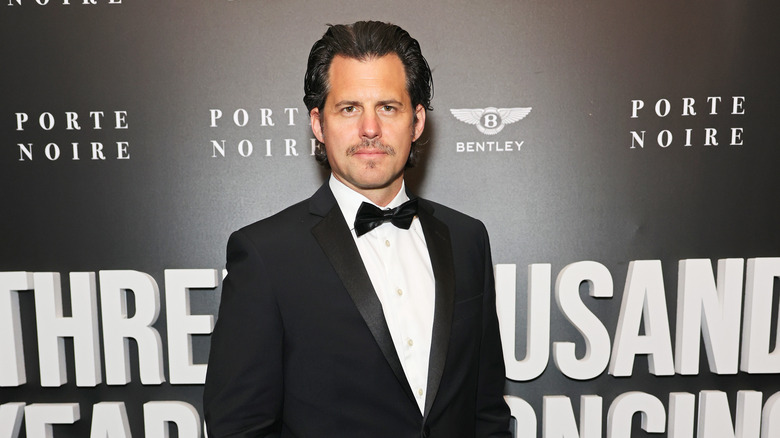 David M. Benett/Getty Images
Kristoffer Polaha has made a name for himself as a Hallmark fan favorite, but his debut on the channel has remained noteworthy thanks to his appearance alongside the future Duchess of Sussex, Meghan Markle, in the movie "Dater's Handbook." He even gave her dating advice as she was beginning to date Prince Harry. Since that time, Polaha has acted in several Hallmark movies and played a detective in the Hallmark Murders and Mysteries franchise, "Mystery 101." Polaha has an impressive resume on the big screen, taking roles in major blockbusters including "Wonder Woman 1984" and "Jurassic World Dominion."
Polaha, like other Hallmark hunks, is a multi-talented creative who has dipped his toe into the writing world. He co-wrote a romance with Anna Gomez called "Where the Sun Rises," and he told the world on Instagram, "It's a story about love and redemption and healing and it is a book I am very, very proud of." The book also won 1st place at The Bookfest Award in the Romantic-Multicultural category.
Paul Greene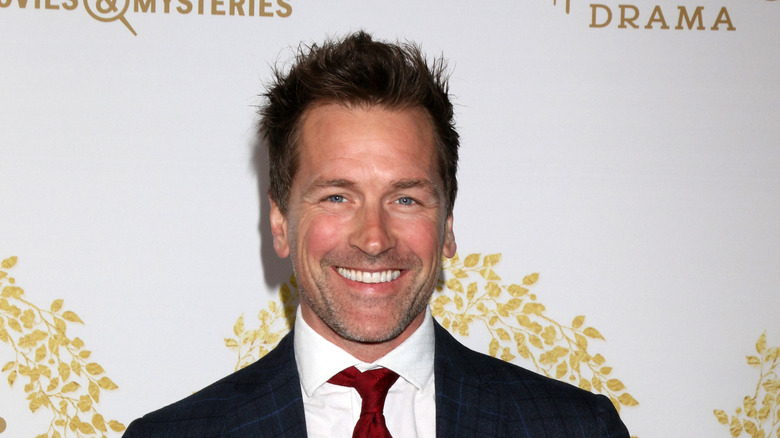 Kathy Hutchins/Shutterstock
Paul Greene — who's been referred to as a "staple of the Hallmark Channel" by Variety — has also directed short films and is a musician and podcaster. He's had three songs chart in the Top 10 in Canada, including his #1 single "Plea of an Angel." Greene grew up in a musical family and it has always been an important venture for him alongside acting and modeling.
When Greene's not acting, singing, and being a dad, he offers transformational life coaching through his personal website, PaulGreene.com. He's married to another actor-turned-life strategist, Kate Austin, and he's reflected on learning valuable life lessons from fatherhood. He told People, "It teaches me to be kind and patient, and is a total learning experience, which keeps me young. I was born to be a dad," he added.
Like the other Hallmark hotties on this list, Greene doesn't plan on leaving the channel any time soon. He acknowledged to The Observer that he's aware of the movies' predictable formulas, but he feels that's what keeps drawing viewers. "Even though they kind of know what's going to happen, they want to be taken on the ride to get there," he explained.
Trevor Donovan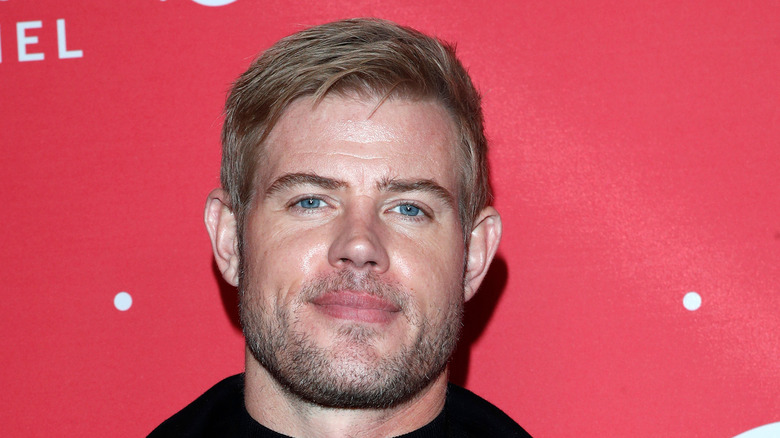 Kathy Hutchins/Shutterstock
Trevor Donovan was well-known for his role as Teddy Montgomery on "90210," and he's been a reliable Hallmark hunk since 2012, but it hasn't been an easy road for him to become a working actor. Similar to his handsome Hallmark colleagues, Donovan got his start in a soap opera, playing Jeremy Horton on "Days of Our Lives." His big break with the legendary soap was short-lived because Donovan struggled with panicking on camera and he was fired from the show – and devastated, according to Soaps. Just when he was about to take a long pause from acting, he landed "90210," and stayed for the entire series run. The rest is acting history, and Donovan has been steadily working since then.
He challenged his fears again when he joined "Dancing with the Stars" and competed with partner Emma Slater. "Dancing was pretty much my biggest fear. Though I still have some anxiety when it comes to dancing, my confidence has grown," Donovan told Yahoo. He has also been working passionately on anti-bullying through his Upstanders campaign. "Tremendous progress is being made. There has never been a more important time to stand up for those who feel voiceless," he said.
Kevin McGarry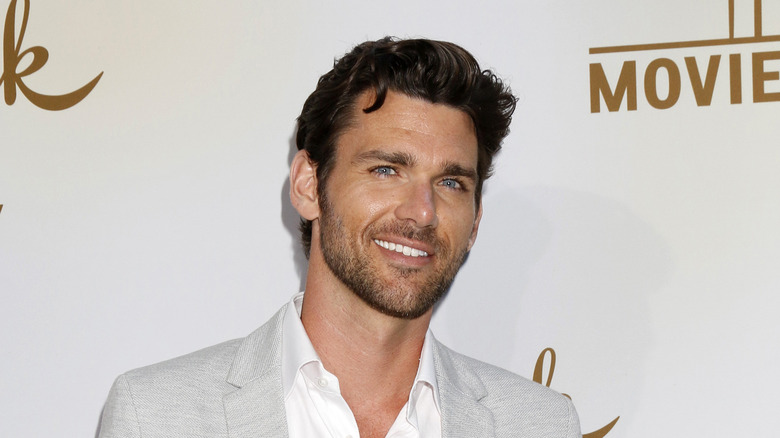 Kathy Hutchins/Shutterstock
Kevin McGarry has been with the Hallmark Channel since 2015 when he joined the cast of "Open Heart," and he's been acting in the network's series and movies since 2007. The star also likes to poke fun at the brief time he spent posing for covers of erotic novels. He's been a rising star ever since he joined the network and currently plays Nathan Grant on the Hallmark show "When Calls the Heart." He even found love through his career with Hallmark when he met his fiancé Kayla Wallace on the set of the popular show in 2019. The couple continues to work on the show together, but they stay relatively low-key about their relationship, other than the occasional adorable social media post.
McGarry claims to be a simple man who loves black coffee and posting clips of himself playing the guitar on his social media. He lists black licorice as his favorite snack, admitting that he knows "it's gross," according to Parade. Still, McGarry plays it shy when asked about his status as a Hallmark hunk. "I don't know if I'm a hunk, but I feel cool on a motorcycle," he told Entertainment Tonight.
Sam Page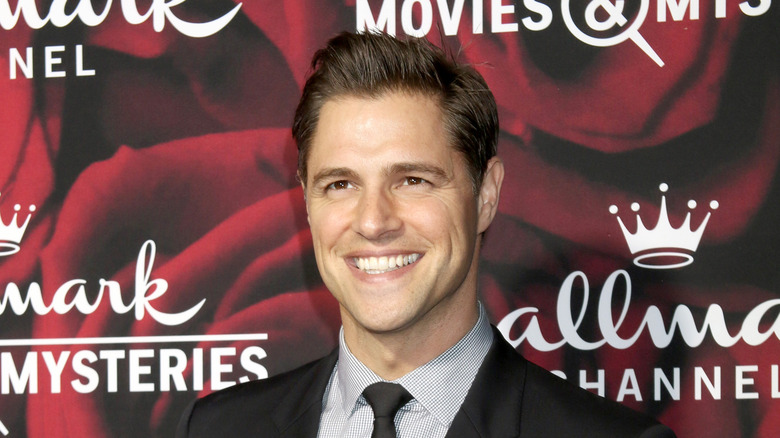 Kathy Hutchins/Shutterstock
Sam Page has been acting for the Hallmark Channel for over a decade, and he also boasts impressive television credits on his resume, including "The Bold Type," "Mad Men," and "Grey's Anatomy." In 2021, he took a role in his first non-Christmas Hallmark movie, "One Summer," a drama about a grieving family. When Page first received the script, he double-checked to make sure it was from Hallmark. "It was refreshing to be able to dig deep and sink my teeth into what is much more of a drama than anything else I've ever done at Hallmark, and they allowed us to do that," Page told Media Village. He often likes to take on darker, less upbeat roles for the network. "Maybe that's where my sweet spot is performance-wise," he said.
Page is married to Cassidy Boesch, whom he met two weeks into a bet with his friends to stay single the whole summer — a story that could play out in its own Hallmark movie. After meeting Boesch at a party and talking to her all night, he felt it was love at first sight. He told Cosmopolitan he called a friend after the party and left a voicemail, stating, "'I just wanted to go on the record to say, this has never happened to me before and I guess I wouldn't believe in this until it happened.'"