We're So Excited For DAYS' Arianne Zucker & Shawn Christian's Wedding After A Decade Together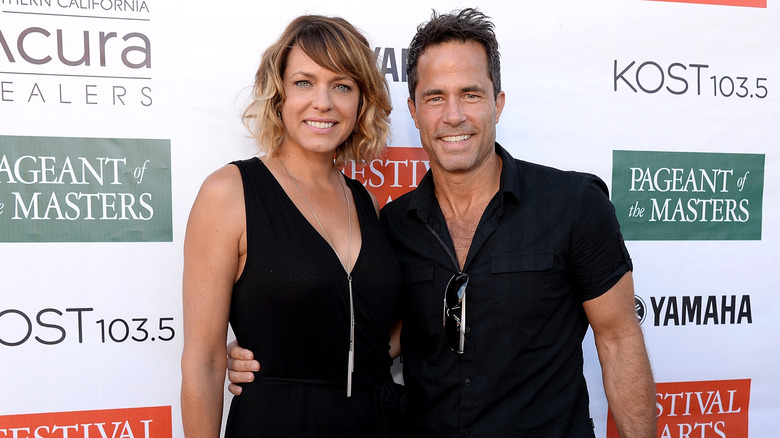 Michael Kovac/Getty Images
Weddings abound lately on "Days of Our Lives," as Stefan DiMera (Brandon Barash) and Gabi Hernandez (Camila Banus) got married alongside Gwen Rizczech (Emily O'Brien) and Dimitri Von Leuschner (Peter Porte) in a double wedding on the July 31 episode, which surprisingly didn't end in disaster, as Salem weddings often do. Xander Cook (Paul Telfer) and Chloe Lane (Nadia Bjorlin) are engaged, as are Sarah Horton (Linsey Godfrey) and Rex Brady (Kyle Lowder). And, of course, E.J. DiMera (Dan Feuerriegel) and Nicole Walker (Arianne Zucker) are just about ready to elope! Good times all around! While this will be the third attempt at marital bliss for Nicole and E.J., Zucker had similar great news in real life.
Arianne Zucker's relationship with co-star Shawn Christian began on the set of "Days" in 2008 when he played Dr. Daniel Jonas, but they didn't officially start dating until 2014. On June 28, 2021, Zucker announced on Instagram that she was engaged to Christian, who had popped the question on Father's Day. She attached amazing, candid photos of him proposing. Now, over two years later, Zucker posted a wonderful Instagram update, writing, "This is it! The year we have all been waiting for!!!! We are finally planning our wedding! Ha! It's our turn! There are no words to explain how incredibly kind, honest, honorable, giving, heartfelt oh and sexy this man is!"
Fans shared love and adoration for Zucker and Christian
"Days of Our Lives" star Arianne Zucker's long-awaited Instagram post also contained pictures of her and Shawn Christian dressed to the nines, and her words continued with, "Can't wait to OFFICIALLY call you my husband ... in another year ... but still. Even though we've been together for 10 years ... still can't wait to call you my OFFICIAL husband! I love you @shawnchristian." It's been a long time coming for fans who've been waiting to hear about their wedding plans with bated breath. Christian himself responded by writing, "I'm sooo EXCITED, BLESSED and GRATEFUL to be sharing this wedding adventure with YOU Baby!!" A patient fan wrote the heartfelt, "@shawnchristian so so excited for you both! Have been praying for you both for many years!"
"Days" alum Jen Lilley (Theresa Donovan) posted, "Love you so much!!!" Other co-stars chimed in with their love and congratulations, including Camila Banus and Stacy Haiduk (Kristin diMera) who excitedly sent heartfelt adoration for Zucker and Christian. Fans from all over also joined in, sharing copious amounts of good wishes and felicitations with the loving couple. And one humorous thread started when a fan responded with, "Blessings. Don't get married in Salem lol." In response, another fan wrote, "Exactly!! Someone will crash it!" while the first user followed that up with, "Right! Likely someone who came back from the dead," acknowledging all the fun wackiness that is "Days of Our Lives."
Congratulations to the happy couple!