The Voice Injury That Almost Cost Miley Cyrus Her Singing Career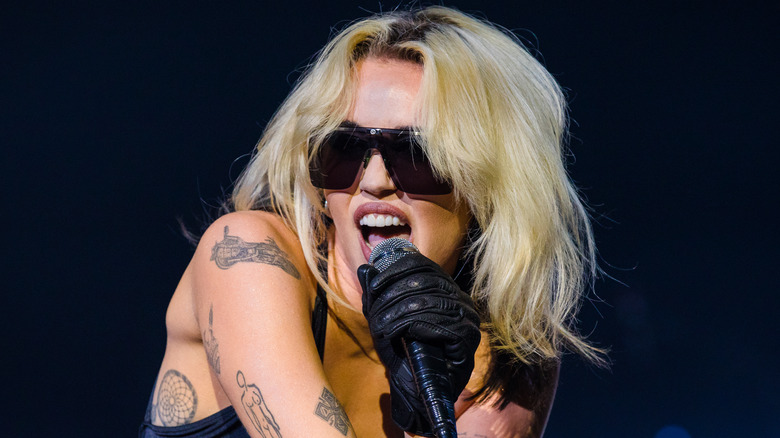 Mauricio Santana/Getty Images
Miley Cyrus is certainly a force to be reckoned with. The daughter of country music royalty, Cyrus famously broke out of the Disney Channel star mold as she pursued a career after "Hannah Montana." After Cyrus' controversial past in the media — yes, including that 2013 MTV Music Video Awards performance — she has settled into her own lane. Outside of the fame that followed her after leaving Disney, Cyrus' pop-rock sound has won fans over in and of itself. She released her most recent album, "Endless Summer Vacation," in 2023.
But with a voice as strong as Cyrus' comes great responsibility. On "The Joe Rogan Experience" podcast, she opened up about how an injury to her vocal cords changed her register permanently. She said this is due in different parts to her long career, health conditions, and personal trauma. In 2019 she was diagnosed with Reinke's edema, a health condition that causes vocal folds to swell with fluid due to overuse, according to The Voice Foundation.
"When my doctor told me about it, he said, 'No one shy has this. This is for abuse of the voice,'" Cyrus told Joe Rogan (via StyleCaster). After the diagnosis, she had to undergo surgery and take a new approach to treating her voice: "Having the surgery was a gift because I was able to understand my instrument." Cyrus also revealed that losing her Malibu home to a fire also impacted her voice, causing her to suffer from PTSD.
Miley's voice changed after her Malibu home burned down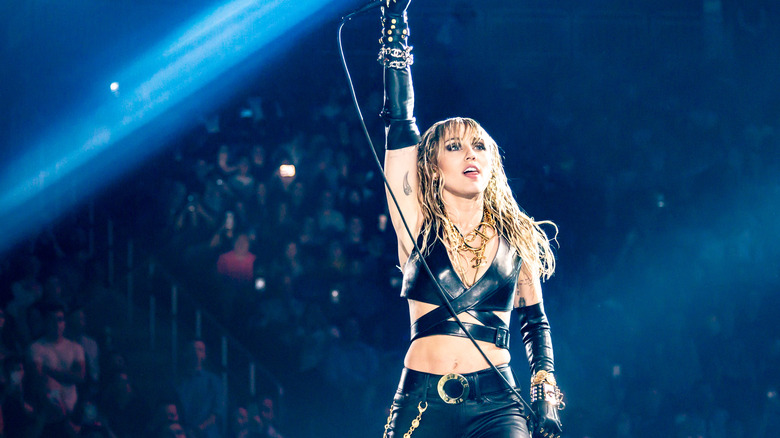 Brian Friedman/Shutterstock
In 2018, wildfires in California burned down thousands of homes — including Miley Cyrus and Liam Hemsworth's abode in Malibu. Cyrus revealed on "The Howard Stern Show" that the traumatic experience impacted her vocal cords severely. "When we lost our house in Malibu — which if you listen to my voice pre-and post-fire, they're very different," she said (per Capital FM). "So that trauma really affected my voice." The singer also lost her songbook to the flames, which contained all of her handwritten songs.
Of the devastating loss, Cyrus also gave thanks to her longtime partner and now ex-husband. She was working in South Africa during the fire, so the task of rounding up their pets was left to Hemsworth. "I call him my survival partner now," Cyrus told Howard Stern (via Entertainment Tonight). "He was so incredible — he got all the animals out in his truck. He put two pigs in crates, which I tell you is so hard."
Despite the fire derailing their lives, the couple didn't delay their nuptials. Hemsworth and Cyrus's secret wedding took place in her Tennessee hometown, where they relocated after the fire. Unfortunately, their marriage was short-lived, and they announced their split just eight months later. Cyrus didn't return to Malibu for nearly four years afterward, until 2022.
Miley's long singing career has impacted her voice severely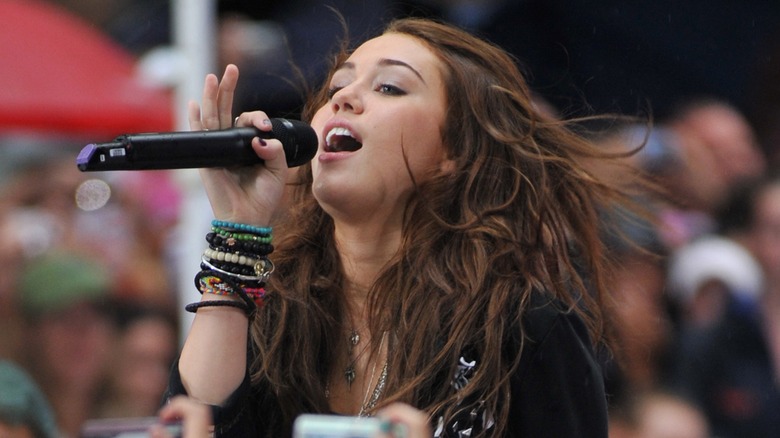 Everett Collection/Shutterstock
Miley Cyrus has been in the spotlight since she was a mere tween. Going on her first tour in 2007 as "Hannah Montana," performing became central to Cyrus' career on and off-screen. However, it wasn't the constant stage time that harmed her vocal cords. She explained on "The Joe Rogan Experience" (per Billboard): "The adrenaline that you have after a show — it's not really the singing that affects your voice as much ... You stay up, talking all night. Later, the talking all night turned into smoking all night." 
In 2019, the "Plastic Hearts" singer swore off smoking and alcohol after she realized the effect it had on her vocal cords. In addition to surgery after her Reinke's edema diagnosis, Cyrus said that she realized her voice had gotten heavier. This changed her experience in the recording booth, as she could no longer hit the same notes from her youth.
Cyrus told Interview Magazine: "My whole life, whether in vocal training or just continuing to hone my craft, it's always been about, 'Why do you sound like a man?' ... Why can't you sing the high octave of 'Party in the U.S.A.' anymore?'" She shared that producers often wanted to bring in singers with a higher vocal range, but through her lower register, she was able to find her own authentic sound.