Why Queen Elizabeth And Princess Alexandra's Relationship Was So Special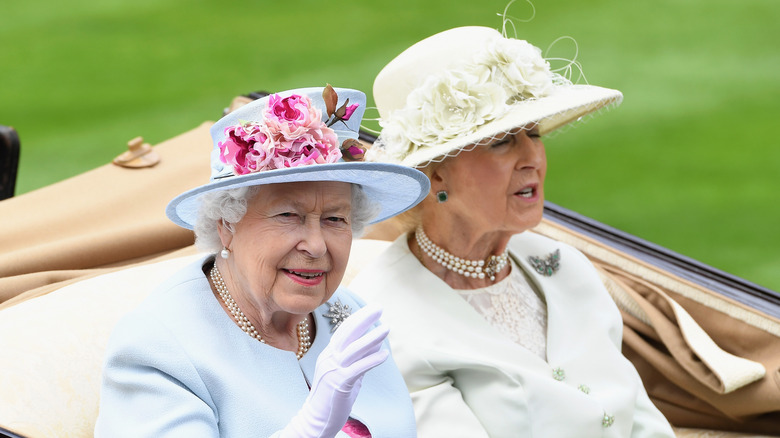 Stuart C. Wilson/Getty Images
Ever heard of a dynamic duo in tiaras? Well, that was the enchanting friendship between Princess Alexandra and Queen Elizabeth II. They didn't have your typical cousin connection, and these two weren't just exchanging royal pleasantries at tea parties. They were practically partners in crime — if crimes involved charity galas and philanthropic quests.
If you're unfamiliar, Princess Alexandra is a royal rock star who spends her days championing charities and organizations with the style and grace of a modern superhero. She's the Honourable Lady Ogilvy and a devoted lifelong royal. And then there's the late Queen Elizabeth II, the royal matriarch who was known for her impeccable poise and love for corgis. Reports and even a documentary, "Princess Alexandra: The Queen's Confidante," have spilled the tea on their extraordinary closeness.
So, what's the secret sauce that made their relationship so special? It was reportedly shared passions, camaraderie, and a mutual commitment to making the world a better place. Princess Alexandra's dedication to charitable endeavors and Queen Elizabeth's support for her cousin's efforts gave their bond an extra layer of glitter and genuine affection. This royal duo proved that even amidst the grandeur of royalty, it's the authentic relationships that define us and leave a mark on history.
Princess Alexandra received the Queen's hand-me-downs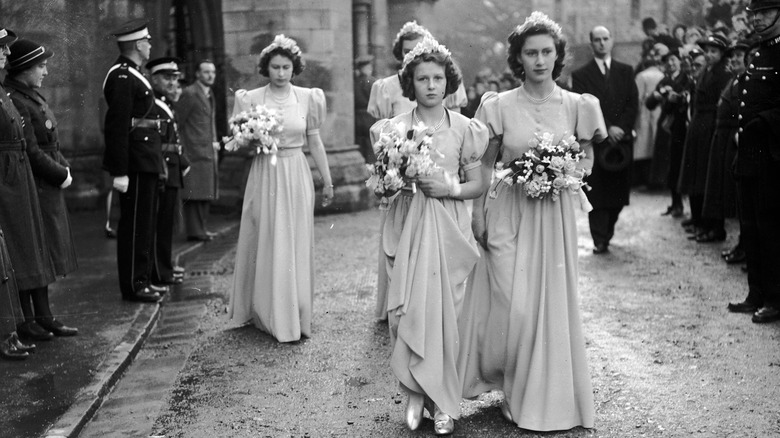 Pna Rota/Getty Images
Queen Elizabeth and Princess Alexandra were both members of the British royal family, connected through their grandparents, King George V and Queen Mary. This shared royal heritage created a deep bond between the two cousins, going beyond their familial ties. Their connection went even further, as Princess Alexandra's first cousin once removed on her mother's side was Prince Philip, the Duke of Edinburgh and the Queen's consort. While they had distinct paths and roles within the monarchy, their shared lineage acted as a bridge that brought them together. Being the granddaughter of a male British king, Princess Alexandra has always worn the title "Her Royal Highness," and she did so even after she wed Angus Ogilvy on April 24, 1963. 
Princess Alexandra's father, Prince George, Duke of Kent, was the younger sibling of Elizabeth's father, Prince Albert, who later became King George VI. Tragically, Prince George died in a plane crash during World War II. Per the "Princess Alexandra: The Queen's Confidante" documentary, Prince George's death had huge ramifications for the family. There were heavy financial burdens on the family after they lost Prince George's salary, and Alexandra's mother was sadly forced to sell some items belonging to her late husband. Following her father's passing, Alexandra spent considerable time with Elizabeth, forging a strong bond between the cousins. In a later documentary celebrating Queen Elizabeth's life, Alexandra sweetly spoke about the hand-me-downs she received from the then Princess Elizabeth, calling them, "invaluable."
The Queen and Princess Alexandra's shared support of health initiatives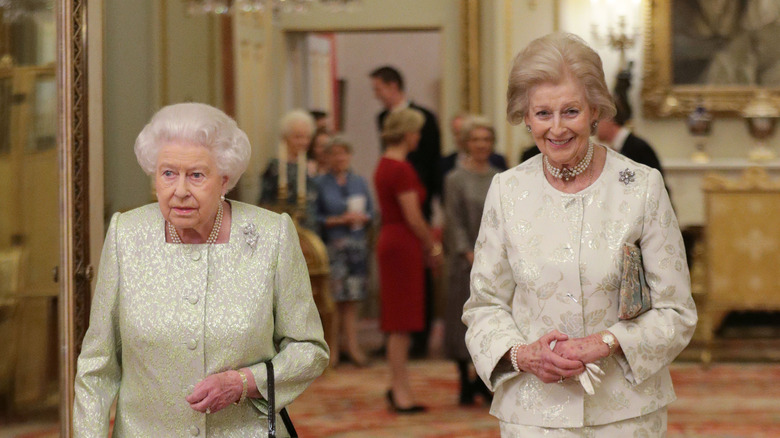 Wpa Pool/Getty Images
Princess Alexandra, also known as The Honourable Lady Ogilvy, has embodied the spirit of unwavering commitment to her royal duties throughout her remarkable journey. With a dedication that could rival the most devoted fan to their favorite TV show, she embraced her working royal role with flair and poise, much like Queen Elizabeth II.
Her dedication didn't just stop at the occasional royal event or photo op. Oh no, she has taken her responsibilities seriously, weaving them into the very fabric of her life. Princess Alexandra's involvement in healthcare, exemplified by her patronage of Cancer Research UK and the Florence Nightingale Foundation, resonated deeply due to her background as a trained nurse. Whether she is gracefully representing charitable organizations or championing causes close to her heart, she has been like a steady anchor of the royal ship, guiding it through the waves of time.
The Queen, who reigned for the longest period in British history, shared the same spirit of charitable dedication. With links to over 600 charities, Her Majesty demonstrated a steadfast commitment to improving lives and championing causes around the world. It's like Princess Alexandra and Queen Elizabeth took the royal playbook of giving back, added their unique flair, and created a legacy of compassion that inspires us all. This shared responsibility to those in the healthcare field further reinforced the relationship between the royal pair. 
Princess Alexandra proved herself when she acted as the Queen's bridesmaid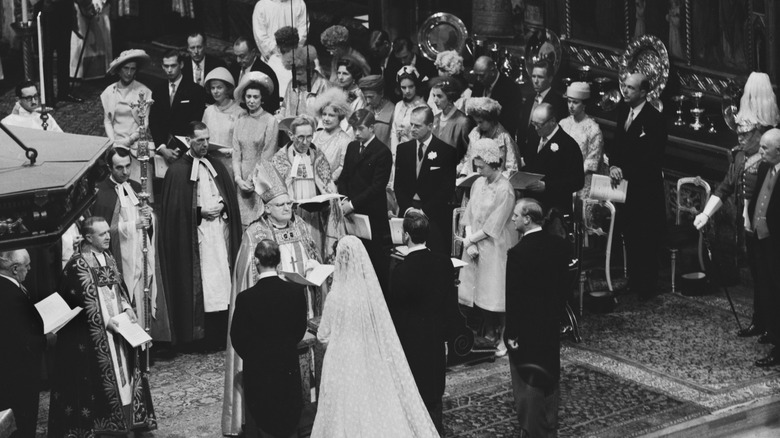 Evening Standard/Getty Images
According to Daisy McAndrew, speaking on the documentary "Princess Alexandra: The Queen's Confidante," "After Princess Margaret's death, Alexandra was the closest thing the Queen had to a sister." They had such a close relationship that Alexandra was around for much of Queen Elizabeth's courtship with her future husband, Prince Philip, with a historian even claiming that much of their early relationship was sparked in Alexandra's own garden. She was later named as one of the Queen's bridesmaids due to the fact that she had been there during the beginning of their burgeoning romance. Consequently, per the documentary, it was said that Queen Elizabeth and her family saw Alexandra as someone who could bear the responsibility of being part of the inner royal circle, and who would later play a key role in supporting the future queen. 
Royal historian Hugo Vickers highlighted Princess Alexandra's significance in Her Majesty's inner circle, attributing it to her reluctance to share family secrets. This trait not only solidified her position but also fostered a unique connection with the Queen. Vickers emphasized that successful royals prioritize support over competition with the Queen, fostering a harmonious royal environment.
A shared sense of duty to the Commonwealth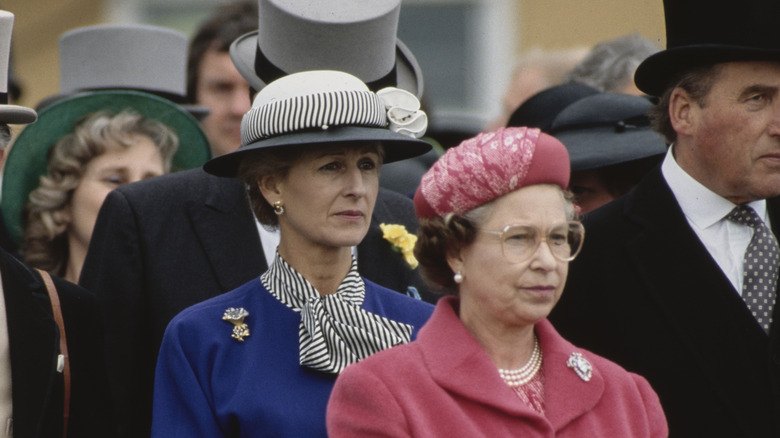 Tim Graham/Getty Images
Princess Alexandra and Queen Elizabeth II weren't just about tiaras and waving — they were all about making a difference. Princess Alexandra, in her regal glory, devotes much of her time to supporting a plethora of charities and organizations that she holds dear. As Patron or President, she lent her royal charm to causes that ranged from healthcare to social welfare, proving that her heart was as royal as her title. From her patronage of the Cystic Fibrosis Trust for 47 years and St. Christopher's Hospice in South East London where she regularly visits, Princess Alexandra is one busy working royal, something Queen Elizabeth could certainly relate to. 
As part of the House of Windsor, they weren't just names in a history book; they were active figures in a modern monarchy, carrying on traditions and supporting causes. Queen Elizabeth, for her part, was the ultimate patron of giving back. For example, The Queen's Commonwealth Trust, which was established in 2018, is a vital organization that plays a significant role in supporting Commonwealth leaders and their affiliated organizations in their efforts to provide assistance to their respective communities.
According to the Channel 5 documentary, Princess Alexandra was actually the one who started royal walkabouts, something the Queen and other members of the royal family would later do as part of their duties. This dedication to her role is something Queen Elizabeth would have recognized and appreciated, cementing their special relationship.
Princess Alexandra was Queen Elizabeth II's trusted ambassador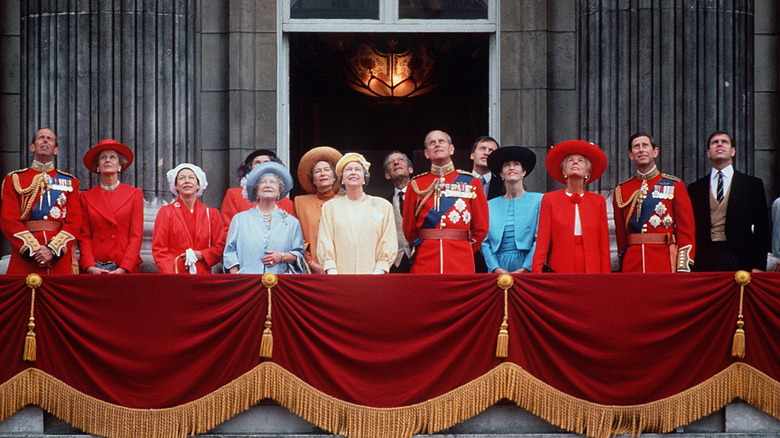 Tim Graham/Getty Images
When it comes to standing tall on the world's stage, Princess Alexandra was Queen Elizabeth II's trusted ambassador, waving the royal flag at official ceremonies and events. These two weren't just relatives; they were an effective team representing the heart and soul of the British monarchy. As Queen Elizabeth II's cousin, Princess Alexandra held a special place in the royal family, often stepping in to represent the Queen both on her home turf and across the globe. Their close bond was really put on display in 2016 when the Queen threw Princess Alexandra an 80th birthday party at Buckingham Palace (definitely bigger than the average birthday family dinner at Applebee's).
Princess Alexandra's role as the Queen's representative showcased their unbreakable connection and the trust they shared. Christopher Warwick, author of "Her Majesty" told the Express, "Members of the Royal Family have always to be very cautious about who they befriend and who they can talk on a personal level with and, obviously, family members are those to whom the Queen would gravitate most naturally." 
In one of many times that Princess Alexandra represented the Queen overseas, she attended the celebrations of Queensland's 100th anniversary in 1959 as a representative of the monarch. The visit of Princess Alexandra began on August 18, 1959, when she arrived in Brisbane. That evening's State Reception at the Cloudland Ballroom served as the official start of her visit, and she stayed in Brisbane up until August 22 when she left on a tour of rural Queensland.
Princess Alexandra and Queen Elizabeth are considered national treasures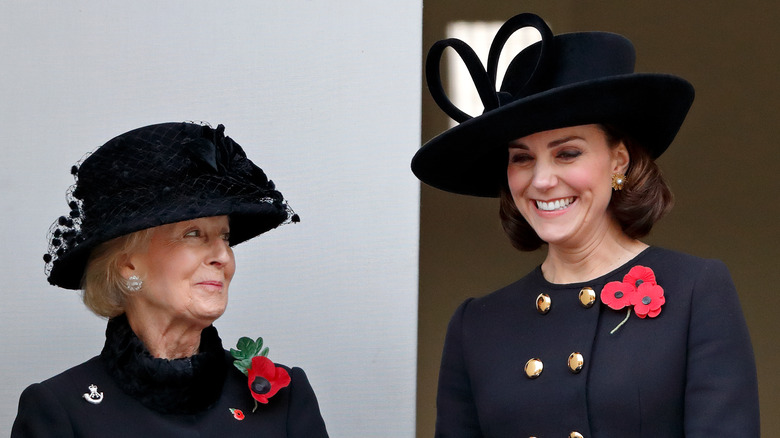 Max Mumby/indigo/Getty Images
Queen Elizabeth and Princess Alexandra's legacy and unwavering dedication to the values of the royal family shine as a testament to their shared commitment. Her majesty's biographer, Hugo Vickers, told The Telegraph that Princess Alexandra is "a bit of a national treasure," and even claimed she's the "most royal of all of them." Despite her normally low profile, she joined other members of the royal family to praise healthcare workers in a video message during the pandemic to celebrate International Nurses Day. This same commitment has been exemplified by Queen Elizabeth since her 21st birthday speech in 1947 when she devoted herself to the Commonwealth, setting the tone for her enduring legacy. 
From her iconic wave to the symbolism of her attire, the Queen's media savvy became a defining trait. She used this to show her fondness and respect for Princess Alexandra when she made her a member of the incredibly exclusive Order of the Garter. This commitment to maintaining a strong presence resonated with Princess Alexandra, and their shared dedication to duty and public service has solidified their place in history as remarkable figures. President Joe Biden acknowledged the Queen's enduring stature in a statement after her death, saying, "Her legacy will loom large in the pages of British history and in the story of our world." Behind the scenes, Princess Alexandra's name will undoubtedly also be spoken with reverence inside the walls of Buckingham Palace. 
Princess Alexandra and Queen Elizabeth are fans of music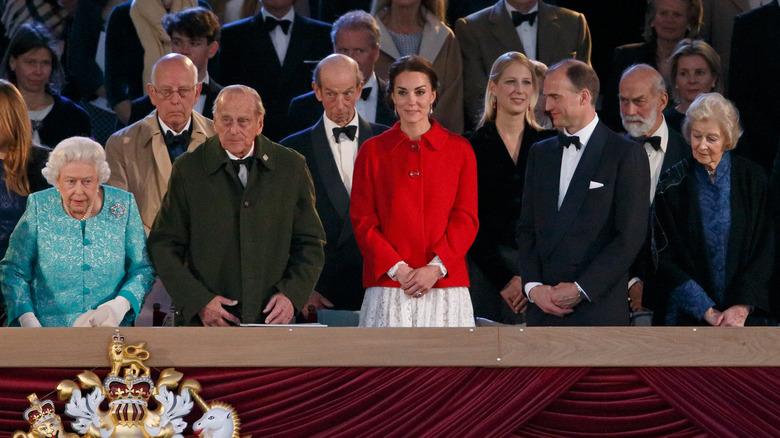 Max Mumby/indigo/Getty Images
While Queen Elizabeth's passion for the arts has been well-documented, her dedication to these pursuits resonates as a testament to her multifaceted interests. She championed music, theater, and cultural endeavors, leaving a lasting impact on the arts community. Notably, her love for music was showcased in her birthday celebrations, where she would enjoy performances from various artists, bringing joy to both herself and her subjects.
On the other hand, Princess Alexandra, known for her patronage and devotion, has a specific affinity for music. As Patron of the Chopin Society, the English National Opera, and the London Philharmonic Choir, she actively supports these organizations, their events, and the talent they showcase. It's not just about lending her name; it's about attending events and engaging with the artistic community, fostering a genuine connection between the royals and the world of music.
For instance, her role as Patron of the Chopin Society underscores her appreciation for classical music. Her involvement goes beyond mere ceremonial duties; she's an integral part of the society's mission to celebrate the works of Frédéric Chopin and promote musical excellence. Her attendance at their events brings royal endorsement to the stage, shining a spotlight on the talented performers and enriching the cultural fabric. In essence, Queen Elizabeth's legacy in the arts finds resonance in Princess Alexandra's deep connection to music and her proactive support for artistic endeavors.
Princess Alexandra and Queen Elizabeth support the military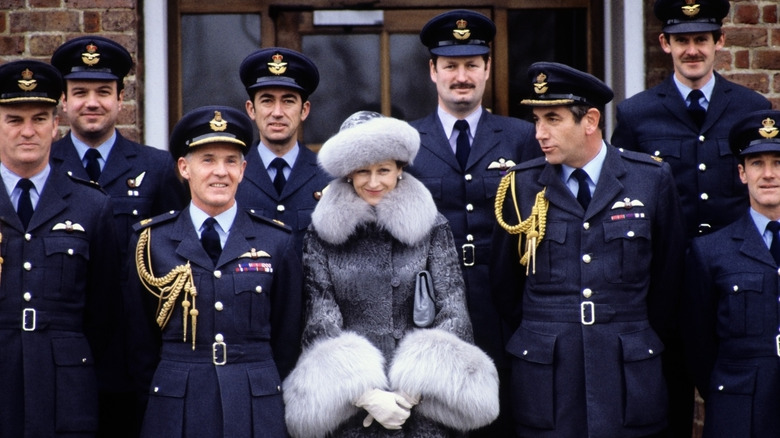 David Levenson/Getty Images
Queen Elizabeth's deep connection to the military community was highlighted by her role as Royal Patron or President of over 600 charities, military associations, and public service organizations. She actively supported military personnel and their families, emphasizing the importance of unity between the monarchy and those who serve their country. Her commitment was further reflected in her interest in government and political affairs, showcasing her determination to uphold her role as a leader during her long reign. At the age of 18 in 1944, she joined the Auxiliary Territorial Service (ATS), a pivotal step that showcased her sense of responsibility and desire to contribute during World War II. Her choice to serve demonstrated her alignment with the resilience and determination of her people during a challenging time in history.
Similarly, Princess Alexandra's strong ties to the military reflect her deep sense of duty and service. Holding the prestigious position of honorary Royal Colonel of 3rd Battalion The Rifles and the role of Colonel in Chief of The Canadian Scottish Regiment (Princess Mary's), among other military titles, she's proven herself as a devoted supporter of the armed forces. These roles aren't just ceremonial; they signify her genuine dedication to the military community and its values.
While Princess Alexandra actively supports and engages with military units, Queen Elizabeth's wartime service illustrates her personal sacrifice during a critical period. Both royals, in their own ways, demonstrate their respect and gratitude towards the military, contributing to a shared legacy of duty, service, and unity.
Princess Alexandra and Queen Elizabeth supported each other after being widowed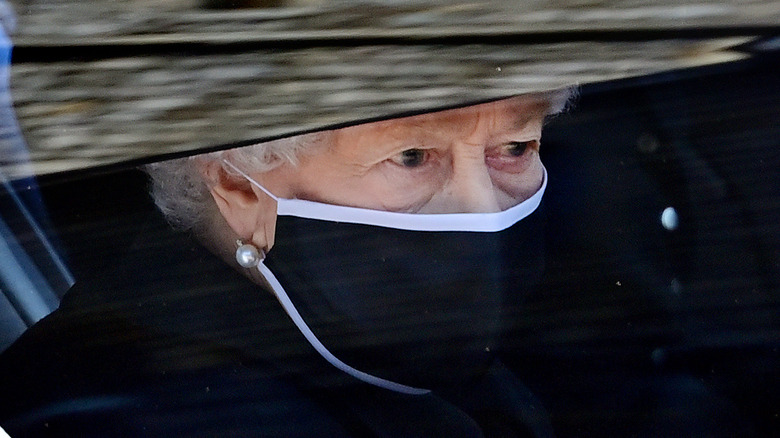 Pool/max Mumby/Getty Images
Per the documentary, Princess Alexandra and Queen Elizabeth were completely supportive of one another when their respective husbands died, adding a new and far greater bond between them. Alexandra was just 68 when she lost her husband, and the Queen attended the funeral to show her support. Alexandra relied heavily on the Queen, who was her closest confidante. 
But, most significantly, Princess Alexandra was invited to Prince Philip's funeral during the height of the pandemic when just 30 people were allowed to attend the service. She was even seen riding in a car with Queen Elizabeth to the service, proving in one of the biggest displays yet how close they truly are. According to a historian in the documentary, the pair only had each other to rely on up until the Queen's death, leading to an unshakeable bond that won't be forgotten by contemporary society or royal historians any time soon.