What Justin Chambers Has Been Up To Since Leaving Grey's Anatomy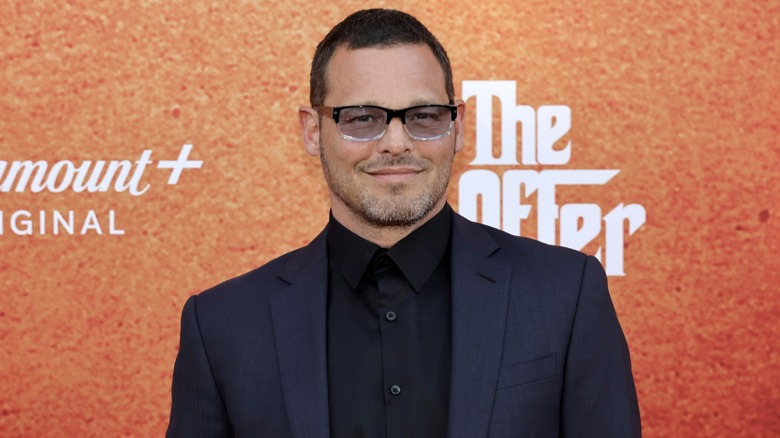 Kevin Winter/Getty
Actor Justin Chambers left "Grey's Anatomy" after portraying Dr. Alex Karev for 15 years on the medical drama. Since then, he's gotten the chance to portray an icon in the entertainment industry: Marlon Brando. The Paramount+ series "The Offer" is all about the difficulties the creative team experienced when trying to make "The Godfather." In addition to Chambers, it stars Miles Teller as Albert S. Ruddy, Dan Fogler as Francis Ford Coppola, Patrick Gallo as Mario Puzo, Matthew Goode as Robert Evans, and Juno Temple as Bettye McCartt.
Chambers appears in four episodes of the show as Brando. The role is perfect for him, because according to Chambers (via USA Today), he literally used to be nicknamed "Baby Brando" when he was a model due to their similar likenesses.
On playing Brando, Chambers said to the outlet, "These are very big shoes to fill. This guy is definitely more handsome, more charming, and more talented. But I thought, 'Why not?' I had wanted to push myself and do something different. This was a whole new territory."
Others who worked on 'The Offer' with Chambers praised how he embodied Brando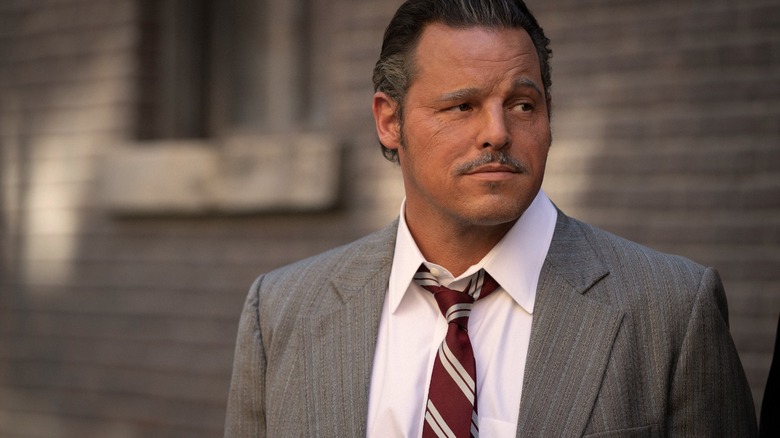 Nicole Wilder/Paramount+ ©2022 Paramount Pictures. All Rights Reserved.
Justin Chambers has received kudos from his fellow cast mates and the creative team behind "The Offer." In a featurette on the hair and makeup of the show, makeup artist Katy Fray said, "Justin's got a great face to become Marlon Brando. We're very lucky and he's a lovely, amazing actor. He loves having the makeup done because it gets him into character." Renee Vaca, the leader of the hair department on "The Offer," said that while the hair and makeup turn Chambers into a physical lookalike of Brando, the energy he brings to the role helps turn him into the actor as well: "He just owns it and just shifts."
Executive producer Russell Rothberg emphatically added, "He's Brando. He's amazing. He absolutely embodies him." Chambers' "The Offer" co-star Juno Temple had similar things to say. When she talked about shooting with Chambers she said, "Truly, when he faced to the side, his profile — it was uncanny how much he looked like Brando."
Chambers explained how monotonous 'Grey's Anatomy' became after 15 years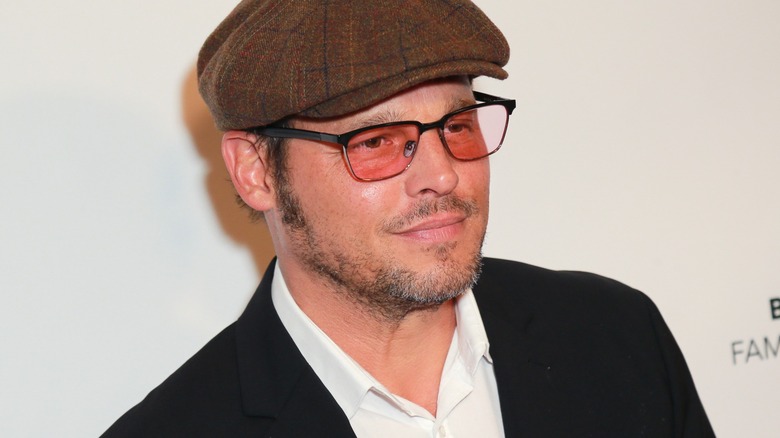 Leon Bennett/Getty
Portraying Marlon Brando was probably a nice change of pace for Justin Chambers, as it's evident that the real reason Chambers left "Grey's Anatomy" is because he was ready for something new in his career. He mentioned as much in his official statement to Deadline about his exit, when he said, "For some time now, however, I have hoped to diversify my acting roles and career choices. And, as I turn 50 and am blessed with my remarkable, supportive wife and five wonderful children, now is that time."
His interview with Lynette Rice for the "How to Save a Life: The Inside Story of Grey's Anatomy" book implies this as well, because Chambers described the monotony of being on "Grey's" for so long: "You're in a bubble [on the show]. You wear scrubs every day, you see pretty much the same people every day, in the same four walls, the same studios, you drive the same route to work. ... You just clock in, clock out. Yeah, I guess it is sentimental, but it's sort of like, 'Wow, I just can't believe how fast it's gone.'" (via Hollywood Life). Although it is unknown what Chambers is doing next in his career, he probably isn't too eager to don his scrubs anytime soon.