Here's Why Justin Chambers Left Grey's Anatomy
Tibrina Hobson/Getty Images
"Grey's Anatomy" is not only the longest-running medical drama, but is also one of the longest-running dramas of any genre, per Insider. Although the current season, as of publication, wraps up in June, People reported that ABC has already renewed the show for its 18th season. At this rate, we wouldn't be surprised if it ends up surpassing the show in the number one slot, "Law and Order: SVU." 
But as die-hard fans are well aware, "Grey's Anatomy's" current episodes are a far cry from how the show began way back when (here's a full timeline, in case you need a refresher). The OG band of interns that included George, Izzie, Cristina, Alex, and Meredith has dwindled down to just Meredith — you can't really kill off the character who the show's named after, but so many fan-favorites have left the show. The last of those once-main characters to go was the bully-turned-BFF and baby-whisperer Alex Karev (played by Justin Chambers) whose last episode came at the end of Season 16. After a few episodes in which Alex was mysteriously missing, it seemed like the writers had to scramble to tie up all of the character's loose ends. Suffice to say, his exit from the show was puzzling and abrupt, which left scores of fans scratching their heads. If you've since wondered why Chambers said goodbye to the role that shot him to fame, wonder no more.
Justin Chambers wants to diversify his acting roles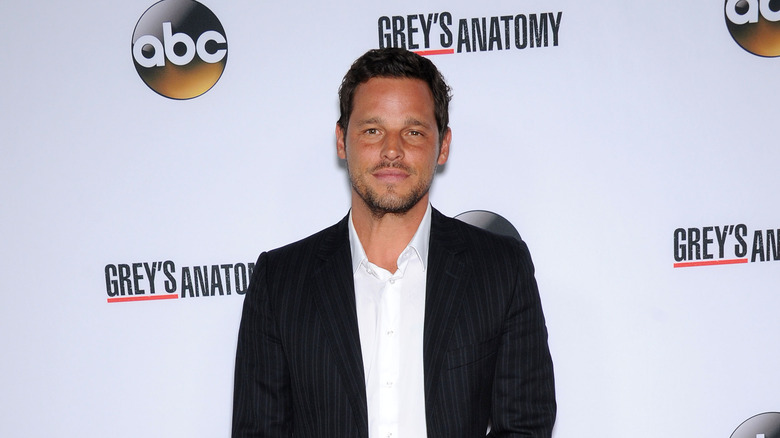 Shutterstock
When fans watched the 350th episode of "Grey's Anatomy," which aired on November 14, 2020, they likely had no idea it would be the last time they would see Justin Chambers on the screen. His character, Alex Karev, had merely gone to visit his mother. But as more episodes came and passed and the fan-favorite never returned, things just didn't seem right. Without giving away any spoilers, we'll just say that the show explained the character's exit in a very surprising and semi-unbelievable way, but he ended up coming full circle in a lot of ways (hint: it involved another original cast member whose exit was rife with controversy).
A few months later, the actor and former fashion model gave some insight into his untimely exit in a statement he made to Deadline. "There's no good time to say goodbye to a show and character that's defined so much of my life for the past 15 years," he said. "For some time now, however, I have hoped to diversify my acting roles and career choices. And, as I turn 50 and am blessed with my remarkable, supportive wife and five wonderful children, now is that time." Considering employees usually stay at their job for an average of just over four years, per U.S. Bureau of Labor Statistics, 15 years is a pretty long time to stay in one position. We look forward to seeing which role Chambers tackles next.