America Ferrera's Real-Life Husband Had A Familiar Cameo Role In The Barbie Movie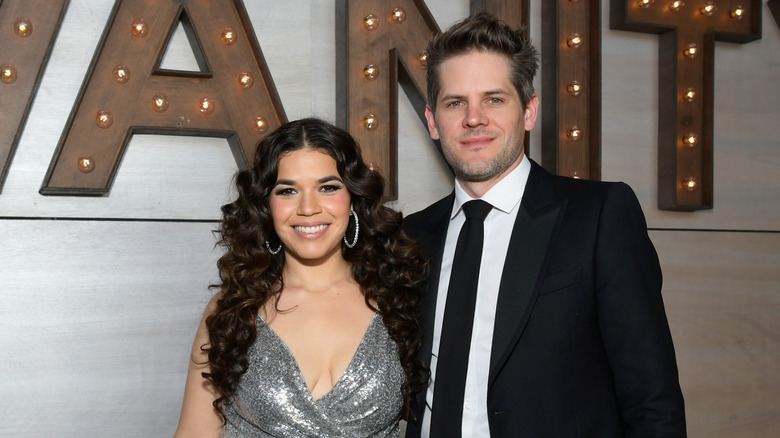 Emma Mcintyre /vf19/Getty Images
While the stunningly transformed Margot Robbie has dazzled audiences as the titular Barbie in Greta Gerwig's live-action film, America Ferrera has made a similar impact as the doll's human counterpart. As a refresher, Ferrera plays Gloria, the Mattel worker and mother-of-one who assists Barbie as she navigates through the film's real world and Barbieland conflicts.
Though Barbie, Gloria, and Gloria's tween daughter Sasha (played by Ariana Greenblatt) serve as some of the "Barbie" movie's main characters, a third member of the human family is briefly featured amidst the trio's escapades. If you're a long-time fan of Ferrera, then you might recognize her in-movie husband as her actual, real-life partner.
That's right, Ryan Piers Williams, who's been married to Ferrera since 2011, had a cameo in the "Barbie" movie as her on-screen spouse. Though his appearances were only brief, they served as a fun Easter egg for those privy to his connection to Ferrera.
Williams is shown practicing his Spanish skills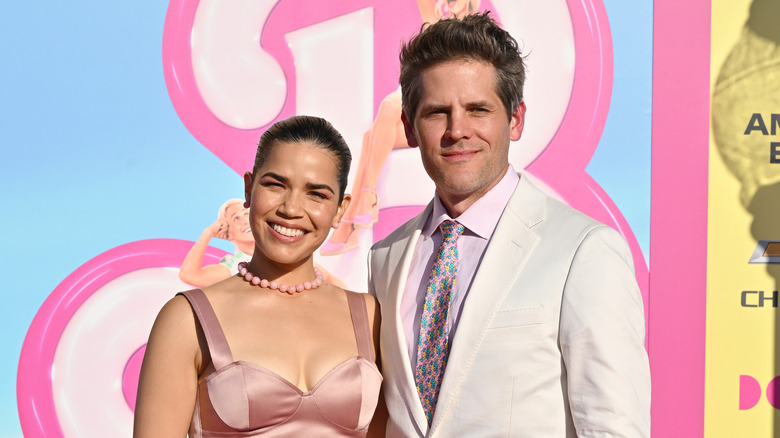 Axelle/bauer-griffin/Getty Images
In case you missed it, America Ferrera's husband Ryan Piers Williams is featured twice in "Barbie," making cameos as her in-movie husband and co-parent. The filmmaker is first spotlighted when Gloria and Sasha, the film's mother-daughter duo, are traveling with Barbie into Barbieland. "What about Dad? We can't just leave him," Sasha asks her mom. Gloria dismissively replies that he'll be fine, with the tween then agreeing, "Yeah, he'll be fine."
Then, the movie cuts to Williams sitting in the family's living room, practicing his Spanish skills with the language-learning app Duolingo. He appears again at the end of the film, making an Easter egg reference to Ferrera's 2002 movie "Gotta Kick It Up" by calling out, "Sí, se puede," which Sasha calls out as a political statement.
The real-life couple isn't only spotted together on the big screen, though, as they each took to Instagram in July of 2023 to share photos of themselves at the UK premiere of "Barbie." "My favorite & forever Ken, you cute," Ferrera captioned her photo. Similarly, Williams wrote in his own post, "I can't wait for you all to see America in this film!"
The on-screen couple started dating in 2005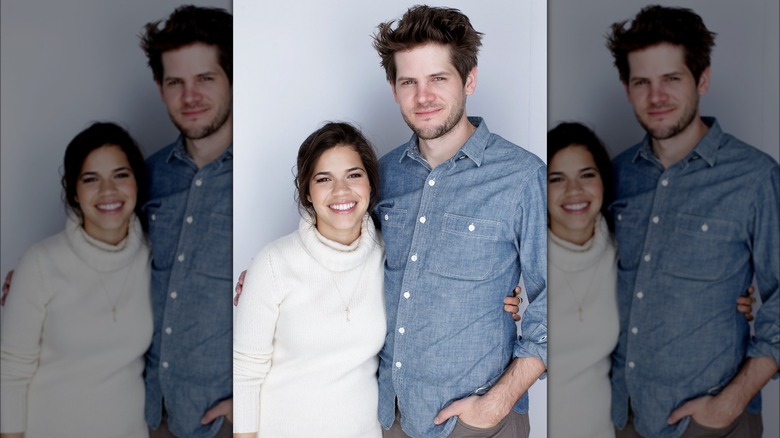 Jeff Vespa/Getty Images
Casual fans of America Ferrera may be wondering about her long-lasting relationship with her "Barbie"-featured husband, Ryan Piers Williams. The couple's connection actually spans back to their college days, as the two met while attending the University of Southern California. They originally started working together, with Williams casting Ferrera in his short film "Muertas," and they then became an official couple in 2005.
Throughout their relationship, the two have continued to collaborate professionally, with Ferrera being a producer and acclaimed actor while Williams works as a visual artist and filmmaker. The "Ugly Betty" star was actually the lead in her husband's 2010 movie "The Dry Land." "We met working, and working together has always been a big part of our relationship," Ferrera told Metro in 2015. "To be completely consumed by the same project and be on set together in the long run becomes quite a bonding experience."
Ferrera and Williams became engaged in 2010, marrying the following year in Chappaqua, New York. The couple has had two kids together since then, with their son, Sebastian Piers, being born in 2018, and their daughter, Lucia Marisol, being born in 2023.