A Look At Patrick Schwarzenegger's Sweet Relationship With Mom Maria Shriver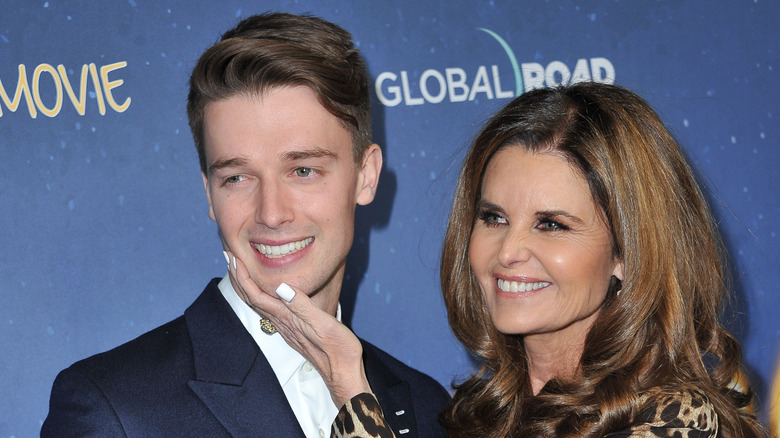 Allen Berezovsky/Getty Images
There's not much that the Schwarzenegger family hasn't done. Arnold went from bodybuilder to Terminator to California governor. His ex-wife, Maria Shriver, a relative of the prominent Kennedy family, is a former news correspondent and children's book author. Their oldest daughter, Katherine Schwarzenegger Pratt, is a self-help aficionado and the wife of Marvel Cinematic Universe star Chris Pratt, and Patrick Schwarzenegger has a successful film career of his own, starring in projects like "Moxie" and "Midnight Sun." 
"Both my parents are proud of me," Patrick told Today in a Zoom interview, adding, "It's pretty surreal 'cause I remember growing up and going to set with [my dad] and it was like my favorite activity." Although the Schwarzenegger family has had quite a few ups and downs (Shriver left Arnold in 2011 after he had an affair), Patrick is adamant that he "couldn't ask for a better parent duo." Still, his bond with his mother is particularly strong.
On her birthday, Patrick and his siblings came together to give her a special surprise. "My mom would be so embarrassed for me to tell, but I'll just tell it anyway," the actor said on "Andy Cohen Live," adding, "We surprised her with a birthday cake of a big photo of Lenny's [Kravitz's] abs on her birthday cake, which was really funny." That being said, Kravitz probably won't become his stepdad anytime soon, although one can dream. Beyond birthday cake shenanigans, here's what else we know about Patrick's sweet relationship with his mother.
Patrick Schwarzenegger quarantined with his mom during the pandemic
As Patrick also explained on Today, he moved back home with his mom, Maria Shriver, during the worst of the pandemic in Spring 2020. "Honestly, it was amazing because I don't know the next time that I'll be able to ever, you know, move back home with my mom and spend that much time with her." During the first three months of COVID, the mother-son duo spent a lot of time bonding. According to "The Staircase" actor (in an interview on "Jimmy Kimmel Live"), his girlfriend, Abby Champion, also moved into their Los Angeles home. The trio went on bike rides together, spent plenty of time in the kitchen, and generally enjoyed one another's company. 
As for some of the lessons he learned from Maria Shriver growing up? According to Patrick, manners were hugely important to his mom. "If I didn't open the door and let her walk through first she would just stay outside and wait," he told Today hosts Hoda Kotb and Jenna Bush Hager. He's kept those lessons with him well into adulthood. Meanwhile, Patrick learned a lot about physical wellness from his bodybuilder father, going so far as to submerge himself in an ice bath every morning. Personally, we'll take the door-holding lesson over 40-degree water any day.  
Patrick Schwarzenegger and Maria Shriver are also business partners
Patrick Schwarzenegger and his mother are each other's biggest fans. When Maria Shriver delivered the 2022 University of Michigan commencement address, Patrick was quick to share his pride. "She's such an articulate, well-spoken individual," he told Today. In an interview with People, Shriver shared that Patrick sometimes sends her little messages to make her feel cherished. "My son last week sent me a note that said, 'Hey! Just wanted to check in on you and say I love you,' and I was like, 'Do you need something?' and he was like, 'No.' I was like, '[Do you] want something?' and he was like, 'No,'" simple as that.
During the pandemic, the duo even decided to go into business together, creating Mosh, a protein bar that also nourishes the brain. These bars can be found on Amazon or at the hyper-expensive LA grocery store, Erewhon. "We started this company during the thick of COVID, and have put so much of our energy into growing it," Patrick wrote on Instagram. "We've spent the past year [and a half] getting feedback and make continuous updates to our product. We're now ready to continue to grow! Come find us!" he continued, finishing off the caption by writing, "No better feeling than making mama proud!"