Hallmark Star Lacey Chabert Proves She Looks Flawless Going Makeup-Free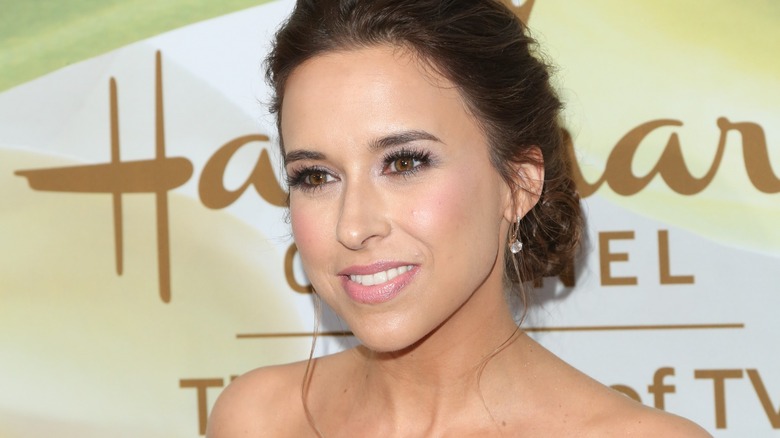 Paul Archuleta/Getty Images
We may receive a commission on purchases made from links.
Lacey Chabert, dubbed the "Queen of Christmas" by her devoted legion of Hallmark fans, is best known for her impressive acting career. From cult classics, namely "Party of Five" and "Mean Girls," to seasonal romances like "Haul out the Holly" and "Winter in Vail," Chabert's charm is unmatched when it comes to delivering seemingly any storyline. "I enjoy playing different types of characters," the star shared when speaking with Vulture, but admitted Hallmark's feel-good types of movies suit her best. "With Hallmark, I play characters that are more like who I am in real life than anywhere else. My values are my faith and my family, and I get to portray that."
However, Chabert's on-screen appearances aren't the only thing her audience is going crazy for. While she's not the one to share much of her beauty routine on social media or showcase her bare face too often when it happens, one wonders why Chabert hasn't dabbled into skincare influencing — it would work on us.
Lacey Chabert posted a rare fresh-faced selfie
Lacey Chabert's Instagram is mostly reserved for professional snapshots of the actor's projects and the occasional glimpse into her private life. However, the Hallmark Channel staple took to her stories to share a rare bare-faced selfie while waiting to pick up her daughter from school (via Good Housekeeping). "Hi from the car line. #schoolpickup," the star captioned the snap, adding, "Hope you're having a great day." As Chabert didn't publish the photo as a post, no comments were visible at the time of posting. If, like us, you've been wondering what her beauty routine entails, we've got you covered.
In an interview with NewBeauty, Chabert emphasized the importance of hydration for her skin. "I carry 1To3 Life Hydration packets in my bag," she revealed. She takes additional care of her complexion with the Skyn Iceland Eye Patches, Ikaria's Beauty Balm, and Neutrogena's sunscreen — a drugstore gem. When on set, she likes to prep her skin for heavy-duty makeup with Dermapore, an ultrasonic pore extractor and skincare infusor. Whatever she's doing, it's obviously working, as Chabert's looking flawless without makeup on.
The star is passionate about self-confidence
Despite being an iconic fixture of the effervescent movie industry, Lacey Chabert is no stranger to dealing with a lack of confidence. In a conversation with Allure, the star confessed she was dealing with the usual 21-year-old's insecurities when filming "Mean Girls" and wanted to fit in. She's since changed her mindset, focusing on health, and is passionate about helping others do the same. "CELEBRATE what makes U unique!" Chabert wrote on Twitter to motivate young girls dealing with self-doubt.
In 2012, the actor opened up about the importance of loving oneself on her blog, which is no longer being updated. Along with the inspiring text, the seasoned Hallmark professional shared a fresh-faced selfie to encourage her fans to feel good about themselves no matter what. She admitted it was heartbreaking to see young women comparing themselves to the glammed-up version of herself and stressed how much work goes into everything one sees on screen. "I think the chase to reach this insanely unrealistic standard of beauty has gotten out of control," Chabert wrote, adding, "I'm far from perfect, and I too look very different without makeup, hair extensions, etc. It's taken me years to get to this place, but I'm finally okay with that."
While you probably won't see her makeup-free on TV any time soon, Chabert might grace social media with another flawlessly bare look in the future and, hopefully, a tip or two on how to look as good as she does.