Sally Field's Mom Knew Her Burt Reynolds Romance Was Doomed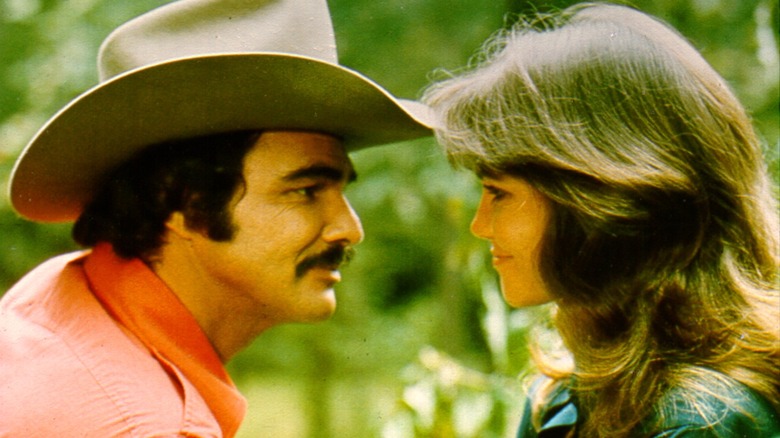 Michael Ochs Archives/Getty Images
Everyone loves a good love story, and it's even better when one jumps off the movie screen into real life. "Smokey and the Bandit" was a hit when it was released in 1977, scoring in the top five at the box office in a year that included "Star Wars" and "Saturday Night Fever." The film starred two popular actors that few could have pictured together: bad boy Burt Reynolds and good girl Sally Field. 
Field's character Carrie was a runaway bride who grabs a ride with long-haul truck driver Bo, CB radio handle Bandit. Hijinks ensue, along with a blooming romance. While Field hated locking lips with Reynolds on the big screen, couple's chemistry on screen was electric and continued behind the cameras. In an interview with ABC News, Field remembered that time. "We'd known each other about three days, four days. It was instantaneous, and four days felt like four years. You can see it in our faces, we were sort of deeply entangled."
The star-crossed lovers dated for five years, eventually parting ways in the early '80s. Through the decades that followed, and before his death in 2018, Reynolds would reflect on his time with Field, often calling her the "love of my life" in a 2015 interview with Vanity Fair, just three years before his death in 2018. He never forgot his love for Field or a conversation he had with her mother, Margaret Field, in which she told him she knew their romance had an expiration date.
Hearts were broken in their time together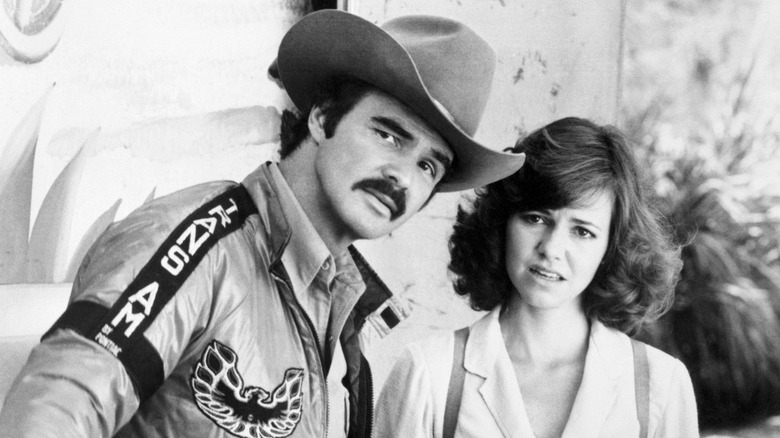 Bettmann/Getty Images
During their relationship, Burt Reynolds met Sally Field's mom, and the two had a private conversation. Margaret Field knew her daughter's romance was doomed, and Reynolds' told the story to People. "She said, 'Now I know you're going to break her heart, but please be gentle.' I said, 'I don't know how you could break somebody's heart and be gentle, but I don't intend to break her heart.' You never intend to."
Reynolds and Field were steady for three years, and off-and-on for an additional two, but the relationship had a lasting effect for both. Field told NPR, "He was a very important part of my life, but for a tiny little part of my life," while Reynolds confessed to the Daily Mail his biggest disappointment was losing his leading lady. "I did four movies with Sally and spent five years with her. She was the love of my life and I screwed the relationship up."
Field, 31 to Reynolds' 41 when they appeared in "Smokey and the Bandit," was already a mom of two when she began dating her co-star. During their relationship, Reynolds talked about marriage and having his own kid with Field. However, the flirty actor, who once had a reputation for being a ladies' man, began to wander, and rumors of him cheating eventually soured the relationship.   
Remembering the romance and the heartache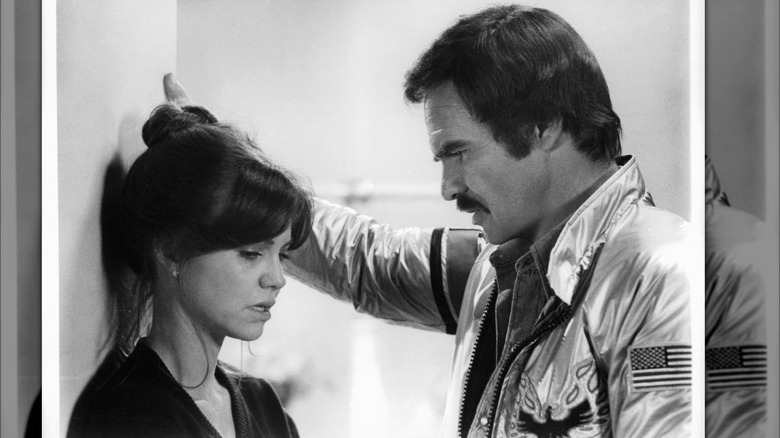 Michael Ochs Archives/Getty Images
Coincidentally, Sally Field released her biography, "In Pieces," just days after the death of Burt Reynolds. In her tell-all tale, she shared that her doomed romance with Reynolds was complicated and difficult, predicated on issues formed while growing up. She also admitted to NPR she felt some relief he wouldn't be reading her memoir. "Now at least he's safe from that, because I think it would hurt him."
Upon his death in 2018, Field sent a statement to HuffPost. "There are times in your life that are so indelible, they never fade away," she wrote."They stay alive, even forty years later. My years with Burt never leave my mind. He will be in my history and my heart, for as long as I live. Rest, Buddy."
Years later, while doing a round of press interviews for her film "80 for Brady," the star was reminded she and Reynolds hadn't spoken for 30 years before his death. "He was not someone I could be around. He was just not good for me in any way," she confessed to Variety. "And he had somehow invented in his rethinking of everything that I was more important to him than he had thought, but I wasn't. He just wanted to have the thing he didn't have." Looks like Mama Field was right about hearts breaking — more than one.