A Look At Blake Lively And Gigi Hadid's Adorable Friendship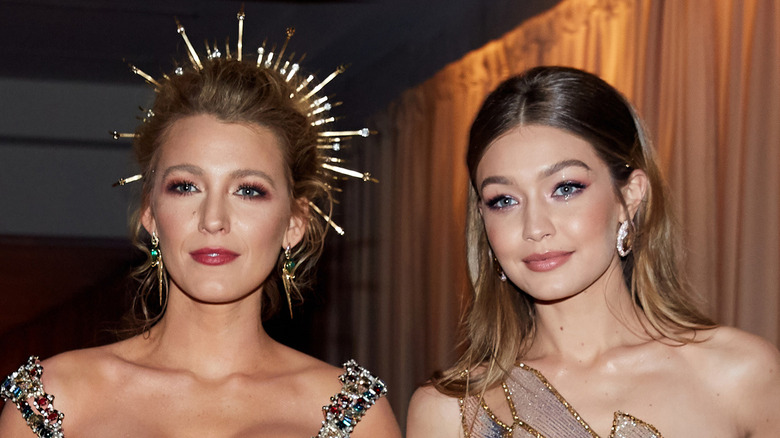 Taylor Jewell/Getty Images
Blake Lively and Gigi Hadid are both it-girls in their own right, with Lively being a fashionable "Gossip Girl" alum — even if Lively couldn't stand her "Gossip Girl" character — and Hadid being a trend-setting supermodel. As the actor has gone on to star in films such as "The Age of Adaline" and "A Simple Favor," the honey-blonde model has walked the runway for brands like Versace and Prada. The two have significant clout on their own, but they have such a showstopping friendship together.
If you're a dedicated Swiftie, you'll likely recognize both of these celebs as members of Taylor Swift's informal girl squad. According to a Vogue interview, Hadid and Lively first met through Swift, assumedly at one of these girl group meet-ups, but they've cultivated their individual friendship. The duo was first spotted together as early as 2014 and have continued to share cute bestie moments ever since. 
With this in mind, let's take a look at Blake Lively and Gigi Hadid's adorable friendship, including how they've bonded over motherhood and supported each other professionally.
The duo has bonded through motherhood
In celebrating Blake Lively's 36th birthday, the stunningly transformed Gigi Hadid provided some insight into how the duo has bonded through motherhood. While Lively has four kids with her husband Ryan Reynolds, Hadid has one daughter with her ex Zayn Malik. The supermodel took to Instagram Stories to wish her friend a happy birthday, referencing their co-parenting bond over a picture of her with a pregnant Lively.
"Pretty sure this pic is before her (our) baby number 1 but I just love it bc I still feel like the baby of the group. Lots-o-angelbabies later, u are a magical friend and mamma — protective, warm, witty, thoughtful, talented, HOT!" Hadid wrote. "Ur made of all the good stuff like rainbow sprinkles and butter and bourbon whipped creme. And lobster salad. Lots of lobster salad. Thank you for your light and example sister @blakelively. Wishing you the best year yet. 🎂 u know ily!"
Later, Lively reshared the post on her own story, adding, "This was before baby #3 for me and #1 for you. ❤️ Coparenting with you whether you agree to raise my children or not is one of my life's greatest joys. Love you, mama, sister, friend." Their captions definitely reflect how much motherhood has been a bonding aspect of their friendship, as they both seem to respect and take inspiration from each other as fellow mothers.
Lively and Hadid have continually supported each other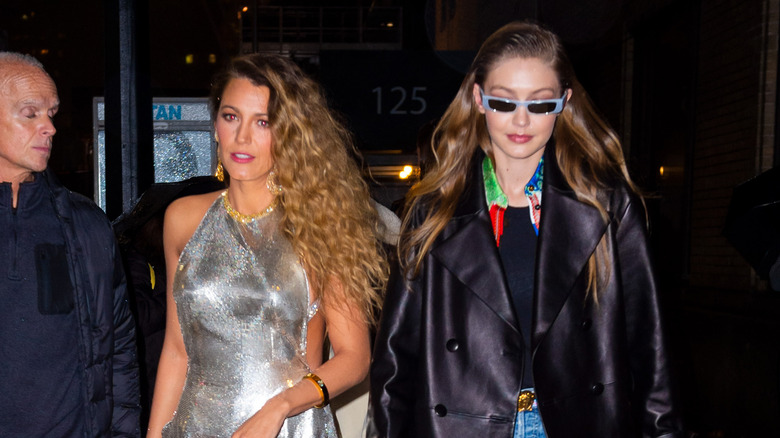 Gotham/Getty Images
Besides bonding over motherhood, Blake Lively and Gigi Hadid's friendship has been filled with professional support. Quick to hype each other up via social media or through red-carpet appearances, these celebs definitely have each other's back. As an example, Hadid lent her support during the premiere of Lively's 2016 drama thriller "All I See is You" by promoting the film on Instagram and making an appearance at a premiere event.
On a snapshot of her blonde bombshell bestie in a plaid suit, she wrote, "YOU ARE EVERYTHING MY FRIEND! So excited for #AllISeeIsYou out this week" (via Harper's Bazaar). The two were later pictured together at the NYC screening of the film, with Hadid obviously there in support of her friend. Lively has similarly been quick with encouragement, expressing her excitement for Hadid's involvement in the second season of Netflix's "Next in Fashion."
After Netflix released a teaser trailer for the season, which premiered in March 2023, Lively took to Instagram Stories to convey her genuine excitement for the show's return. "It's not only back, it's back with Gigi Hadid. WHAT?!?!?!?!?" the actor wrote. "I am legitimately freaking out. And this line up. And the clothes from these designers. And G's clothes each week. This is my Super Bowl" (via The Blast). While we might be a little biased, we think these bouts of support mark some of the cutest moments in the women's friendships.