9 Things We Learned From Prince Harry's Heart Of Invictus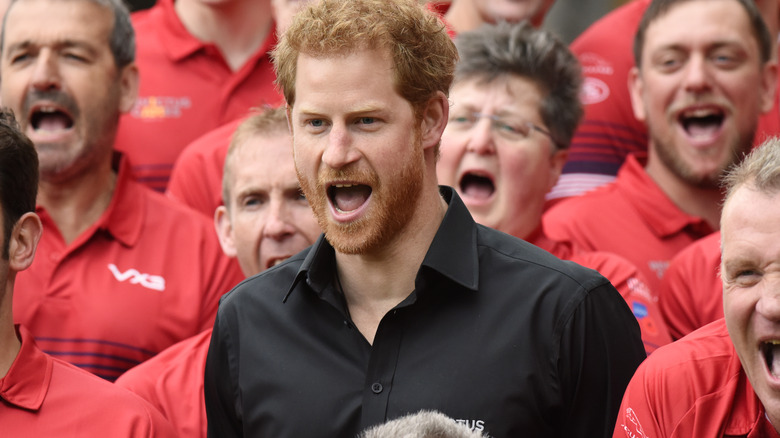 www.lenoir.photo/Shutterstock
It seems like rarely a day has gone by in the last few years without Prince Harry appearing in the papers. Whether it's down to how he changed after marrying Meghan, Duchess of Sussex, or his rift with his brother, Prince William, the youngest son of King Charles is a hot topic that never dies down. Of course, the Sussexes' deal with Netflix has helped keep them at the forefront of public consciousness. It started with "Harry & Meghan" in 2022 and has continued with another docuseries, "Heart of Invictus," this time about the annual sporting event that Harry founded in 2014. While the story surrounding the games is a fascinating one, many viewers tuned in just to see what revelations might come from this latest piece of Sussex TV — and they weren't disappointed. 
The docuseries spends a great deal of time focusing on the veterans who compete in the games, but it's also centered around Harry and what drove him to create it in the first place. His involvement in the event's operation is laid bare, but Harry also lets slip some telling details about his life growing up, his experience as a soldier in Afghanistan, and more. The prince even gives us some insight into what his son, Prince Archie, hopes for the future. 
At its core, "Heart of Invictus" might be about the annual event and the servicemen and women that make it a reality, but it's still a piece of the ever-evolving Harry and Meghan saga. Let's take a look at what we learned.
Prince Harry says he didn't get mental health support after his mom died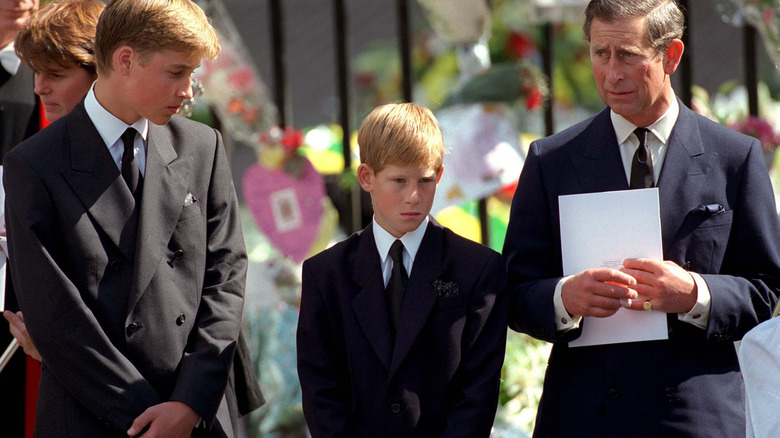 Anwar Hussein/Getty Images
When Princess Diana tragically died in 1997 during a horrific car crash in Paris, the world was devastated. Over 1 million people watched Diana's funeral procession in London. While the public mourned the loss of a complex woman and a dedicated philanthropist, two boys were coming to terms with the fact they would never see their mother again. Prince William was 15 at the time, while Harry was just 12. It would have been a remarkable ordeal for young men outside of the public eye, let alone members of Britain's royal family. 
Harry has been candid about how he felt about his mother's death in the past, but he pulled back the curtain even more for "Heart of Invictus." It wasn't until he came back from Afghanistan that he began to truly process the trauma of losing his mother: "The trigger to me was actually returning from Afghanistan, but the stuff that was coming up was from ... 1997 from the age of 12" (via Page Six).
It may be easy to assume Harry had the world's best advice at his disposal, but he went on to say that he didn't get the support he needed. "The biggest struggle for me is that no one around me could really help. I didn't have that support structure, that network, or that expert advice to identify what was actually going on with me."
Harry suffered from extreme nerves after the pandemic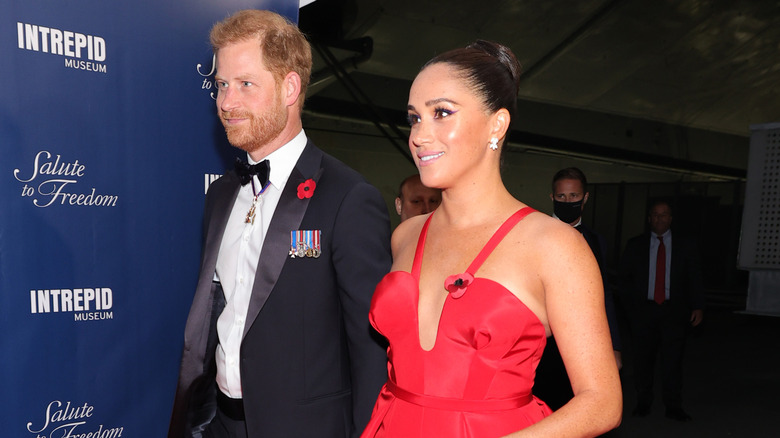 Theo Wargo/Getty Images
Viewers may have been so caught up in the rest of "Heart of Invictus" that this telling moment totally passed them by. In one segment, Prince Harry can be seen getting ready to appear on the red carpet at the Salute to Freedom Gala in late 2021. As it's the first big event since the pandemic, Harry is visibly and vocally nervous, telling his wife, "We haven't done this for a while" (via The Daily Mail). Meghan, Duchess of Sussex, agrees with her husband before he continues, "My heart, I'm like ... digadigadiga." As the couple head into the event at the Intrepid Museum in New York, Harry manages to turn on that great Windsor charm as he begins to shake hands with guests. 
For a member of the most public family in Britain, this onset of nerves seems almost bizarre. After all, Harry grew up in the spotlight and is used to being photographed and having to attend public events. It just goes to show that the pandemic took its toll on everyone, even royalty. What's more, Harry and Meghan hadn't done any events at all since saying goodbye to their official duties before the virus took hold in 2020. 
Although this moment was brief, it gave viewers a glimpse at Harry's vulnerability. He may seem totally different from the average Joe, but Harry still faces the same issues as many people when it comes to his mental health. 
Returning from Afghanistan was difficult for Prince Harry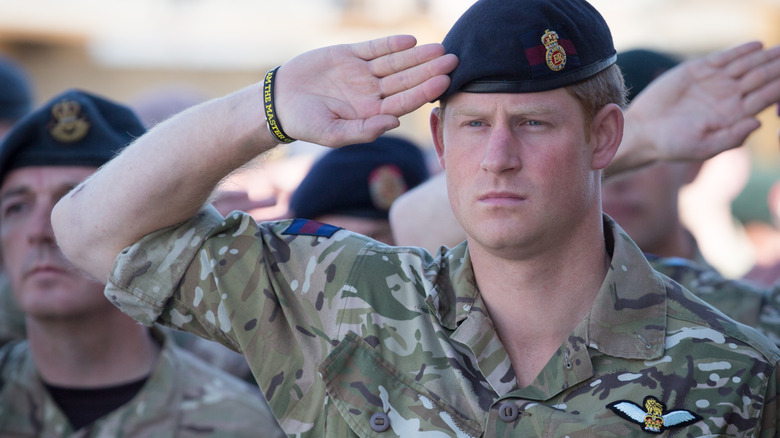 Matt Cardy/Getty Images
Many members of the British royal family have served in the forces, including Prince Harry's father, King Charles III, and his brother, Prince William. While their service can't be denied, Harry's time seemed a little more dicey. Princess Diana's youngest son was in the army for a decade, completing two tours of Afghanistan and attaining the title of captain. Harry spoke of his experience in his now infamous memoir, "Spare," where he explained that he killed 25 enemy combatants. "So, my number: 25," he wrote. "It wasn't a number that gave me any satisfaction. But neither was it a number that made me feel ashamed. Naturally, I'd have preferred not to have that number on my military CV, on my mind, but by the same token, I'd have preferred to live in a world in which there was no Taliban, a world without war."
With these candid words in mind, it's hardly surprising that Harry struggled when he returned from his duty. In "Heart of Invictus," the prince detailed having somewhat of a breakdown when he returned to civilian life. "I can only speak from my personal experience, my tour of Afghanistan in 2012, flying Apaches," he explained, via Evening Standard. "Somewhere after that, there was an unraveling."
It was hitting rock bottom that inspired Harry to be a catalyst for change, though by the sounds of it, it wasn't an easy endeavor. 
Harry believes the army is in his blood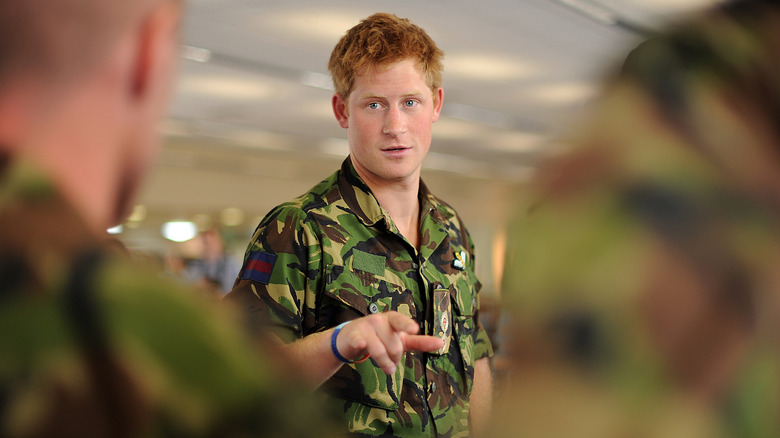 Wpa Pool/Getty Images
Many veterans leave the army feeling like it has helped shape the person they are. It's only natural, considering the experiences that many servicemen and women go through. Prince Harry feels no differently. Although his military career ended in 2015, the army left a lasting impression on him. The prince discussed his feelings during a video call with some of the Invictus Games participants, as shown in the docuseries. 
"Thank you for putting so much into this, right?" he said (via Express). "You did it every day, wearing [a] uniform and for some reason or another, that uniform had to be hung up. That service that runs in your blood, in our blood, that never leaves the body. It's there." This simple statement speaks volumes about how Harry feels about his time in service, which, if reports are to be believed, came to an end when a security breach put his position in the army at risk. 
However, Harry told People in 2022 that he never had any plans to continue his military career when he became a husband. "When I was in the army, I promised myself I would be out before having a wife and kids because I couldn't imagine the heartache of being apart for so long during deployment, the risk of possibly getting injured, and the reality that my family's lives could be changed forever if that happened," he said. 
Harry still thinks family is important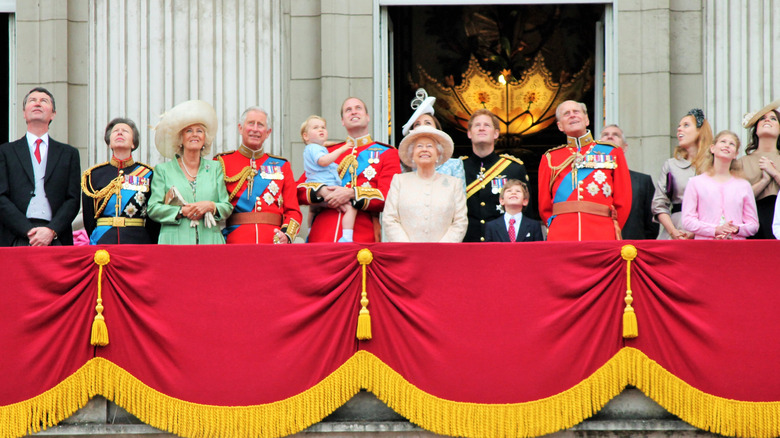 Lorna Roberts/Shutterstock
For decades, the British royal family has kept a lid on personal family struggles, doing their best to keep their private lives as private as possible and show a united front. While that's certainly not been an easy (or in some cases, possible) task by any means, there seemed to be an understanding between members of the Firm that what happened in the palace stayed in the palace. However, Prince Harry and Meghan, Duchess of Sussex, upended that status quo by speaking out against several alleged injustices. 
With Harry's book, "Spare," the stunning things we learned from the Oprah Interview, and the docuseries "Harry & Meghan," it's clear that Harry's relationship with his family is fragile at best. It's interesting that viewers watching "Heart of Invictus" were treated to a peek at Harry's "family first" ethos. 
During a call with Invictus Games competitors, Harry egged them on with a few words of encouragement: "So when you are out there, kicking ass, trying to win a medal, or just having fun, and making your family incredibly proud. When you feel that feeling in your throat, and you feel like you might want to cry, then just f*****g cry" (via Express). Harry's strenuous tie to his relatives back in Britain may be public knowledge, but this comment goes to show just how important family really is to the rogue prince. Being a husband and a father of two is a badge he wears with pride.
Harry is raising Archie to put character ahead of everything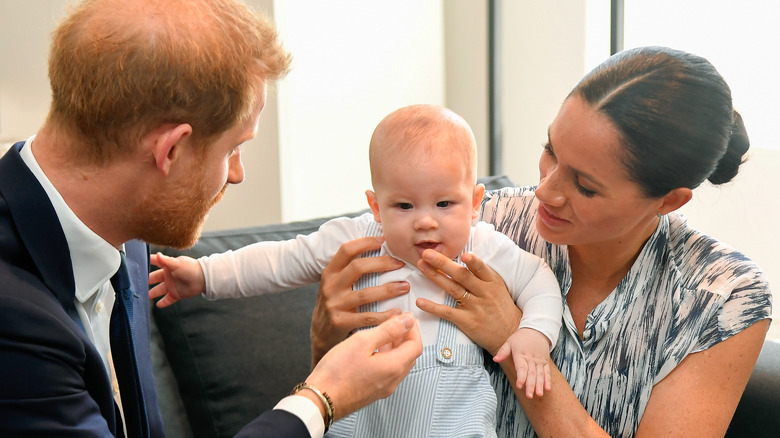 Pool/samir Hussein/Getty Images
Prince Harry and Meghan, Duchess of Sussex, may have spoken out about a lot of things, but they are both fiercely protective over their children's right to privacy. Prince Archie and Princess Lilibet are rarely seen, and when it comes to discussing their lives in great detail, the Sussexes seem to err on the side of caution. With that being said, any information that does make its way into the public sphere is gratefully received by the family's supporters. 
In one scene in "Heart of Invictus," Harry goes into detail about Archie's hopes for the future and the values that he has tried to instill in him from an early age. Talking at the Invictus Games at The Hague, Harry explained: "When I talk to my son Archie about what he wants to be when he grows up, some days it's an astronaut, some days it's a pilot. But what I remind him is no matter what you want to be when you grow up it's your character that matters most. And nothing would make his mum and me prouder than to see him have the character of what we see before us today — you" (via Express).
Harry's wish for his son to grow up and be a good person above all else is touching, but it's equally as enjoyable to gain some insight into the little prince's aspirations, which is something we've seldom seen. 
It's a family affair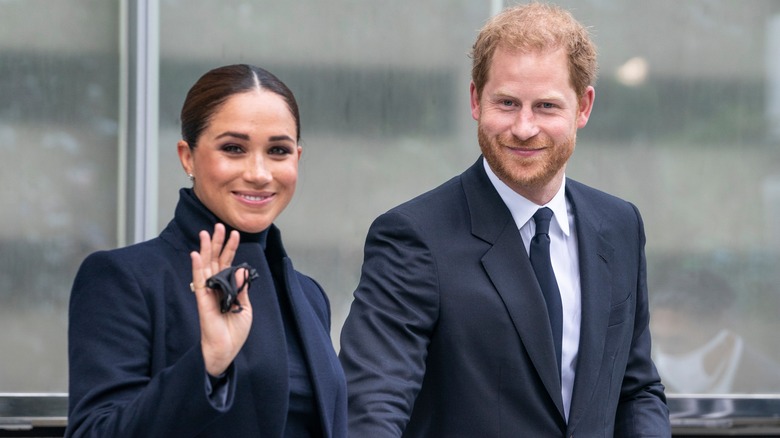 lev radin/Shutterstock
The Invictus Games were founded back in 2014 when Prince Harry was still making the transition from youngster to dashing royal. It all came about after Harry was inspired by the USA's Warrior Games, a similar sporting competition that sees servicemen and women excel in different athletic areas. Harry championed the cause as a single man for the next few years, but all that changed when he met Meghan, Duchess of Sussex. 
Now, as revealed in the docuseries, the games are a family affair. Meghan is there to represent and support Harry. In one snippet filmed at the opening ceremony of the 2022 competition, the duchess can be seen introducing the father of her children to the stage. She gushed: "Thank you so much for your service and thank you to all the friends and the family that are here who've been supporting you along the way. Because this is service, this is dedication, and this is the Invictus family. Please welcome my incredible husband, Prince Harry, the Duke of Sussex" (via The Daily Mail).
"Heart of Invictus" confirms what Harry and Meghan stans knew all along: They're a dedicated unit intent on supporting each other's dreams and causes. In the years that follow, it could be interesting to see if Prince Archie and Princess Lilibet become more involved — and in what capacity. 
It's a cause dear to Harry's heart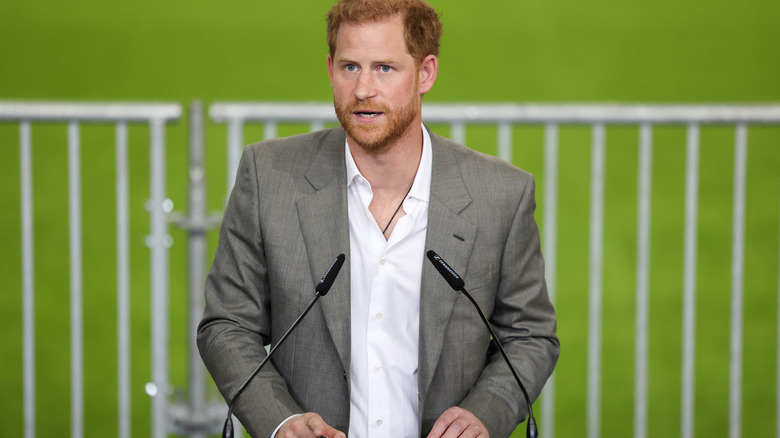 Mathis Wienand/Getty Images
If "Heart of Invictus" has taught us anything, it's that Prince Harry is truly dedicated to this cause. Whether he's making a speech at the event itself, talking to competitors, or sharing his feelings about his time in the military, Harry is clearly impassioned about the Invictus Games and helping veterans. Many fans took to social media to share their feelings about the docuseries, with a good deal calling it inspirational. 
Legions of others shared the same sentiment, and it even made the daily news in the U.K., but as with anything Harry does, opinion was polarizing. Activist Imarn Ayton appeared on Good Morning Britain to share her thoughts, telling hosts: "For Harry it does remind me of why I used to like him in the first place, it was very inspirational, I'll give him that. But in terms of the re-brand I don't think it's actually going to work. In terms of the damage, I think that's already been done" (via The Daily Mail).
On the flip side of that, Sky News' Laura Bundock had an entirely different take: "Before you think, 'Harry on Netflix, here we go again,' this is a very, very different series to what we've heard before. ... But this is Harry on much more comfortable territory. Invictus Games is something that is very personal to him. It's a cause he clearly cares about a lot and one he is keen to promote."
Harry isn't always comfortable with small talk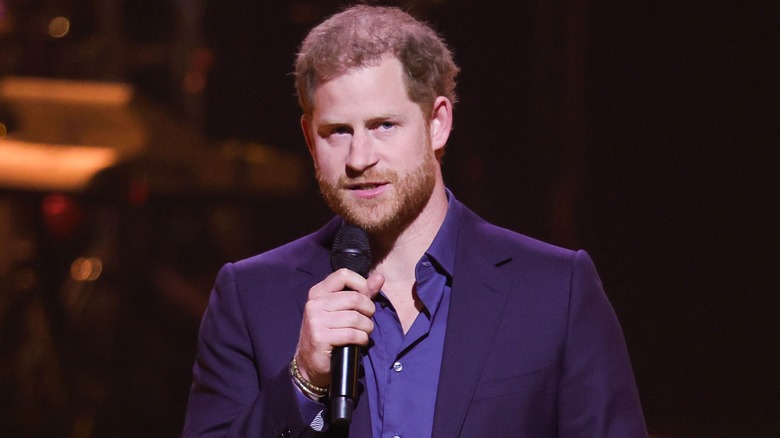 Chris Jackson/Getty Images
There's no doubt that Prince Harry has always been charming, but he doesn't seem to have the same ease at public engagements as the likes of Prince William or King Charles III, who assist each other. His brother and father take it in stride, while Harry has always been on the quieter side. Now, a body language expert spoke to Express about one particular moment in "Heart of Invictus" that revealed Harry's insecurities. 
In one segment, an interviewer asks Harry, "What do you do?" However, Harry doesn't answer with ease and seems to struggle to find the right words to formulate a response. In the end, his answer was quite short, but to the point: "What do I do? On any given day, I'm a dad of two under-3-year-olds. I've got a couple of dogs. A husband. I'm founding patron of Invictus Games Foundation." 
According to the expert, Judi James, Harry seemed unsettled. "It's the question royals always ask the public on visits but Harry's discomfort and the way he stalls and plays for time to think suggests he finds it unanswerable," James explains. "His eyes dart and drop in a cut-off and as he looks to one side to think he even pokes his tongue out in a gesture of deep concentration." James also states that Harry seems much more comfortable when around his friends in the series, in less formal situations where he doesn't have to make small talk.