Brad Pitt And Angelina Jolie Reportedly Struggled To Co-Parent Before Their Divorce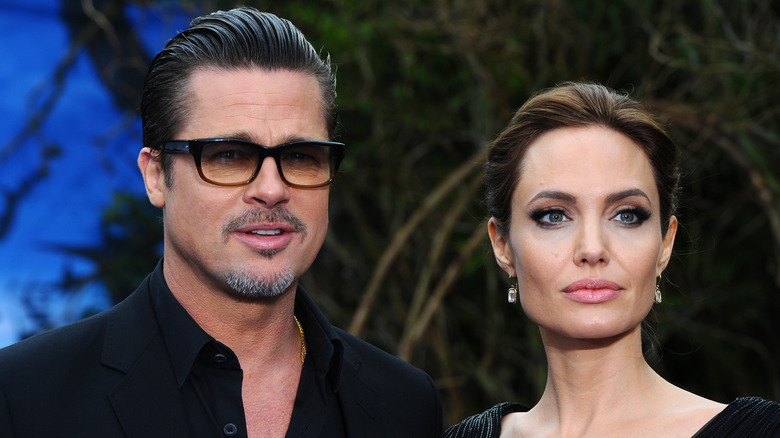 Anthony Harvey/Getty Images
Brad Pitt and Angelina Jolie have six kids together — Maddox, Pax, Zahara, Shiloh, Vivienne, and Knox — the oldest two of whom were adopted by Jolie before Pitt came into the picture, though he later legally adopted both. The Jolie-Pitt bunch seemed like one big happy family whenever they were spotted out and about together, but looks may have been deceiving.
Prior to Pitt and Jolie's 2016 split, sources say that the then-couple had very different takes on how to parent their brood, which led to plenty of disagreements in their marriage. "Their parenting approach was always very different. Since their separation, it's been obvious that they weren't going to figure things out on their own when it comes to the kids," a source told People in August 2018. 
In 2015, Pitt said that he took on the role of the disciplinarian in the family. "I feel like my job is to show 'em around, help them find what they want to do with their life, put as many things in front of them, and pull them back when they get out of line, so they know who they are," he said, via ABC News. While we're not sure exactly what went on behind closed doors, fans have been able to piece things together thanks to public court documents obtained by the media. That said, no one could have predicted what would happen one year after Pitt made that comment.
Brad Pitt was investigated for alleged child abuse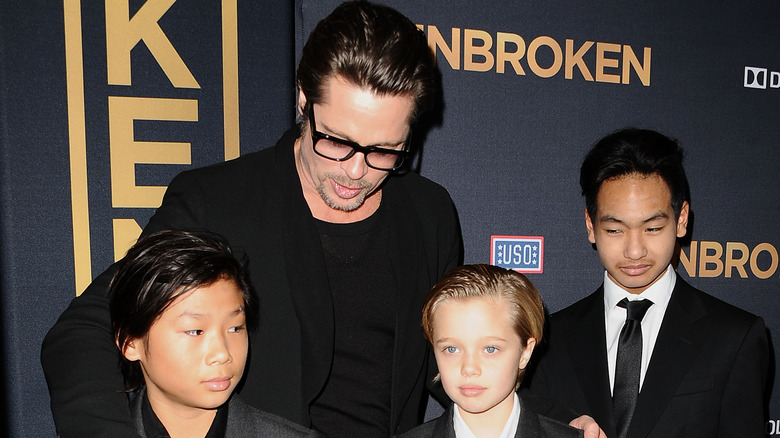 Jason Laveris/Getty Images
According to TMZ, Angelina Jolie decided to divorce Brad Pitt due to how he parented their kids. Sources told the outlet that Jolie was "extremely upset with his methods" but didn't elaborate. Just days before Jolie filed for divorce, the world learned that Pitt was under investigation for child abuse following an incident when the family was flying back to LA after a vacation. Several weeks later, Pitt was cleared, and the case was closed, according to NBC News.
In the aftermath, Jolie was granted full primary custody of their six kids, leaving Pitt with visitation rights. But, in an interview with GQ a few months later, Pitt seemed happy with the direction of things. He said, "We've been able to work together to sort this out." 
Indeed, things appeared to be going better in the years that followed. "Brad and Angelina have come a long way," a source told Entertainment Tonight in 2019. "To the surprise of many of their closest friends, their communication has improved tremendously, and they're both dedicated to co-parenting," the source added. It didn't take long, however, for the other shoe to drop. 
Brad Pitt and Angelina Jolie's custody case is raging on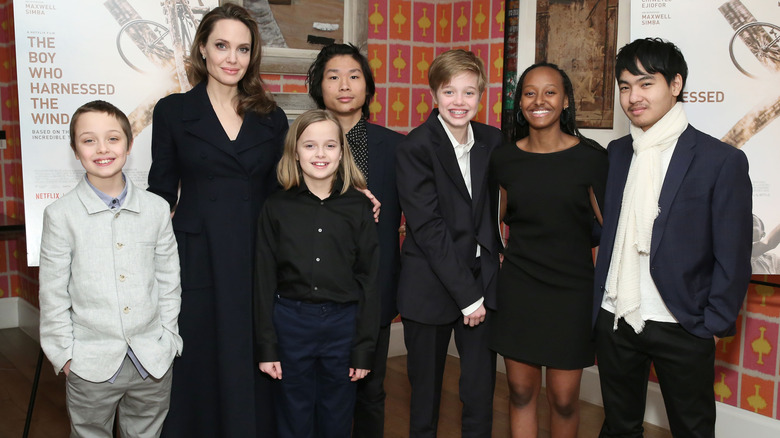 Monica Schipper/Getty Images
In May 2021, Brad Pitt had a legal victory in his ongoing case against Angelina Jolie. Page Six reported that he was granted 50/50 custody of his minor children, though the ruling was said to be tentative. A few months later, the judge overseeing the case was disqualified, and Jolie regained full custody. Despite an appeal, Pitt was back at square one, according to Elle. Within months, Jolie filed a counter-lawsuit.
Pitt first filed legal documents in February 2022, after Jolie sold her share of their wine business Château Miraval, per People. It didn't take long for Jolie to respond to the lawsuit with one of her own. Court documents filed by the "Maleficent" star contained damning allegations about Pitt. "Pitt choked one of the children and struck another in the face" and "grabbed Jolie by the head and shook her," the documents claimed, according to Variety.
Additionally, sources had previously told TMZ that Jolie's decision to end her marriage was largely due to her concern that Pitt had anger issues and she wanted to protect her children. Jolie reportedly has a very tight bond with all of her kids. "We're really such a unit," she told The New York Times in 2017. "They're the best friends I've ever had. Nobody in my life has ever stood by me more," she added.