A Look At Lily-Rose Depp's Close Bond With Her Mom Vanessa Paradis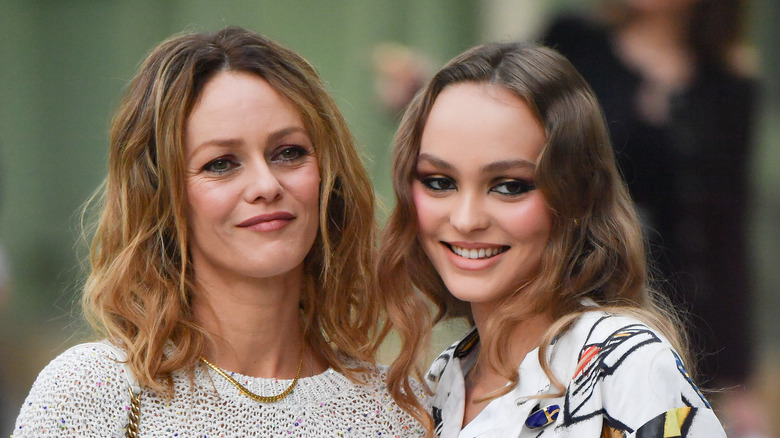 Stephane Cardinale - Corbis/Getty Images
As the oldest kid of actor Johnny Depp and actor-singer Vanessa Paradis, Lily-Rose Depp has lived a glamorous life many could only dream of. From walking in Paris Fashion Week as a teen to starring in "The Idol" alongside The Weeknd, she has had her fair share of Hollywood experiences. Luckily for Lily-Rose, she has guidance from both of her parents, who are legends in the entertainment and fashion worlds. Pursuing a new career as an actor, she is also one of many model daughters who followed in their mother's footsteps. 
Before she was known as the face of Chanel, Paradis had a successful music career in France from the '80s onward. Lily-Rose admits that she grew up admiring her mother, and originally wanted to sing too. "When I was little, I wanted to be a singer, just because I wanted to be like Mum. Every little girl wants to be like her mum," she admitted (via The Sun). 
Fittingly, Lily-Rose has decided to seek out a career that truly reflects Paradis' own. She dropped out of high school just a mere year before graduating, telling British Vogue that college was never her goal. Now, Lily-Rose is pursuing a career as an actor and model — and her mother serves as the perfect inspiration. "She'll send me photos of her when she was younger, and say things like, 'We're twins.' And I'm like, 'You're so much prettier than me.' She's so beautiful," Lily-Rose gushed to i-D.
Lily-Rose is grateful for the way her mom raised her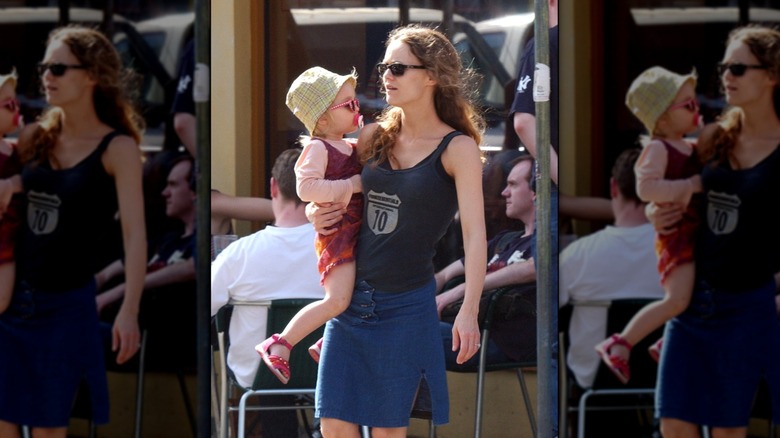 Antony Jones/Getty Images
Power couple Johnny Depp and Vanessa Paradis were together for nearly 15 years. They had two children together: welcoming Lily-Rose Depp in 1999, and Jack Depp in 2002. While Lily-Rose is a certified "it-girl" nowadays, she didn't give her first interview or step into the limelight until she was a teen. Paradis shared that keeping her children out of the public eye was an intentional challenge. "I indeed keep them away from the cameras, because I don't want our children to be forced to share in our fame against their will. They didn't ask for that," Paradis explained to Weekend Knack (per People). She continued, "The day that they will decide for themselves to do things that might bring them into the spotlights, then I won't stop them."
Lily-Rose reflects these sentiments in her own interviews and is grateful that her parents tried to give her a relatively normal childhood. Similarly to her mother, the young model also remains quite private about her personal life. In 2023, Depp found himself at the center of a media firestorm amid his defamation suit against ex-wife Amber Heard. Despite accusations of abuse and mistreatment from both parties, Lily-Rose stayed silent about her father's trial.
Lily-Rose followed in her mother's footsteps as the face of Chanel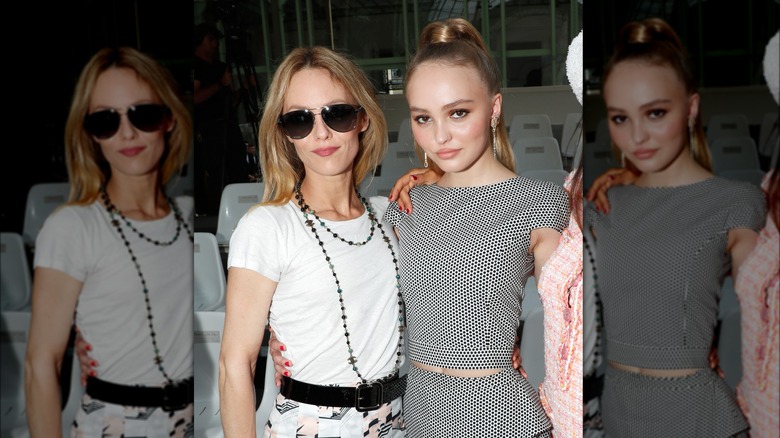 Bertrand Rindoff Petroff/Getty Images
Inspired by her mother in almost all aspects, it's no surprise that Lily-Rose Depp also felt empowered by her mother to enter the modeling world. "My mum is a trailblazer, truly. She's taught me a lot about self-confidence," Lily-Rose told The Face. "I was raised by a French mother who taught me that there was nothing shameful about your body." 
Paradis served as Chanel's muse during the '90sand has also acquainted her daughter with the luxury fashion house. Depp even met the late fashion legend Karl Lagerfeld for the first time when she was a mere eight years old. Lagerfeld himself spoke to British Vogue about Paradis and her daughter's commitment to the brand, sharing that a young Depp would accompany her mother to the Chanel studio. 
History has a funny way of repeating itself, as Lily-Rose was named the face of the brand decades later. However, she beat out Paradis by three years – becoming the youngest face of the line at 16 years old. Of her appreciation for her mother's longtime fashion partner, Lily-Rose told British Vogue, "There are people in [the Chanel] team who have watched me grow up... They have always looked out for me in the most gracious, generous and warm way." Most recently, she starred in Chanel's 2023 Première Édition Originale watch campaign.