Why Lily-Rose Depp Stayed Mostly Silent While Johnny Depp And Amber Heard Were In Court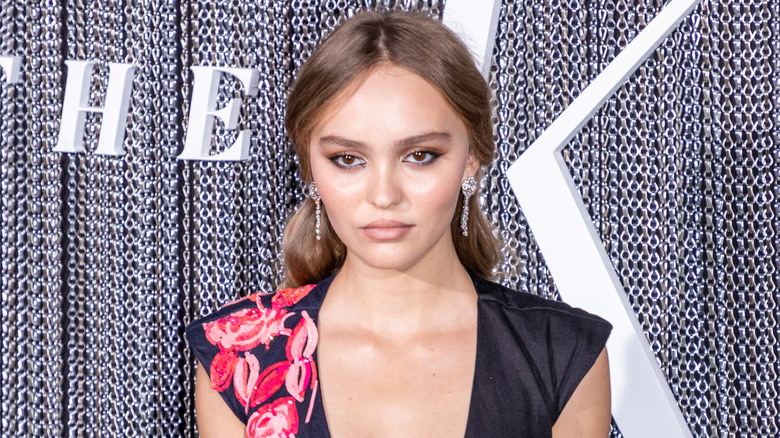 Sam Aronov/Shutterstock
Rising it-girl Lily-Rose Depp was involved in 2022's most closely followed celebrity trial, in which her world-renowned father headlined the tabloids for weeks. In 2022, Johnny Depp was embroiled in a very public defamation case against Amber Heard. NBC News reported that the "Justice League" actor was sued by her ex-husband for $50 million in damages because, after the couple divorced in 2016, Heard wrote an article about surviving domestic abuse for the Washington Post.
Speaking openly about the alleged violence, Heard wrote: "Friends and advisers told me I would never again work as an actress — that I would be blacklisted ... I had the rare vantage point of seeing, in real time, how institutions protect men accused of abuse." Despite never actually naming him in her op-ed, Depp claimed that these statements in the 2018 article pointed the abuse towards him, and in response, he sued in 2019.
While there are several unforgettable moments from the Johnny Depp v. Amber Heard trial, it's no surprise that Depp's only daughter was a central element. Besides her court-mandated involvement, Lily-Rose has not spoken publicly about her father's infamous suit. She revealed to Elle Magazine why she maintained her silence for so long. "When it's something that's so private and so personal that all of a sudden becomes not so personal," Lily-Rose told Elle. "I feel really entitled to my secret garden of thoughts. I also think that I'm not here to answer for anybody."
Lily-Rose's involvement in the Depp v. Heard trial
Lily-Rose appeared to be a supporter of Heard and her father's relationship, as in 2014, she wrote a letter to Depp praising her stepmother's positive influence. "You've been a better dad to Jack and I since she has been around and she was helping with the alcohol problem," Lily-Rose wrote, as reported by the Daily Beast. "I just see what a positive effect she's had on you and I'm afraid those things will leave with her. Please don't write her off now. She may surprise you and explain herself."
In court, the "Pirates of the Caribbean" actor spoke about his and Heard's wedding in 2015 — which his model daughter did not attend. He refuted claims that Lily-Rose and Heard were close. "My daughter Lily-Rose did not come to the wedding," Depp testified, per People. "She and Ms. Heard were not on particularly great terms, for several reasons."
Lily-Rose has spoken candidly about navigating the spotlight, especially in light of the inflammatory trial. While she shares that her parents wanted to give her a relatively normal upbringing, she has admitted that fame has been "a weird thing to navigate" (via Elle).
Lily-Rose wants to focus on her career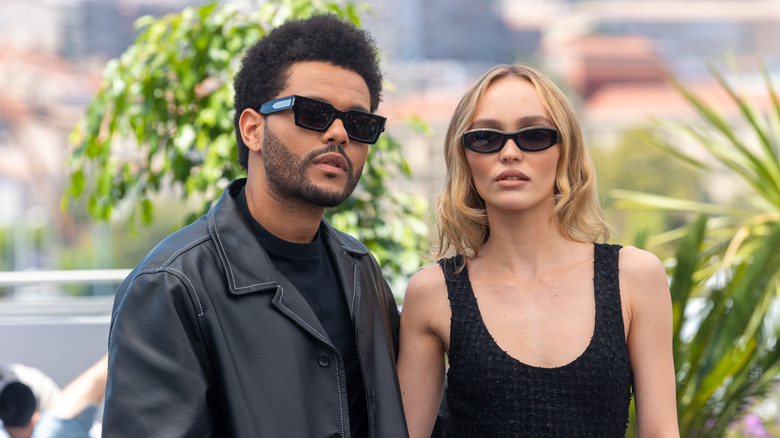 Marc Piasecki/Getty Images
Lily-Rose's new role in HBO's "The Idol" has made a splash, as she stars in the dark drama alongside pop singer The Weeknd. The show has been criticized for its extreme sexualization of her character Jocelyn, who is a tortured pop star on the heels of fame. However, the actor is proud of her work on the edgy series, which is her first major leading role.
"We know that we're making something provocative and we are not shying away from that," Lily-Rose explained to Vogue Australia. "That's something I knew I was setting out to do from the beginning ... So when it comes to the nudity and the risqué nature of the role, that to me was really intentional. That was really important to me and something that I was excited about doing."
The young actor also pointed out that she no longer wants her career to be affected by the men around her. Lily-Rose has a lengthy relationship history, famously dating heartthrob Timothée Chalamet in 2018. "I feel like for a lot of my career, people have really wanted to define me by the men in my life," Lily-Rose continued to Elle. "Whether that's my family members or my boyfriends, whatever. And I'm really ready to be defined for the things that I put out there."