Katherine Schwarzenegger's Wedding Look Had A Touching Tribute To Mom Maria Shriver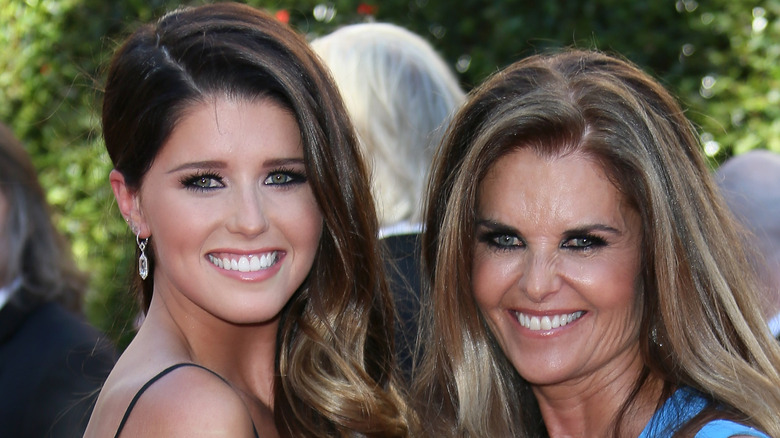 David Livingston/Getty Images
Katherine Schwarzenegger and MCU star Chris Pratt had a whirlwind romance. Shortly after Pratt's separation from his ex-wife, Anna Faris, Maria Shriver introduced him to her daughter. "Maria helped set them up," an insider told People at the time. Schwarzenegger and Pratt were first pictured hand-in-hand during the Summer of 2018 — just a year later, they were married. Maria Shriver and Katherine's dad, former California governor and bodybuilder Arnold Schwarzenegger, attended the wedding with celebrities like Rob Lowe and even Pratt's ex, Anna Faris.
Jack, Pratt's son with Faris, was also part of the ceremony, along with Katherine's brothers and sister. According to one anonymous guest, the Montecito, California, venue was beautiful. "You can tell today is the happiest day for Katherine. She hasn't stopped smiling. And Chris seems giddy with excitement," added the source. Despite their past ups and downs, exes Maria Shriver and Arnold Schwarzenegger have a habit of reconnecting at family events: birthdays, holidays, and now weddings. 
One particularly meaningful detail that day had to do with Katherine's wedding look, a touching tribute to her mother. The bride adhered to the age-old "something borrowed" tradition, wearing Shriver's original veil from her 1986 wedding to Arnold. She also paired it with "something new," a custom Armani gown that was definitely a departure from her mother's '80s shoulder pads. 
Katherine Schwarzenegger had two separate wedding looks
It's not unusual for a bride to switch dresses in between her ceremony and reception. However, it is unusual for both looks to be custom Giorgio Armani — there are certainly perks to being a celebrity. "Katherine and Chris are truly the ultimate beautiful bride and handsome groom," the famous Italian designer told People. "I am proud to have played a role in this couple's wedding," he continued, explaining that he also designed looks for the groom and the entire bridal party. The goal was to highlight their "radiant personalities."
Katherine's first dress, which she touchingly paired with Shriver's '80s tulle veil, featured a lengthy lace train and a strapless bustier top. The bride also paid tribute to another family member, wearing her grandmother's earrings. She completed the look with elegant white Armani heels. Meanwhile, Pratt took care of the "something blue," rocking an Armani midnight suit.
However, it wouldn't be a Hollywood wedding without a dramatic outfit change. Katherine's reception look was — if possible — even more glamorous, a lengthy off-white satin gown with sleeves draped down her shoulders. The bride looped the lengthy train around her wrist. "I am so grateful to Mr. Armani, who created a [once-in-a-lifetime] dress for me to wear, and for Chris the perfect suit," Katherine wrote on Instagram under a snapshot from the day. "We became husband and wife in front of God, our families and those we love. It was intimate, moving and emotional," she shared.
Chris Pratt had no trouble bonding with Katherine Schwarzenegger's family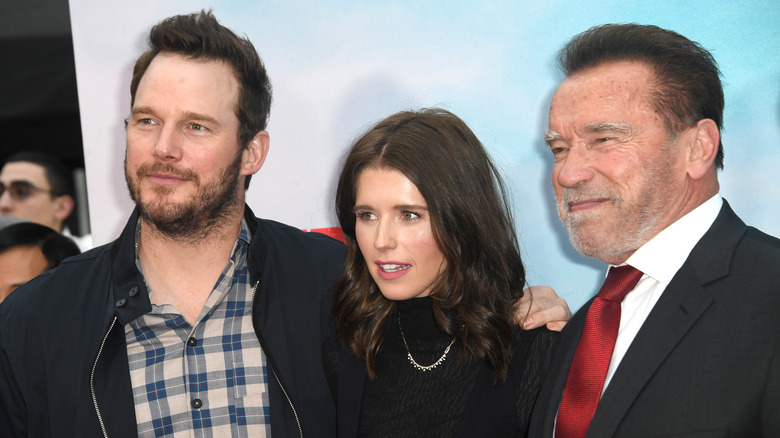 Albert L. Ortega/Getty Images
It didn't take long for Chris Pratt to feel at home with Katherine's family, especially her dad, Arnold Schwarzenegger. "Arnold's support means the world to me on a couple different levels," the "Guardians of the Galaxy" star told People, explaining that getting to know his childhood idol has been truly special. Fortunately, the former governor of California also has positive things to say about Pratt. "I am really happy that he is such a great guy," the Terminator explained on Jimmy Kimmel Live just a few months after the wedding, adding, "I get along with him really well." The action stars even hit the gym together sometimes...
Chris Pratt also has a sweet connection with Maria Shriver — she did introduce him to her daughter, after all. "Love this love you both love being inspired by your love..." she commented under Katherine's anniversary post. Allegedly, Pratt and the Schwarzeneggers both attended Hillsong, a megachurch popular amongst celebrities like Justin and Hailey Bieber and the Kardashian-Jenners. However, the actor has since denied all association with the controversial organization in an interview with Men's Health.
When Chris Pratt isn't "pumping iron" with Arnold, he's spending time with Katherine's brother, Patrick. They co-starred in 2022's "The Terminal List" and like to sit court-side at Clippers games. These days, the Schwarzenegger-Shriver-Pratt team is mostly focused on raising little Lyla and Eloise, the newest additions to the family.