Melania Trump Reportedly Wasn't Happy When Donald Posted About Their Son Barron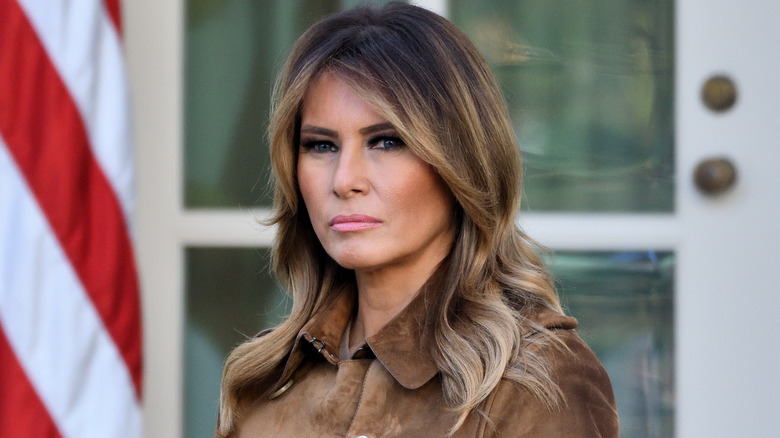 Evan El-Amin/Shutterstock
If there's one thing that Donald Trump likes to do, it's post on social media. He got banned from Twitter on January 8, 2021, after the platform determined that some of Trump's tweets incited violence in connection with the January 6 US Capitol insurrection. Elon Musk lifted his suspension from the social media platform in late 2022, and Donald's first post since being banned featured his mugshot from his arrest at Fulton County Jail in Georgia.
After having been banned from Twitter, Donald went so far as to create his own social media platform called Truth Social, and he's been posting there frequently – up to 50 times a day at times. But not all of his posts have gone over well with his wife, Melania Trump. 
In July, Donald reposted a meme on Truth Social that featured a photoshopped image of Barron Trump, his and Melania's son, at a podium with the words: "In an effort to level the playing field, Barron Trump will debate Joe Biden!" Along with the meme, Donald wrote, "No Contest!!!" And if there's one thing that Melania is protective of, it's their son Barron, so she was reportedly pretty angry that Donald would use Barron's image and name like that.
Melania Trump wants Donald to leave Barron out of politics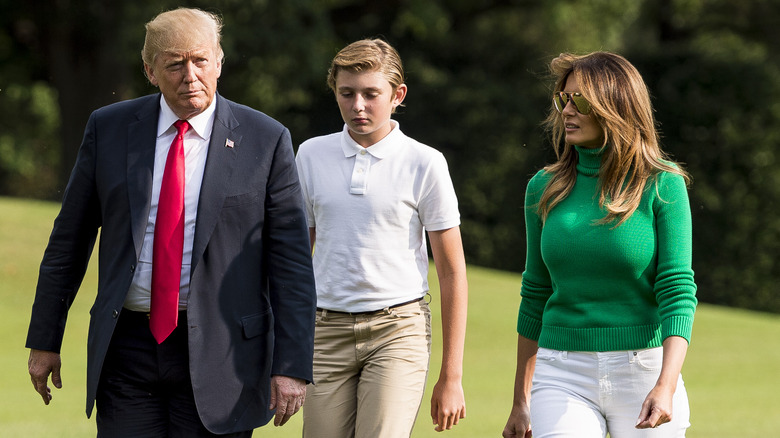 Pool/Getty Images
For all of Barron Trump's life, Melania Trump has been focused on protecting him, and he's her first priority. So it makes sense that Donald Trump bringing their son into the political spotlight wouldn't go over well. And apparently, Melania didn't miss the fact that Donald shared an image of their son Barron on Truth Social. While it was a comparatively low-key post considering other more inflammatory things he's shared online, Melania still wasn't happy about it, and it may have crossed a line.
A source reportedly close to the situation told RadarOnline, "Melania has been incredibly protective of Barron and has told Donald she would not stand for him to be exploited by anyone, even his father! He made a promise to protect their son — and he broke it. There's a good chance she won't forgive him, and the next time we see them together may be in divorce court." We'll have to wait and find out if it will come to that. But Melania certainly hasn't been seen with him at any of his 2023 court appearances for multiple criminal charges in multiple states; apparently, she sees his legal troubles as his own problems to work out.
Melania Trump wants to keep her life private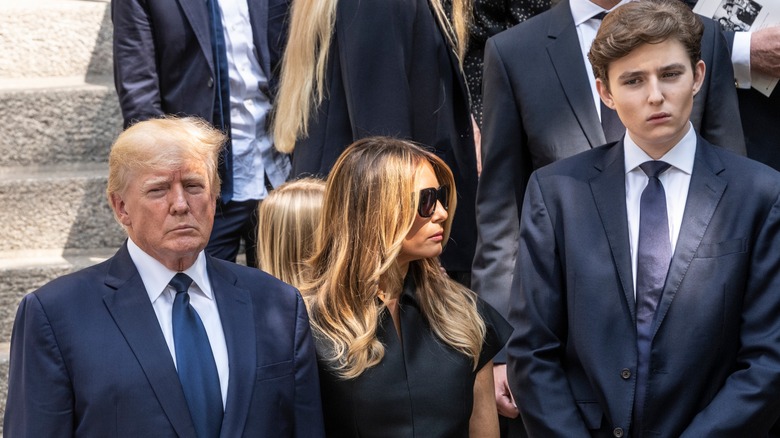 lev radin/Shutterstock
Both Melania Trump and Barron Trump were present at Donald Trump's Mar-a-Lago announcement that he was running for president for a third time. Melania has said that she's supportive of her husband's presidential bid, telling Fox News Digital that Donald "has my support, and we look forward to restoring hope for the future and leading America with love and strength."
But despite that statement of support, ever since leaving The White House, Melania has been keeping a decidedly low profile and not getting involved in politics. Melania has been focused on Barron and keeping to herself above all else, it seems — even while other past first ladies have used their political cachet after leaving The White House to stay in the public eye. As First Lady, Melania may have gotten involved in charitable initiatives and social functions, but she still preferred her privacy.
When Donald was elected president, Melania and Barron took their time moving into The White House, so Barron wouldn't have to change schools in the middle of the year. This is just one example of how Melania made it clear that she put her son first, no matter what was happening with Donald politically.