The Stunning Transformation Of Danielle Bradbery
Danielle Bradbery is a Texas girl, and the world first got to know her when she stepped on stage to audition for "The Voice" in 2013. Little did she know that she'd just taken the first giant leap toward a whole new life.
Danielle Simone Bradbery was born in 1996 on July 23 in League City, Texas. She and her parents, Gloria and Danny Bradbery, lived in Cypress, Texas, for most of her childhood, and she completed her high school education at Cypress Ranch High School. While it appears her childhood was pretty ordinary, Bradbery's dreams were anything but. She would often dream about knocking the socks off a crowd with her music, and in her late teens, she managed to do just that.
Speaking to the Taste of Country, Bradbery shared one of her secret childhood dreams, which was pretty much on par with what kids saw on Disney's "Hannah Montana" back in the day. "I've always tried to picture myself rolling up in the car and everyone screaming and just coming out and putting on this amazing concert," she told the outlet. She wasn't dreaming about doing this at your typical stadium, though — her venue of choice was the Houston Rodeo, which she grew up attending. "Especially [since] it would be in my hometown, so the Houston Rodeo is definitely my number one that I would love to perform at," she said. In 2014, this dream came true when she performed the national anthem at that very rodeo.
She became the youngest contestant to win 'The Voice' in 2013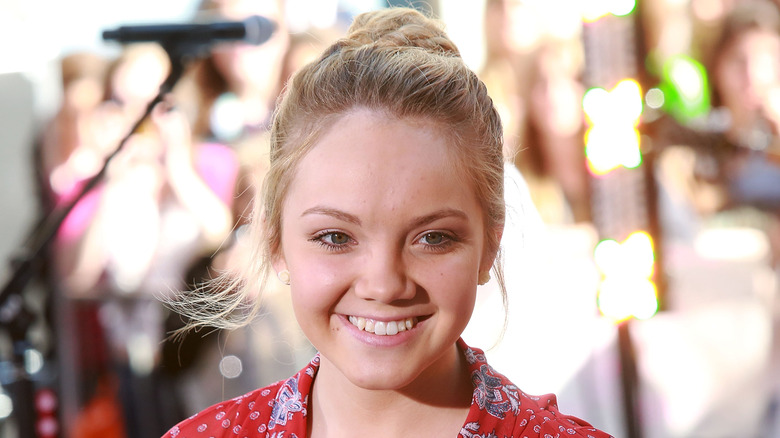 Robin Marchant/Getty Images
Talent shows can be brutal, but at the age of 16, Danielle Bradbery became the youngest contestant to win "The Voice" at the time. She wowed all the judges when she auditioned with Taylor Swift's iconic song "Mean," and she ended up choosing Blake Shelton as her coach. While it must've been a pretty intimidating journey, Bradbery managed to win over the audience, and she soon became a crowd favorite. 
Thanks to her killer vocals, it became clear that Bradbery was a force to be reckoned with. Shelton later said that he was in awe of the transformation she'd undergone while on the show. "To see that Danielle won, that's a big deal for me obviously. But it's a bigger deal for this show because Danielle Bradbery is actually a true amateur and we saw her go from being that to a pro before our very eyes," he told Jacksonville.com.
After she was declared the winner of Season 4, Bradbery told Jacksonville.com that she could hardly believe that she ended up being the one to take the trophy home. "I mean confetti and fireworks in the background and being handed this really heavy trophy. It was all so incredibly overwhelming," she said. She also admitted to being pretty nervous about her final performance. "But I mean, I finished the song like they told me to. But yeah, it was scary," she said.
She had to grow up faster than most
After she won "The Voice," Danielle Bradbery no longer felt like she quite fit in with her teenage friends, and she admitted to Today that her peers were treating her differently. Suddenly, she was signing record deals, recording songs, doing live TV interviews, and working with adults in the music industry on a daily basis. It was a lot — and she had to keep up, which meant growing up faster than her contemporaries.
In a 2018 interview with The Boot, Bradbery recalled how she felt pressured to be more mature once she won "The Voice." "Being in the music industry, personally, just with everything that I've been able to experience, and being on 'The Voice' at such a young age, you have to be a little bit more mature, just to tame yourself," she told the outlet, adding, "You're out there in front of everybody, and you have to not be crazy and not be immature. You have to have this certain personality."
Bradbery lived more life in her late teens than many do in a lifetime, and it nurtured an appreciation for her family and her parents. At 18, she moved out of her parents' house to continue her music career in Nashville, Tennessee. She was all alone with no family or friends nearby, but it helped her grow into the woman she is today. "I feel like I experienced a little bit more than I imagined," she admitted.
She was homeschooled after winning 'The Voice'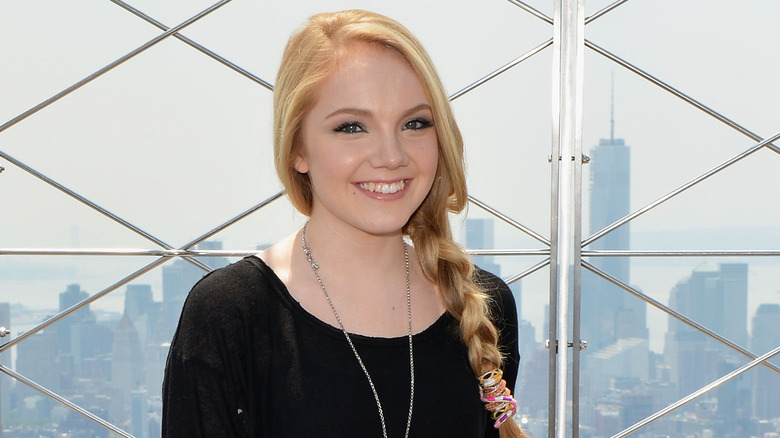 Slaven Vlasic/Getty Images
Once she became the new winner of "The Voice," Danielle Bradbery's life changed almost instantly. She was no longer an ordinary 16-year-old; she was a star in the making, and doing normal teenage things like going to school suddenly wasn't that simple anymore.
Barely 24 hours after her "The Voice" win, Bradbery signed a record deal with Big Machine Records, and the label released her first single "The Heart of Dixie" within the month. Bradbery was suddenly a working woman, and fitting in high school was becoming a challenge. And yet, she didn't feel like her life had changed that much at all. "I still feel like I'm the teenage girl in Cypress, Texas," she told Taste of Country. It's no wonder she had a hard time deciding whether or not to go back to her old high school. While she was participating in "The Voice," Bradbery was homeschooled. When it came time to make a decision on whether or not to go back to school, she wasn't sure what to do at first. "I mean, I don't want to miss homecoming or anything," she told Today. "It depends on my schedule. We're thinking if I went back to my regular school, it'd be kinda crazy!" she said during a radio interview.
In the end, she continued homeschooling while still making time to meet up with her old friends. She also visited her old school from time to time.
She wasn't always super confident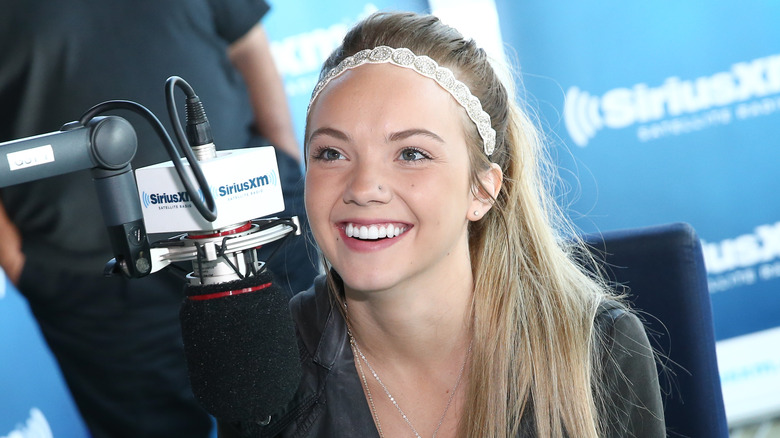 Terry Wyatt/Getty Images
Many think that, when someone like Danielle Bradbery becomes the winner of a prestigious show like "The Voice," confidence comes with the trophy, but that is not even remotely true.
During an interview with Today shortly after her win, Bradbery admitted that she used to hate singing in front of people. The only people who would ever hear her sing were her friends and her mother, and she never made a peep outside of her bedroom. The first time Bradbery ever performed in front of a crowd was when she stepped onto stage for her "The Voice" audition. We can't begin to imagine the courage that took. Once she won, she faced a whole new world with plenty of unknowns, and when it came to writing songs and providing her input, she felt scared to voice her opinion.
Bradbery did not like mingling with strangers, and suddenly, she had to do it all the time and bare her soul writing songs with them. Oof! She told People that she had "a really, really terrible shyness" that held her back, even when her record label urged her to put herself out there and collaborate on songwriting sessions with fellow artists. "I just didn't know how to speak up," she told the outlet, adding, "I mean, getting in a room with people I didn't know terrified me. And then having to write a song! ... So the first couple of writes were a lot to get used to, for sure."
Danielle was in a long-term relationship with Brent Hernandez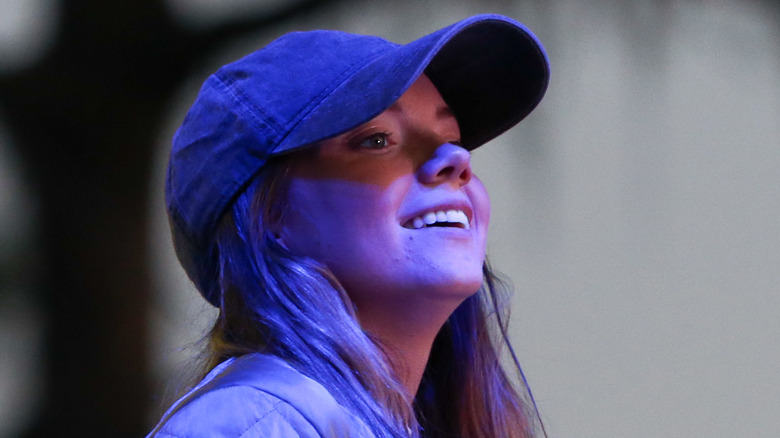 Debby Wong/Shutterstock
Even though her life changed irrevocably after she was thrust into the spotlight at the age of 16, Danielle Bradbery still managed to find love with Brent Hernandez. The two of them were in a long-term relationship, and Bradbery learned a lot about herself and love during this time.
During an interview with her record label, Big Machine Records, Bradbery opened up about her relationship and the valuable lessons she's learned. One of the most important lessons, which also inspired her hit song "Worth It," is that you shouldn't allow yourself to be "walked all over." "I've witnessed one of my best friends go through something and she was feeling just worthless. And I'm like, 'No, do not let this guy make you feel this way. There's so much more to you.' And I know a lot of friends and a lot of people that go through that," she said.
Bradbery also admitted that relationships have a steep learning curve and that it can never be smooth sailing all the way. "I've been in a long relationship and we all have moments, and especially being so young, you're still trying to figure each other out," she said. Naturally, her relationship with Hernandez had a big impact on her music, and her sophomore album was pretty much inspired by him. "I hope the boyfriend doesn't mind, but there's a lot coming out," she joked.
She shared her story about the challenges of dealing with chronic migraines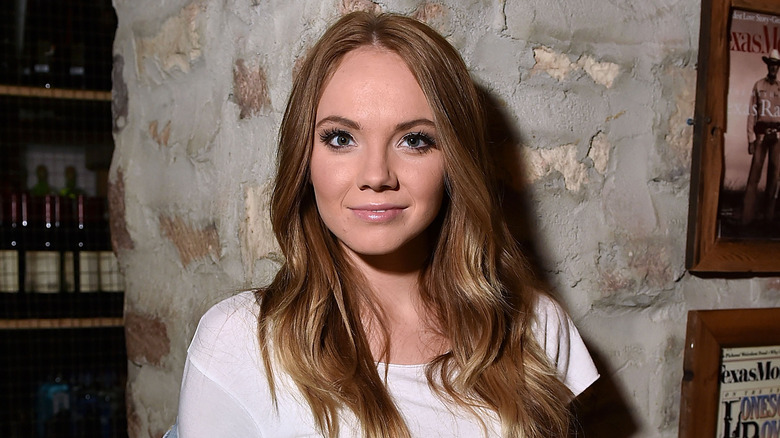 Mike Coppola/Getty Images
It's always inspiring when celebs share their health journeys and challenges, and Danielle Bradbery opened up about some of her own in 2021 when she spoke to People about her chronic migraines.
Bradbery likens migraine pain to a very, very bad hangover, only, no alcohol is involved. "It's the worst, confusing feeling," she told People. The first time Bradbery had a migraine, she had no idea what was wrong with her; she only knew that her head was killing her. "I remember sitting up and just my eyes and my head, my ears were throbbing and I'm like, 'Okay, I'm going to lay back down. And have it really dark in here.' That was the beginning," she recalled. As someone who's not a fan of using medication, Bradbery asked her fans for advice on Instagram, and she's tried many remedies since, including massage therapy and yoga. She hasn't found the holy grail yet, but she's discovered ways to manage the pain when it strikes. Bradbery told People she usually deals with the debilitating pain twice a month. At the time of the interview, she revealed that she'd had about 20 migraines in the past year alone.
By sharing her story, Bradbery aspired to provide some hope to others who deal with chronic conditions. "You just have to stay hopeful and know that there is something out there for you — and it's not going to last forever," she said.
She started dating Bennett Jonas in 2019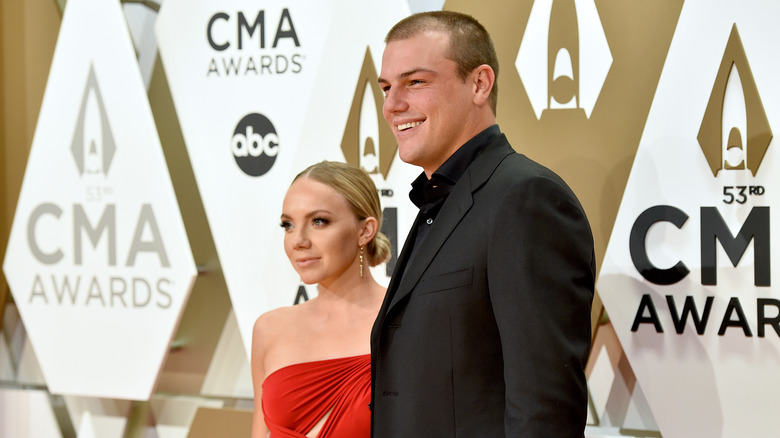 John Shearer/Getty Images
Danielle Bradbery's fans had a bit of a meltdown when she posted a black-and-white snap of her and Bennett Jonas in 2019 on Instagram captioned, "Safe place." She wasn't subtle — she tagged him in the post, and fans immediately speculated that Bradbery was madly in love. Later, in an interview with American Songwriter, Bradbery revealed that the picture was taken at one of her shows and that it was a very special moment. "It was actually [Jonas'] first concert of mine and I performed in Thousand Oaks, California and he's from southern California and that was the night he asked me to be his girlfriend," she dished. "I was on cloud nine and he definitely swept me off my feet," she added. Of course, she immediately had to make it Instagram official.
Aside from clearly having great romantic timing, Jonas is also a very supportive boyfriend, especially when Bradbery suffers from one of her debilitating migraines. She told People that she could wake Jonas in the middle of the night and he'd get right up to get her what she needed to keep most of the pain at bay. "He's been super helpful and a sweet boyfriend," Bradbery told the outlet, explaining that she once woke him up at 4 a.m. after waking up from migraine pain. Jonas got up immediately, brought her some Gatorade, oatmeal, and an ice pack, and then proceeded to give her a neck massage. Give that man a medal!
She spent the pandemic getting to know herself (and her boyfriend) better
The best way to know whether you and your significant other are meant to be is to spend a global pandemic with them — just ask Danielle Bradbery. She got to spend a lot more time than she planned with her boyfriend, Bennett Jonas, during this time, and she told Sounds Like Nashville that the whole ordeal brought them closer. "We got to spend a lot of time and we did a road trip together, which I think was kind of the make or break moment because we drove a pretty long way and we survived it, so thank God," she said. "It's been a crazy time and it's a lot better than I personally thought it would be," Bradbery added.
The fact that the pandemic forced her to take a break from touring meant that Bradbery was left with plenty of unanticipated free time, and she didn't spend all of it with Jonas — some of her time was spent rediscovering her own creativity. She told Sounds Like Nashville that she started to learn to play the piano by watching videos on YouTube. When she wasn't expanding her musical talents, she was taking long walks. "I've honestly taken this time to try and be as creative as possible and maybe do things that I hadn't before," she told Sounds Like Nashville, adding, "Just really focus on myself mentally because a lot of us don't really have this time."
Danielle still has fangirl moments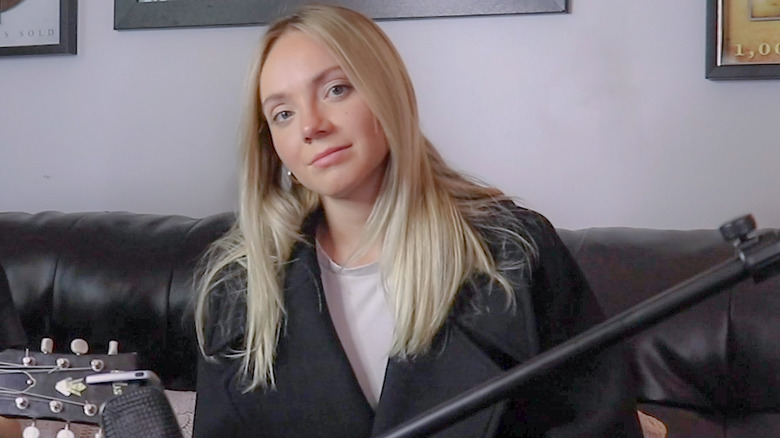 Academy Of Country Music/Getty Images
Even famous people have fangirl moments, and Danielle Bradbery is no different. Having another artist you admire cover one of your songs is probably one of the greatest honors in the music industry, and Bradbery had the pleasure of experiencing this when Kelly Clarkson decided to cover her sassy hit "A Special Place" on the Kellyoke segment of her daytime show "The Kelly Clarkson Show" in 2023. 
Bradbery took to Instagram to express her excitement over Clarkson covering the hit, posting a clip of the performance and captioning it, "When @kellyclarkson sings your song on her show.....WHAT." Bradbery's fans were just as excited as she was, with many suggesting in the comments that Clarkson invite Bradbery to be on the show. "So freaking cool!!! You must be beside yourself rn what a cool kind of full circle moment for you with her having such a similar discovery story!" one fan commented. "Omg you have to preform [sic] on the voice now for Blake's last season while Kelly Clarkson is there too!!! This has to happen," another said. "We need a duet!!!!" another quipped. Bradbery also took to Twitter to thank Clarkson and her team for covering the song. "This is so cool!! Thanks y'all," she wrote.
Danielle has spoken publicly about dealing with anxiety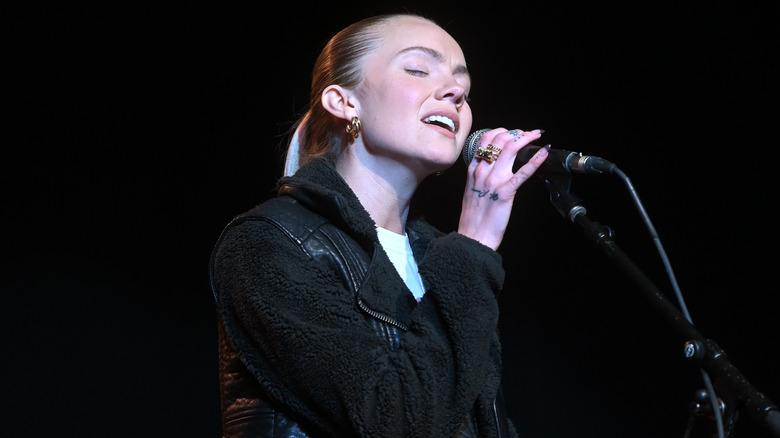 Jason Kempin/Getty Images
Danielle Bradbery has come a long way since the early days when she was too scared to speak up in the writing room — now she writes ballads about love, life, and more recently, anxiety.
Bradbery sat down for a candid chat on Jana Kramer's "Whine Down with Jana Kramer" podcast and revealed that she, too, deals with anxiety. Her single, "Monster," is a very relatable track that addresses the debilitating effect anxiety has on so many people's lives. Bradbery told Kramer that she's found ways to battle anxiety head-on and reduce the impact it has on her life. She also revealed that she regularly goes to therapy and makes sure that she blocks off some time in her very busy schedule to practice self-care. She also teased some new music and an upcoming album, and told iHeart that she's now in a place where she can be completely vulnerable with her music. "This music, I think, is a little bit of a different approach than I've done with other songs," she said, adding, "The honesty, the vulnerability, just all of that is always the same and I try to hit every time."
She's had her fair share of embarrassing moments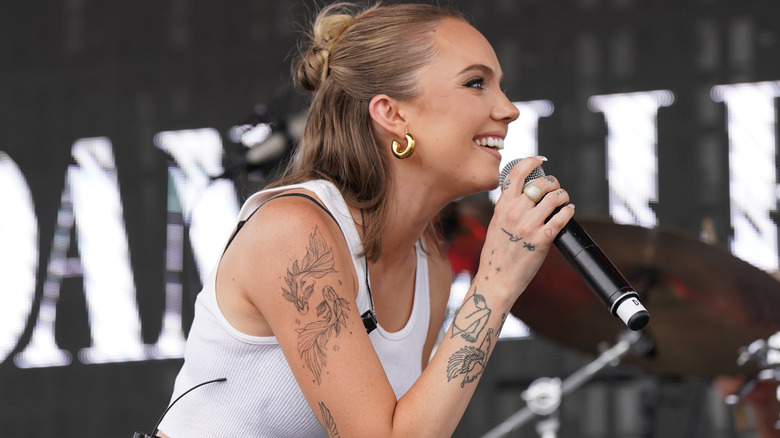 Mickey Bernal/Getty Images
When you're famous, your blunders get broadcast to the whole world, and Danielle Bradbery has had her fair share of embarrassing moments that were on display for all to see, but that's also what makes her so relatable to her fans.
Speaking to Hollywire, Bradbery admitted that she has a tendency to forget the lyrics of her own songs. "For me, it's super embarrassing. Like, wow, I can't even perform my own song or let alone remember my own words. That's happened actually a lot," she told the outlet while trying to stifle some laughter. She also recalled one show where she was performing with country star Thomas Rhett. The two of them were performing a duet, and Bradbery had decided to wear a pair of stilettos for the occasion — to her detriment. "As I was trotting backstage, because I was done with the song, my heel just went 'bam!' and I almost fell and I was like, 'okay, that was embarrassing,'" she said.
Despite messing up some lyrics and nearly tumbling over on stage, it's clear Bradbery doesn't mind laughing at herself or sharing her human moments with the rest of the world. She's really come a long way from the shy girl who first auditioned for "The Voice," and we're so here for it.
She is starting to feel like she's finally found herself and her sound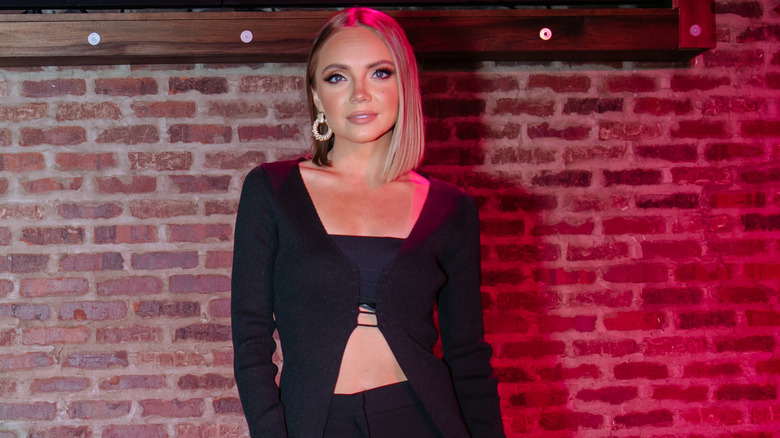 Catherine Powell/Getty Images
Since she first stepped into the music industry in 2013, Bradbery has accomplished plenty of feats — she has three albums under her belt (as of this writing) with another to come (hopefully) soon. Speaking to iHeart, Bradbery revealed that she's finally feeling like she's growing into herself and her sound. "I feel like I'm finally settling into what Danielle Bradbery's music sounds like and what I wanna say," she told the outlet.
Bradbery has also allowed herself to have some more fun. Her single "Runaways" is much more laid back and is reminiscent of young love. "[I]t was about time I had a really fun, upbeat, drum-heavy song," she said. "I just automatically loved the song. I thought it was huge, I thought it was powerful, and just a fun, free-feeling song. ...it was something I needed because I write and record a lot of really slow, kind of breakup songs, so it was time to have something fun," she added. Bradbery is also challenging herself to experiment with various ways of writing music — instead of always writing from her own perspective, she tries to envision how others see the world and certain situations and draw inspiration from that.
Bradbery might've been in the music industry for over a decade now, but it's pretty clear that she's just getting started — both in her career and her journey to self-discovery.