All The Members Of The Royal Family Who Don't Have Royal Titles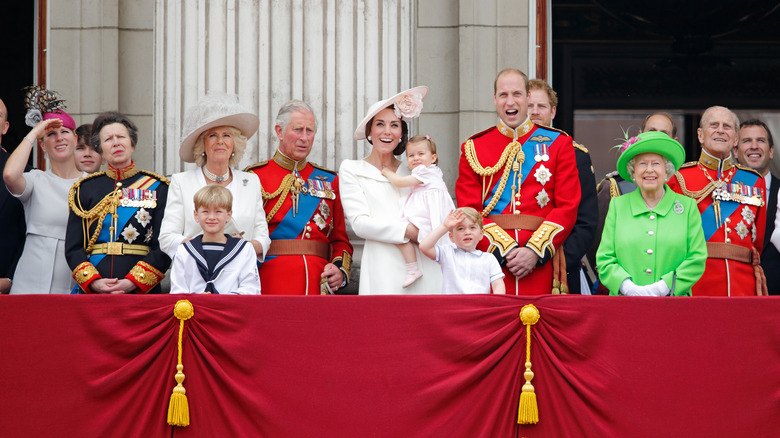 Max Mumby/indigo/Getty Images
Being a member of the British royal family definitely comes with its fair share of perks. There are the lavish events, the historical homes, and all the stunning pieces of jewelry. There is one thing that isn't necessarily guaranteed for those born into the royal family, however, and that's a title. Some are given at birth, and others can be bestowed (or stripped!) by the reigning monarch. Titles can also be rejected by the person receiving them or by the parent of a royally-born child — as is the case of a couple of the grandchildren of the late Queen Elizabeth II. Per protocol, the children and grandchildren of the reigning monarch are bestowed with prince or princess titles at birth, but it is up to the child's parents whether or not they are used. 
There are several family members who are currently in the line of succession but do not have a royal title. It is unlikely any of these untitled royals will ever sit on the throne because they are so far down in the line, but they do still have a claim. So who in the British royal family has a potential claim to the throne without the extra titles to prove it?
Sienna Mapelli Mozzi
👣 We are delighted to share that we have named our daughter Sienna Elizabeth Mapelli Mozzi.

We are all doing well and Wolfie is the best big brother to Sienna. pic.twitter.com/6abMIXDSLT

— Princess Beatrice of York (@yorkiebea) October 1, 2021
There were four royal children born in 2021, including Sienna Elizabeth Mapelli Mozzi, who is 10th in line for the throne. Her mother is Princess Beatrice, the daughter of Prince Andrew, and her father is Edoardo Mapelli Mozzi, a member of the Italian royal family. While little Sienna doesn't have any titles through her British lineage, she does hold the honorary Italian title of Nobile Donna. She is the first child born to Princess Beatrice, but she has one sibling — a half-brother named Christopher from her father's previous partner, Dara Huang. 
Sienna's mother has the title of princess because, at her birth, she was a grandchild of the reigning monarch, but the same doesn't apply to Sienna. The royal protocol that excluded her from being titled was put in place by King George V who decided in 1917 that titles only went as far as grandchildren (via The Guardian). George's protocol is what also kept Prince Harry's son Archie from having a title until his grandfather King Charles took the throne upon the Queen's death in 2022. 
August Brooksbank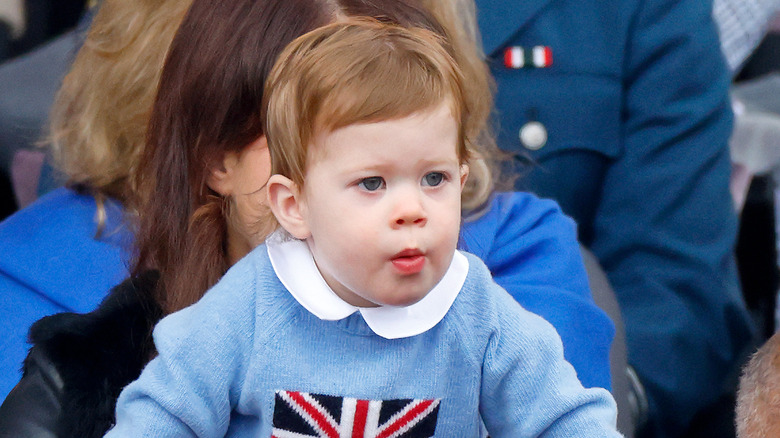 Max Mumby/indigo/Getty Images
Like his cousin Sienna, August Philip Hawke Brooksbank — 12th in line for the throne — doesn't have a British royal title. August is the son of Princess Eugenie, the daughter of Prince Andrew and sister of Princess Beatrice, and Jack Brooksbank, a commoner. At birth, August was a great-grandchild of the then-reigning monarch, Queen Elizabeth II, so like his cousin Sienna, he was excluded from a royal title.  
August was born on February 9, 2021, at London's Portland Hospital, the first child of the princess and her husband. Despite his lack of a royal title, Princess Eugenie has expressed hope that he will inherit some of the better qualities from his royal lineage. As she expressed to The Spectator in June of 2022, she wants him to grow up to be a lot like his great-grandmother, Queen Elizabeth II: "I'd love Augie to have her patience, her calmness and her kindness," she said.
Ernest Brooksbank
13th in line for the throne, Ernest George Ronnie Brooksbank is the brother of August and is Princess Eugenie and Jack Brooksbank's youngest child. Ernest was born on May 30, 2023,  making him the first great-grandchild of Queen Elizabeth II to be born after her passing in 2022. Eugenie took to Instagram to explain her choice of name for her youngest child, commenting, "He is named after his great great great Grandfather George, his Grandpa George, and my Grandpa Ronald."
Ernest and August's parents married in 2018, although they had been an official couple since 2011. Their father works for a development company called Discovery Land Company, and their mother is the Patron of the Royal National Orthopaedic Hospital and does a lot of charity work. While the Queen was still alive, Princess Eugenie often attended public functions with her, such as the Royal Windsor Horse Show or the Royal Ascot races.
Louise Mountbatten-Windsor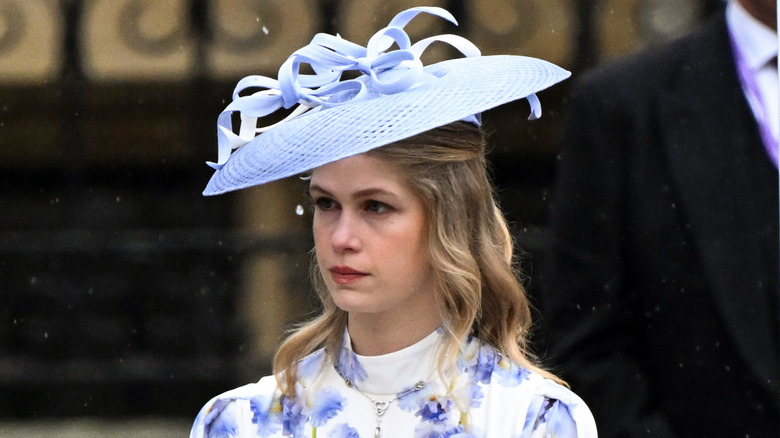 Anwar Hussein/Getty Images
Louise Mountbatten-Windsor is 16th in line for the throne, as she is the daughter of Prince Edward, the late Queen's youngest child, and Sophie Rhys-Jones, a distant descendant of King Henry II of France. Her parents became Duke and Duchess of Edinburgh when Charles took the throne 2022. Louise was born prematurely on November 8, 2003, at Frimley Park Hospital. She is an avid equestrian and has participated in the Royal Windsor Horse Show on multiple occasions. She is the only grandchild of Elizabeth II carrying on the Mountbatten-Windsor name. 
Louise's lack of title is due to the primogeniture system put in place in 1701 which passed down titles to an eldest son instead of an eldest child. The primogeniture system was overturned with the Succession to the Crown Act 2013, however, since Louise and her brother were born prior to 2013, she does not inherit the Countess of Wessex title. Her brother James will become Earl of Wessex instead.
Peter Phillips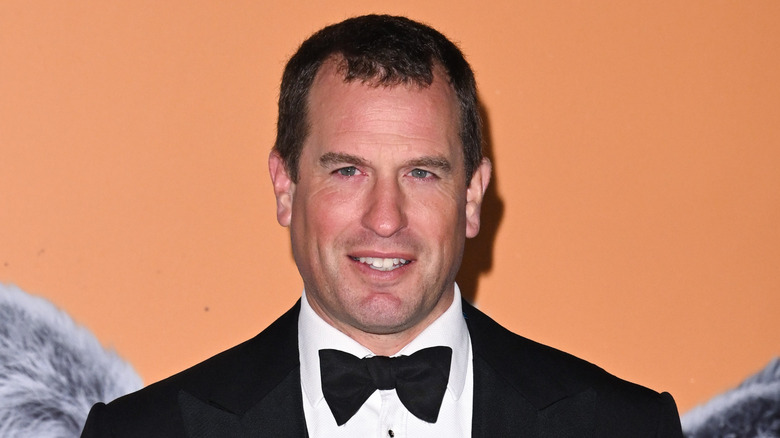 Karwai Tang/Getty Images
Nephew to the king, Peter Mark Andrew Phillips is 18th in line for the throne. He was Queen Elizabeth's oldest grandchild born in 1977, and his mother is Princess Anne — the queen's only daughter. His father is Captain Mark Phillips, a retired Queen's Dragoon Guards Army captain. At his birth, Peter was fifth in line to the throne, but when Prince William came along, it pushed him further down the line. 
As a grandchild of the reigning monarch, Peter was eligible for a title at birth, but his mother Anne declined to give her children titles, opting for a more simple life. She explained her decision to Vanity Fair, saying "I think it was probably easier for them, and I think most people would argue that there are downsides to having titles." Royal duties can take up a lot of time and energy, and many royals do not have much time for a regular job. Peter has managed to excel in several high-profile positions, although it is impossible to truly know if the lack of title helped his career path.   
Savannah Phillips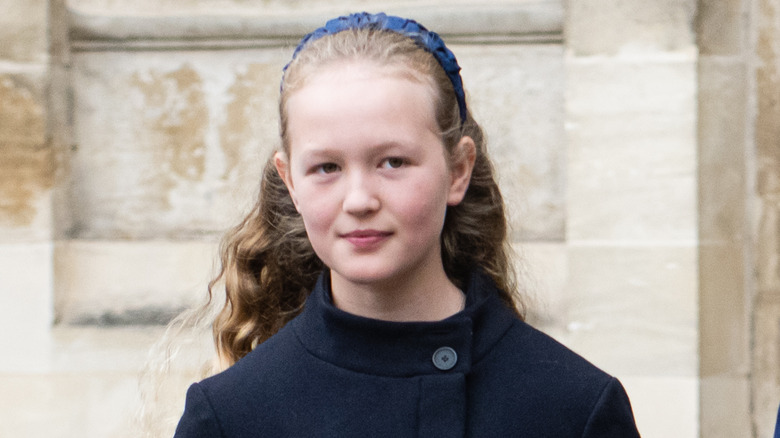 Samir Hussein/Getty Images
Savannah Anne Kathleen Phillips is 19th in line for the throne after her father Peter, and like her father, she is also without a title. Born in 2010, Savannah is the great-granddaughter of the late queen, and her mother, Autumn Phillips (née Kelly), is from Canada. Savannah is the first British royal in line for the throne with dual UK and Canadian citizenship. She has no titles because she is too far removed from the sitting monarch and because her father carries no titles. 
Being without a title does not exempt Savannah from the media spotlight, however, and Savannah's exuberant personality has caught the attention of many royal onlookers. A body language expert named Judi James told Express UK that she believes the young girl has a rebellious side. "Not a naughty rebel but just the most playful and often hilarious one of all the late Queen's great-grandchildren," James said. The expert came to this conclusion because of the girl's uninhibited way of interacting with the other royal children and her lack of shyness with the media. 
Isla Phillips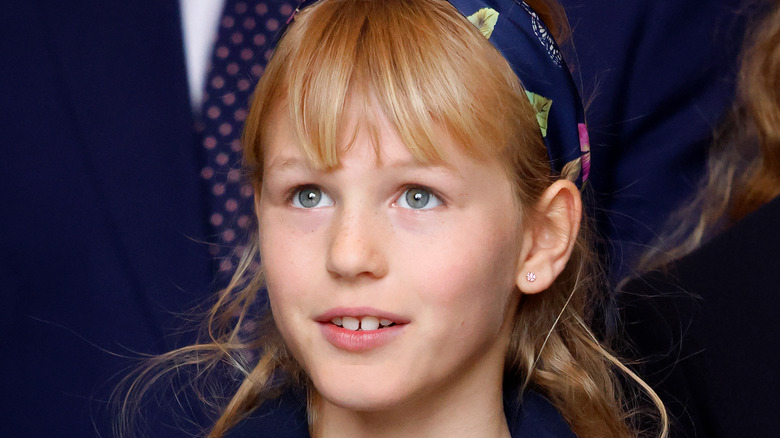 Max Mumby/indigo/Getty Images
Isla Elizabeth Phillips comes after her sister Savannah in the line of succession, putting her in the 20th spot. Though she holds no title, Isla is no stranger to public royal gatherings. She is also a fan of equestrian events, which she often attends with her aunt, Zara Tindall. In fact, Zara has a close relationship with her nieces due to their love of horses. "Both my nieces ride and they're really into it at the moment," she said (via Hello!).
At King Charles' Coronation concert in 2023, royal fans noticed an unmistakable resemblance between Isla and Prince Philip, her late great-grandfather. Side-by-side photos were shared on Instagram, and many people commented in agreement, saying things like, "Wow, those genetics from her great-grandfather" (via Express UK). Others see a strong resemblance to her grandmother Princess Anne or to her cousin Louise. 
Zara Tindall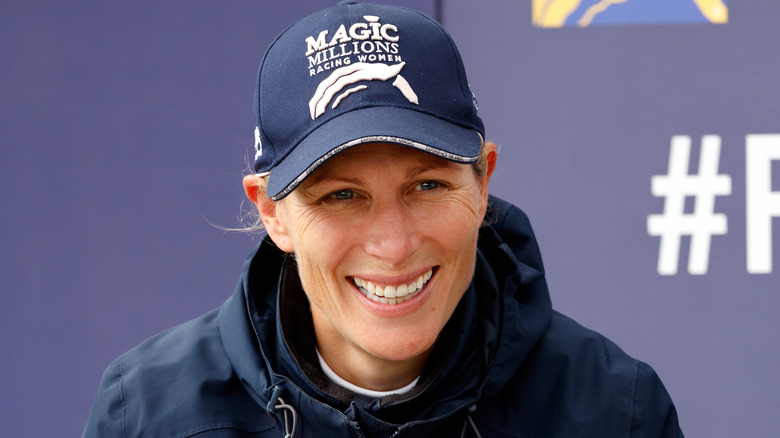 Max Mumby/indigo/Getty Images
Zara Anne Elizabeth Phillips was born in 1981, and she is currently 21st in line for the throne. Like her brother Peter, Zara was not given a title at birth at her mother's request. Her lack of royal title didn't hold Zara back, however, as she has made a big name for herself in British equestrian circles! In her younger years, she won the Under 25 Championship at Bramham, and she took home the silver in the 2002 European Young Riders Championship. In 2005, she won two gold medals at the European Championships at Blenheim, and medaled at the World Equestrian Games in 2006. In 2012, Zara won a team silver medal at the 2012 London Olympics, and her own mother presented the medal to her. Princess Anne is also an accomplished equestrian, and she praised her daughter's skills in Vanity Fair, "Zara was always a natural."
Motherhood has not slowed Zara down one bit. She has three children with her husband Mike Tindall — a former rugby player. Zara was back competing within months of having her first child winning a team silver at the World Equestrian Games in Normandy in 2014. In 2021, now a mother of three, she took home first place at Aston Le Walls and participated on a winning team at the Nations Cup at Aachen.
Mia Tindall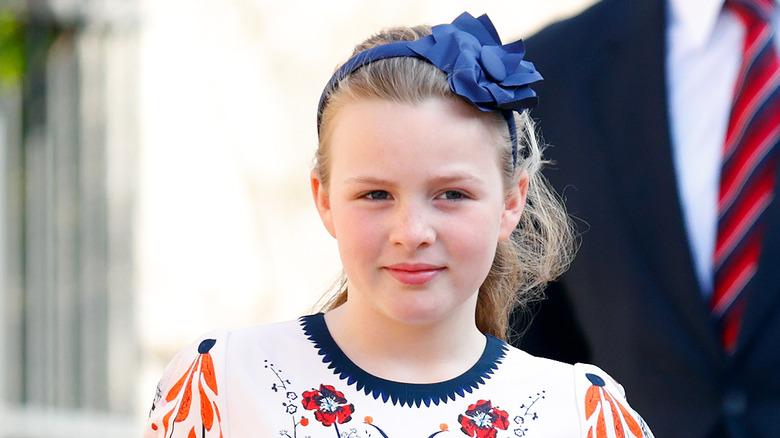 Max Mumby/indigo/Getty Images
Born in 2014, Mia Grace Tindall is 22nd in the line of succession. She is the oldest daughter of Zara and Mike Tindall, and she is Princess Anne's third grandchild. At her birth, Mia was a great-grandchild of Elizabeth II and thus not guaranteed a title, but had one been offered, it is unlikely her mother would have accepted it anyway. Zara discussed how happy she is with the decision her parents made to forego a title for herself and her brother with The Times back in 2015, saying, "I'm very lucky that both my parents decided to not use the title and we grew up and did all the things that gave us the opportunity to do."
Mia's parents have both found careers in various sports, and the 9-year-old girl looks poised to follow in their footsteps. She already plays on her local rugby team with her younger sister, and her father said both girls are very athletic in a 2023 Hello! exclusive. However, Mike Tindall thinks it is important that Mia gets time to just enjoy playing, explaining that "we've got to give them a bit of time before the pressure comes on but they love all sports." 
Lena Tindall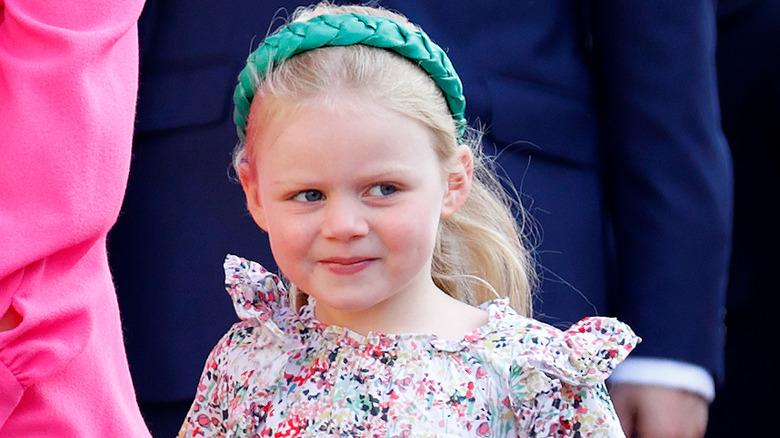 Max Mumby/indigo/Getty Images
Lena Elizabeth Tindall, born in 2018, is the middle child and youngest daughter of Zara and Mike Tindall. She is 23rd in line for the throne. Lena's first major royal appearance took place in 2022 when she attended the Platinum Jubilee Pageant. She sat behind Princess Charlotte and Prince George in the royal box. It is assumed her middle name was given in honor of her late great-grandmother Queen Elizabeth II, and Lena was christened at St. Nicholas Church in Cherrington, Gloucestershire with her godfather Prince Harry and his wife Meghan Markle in attendance. 
Like her sister Mia, Lena also plays rugby with her local club, but according to her father, she doesn't love it as much in the colder months. "'It's always hard through winter when it's cold to get them out the door," Tindall told "The One Show" (via Daily Mail).
Lucas Tindall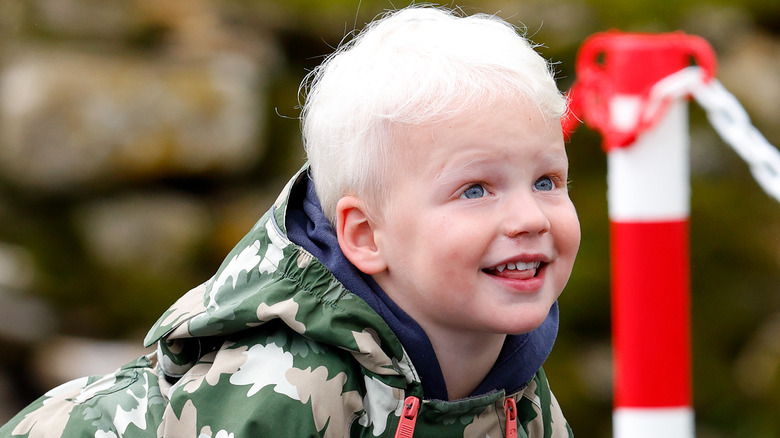 Max Mumby/indigo/Getty Images
Lucas Philip Tindall was born March 21, 2021, and is 24th in the line of succession. He is the youngest child of Zara and Mike, and according to his dad, he will be the last child for the pair. "I literally was like 'Yep, snip, snip, snip' I've got a boy. I'm out. I'm out of here," Tindall revealed on his podcast (via Hello!).
Like his sisters, Lucas also attended the late queen's Platinum Jubilee Pageant in 2022. Just 1 year old, the toddler appeared to only stay long enough to have a dance with his mom and dad before he disappeared from the event. Royal watchers were delighted to see the little boy and took to social media to praise his cuteness in navy overalls and a light blue shirt. While Tindall may have said he doesn't want any more children, he is delighted with the three that he has. "We're so lucky with ours," he told The Telegraph.
Sarah Ferguson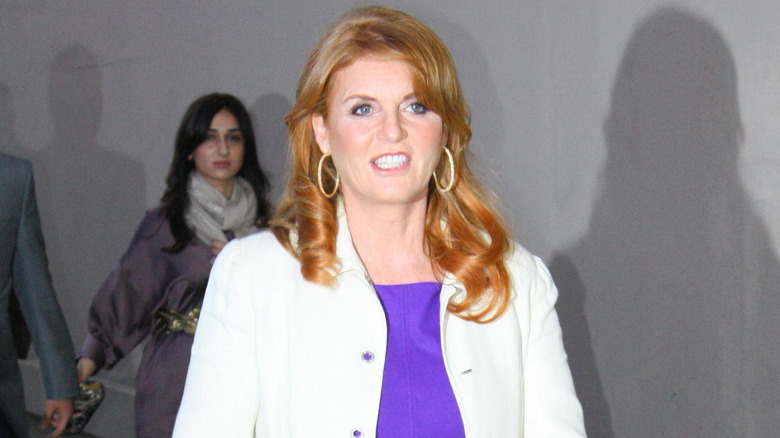 RoidRanger/Shutterstock
Sarah Ferguson, commonly referred to as Fergie, was previously married to Prince Andrew, but she is not in line for the throne, as she is only attached to the royal family by marriage. Upon their marriage in 1986, she was awarded the titles Her Royal Highness and Duchess of York. She birthed two children, Princess Beatrice and Princess Eugenie, but she and Prince Andrew divorced in 1992. Once the marriage was dissolved, Ferguson lost the HRH title but was allowed to keep the Duchess of York title. 
Ferguson met Andrew as a child, but it was the late Princess Diana who did the matchmaking for her. Princess Diana invited Ferguson to a party and arranged for her to sit next to the prince, and the rest was history. Even though their marriage didn't work out, the pair have always been close. In fact, Ferguson continued to live in their marital home at Windsor after their split. She also continues to speak highly of him even though they have been separated for more than three decades. "He's such a good man," she told "Good Morning Britain" in April of 2023.