Details About The Drama Between Sophia Culpo And Braxton Berrios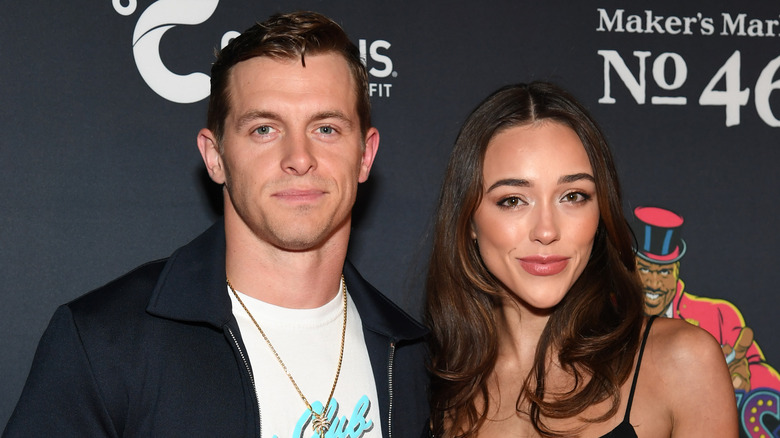 Sarah Morris/Getty Images
Sophia Culpo and Braxton Berrios appeared to have major staying power, which is why their sudden split took fans by complete surprise. The model and the NFLer began their public relationship in 2021 and really seemed dedicated to building a life together. In fact, when fans tuned in to watch "The Culpo Sisters" on TLC, which co-stars Olivia Culpo and Aurora Culpo, many were happy to hear that Sophia decided to move to New Jersey with Berrios, who had signed with the New York Jets at the time, and thought that the two would end up getting married. 
Months later, however, Sophia moved out of the home she shared with Berrios. "It is officially moving day. I woke up this morning and my morning mantra was literally so accurate and appropriate just for the day. Moving on and moving forward is always for the better because it always brings the most growth no matter what," she wrote on her Instagram Stories in April, according to E! News. Sophia remained mum about the split for weeks, even dodging questions about Berrios' whereabouts when asked on social media. "I haven't addressed this because it's been really hard to come to terms with and process. I'll say that it didn't end well or honestly. A lot of trust was broken," she admitted on her IG Stories a few weeks later (per Fox News). Although Sophia didn't outright reveal why she and Berrios split, she dropped a few clues.
Braxton Berrios broke his silence on the split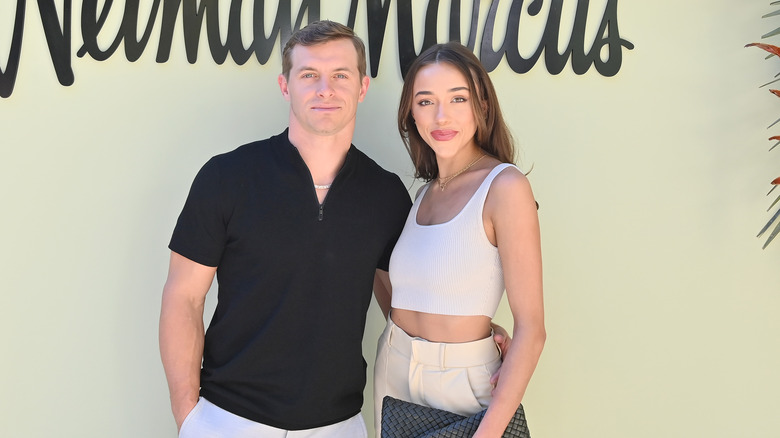 Stefanie Keenan/Getty Images
Shortly after Sophia Culpo and Braxton Berrios went their separate ways, he was linked to social media personality Alix Earle. According to People magazine, their casual romance may have started as early as March, though the exact timeline hasn't been fleshed out. In June, Berrios broke his silence about his split from Sophia. "I was in a relationship for two years. It was a good relationship, it was a healthy one," he said on his Instagram Stories (per the New York Post), adding, "towards the end of it, we had conversations along the lines of we just weren't working out. So when we split back in January, that's why." But while Berrios seemed to want to paint a lovely picture of two people growing apart, Sophia's side of the story was way different. She took to her TikTok Stories to share some photos that she and Berrios took together as recently as February, which was a month after he said they split.
Around this time, Sophia posted a TikTok that many thought was directed at Earle, but she quickly deleted it when people started talking about the message she was sending (intentionally or otherwise). "Give it a few but call me when the love bombing ends," read the post's caption. A short while later, Sophia uploaded a TikTok Story in an attempt to clear the air. "I'm sorry the internet has their panties in a wad. It wasn't that deep. It really wasn't that deep," she said (per People).
Sophia Culpo went through a lot after her split from Braxton Berrios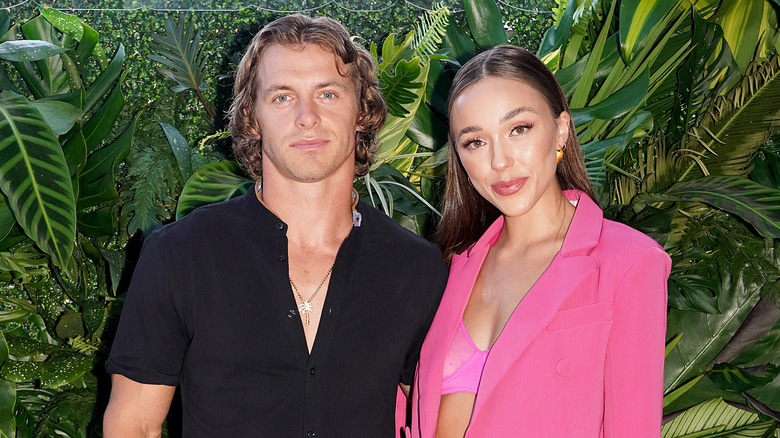 Romain Maurice/Getty Images
One thing that fans noticed about Sophia Culpo in the aftermath of her split from Braxton Berrios is that she appeared to lose quite a bit of weight. During a Q&A on her Instagram Stories, Sophia addressed the concerns over her slimmed down figure. "I know I've lost a lot of weight. It's not intentional but the betrayal on my last relationship, just really took a toll on me," she said per E! News.
The messiness of the split seems to have calmed down over the summer and Sophia seems to be in a much better place, according to her sister, Olivia Culpo. "I just told her that this will all pass and someday you'll look back on this and be so proud of the strength that you had to get through the hardest moments," Olivia told E! News in August. "I really do think everything works out the way it's supposed to and you learn lessons you're supposed to through the hard moments," she added. Sophia hasn't been romantically linked to anyone new since her split from Berrios earlier this year.