Joe Gatto Confirms Reconciliation With Wife Bessy On Their 10th Wedding Anniversary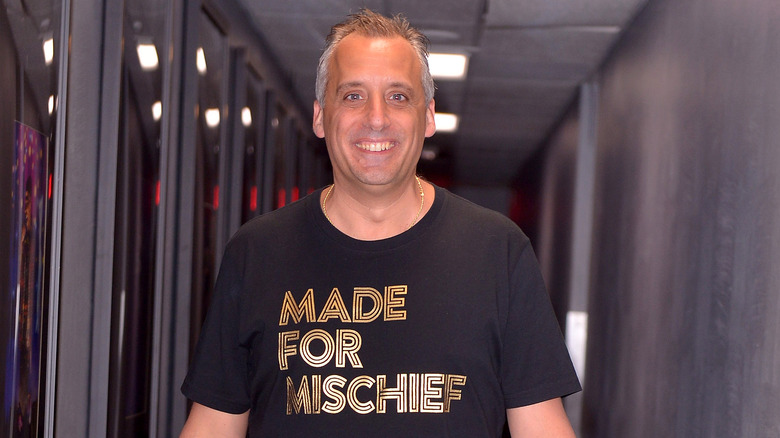 Johnny Louis/Getty Images
It's no "joke"! Nearly two years after Joe Gatto announced he was leaving "Impractical Jokers" to focus on his family in the wake of a separation, he broke the news that he and his wife Bessy have reconciled. In an Instagram post on Sept. 2 commemorating their 10th anniversary, Gatto described their marriage as "an absolute crazy ride ... but there was always love." He went on, "Thanks for this decade. And I'm happy and hopeful that we will be able to get a few more in because we have proven with compassion, forgiveness, and an open heart, we can do this."
More than 300,000 followers gave their resounding "likes" of approval, including friend and fellow Joker Brian "Q" Quinn. The two, along with Sal Vulcano and James "Murr" Murray, have been friends since their Staten Island high school days, and together they turned their penchant for crazy dares into "an undeniable comedy empire," as Entertainment Weekly once put it. 
But Joe was actually beaten to the punch by Bessy Gatto, who had put up her own Instagram announcement four days earlier. "I think of all the changes we have gone through, good and bad. At the end, I would not change a single thing," her message read in part. "Everything that happens and everything that we go through brings us one step closer to where we are meant to be. And I truly believe this is exactly where I am meant to be in my life."
Joe replied simply, "I love you."
Joe and Bessy Gatto share many mutual loves
Whatever issues Joe and Bessy Gatto faced that (temporarily) parted them as a couple, they kept true to their promise to be loving co-parents to their children, Milana, 8, and Remington "Remo" Joseph Gatto, 6. When he wasn't on his comedy tour, Joe spent the summer of 2023 with the kids, enjoying a trip to Legoland, teaching Remo how to ride a two-wheeler, fooling around in the family pool (yes, humiliating yourself on TV can pay handsomely). 
Most promising of all, Bessy figured in some of the adventures as well. The two took Milana to a Taylor Swift concert in May, where "[we] spent more time watching our little girl lose her mind with excitement than we did the stage," he wrote. 
Joe and Bessy are also bonded by their mutual love of dogs; both are active in pet rescue and the "adopt, don't shop" movement. They founded Gatto Pups and Friends, a sanctuary and adoption site specializing in senior and disabled pups. All their pooches are named after food, and their own dogs, in particular, are named after Italian desserts like Biscotti and Cannoli. ("I just have a concern that you're going to run out of pastry names for your dogs," fellow Joker Sal Vulcano recently quipped on Instagram.)
Does the Gatto reconciliation mean Joe will be rejoining Sal, Murr, and Q on "Impractical Jokers" next season? So far, he's not telling. But fans would love to see at least a cameo appearance by Captain Fatbelly.