Why Jenna Bush Hager Once Denied An Opportunity To Talk With Katie Holmes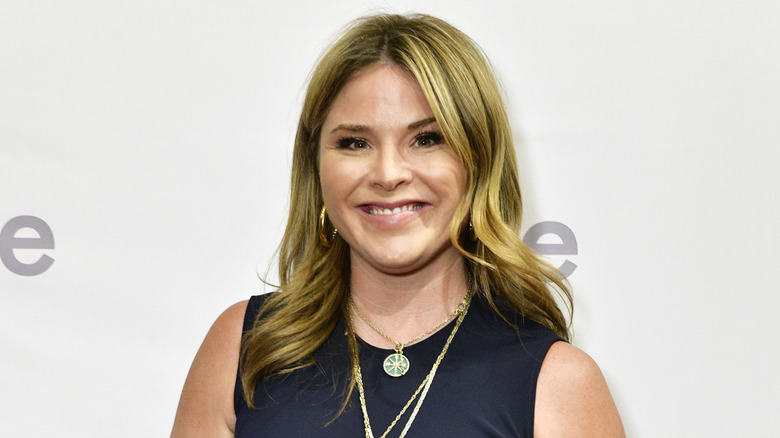 Eugene Gologursky/Getty Images
The early 2000s rom-com "First Daughter" may not stick out in your mind as much as other films of the time, like "Bridget Jones Diary" or "13 Going On 30," but it was still a cute flick that's worth a watch (or re-watch). In it, Katie Holmes plays the college-aged daughter of the President of the United States. The actor thought she would do some research prior to filming, including interviewing a well-known president's kid. 
In the movie, Holmes' character longs for the quintessential university experience, which is easier said than done when presidential children are often flanked by bodyguards. So her father, played by Michael Keaton, sends just one undercover agent to keep track of her. As you can guess, it's a good-looking guy around her age who perfectly fulfills the role of a love interest.
Holmes, the daughter of an attorney in real life, wanted to study the person who was actually living out the Forest Whitaker film – Jenna Bush Hager. The daughter of former President George W. Bush went to college the year her dad was elected leader of the United States. She, too, desired a "normal" college experience. So normal, in fact, that she figured her life was too mundane for Holmes' case study.
Jenna Bush Hager passed on talking to Katie Holmes
Jenna Bush Hager told People that while she was a student at the University of Texas at Austin, she wanted her life to be as normal as possible. So when Katie Holmes called wanting to learn more about her experience being the Commander in Chief's daughter on campus, Bush Hager turned her down. "I was at the library and living a normal life as a college freshman," she said. "I felt she would be disappointed with whatever she saw."
Bush Hager further elaborated on the surreal experience on an episode of "Today with Hoda and Jenna" when the "Batman" actor came to the set for a visit. Bush Hage recalled, "I was with my college roommates, we were watching 'Dawson's Creek' — I'm not joking — we turned it off and I'm like... 'Who called me from LA?'" Imagine her shock when she pressed play on the voicemail and realized it was Hollywood calling in the form of Katie Holmes. Ultimately, Bush Hager decided she was "too embarrassed" by her typical college experience and believed Holmes would bored.
In an interesting turn of events, however, Bush Hager admitted that one of her friends did lock lips with a secret service agent. Doubling down on the fact that she herself definitely didn't have a fling with any of her bodyguards, Bush Hager confessed, "I did have a friend make out with one," to which Holmes replied, "I'm sure you did. That seems like the job of a friend."
Jenna's college experience wasn't exactly dull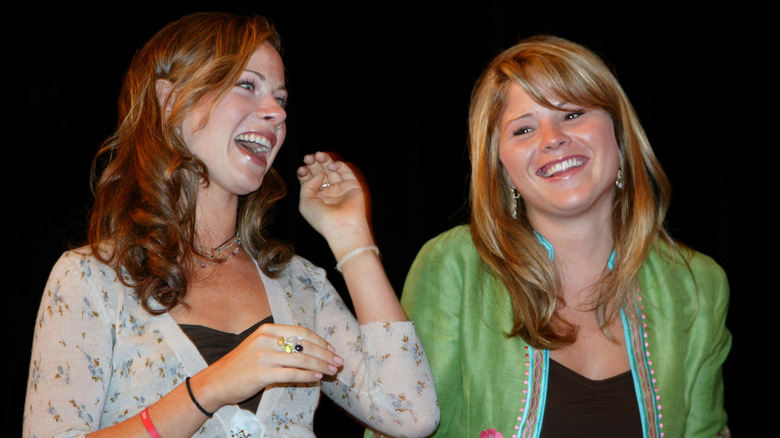 David Hume Kennerly/Getty Images
While Jenna Bush Hager might make it seem like her college days were full of studying, hanging out with her girlfriends, and trips to the library, her time at UT Austin wasn't that boring. In 2001, her first year at the school, the "Today Show" host earned two alcohol-related misdemeanors in just over a month's time.
The first charge came when she was caught with alcohol as a 19-year-old freshman, resulting in a minor in possession charge (her twin sister was cited, too). The misdemeanor came complete with a bill of $51.25 for court costs, six hours of classes (outside of her college load) focused on alcohol awareness, and eight hours of community service. But that pales in comparison to the time she tried to use a fake I.D. — a pretty gutsy move for the daughter of the president, who was recognizable to almost anyone. Her failed attempt, just five weeks after the first charge, came with a fine of $600 and a suspension of her driver's license for 30 days.
Now, Bush Hager reflects on the incident with a bit of humor, wondering what she was thinking and laughing about her naivety. But at the time, she says she felt really embarrassed for her father and afraid of how it would reflect on him during his presidency. Despite Katie Holmes not getting intel from Bush Hager for "First Daughter," the movie still mirrored real life, thanks to its own drunken tabloid scene complete with fatherly disappointment.