Why Melissa Joan Hart's Pic With Britney Spears Couldn't Have Come At A Worse Time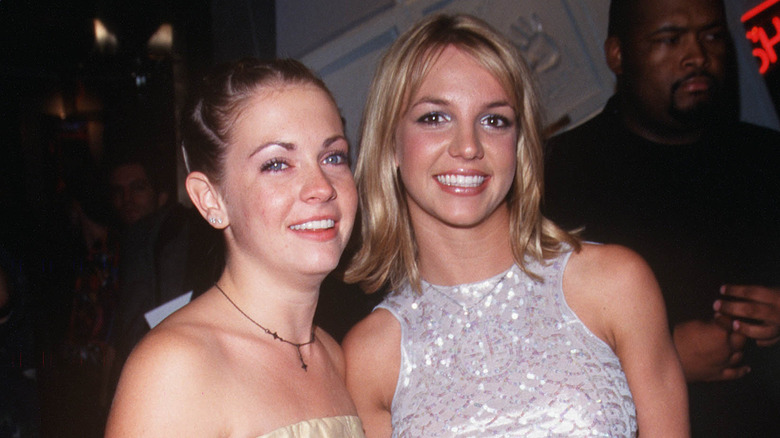 Evan Agostini/Getty Images
Melissa Joan Hart has had quite an illustrious career that began when she was just a small child. She starred in Nickelodeon's original "Clarissa Explains It All" from 1991 until its end in 1994, followed by her most famous role in "Sabrina, the Teenage Witch," from 1996 to 2003. It was during this adolescent stardom that she met fellow star Britney Spears, who'd made a stunning transformation from "Star Search" hopeful to pop icon.
In 1999, Spears appeared on the soundtrack of "Drive Me Crazy," a teen rom-com in which Hart starred. This led to the two of them becoming friends. Hart even took Spears to her first nightclub, even though she was under 18 at the time. Hart then joined Spears in the music video for her single, "(You Drive Me) Crazy," which the film is named after. Spears also guest starred in the first episode of "Sabrina, the Teenage Witch" in its fourth season. The two young women hit it off, but when Spears posed next to Hart for a red carpet photograph at the "Drive Me Crazy" premiere, she had no idea that she'd stumbled into one of Hart's worst career moments.
Melissa Joan Hart was nearly fired from Sabrina before her Britney Spears photo
In September 1999, celebrities and fans alike showed up at the New York City premiere of "Drive Me Crazy." What should have been a joyous evening was a devastating experience for the film's star, Melissa Joan Hart. Shortly before encountering Britney Spears, her attorney informed Hart that she'd been fired from "Sabrina, the Teenage Witch." The show's producers were furious after learning that Hart had posed semi-topless for Maxim. To make matters worse, the magazine used her character's name, "Sabrina," on the cover instead of Hart's first name. By the time she took the now-famous photo with Spears, Hart had been sobbing profusely.
"If you look at my eyes, I had been crying all evening. At the time, I thought this was the worst day of my life," Hart told "Pod Meets World" hosts Will Friedle, Danielle Fishel, and Rider Strong. In addition to nearly losing her leading "Sabrina" role, she also learned at the "Drive Me Crazy" premiere that she'd been let go from the production of "Scary Movie." Thankfully, Hart kept her popular ABC gig, explaining during the podcast episode that the network could not legally terminate her since she had no idea that Maxim would use the fictional moniker. 
The ladies snapped a happier photo during Britney Spears' 2015 concert
Years after Melissa Joan Hart's gloomy picture with friend Britney Spears, the ladies reunited for a much happier affair. Hart visited Las Vegas in February 2015 to attend Spears' "Piece of Me" residency at Planet Hollywood. She shared several images on her Instagram from that night, including one with a group of girlfriends who attended the show with her. After the show, Hart ended up backstage with her longtime friend, a moment that both ladies reveled in on social media. 
Spears thanked Hart for attending the concert, tweeting, "@MelissaJoanHart it was so good to see you!! It's been TOO long. Hope you had fun tonight!" Hart replied to the pop star, writing, "Awesome show! Such fun to see you, girl!" Over the years, Hart has shared various throwback images on her social media showing the ladies during their younger days during different appearances. Their "Drive Me Crazy" pic together may have been difficult for Hart, but luckily, the two had opportunities to make new memories after that rocky evening. Fans may never get a "Sabrina, the Teenage Witch" reboot, but hopefully there will be more Spears and Hart moments in the future, as Spears is rumored to be making a comeback to entertainment.