Hallmark Alum Kristin Chenoweth's Wedding Comments About Josh Bryant Are Melting Our Hearts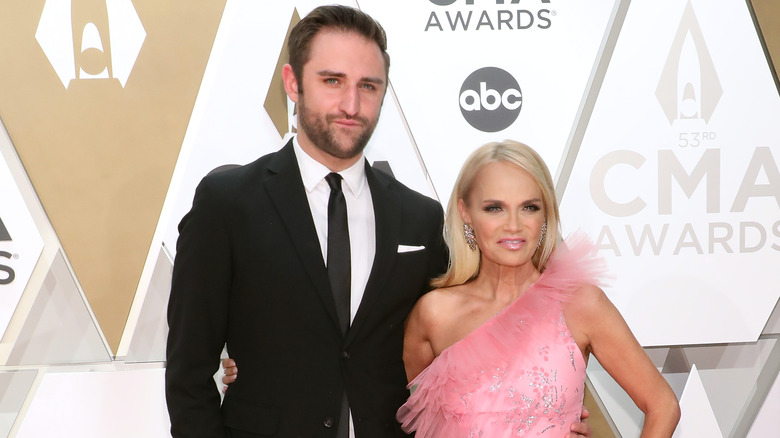 Taylor Hill/Getty Images
Whether she's hitting unbelievably high notes in Broadway musicals like "Wicked," directing a chorus of teenagers in Hallmark's "A Christmas Love Story," or belting show tunes on one of her many solo albums, Kristin Chenoweth's powerhouse voice is hard to forget. Although the Tony Award-winner has fallen in love on stage and screen plenty of times, she resisted romance behind the scenes for most of her adult life. "It took me a really long time to help my relatives in Oklahoma understand that when I graduated from college, I wasn't going to get married, have the baby, and teach music," the "Glee" star told HelloGiggles — she broke the mold and became famous, focusing on her career rather than a husband.
However, Chenoweth's perspective on marriage changed when she met Nashville-based singer Josh Bryant, and their love story is straight out of a Hallmark movie. The two musicians first met in 2016 at a wedding. Bryant was performing with his country band, Back Road Anthem, and Chenoweth's niece was the bride. "I noticed him and he noticed me, but we were dating other people," the Broadway star explained on "The Jesse Eagle Show." It was the beginning of a classic "friends to lovers" arc. Unbelievably, the pair reconnected the next summer when Back Road Anthem was hired to play her nephew's wedding. This time, they were both single, and sparks flew. The pair got engaged in 2021 and officially tied the knot in September 2023.
Kristin Chenoweth thought she'd never get married
Kristin Chenoweth thought she'd be a bachelorette her whole life. Until she met Josh Bryant, that is. "I was never going to get married," she told People in a 2023 exclusive. However, after reconnecting with Bryant at her nephew's wedding, she asked herself, "Why would I ever let this guy go?" Chenoweth, who shares her Christian faith with her husband, says God is to thank for their one-of-a-kind love story. "Josh is 14 years younger than me, and I thought that was ridiculous ... But he's made me feel very confident and beautiful and loved at any age," she added. The pair said their "I-dos" in Dallas, Texas on September 2, 2023.
Of course, it wouldn't be a Kristin Chenoweth wedding without plenty of pink. Her Pamella Roland dress had a rosy-toned hue and a larger-than-life bow. The decor matched the actor's bubbly personality. "I never thought I'd get married, so I went very nontraditional with the gown," said the musical theater icon, addressing her choice not to wear white. The guest list included stars like Katharine McPhee and Kathy Najimy, according to Brides, and cocktails were inspired by a few of Chenoweth's notable performances (including a "Wicked" margarita).
Most importantly, Chenoweth knows Bryant will always be there for her, even on her worst days. After she lost a loved one in the midst of the COVID-19 Pandemic, he was quick to offer support. "[You] can't buy that. He's my rock," said the Hallmark alum.
Kristin Chenoweth broke off two engagements before meeting Josh Bryant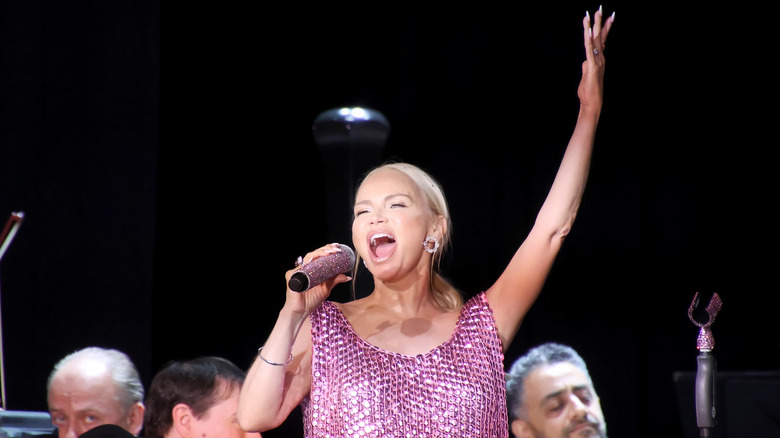 Donald Kravitz/Getty Images
Although September 2, 2023, marked her first time walking down the aisle, Kristin Chenoweth was engaged twice before she met Josh Bryant. She even dated Prince, although she didn't know it at the time, as she hilariously explained on "The Tonight Show With Jimmy Fallon." For years, the famous soprano called herself a "runaway bride." "When [the Julia Roberts film] came out, my brother said, 'Oh, they've made a movie about your life!' and I was like, 'Thanks,'" the singer joked with HelloGiggles. To her, following through with a marriage never felt right. "[Marriage] hasn't been what's defined me or driven me," she told Kelly Clarkson, also speaking about her decision not to have kids. 
Before officially saying "I do," Chenoweth faced a constant stream of questions from her more traditional family members, many of whom expected her to end up behind a white picket fence. On holidays, she was relegated to the kids' table. More recently, however, Chenoweth says she's noticed a cultural shift. "Women are starting to understand that we don't have to rely on a partner — or a man, in my case — for a name or money or status," she shared. Given her decades of success in the entertainment industry, it's clear the "Wicked" star didn't need a husband to achieve her goals. All she needed was her voice.