RHONYC Star Ubah Hassan Has Familial Ties To An Iconic Housewife
"The Real Housewives Of New York City " season 14 cast member Ubah Hassan seems to be settling into her role quite nicely. Fans of the original series and reboot have gotten a chance to learn about her hot sauce line, Ubah Hot, and her illustrious modeling career, which has seen her on the cover of Red Magazine and in campaigns for Gucci, Ralph Lauren, and more. She has also received some helpful advice from "Real Housewives of Dubai" star Chanel Ayan, who happens to be her cousin.
While Ayan films across the world, the model offered her loved one some words of wisdom regarding her fellow Housewives and how to handle the drama that plays out on camera. The ladies haven't shared much regarding their relationship, such as whether or not they were tight growing up. However, they seem close now, posting several Instagram selfies in October 2022, with Ubah calling Ayan "The most supportive kindest human being."
Real Housewives of Dubai housewife Chanel Ayan is Ubah Hassan's cousin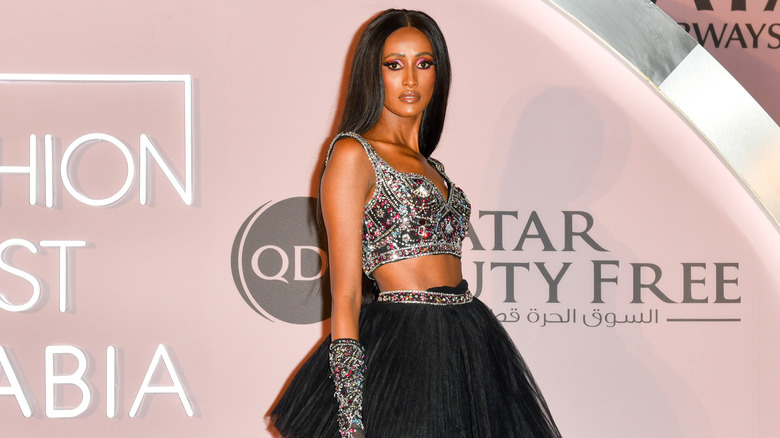 David M. Benett/Getty Images
"Real Housewives of New York City" star Ubah Hassan has been open about her upbringing. After fleeing Somalia, Hassan, her brother, and her father ended up in Kenya, while her mother and sister moved to Ethiopia. The family was eventually reunited in Canada years later. While her family experienced devastating separation over the years, at some point, she reconnected with her cousin, Chanel Ayan. Hassan has not elaborated much on the family tree, but she revealed to Andy Cohen that they were related on her maternal side during "Watch What Happens Live" immediately after the premiere of season 14.
Ayan was also tuned in during the show's premiere. She tweeted one of their gorgeous selfies on her platform and praised Hassan on her "Housewives" debut, also confirming that the two were indeed related. "A star was born tonight. Her name is Ubah Hassan, my cousin. She is smart, funny, successful, beautiful," Ayan lovingly wrote.
Chanel Ayan advised Ubah Hassan not to get too involved in drama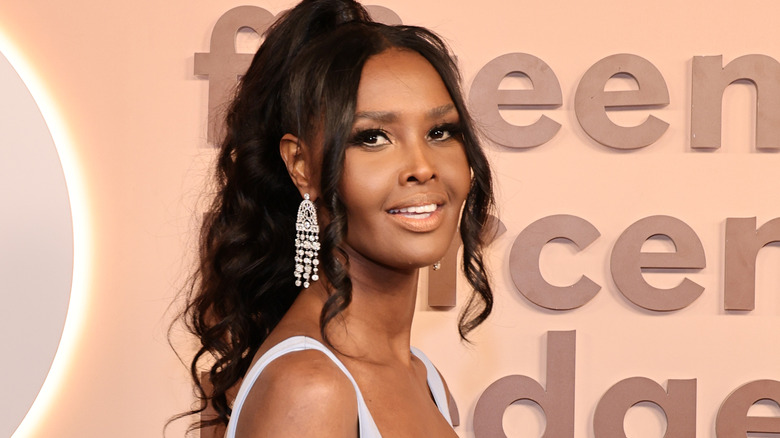 Jamie Mccarthy/Getty Images
"Real Housewives Of New York City" star Ubah Hassan is bringing her fair share of drama to the series' reboot. Fans have seen her beef with Erin Lichy brewing, but Hassan has admitted that her cousin, Chanel Ayan, advised her against getting too involved in the TV beef. Hassan told Page Six in October 2022, "Chanel just said to have entertainment, drama. But nothing ill-intended because we are all human, and we are all women. Make it fun, but don't go below the belt." She reiterated this advice in a July 2023 chat with People, stating, "She just said, 'No below the belt, you're a woman, but don't be a doormat. You know who you are.'"
Being that the cousins are on two separate franchises, fans shouldn't expect any crossover moments, at least not yet. However, hopefully viewers can learn more about their familial bond as Hassan's storyline progresses. Though both are Somalian, Hassan was born in their ancestral country while Ayan was born and raised in Kenya. Nevertheless, it is obvious the cousins share a lot in common because of their extensive involvement in fashion, entertainment, and now their shared reality TV franchise.