What Joe Jonas & Tiger Woods' High-Profile Divorces Have In Common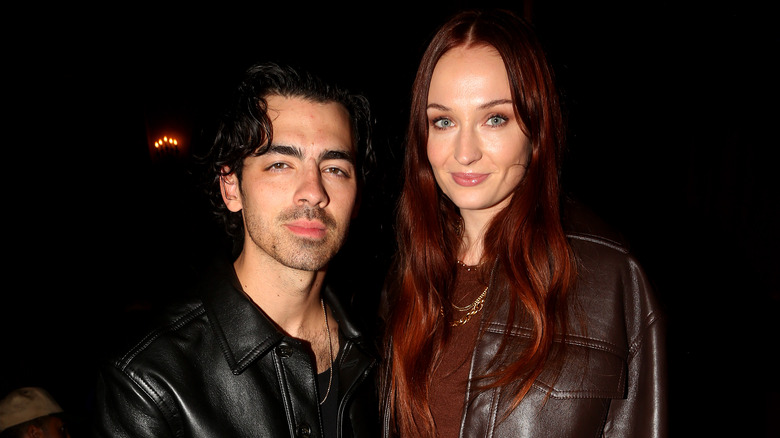 Bruce Glikas/Getty Images
From Taylor Swift and Joe Alwyn to Sofía Vergara and Joe Manganiello, no couple is safe — it's been the year of celebrity breakups. As of September 2023, Joe Jonas and Sophie Turner have also joined the broken hearts club. "After four wonderful years of marriage we have mutually decided to amicably end our marriage," the couple announced on Instagram. "There are many speculative narratives as to why but, truly this is a united decision and we sincerely hope that everyone can respect our wishes for privacy for us and our children." Reportedly, Jonas is seeking joint custody of their two daughters, per AP News.
As for the "speculative narratives" in question, one source told TMZ that Sophie Turner likes to party, leaving Joe Jonas at home to watch the kids "pretty much all of the time." But given that the "Game of Thrones" actor is a self-proclaimed homebody, as she explained on "Conan at Home," this is a pretty unexpected take.
Regardless, the A-listers had been dealing with "serious problems" for months according to TMZ, and Jonas was spotted without his wedding ring in the lead-up. In August, they put their $15 million Miami home up for sale, a hint at what was to come. Given the money and status involved, this high-profile divorce is sure to be complicated. It's no surprise that Joe Jonas has hired one of the best lawyers in the business: Tom Sasser, the same attorney who worked with Tiger Woods on his divorce over a decade ago. 
Joe Jonas and Tiger Woods share the same lawyer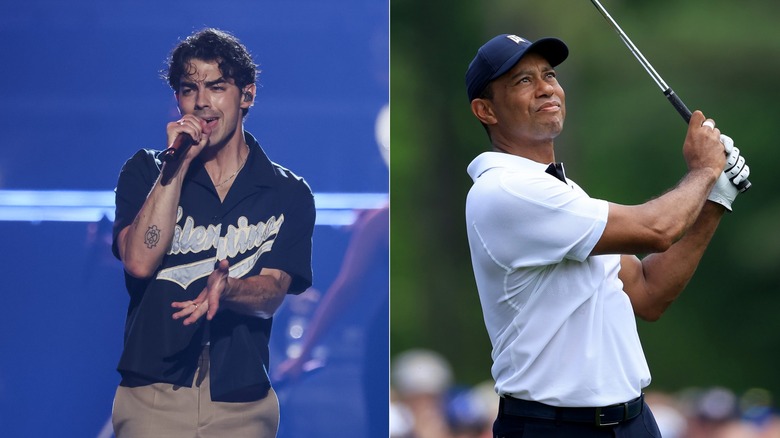 David Cannon/Getty & Scott Legato/Getty Images
Tom Sasser is an attorney and managing partner at Sasser, Cestero & Sasser, P.A., a Florida-based firm. Over the years, he's represented a long list of high-profile clients, including NASCAR executive Jeff Gordon and (allegedly) Gisele Bündchen. In 2010, he worked with Tiger Woods amidst his cheating scandals and consequential split from Elin Nordegren. She was awarded a staggering $750 million, promising to keep quiet about their relationship in return (via Fox News).
Perhaps most importantly, Sasser respects his client's privacy. "One of the reasons he gets those high-profile divorces is the exact reason you had to call me to learn about him," one of his colleagues told The Palm Beach Post, adding, "He won't give the press a quote; he doesn't talk about his clients, and he doesn't talk about his cases." As divorce proceedings between Jonas and Turner continue, don't count on inside information. "If I were a celebrity, I would want to go to someone who did not trade on my celebrity," said Magistrate Diane Kirigin.
Considering the Jonas brother and the "Game of Thrones" star signed a prenup when they tied the knot in 2019, they'll both be able to keep their individual assets. Thankfully, this will mean a lot less work for Tom Sasser.
Children are involved in both divorces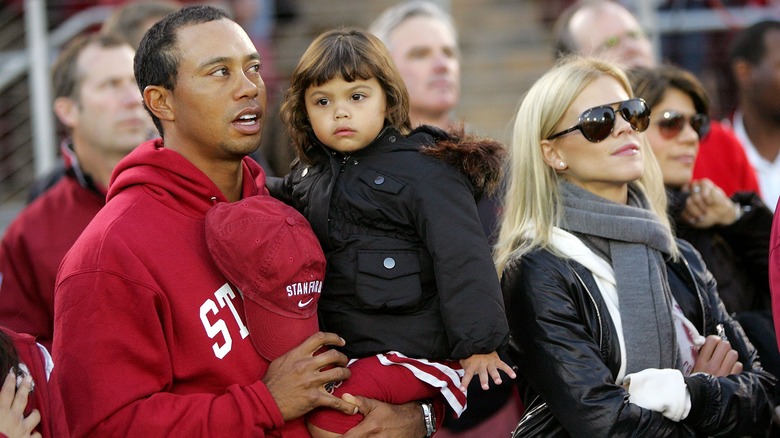 Ezra Shaw/Getty Images
Another thing Joe Jonas and Tiger Woods have in common? They both committed to co-parenting with their exes. In the decade-plus since their separation, Woods' relationship with Elin Nordegren has revolved around making sure their kids are happy. "Everything that happened in the past is in the past. They both decided to be adults and to do what was best for the kids," an insider told People. Hopefully, this will also be the case for Jonas and Turner years down the road. For now, their divorce filing points to a "timesharing schedule providing for frequent and continuing contact with both parties," (via People).
"Divorce was a last resort for Joe. He never wanted to break up his family, but he had to take what he felt was the best course of action for his girls," an anonymous source revealed to Page Six. Amidst the drama, Jonas' PR team has clearly been working overtime (Tiger Woods' management did the same thing years before). "Sophie is getting the absolute villain edit out of this," Voyer Media reported on TikTok. "My only guess is that Sophie's team has something worse on Joe so they're trying to discredit her story by putting out this first," speculated @michelletok in another video.