What The Cast Of Cruel Intentions Is Doing Today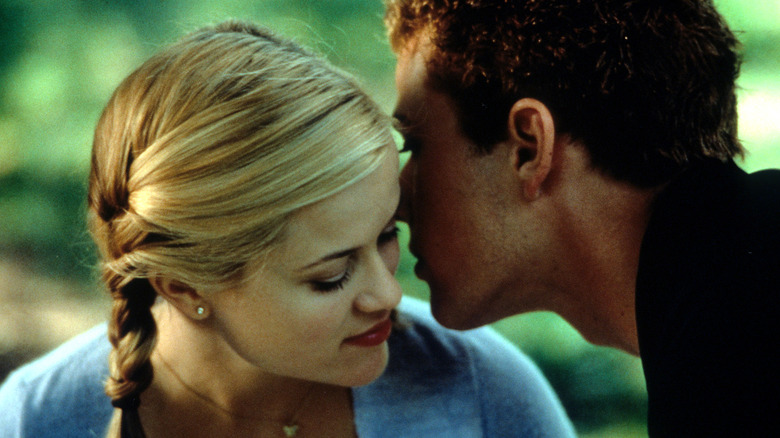 Columbia Pictures/Getty Images
Few movies encapsulate the late '90s zeitgeist as perfectly as "Cruel Intentions." Based on Pierre Choderlos de Laclos' book "Les Liaisons Dangereuses" ("Dangerous Liaisons"), but with the French aristocrats replaced by snooty prep school kids, the 1999 teen classic has it all: shady fashionistas, a pre "Big Little Lies" Reese Witherspoon, and of course, a steamy same sex-kiss that was the talk of the town (as inexplicable as it may seem to Zillennials growing up in a more enlightened age).
"Cruel Intentions" focuses on the Machiavellian antics of scheming — and borderline incestuous — stepsiblings Kathryn and Sebastian, who make a pact to seduce the innocent, albeit spoiled, Cecile after she takes off with the former's beau. As with other, arguably problematic '90s teen movies such as "Clueless," the antiheroes of the narrative are exceedingly rich and privileged, impossibly good-looking, and effortlessly stylish to boot. As The Ringer argues, the film was instrumental in both shaping and seemingly culling the '90s teen movie landscape.
It's been nearly a quarter of a century since the film was released. In the decades that have followed, the veritable cast has gone on to experience varying levels of success, with some delving into business ventures and others swapping acting for activism. And, along the way, we have sadly lost some of the stars, too. So, make like Kathryn and don your power bustier and a sweet pair of shades as we uncover what the cast of "Cruel Intentions" is doing today.
Sarah Michelle Gellar returned to acting after a long hiatus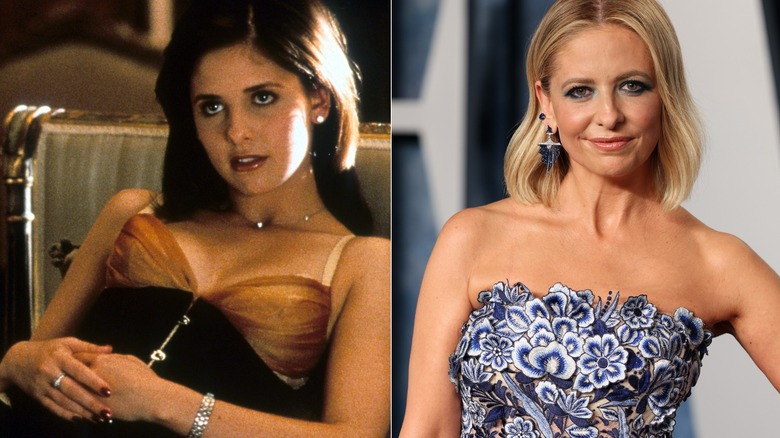 Columbia Pictures/Getty Images & Axelle/Bauer-Griffin/FilmMagic/Getty Images
Sarah Michelle Gellar played the conniving rich girl, Kathryn, famously donning a chic all-black wardrobe as reflective of her shady self. After "Cruel Intentions" and the success of "Buffy the Vampire Slayer," Gellar kept a low profile, stepping back from acting to focus on raising the two children she shares with husband Freddie Prinze Jr. But after a decade-long break from the big screen, she made a comeback with the film "Do Revenge" in 2022, itself a homage to her most famous cinematic role: Kathryn.
In 2023, she returned to TV after a 12-year hiatus, with "Wolf Pack." In an interview with Us Weekly, she revealed that she was deeply affected by the death of "The Crazy Ones" co-star Robin Williams in 2014, propelling her to step back. "I'd hit a wall. Robin had passed away... I just sort of needed to refocus for a little bit," she said.
Chatting to Vogue, Gellar explained it was during the pandemic when she realized she wanted to return to work, feeling that she'd spent more than enough time decompressing at home. Moreover, her daughter's own interest in acting spurred Gellar to return to her craft (though, unlike former child actor Gellar, the youngster has been forbidden from pursuing her showbiz dreams until she graduates from school). "When I did the cameo for 'Do Revenge' ... it was like, oh, wait, this is fun. I love the things that I do," she enthused.
Selma Blair is a disability rights advocate
As Cecile, the naïve bait of Kathryn and Sebastian, Selma Blair rose to fame. Since then, she has starred in innumerable TV and film productions, notably playing Charlie Sheen's therapist in "Anger Management" in 2012, though she was dismissed from the series when Sheen fired her via text and sent a string of abusive messages. She also played none other than Kardashian matriarch/momager Kris Jenner in Ryan Murphy's 2016 series "The People v. O. J. Simpson."
These days, Blair devotes much of her time to disability activism and has campaigned for greater disability awareness in the media. In 2018, she was diagnosed with multiple sclerosis and now uses mobility aids. Although she was diagnosed in her late 40s, Blair told Vogue that she had been living with painful M.S. symptoms for the majority of her life. However, she kept her symptoms a secret out of fear of losing work. "[When I quit acting] I spent my days in bed, crying ... I gave up almost until the diagnosis," she revealed. "I was always terrified I would be deemed incapable."
Rather, opening up about her illness brought Blair back into the limelight and enabled her to regain control of her narrative. In 2021, she released her documentary "Introducing, Selma Blair," which chronicles her daily life as a disabled person. The following year, she published her best-selling memoir, "Mean Baby." "I have hope for the industry. Times are changing," she added to Vogue.
Ryan Phillippe ventured into business
Famed for his pretty-boy good looks, Sebastian was the dastardly — and, admittedly, odious — cad of "Cruel Intentions." Not only is Sebastian intent on deflowering innocent young Annette, but he's keen on hooking up with his own stepsister. The '90s truly were, in the words of Paris Hilton, just beyond.
Following the success of the teen flick, Phillippe enjoyed a run of profitable projects. He was among the star-studded ensemble cast of 2004 Oscar-winner "Crash," depicting a cop with a conscience struggling with the aftermath of his racist police partner's criminal actions. He also played an arrogant rich kid (not unlike the duplicitous Sebastian) in "The Lincoln Lawyer" opposite Matthew McConaughey in 2011. Toward the end of the 2010s and into the 2020s, the work started to dry up for Phillippe, with the actor appearing in lower budget and poorly received fare such as "Summit Fever" (2022), which was unanimously panned by critics.
In an interview with The Guardian, he attributed his career downfall to bad publicity he received in the wake of his divorce from "Cruel Intentions" co-star Reese Witherspoon (he was accused of cheating), coupled with allegations of domestic violence from his ex Elsie Hewitt, which he denies. "I don't know what my value is now," he said. "And I don't care what my value is now." Acting may no longer be front and center for Phillippe, but he's keeping busy with business ventures, having invested in Beverly Hills restaurant The Hideaway in 2022.
Reese Witherspoon went on to enjoy Oscar-winning success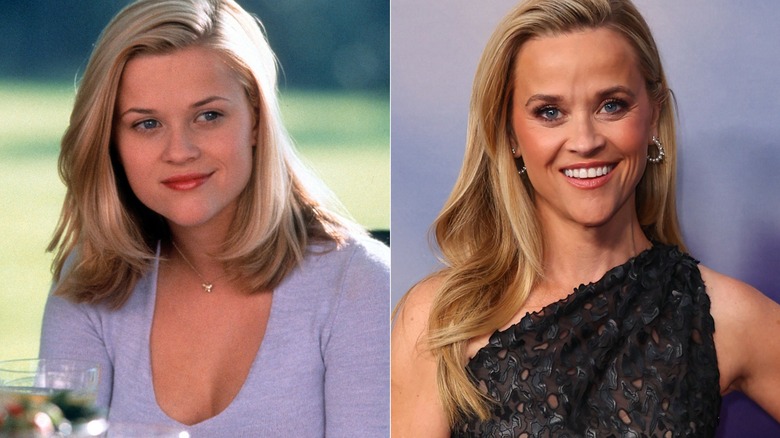 Columbia Pictures/Getty Images & Leon Bennett/Getty Images
Long before she was a household name and America's sweetheart, a baby-faced Reese Witherspoon depicted the headmaster's daughter Annette. Opposed to sex before marriage, a reluctant Annette was relentlessly pursued by ladies' man Sebastian in a plot that has arguably aged like milk.
Of all the "Cruel Intentions" stars, Witherspoon has enjoyed the most mainstream critical success. Two years after her role as Annette, she donned her best fuchsia garb to play the iconic Elle Woods in "Legally Blonde." Testament to her versatility, a newly brunette Witherspoon went on to portray June Carter Cash in "Walk the Line," a role for which she won the Best Actress Oscar in 2006. Nine years later, she was nominated for her second Best Actress Oscar for her performance as author Cheryl Strayed in "Wild," though she lost out to Julianne Moore.
Toward the end of the 2010s and into the new decade, Witherspoon drifted further away from the big screen and formed her own production company, Hello Sunshine, in 2016. The venture was vital for the star, who told Harper's Bazaar that she was compelled to "tell stories from a female perspective instead of from the male gaze" after being pressured into a sex scene when she was just 19. In 2017, she scored the lead in "Big Little Lies," which she produced. Currently, she can be seen in "The Morning Show," also produced by Witherspoon which was renewed for a fourth season in 2023.
Louise Fletcher passed away in 2022
Having played the infamous Nurse Ratched in 1975 Oscar-winner "One Flew Over the Cuckoo's Nest," taking on a role among the conniving scamps of "Cruel Intentions" was a seamless transition for Louise Fletcher. She played Sebastian's aunt, Helen Rosemond, who first introduces him to Annette, thus sowing the seeds for the Machiavellianism that follows.
Aside from her most famous role as the nasty nurse who torments Jack Nicholson, Fletcher's career stretched across six decades. After "Cruel Intentions," she appeared in a number of low-budget films such as "Cassadaga" (2011) and "A Perfect Man" (2013), opposite Liev Schreiber. On the small screen, she starred in the U.S. remake of "Shameless" from 2011 to 2012, playing Gallagher matriarch Peggy. Her final acting role was in the Netflix series "Girlboss" in 2017.
As revealed in a 2016 interview with The Independent, Fletcher spent her latter years living alone in an apartment in Los Angeles and passionately engaging in politics (in particular, she was an admirer of Barack Obama, himself a fan of "Cuckoo's Nest"). She also offered some advice to young actors looking to break out into the industry. "When young people ask me for advice, I tell them: 'Only become an actor if you absolutely have to, because it means eating rejection almost every day of your life ...' Once you learn how not to take that personally, you can survive it." After relocating to France, Fletcher died of natural causes in 2022, aged 88.
Joshua Jackson showcased serious acting chops in Dr. Death
Hot off the success of "Dawson's Creek," Joshua Jackson starred in "Cruel Intentions" as Sebastian's equally devious pal Blaine. Despite once being defined by his teen heartthrob status, which he hilariously parodied in the 2000 "The Simpsons" episode "Lisa the Tree Hugger," Jackson went on to find success as a serious TV actor.
From 2008 to 2013, he starred in the sci-fi series "Fringe" alongside Anna Torv, which saw him receive a Saturn Award nomination for Best Actor in 2013. In 2019, he appeared in the Netflix series "When They See Us." Based on the true story of the Central Park Five, a group of African-American children wrongly convicted of rape, Jackson portrayed defense attorney Mickey Joseph.
But it wasn't until 2021 that Jackson got to showcase his versatility as a performer. Harking back to his sinister depiction of Blaine, he took on the role of terrifying neurosurgeon Christopher Duntsch, who killed and permanently disabled 33 patients, in the Peacock true crime series "Dr. Death." Discussing the role with Vanity Fair, the Canadian actor took the opportunity to advocate for universal healthcare in the U.S., blaming Duntsch's ability to get away with his crimes on the for-profit healthcare system. "This is something that I learned on 'When They See Us' and, I think, applies to 'Dr. Death' as well: The justice system is not broken ... It's actually working exactly as it was designed to. That's the problem," he argued.
Eric Mabius is keeping busy on the Hallmark Channel
One aspect of "Cruel Intentions" that has aged badly (the manipulation of innocent schoolgirls aside) is the depiction of gay pupil Greg, played by Eric Mabius. Greg was blackmailed by Sebastian and his sexuality was played for laughs, with the closeted jock subjected to homophobic slurs, arguably a regrettable result of the rampant homophobia in the '90s.
After "Cruel Intentions," Mabius appeared on "The L Word" as Tim, the ill-fated Jenny Schecter's hapless boyfriend. He featured on the series intermittently between 2004 and 2009. Fans of "Ugly Betty" will also recognize him as privileged fashion editor Daniel, the frenemy of America Ferrera's titular heroine.
Mabius has also become a staple of the Hallmark Channel, appearing in the romantic dramedy "Signed, Sealed, Delivered" in 2013, as well as its numerous feature-length sequels. Chatting about the franchise to My Devotional Thoughts, Mabius revealed that he loves the element of lighthearted escapism that it offered him as an actor. "In a lot of ways, it's hard to understand why television like that isn't being made more, but I think it's also just a sign of the times," he mused. "The kind of escapism that people seem to want and what they're being fed — that's two different things ... I'm glad that I'm on the positive end of things." Away from Hallmark, in 2023 Mabius told Australia's Today Extra that he was keen to be a part of any "Cruel Intentions" reboots in the future.
Sean Patrick Thomas starred in Reasonable Doubt
Sean Patrick Thomas portrayed Ronald, Cecile's cello instructor and lover, who famously engaged in a heated fight with rival Sebastian. Following "Cruel Intentions," Thomas found success in the 2000s when he portrayed Derek in the teen classic "Save the Last Dance" (2001), opposite fellow aughts star Julia Stiles. The following year, he played Jimmy in "Barbershop," reprising the role in its two sequels, released in 2004 and 2016. Recently, he has appeared in critically acclaimed films such as "The Tragedy of Macbeth" (2021), one of the few solo projects from Joel Coen of the Coen Brothers, and "Till" (2022), in which he played the partner of the bereaved Mamie Till.
But Thomas is perhaps best known for his work on TV. In 2012, he teamed up with his "Cruel Intentions" co-star Sarah Michelle Gellar for the crime series "Ringer," playing Solomon, the bodyguard of Gellar's Bridget.
In 2022, he scored a main role as billionaire Brayden in the Hulu legal drama "Reasonable Doubt," which saw him reunite with his "Save the Last Dance" co-star Kerry Washington, who produced the series. "What attracted me to the role, obviously right off the bat, was the chance to work with Kerry again," he told People. "That's always been something that I was looking forward to all those years after 'Save The Last Dance.'" He added that he was keen to take on diverse roles that challenge stereotypes and tropes associated with Black men in America.
Christine Baranski has been putting up The Good Fight
Christine Baranski played Mrs. Caldwell, the racist mom of Cecile, who forbade her from dating a Black man. Baranski was so convincing as the odious matriarch that it actually led to her apologizing to co-star Sean Patrick Thomas when they worked together on "The Good Fight" decades later. "She was like, 'Oh my God, I am so sorry. That character was so vile. Oh my God,'" Thomas told Page Six. Of course, lauded character actor and avowed liberal Baranski is nothing like Mrs. Caldwell IRL, though she sure did a good job of convincing us otherwise.
Although she has appeared in hit films such as "Mamma Mia!" (2008) and "Into the Woods" (2014), Baranski remains most famous for her work on the small screen. Most notably, she starred in legal drama "The Good Wife" (2009-2016) as passionate women's rights advocate Diane Lockhart, reprising her role in the 2017 spinoff "The Good Fight," in which she was the lead.
Speaking to the Daily Beast following the latter series' finale in 2022, Baranski said that she was sad to be saying goodbye to Diane, but acknowledged that the series helped her realize what she truly wanted out of her career. "I may never do anything as good again, but I certainly won't compromise," she reflected. "I don't need to do anything that I'm not comfortable with at this point, or not proud of. Particularly in a world that is getting so dark."
Swoosie Kurtz played Mayim Bialik's mom in Call Me Kat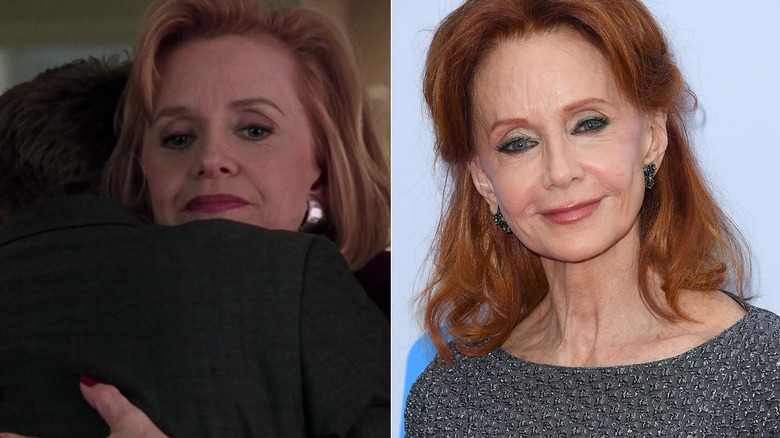 Columbia Pictures & Steve Granitz/Getty Images
Swoosie Kurtz played Dr. Greenbaum in "Cruel Intentions," Sebastian's therapist. Incidentally, Kurtz also featured in 1988's "Dangerous Liaisons," though she played Madame de Volanges, the character on which Christine Baranski's Mrs. Caldwell is based.
In the years since the flick's release, Kurtz has acted in other teen movie fare, such as "Get Over It" (2001) and "The Rules of Attraction" (2002). On the small screen, she made appearances in myriad acclaimed TV shows throughout the 2000s and 2010s, including "Huff," "Pushing Daisies," and "Grace and Frankie." These days, she's fully devoted to the sitcom format and was cast as Mayim Bialik's mom, Sheila, in "Call Me Kat," which ran from 2021 to 2023. The series, which is based on the British sitcom "Miranda," sees Kurtz play an overly critical mother who despairs at her single, 39-year-old daughter's decision to invest her money into opening a cat café.
In an interview with SciFi Vision, Kurtz explained that she favors the sitcom format as the pacing keeps her on her toes. "It's fun and scary as hell," she said, "but it's like, 'Okay, I think I got it ...' It's just I kind of just find the speed so challenging, but I love it. Like, 'Can I come up to this?' And then I feel very heroic when I actually do." Although the series received lackluster reviews, critics praised Kurtz's performance as the overbearing (and for Kat, unbearable) Sheila.
Tara Reid is making bank as a fashionista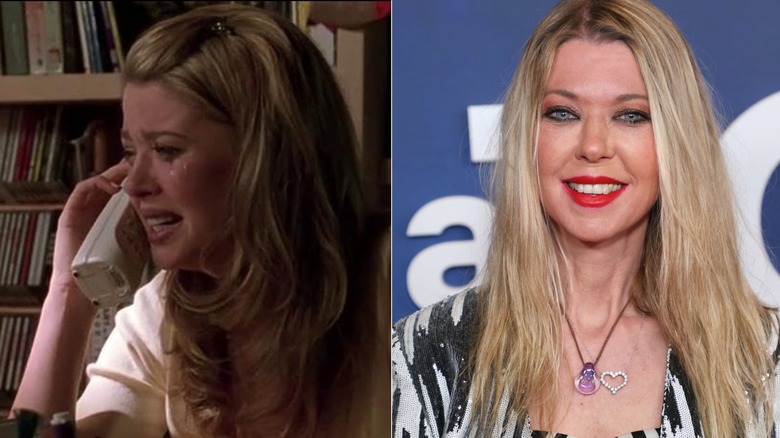 Columbia Pictures & Robin L Marshall/Getty Images
After appearing in the cult classic "The Big Lebowski" in 1998, Tara Reid had a brief role as Marci, Dr. Greenbaum's daughter, in "Cruel Intentions." That year, she went on to enjoy fame thanks to "American Pie" and its following sequels. She became a definitive Y2K it-girl, with fans adoring her myriad unique red carpet co-ords. 
However, this fame also led to the young star facing undue scrutiny from the press, leading to her ostracization from the industry. "It was pretty awful. And that's why I left," she told Mr. Warburton. Though Reid decided to leave Hollywood behind, she did make a comeback as a heroine in the "Sharknado" franchise, appearing in the first installment in 2013, and then in its spinoffs. 
But these days she isn't too fussed about her success as an actor and is focusing on other pursuits, mainly her lucrative side hustle as a fashion designer. In 2021, she collaborated with designer Michael Kuluva for a handbag collection. "Everything's falling in place now, and thank gosh," she told Elle. "It took a long time." The star reflected on her ill-treatment throughout the late '90s and early 2000s, partly attributing her successful second act to a more welcoming and inclusive climate in contrast to the rampant sexism present during her acting heyday. "Before it was cool to make fun of someone ... I think it's great to give a positive spin on everyone. People deserve that," she reflected.
Alaina Reed Hall left us too soon
Alaina Reed Hall had a fleeting role as a school nurse in "Cruel Intentions." The actor enjoyed a long and illustrious career, having first found fame as a regular on "Sesame Street," playing Olivia Robinson from 1976 to 1992, and then on the sitcom "227" in the '80s. She was also a Broadway veteran, starring in "Hair" and "Chicago" in the mid to late '70s.
After "Cruel Intentions," she appeared in a number of films, including the romantic drama "Chasing Sunsets" (2001), starring James Avery of "The Fresh Prince of Bel-Air" fame, and the romcom "I'm Through with White Girls" (2007) alongside "Star Trek: Enterprise" actor Anthony Montgomery. Her last onscreen appearance was in the short film "A-Date," also released in 2007.
Away from the cameras, Hall suffered considerable tragedy. Her husband, "Harry and the Hendersons" star Kevin Peter Hall, died of pneumonia in 1991, aged just 35. A year before her death, she remarried Tamim Amini and privately took the name Alaina Reed-Amini. Having been diagnosed with breast cancer in 2007, Hall retired from acting and died in 2009, aged 63. Following her death, her husband uploaded a YouTube video in which Hall paid tribute to him for caring for her throughout the illness. "I had no idea what I was going to have to go through," she tearfully said, "but I knew I didn't have to go alone because he told me from day one that he would never leave me."