How Sophie Turner Really Feels About Taylor Swift's Scathing Songs About Joe Jonas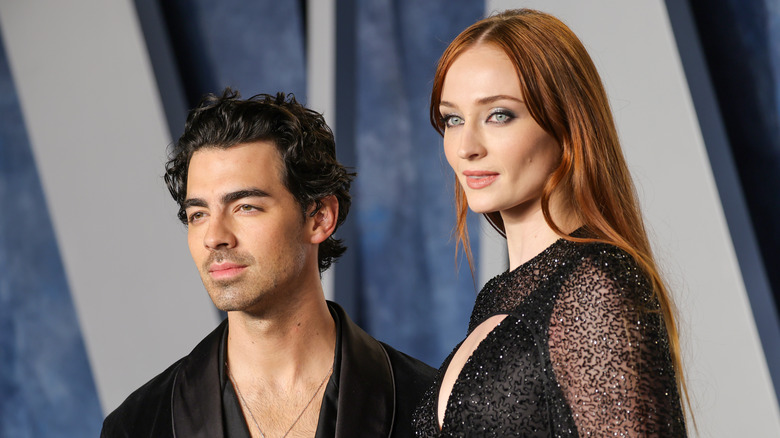 Amy Sussman/Getty Images
Contrary to popular belief, staying friends with your ex can strengthen your relationship instead of creating new problems. As long as your ex isn't a toxic person and you can mutually agree on healthy boundaries, you can make your deep understanding of each other turn into a platonic connection that helps you excel in new relationships. Although that may be rare today, it's not entirely impossible, and Taylor Swift is living proof of that. 
For instance, over the years, there have been several times when Swift and Taylor Lautner have shown us you can be besties with your ex. And Swift's friendship not only extends to her exes but to their partners as well. She's formed close friendships with Lautner's wife, Taylor Dome, as well as Sophie Turner and Joe Jonas. Swift and Jonas dated for a couple of months in 2008. He infamously ended things over a short phone call and started dating Camilla Belle shortly after. Swift wasn't too pleased, and she publicly called him out several times. 
Jonas released a MySpace statement insisting that he didn't cheat and claiming that Swift was the one who ended their infamous breakup call. As short as the relationship was, it left its mark. Swift has supposedly written several songs about the matter including "Forever & Always," "Mr. Perfectly Fine," and "Better Than Revenge." The Jonas Brothers have also released some searing songs about Swift. However, it seems all is behind them now because both Turner and Jonas have unequivocally supported Swift's music, including the songs she's written about Jonas. Turner even seems to have a favorite. 
Sophie Turner loves Taylor Swift's 'Mr. Perfectly Fine'
In April 2021, Taylor Swift released a re-recorded version of her second studio album, "Fearless," and with it came some tracks she left behind during the original release, including "Mr. Perfectly Fine." The song is a scathing pop anthem where she calls out Joe Jonas in several ways, pointing out how Jonas seems nonchalant after their breakup while she tries to rebuild herself. She also labels him a liar, overly calculative, cruel, and heartless. While some people might take offense to someone describing their partner this way, Jonas' wife, Sophie Turner, took it in her stride. 
Shortly after the song's release, she posted an Instagram Story featuring "Mr. Perfectly Fine," writing, "It's not NOT a bop." Swift later reposted the story writing, "Forever bending the knee to the [queen] of the north."When Turner joined the Jonas Brothers for their Yankee Stadium show, JoBro fans carried on the Swiftian tradition of exchanging friendship bracelets with her. She later posted a snap to show off her stash from the night, which included a "Mr. Perfectly Fine" bracelet and another one where fans could only catch "Joe is" but some speculated it read "Joe is a moth, referencing Swift's "Better Than Revenge."
When Jonas and Turner confirmed their divorce in September 2023, fans flooded Twitter with "Mr. Perfectly Fine" lyrics. That feels appropriate, especially since it seems like Turner is pretty obsessed with Swift's music. In a TikTok live, she shared that "1989" was one of her all-time favorite albums. She also Instagrammed her support for Swift's "Red" re-release.
Joe Jonas and Taylor Swift also support each other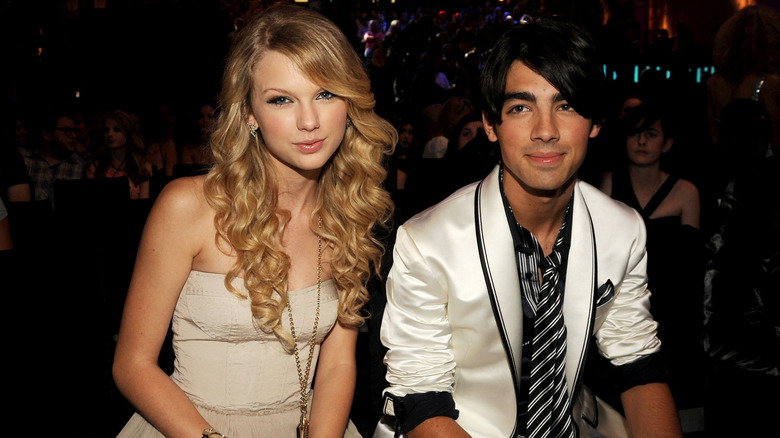 Jeff Kravitz/Getty Images
Taylor Swift and Joe Jonas seem to be on good terms since the early 2010s. In 2015, the "Blank Space" singer and her then-boyfriend Calvin Harris joined Gigi Hadid and Jonas for a double date, with Karlie Kloss also in attendance. When a 94.7 Fresh FM radio host asked Jonas if Swift's "We Are Never Ever Getting Back Together," was about him, he denied ever discussing rekindling his romance with Swift, adding, "That said, I think the song is great. Taylor does pop music really well and I'm happy for her." 
He also gushed about how amazing her concert was and urged everybody to experience it, per People. Shortly after their breakup, The Jonas Brothers released a song called "Much Better" that called out Swift with the lyrics, "Now I'm done with superstars / And all the tears on her guitar." But in a 2022 performance, he changed the lyrics to "Now I'm cool with superstars." And Swift liked a video of the performance that was captioned, "In their supportive exes era." Now that's progress.
Turner and Jonas also joined a group of Swift's closest friends to support the singer during her 2021 SNL appearance. In Swift's 2020 song "Invisible String," she wrote, "Cold was the steel of my axe to grind/ For the boys who broke my heart/ Now I send their babies presents," and fans were quick to notice that the lyrics could allude to Jonas and Turner's first child, Willa, who was born in the same year.