Donald Trump And Arnold Schwarzenegger Were Friends Years Before Their Infamous Feud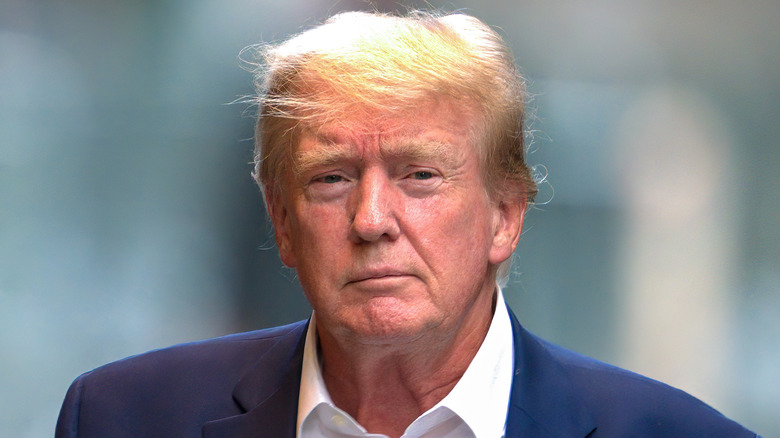 James Devaney/Getty Images
As pop culture behemoths turned high-profile politicians, former California Governor Arnold Schwarzenegger and former President Donald Trump have a lot in common — which could explain how the pair became friends years before their now-infamous feud. Long before the two celebs started zinging each other on Twitter, they seemed to be relatively amicable acquaintances and colleagues. 
In 2007, Schwarzenegger guest-starred on Trump's reality show, "The Apprentice: Los Angeles." That same year, Trump donated $10,000 to alleviate Schwarzenegger's gubernatorial campaign debts, though the governor denied a connection between Trump's financial gift and the body-building icon's TV appearance, per CTV News. In 2013, Trump posted a photo with Schwarzenegger at the WWE Hall of Fame to his Facebook page. 
Of course, besides the occasional TV or event appearance together, there is little evidence that Trump and Schwarzenegger shared a particularly close bond. Still, their friendship was far more harmonious in the early 2000s than it was following Trump's first presidential campaign in 2016.
Donald Trump and Arnold Schwarzenegger have been connected as early as 2004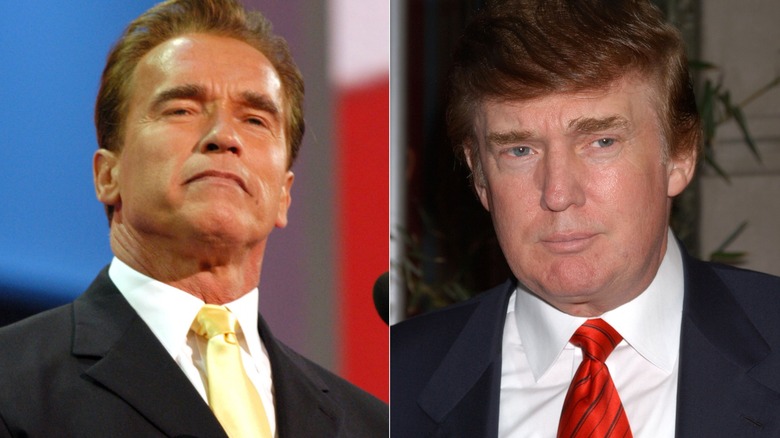 Robin Platzer/Getty & Carley Margolis/Getty Images
Though it's unclear when the two celebrities first formally met, Politico reported that Donald Trump and Arnold Schwarzenegger have known each other at least since the 2004 Republican National Convention when the "Terminator" star initially entered the political scene. Per Trump's request, Schwarzenegger moved his RNC lodging from the Mandarin Oriental Hotel to the nearby Trump Hotel. According to an unnamed Schwarzenegger aide, when the governor's then-wife, Maria Shriver, asked, "Why are we in this dump?" she was encouraged to ask Schwarzenegger. 
The aide also told Politico that during an RNC event that week, "Trump comes in, and Arnold just breaks his balls and starts ripping him for his hair. Donald just looks at him, and Arnold says, 'Tell me the truth. When it was sopping wet in the shower this morning, it fell all the way to the floor?'" Schwarzenegger's friendly razzing of the former president, the lofty political donations, and suspiciously timed TV appearances paint a picture of a comfortable bond between two larger-than-life personalities. 
This connection seemed further solidified when Schwarzenegger was named Trump's replacement on "Celebrity Apprentice" in 2015 ahead of Trump's first presidential campaign. However, Schwarzenegger's short-lived tenure on "Celebrity Apprentice" — and Trump's election to the presidency — proved to be a turning point in the pair's relationship.
The celebrities started throwing shots following Trump's presidential campaign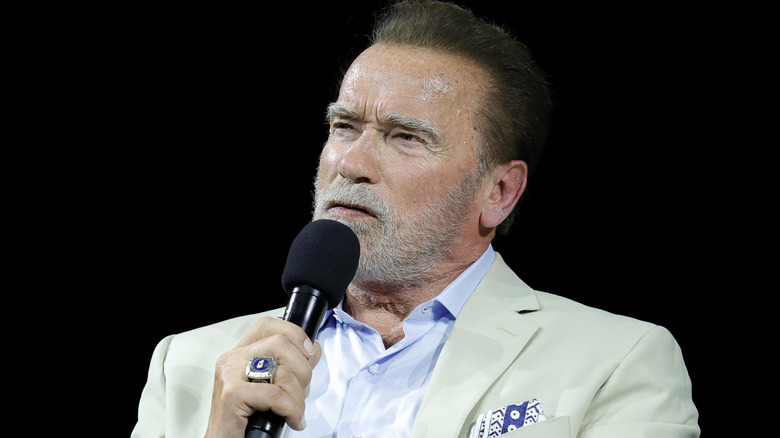 Stefanie Keenan/Getty Images
Former Governor Arnold Schwarzenegger tweeted ahead of the 2016 election that "for the first time since I became a citizen in 1983, I will not vote for the Republican candidate for President [Donald Trump]." Schwarzenegger's refusal to endorse Trump marked the beginning of the end of the pair's friendship, and the Twitter bickering didn't stop there. Trump fired his own shots on Twitter following the season premiere of "The New Celebrity Apprentice" starring Schwarzenegger.
"Wow, the ratings are in, and Arnold Schwarzenegger got "swamped" (or destroyed) by comparison to the ratings machine. So much for being a movie star — and that was season 1 compared to season 14. Now compare him to my season 1. But who cares, he supported [Republican presidential candidate and former Governor of Ohio John] Kasich and [Democratic presidential candidate] Hillary [Clinton]," the former President wrote in a statement broken up between two tweets.
After fighting the urge to "just smash [Trump's] face into the table" (as he said in an interview with Men's Journal), Schwarzenegger chose a more political approach, choosing solely to criticize and challenge Trump's efficacy as president. In an Instagram video following violence at the Capitol on January 6, 2021, the "Conan the Barbarian" star called Trump "the worst president ever." Indeed, it appears whatever amicability Trump and Schwarzenegger once shared is no longer.