What's Come Out About The Queen Since Her Death One Year Ago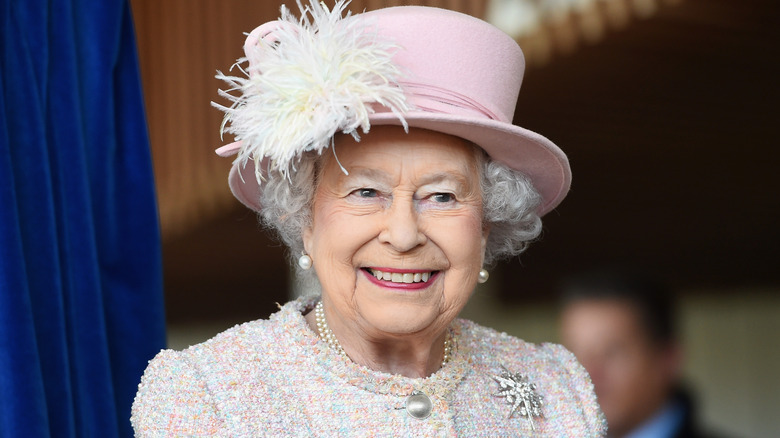 Stuart C. Wilson/Getty Images
It is hard to believe that it has already been a year since Queen Elizabeth II, the longest-reigning monarch of the United Kingdom, passed away. And yet, so much has changed in her realm and in her family since her death that it's hard to believe. Her eldest son, King Charles III, ascended the throne and took part in an impressive coronation ceremony in May 2023, the likes of which had not been seen since the queen's own coronation 70 years prior.
Prince William and Kate Middleton were made Prince and Princess of Wales, titles formerly held by William's parents, Charles and Diana. Camilla went from being the Duchess of Cornwall to being Queen Camilla; Prince Harry released his bombshell memoir "Spare" and his hit Netflix docuseries "Harry and Meghan"; and Sarah Ferguson, Duchess of York, bravely made it public knowledge that she was battling breast cancer. 
It's been quite a year for the royal family. But in the wake of The Queen's passing, the world has not stopped remembering her, mourning her, or discussing her. And through all of this discussion and remembrance have come multiple revelations that had been unknown to the public during Queen Elizabeth's life.     
The Queen's beautiful last words to Sarah Ferguson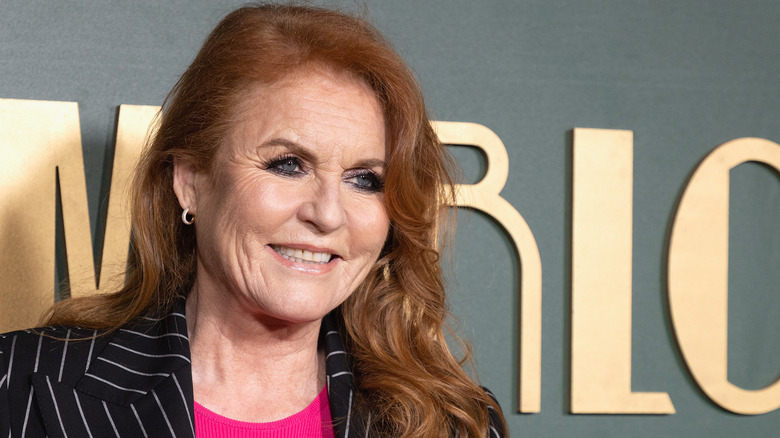 Jo Hale/Getty Images
Sarah Ferguson, Duchess of York, is the former wife of Prince Andrew. Over the course of her life in the public eye, she has dealt with her fair share of scandals, from her post-divorce dating life to her staunch support of her ex-husband even in the midst of his fall from grace. However, Queen Elizabeth II always made it clear to Fergie that her affection for her former daughter-in-law had not wavered. 
Before the queen passed away, she made sure to give Sarah Ferguson a loving and sage piece of advice. In early September 2023, just about a year after The Queen's heartbreaking death, Ferguson revealed on her "Tea Time with the Duchess and Sarah" podcast that the last thing Queen Elizabeth ever said to her was, simply, "Just be yourself, Sarah." She went on to say that this made it clear that the queen saw that Fergie had tried so often to be someone other than who she truly was in order to fit in and to please everyone. 
"And she saw it," Fergie said. "She just got so annoyed when I wasn't being myself. And that's probably when I got into all the pickles. But now I am myself, and I'm just so lucky to be able to be myself."
The Queen's reaction to Harry's request to marry Meghan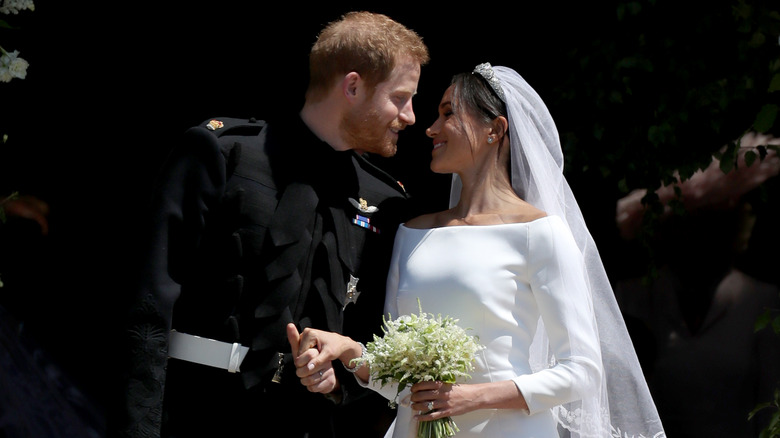 Wpa Pool/Getty Images
One thing the public was never aware of until recently was how the queen responded when Prince Harry asked her permission to marry Meghan Markle. In his book "Spare," which came out in January 2023, the Duke of Sussex revealed that in 2017, when wanted to propose to Meghan, both his own staff and Queen Elizabeth II's advised him that it was customary to ask the monarch's permission. 
He eventually broached the subject when his grandmother was relaxed during a family hunting trip to Sandringham. Harry said that he nervously approached his grandmother and said, "Granny, you know I love Meg very much, and I've decided that I would like to ask her to marry me, and I've been told that, er, that I have to ask your permission before I can propose.'"
"You have to?" Harry remembers the queen replying. 
"Well, yes, that's what your staff told me, and my staff as well. That I have to ask your permission," Harry recalls saying. "Well, then, I suppose I have to say yes," came the reply. Harry remembers being perplexed by her response, and then realized she had said "I have to say yes" because he had initially said "I have to ask." Upon realizing The Queen approved of the marriage, Harry recalls thinking, "She's saying yes, you muppet! She's granting permission. Who cares how she words it, just know when to take yes for an answer." 
The Queen's sadness at Harry's departure from royal life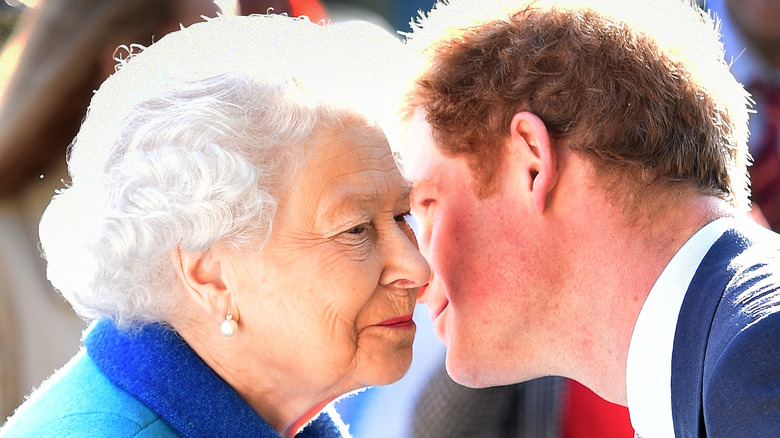 Wpa Pool/Getty Images
Perhaps one of the most shocking events concerning the royal family in the last years of Queen Elizabeth II's reign was when Prince Harry and Meghan Markle stepped down from royal duties and chose instead to raise their family in California, away from the British press and royal pressures. For a long time, people could only speculate how this move made the monarch feel, but in an interview with "Good Morning America" in January 2023, Prince Harry discussed this very issue openly. 
During the interview, Harry was asked whether his grandmother ever expressed negative feelings about his decision to step down to active royal duties. "No. My grandmother and I had a very good relationship. It was never a surprise to anybody, least of all her," Harry replied. He then went on to explain that the queen was all too familiar with the amount of scrutiny Harry and Meghan were facing on a daily basis and the effect it was having on them. "She knew what was going on, she knew how hard it was. She never said to me that she was angry. I think she was sad that it had got to that point," he added.
Whenever a family member has publicly discussed the queen since her death, the tone has been similar to that of Harry's during this interview — warm, somber, loving, and proud. It's clear the impression she made during her momentous reign will never be forgotten.