Meghan Markle Has A Lot More In Common With Kim Kardashian Than You Might Realize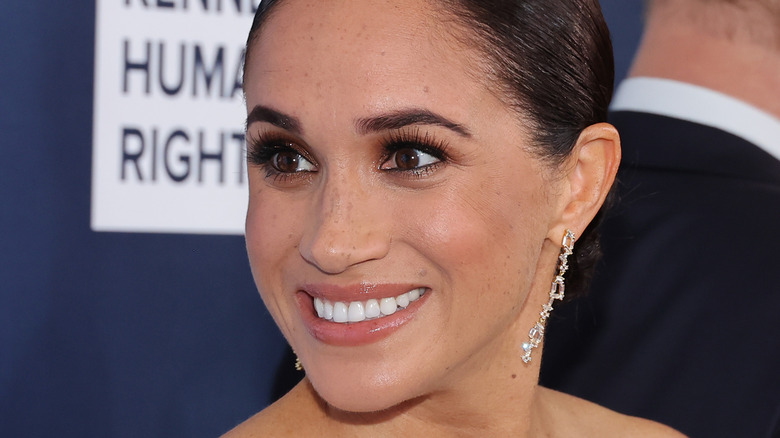 Mike Coppola/Getty Images
What does the Duchess of Sussex have in common with the world's most famous reality TV star? A lot more than you might realize. At a glance, Meghan Markle and Kim Kardashian may not seem that similar, but upon a closer look, the two women share many commonalities. While some of their similarities revolve around surface-level preferences for certain beauty products or style aesthetics, Meghan and Kim also share several deeper-rooted traits, such as their passion for social justice and their tight-knit relationships with their respective mothers.
Though the two women have never been directly linked, it's possible a friendship may be on the horizon. In August 2023, Kim Kardashian and Kris Jenner were spotted chatting with Meghan's mother, Doria Ragland, at This Is About Humanity's 5th-Anniversary Soiree, a philanthropic event in Los Angeles. The trio even smiled for a photograph together, and Kim couldn't have looked more charmed by Meghan's mom. Here's to hoping the happy meeting leads to a friendship between the SKIMS founder and the Duchess of Sussex — they certainly have enough in common, including a shared best friend who could serve as the link for a burgeoning relationship between the two.
Meghan Markle and Kim Kardashian are both vocal about political issues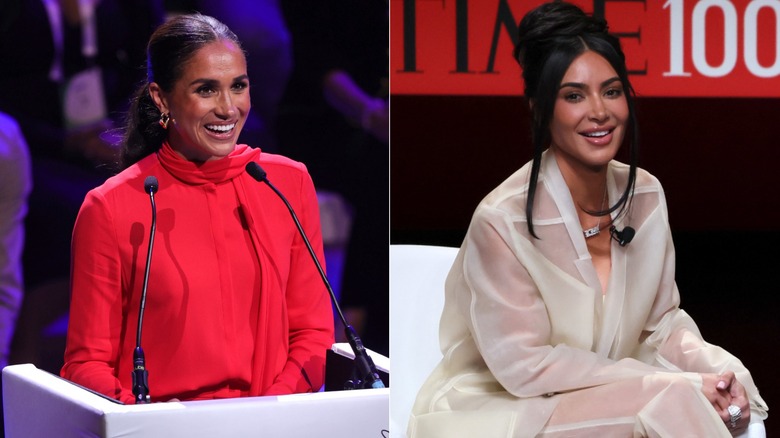 Chris Jackson/Getty Images & Jemal Countess/Getty Images
Meghan Markle and Kim Kardashian both use their platforms to advocate for social and political issues close to their hearts. Meghan has been involved with multiple philanthropic organizations throughout her life before marrying Prince Harry in 2018. After she became a member of the royal family, she spent much of her time touring and assisting charities around the world. Even after parting ways with the royal family in 2020, she and Harry created their own philanthropic agency, the Archewell Foundation, to continue supporting causes they believe in as private citizens, focusing on uplifting youth and women, supporting mental health, and expanding opportunities in technology and media for individuals with low-income backgrounds. 
Kim Kardashian has spent several years advocating for incarcerated individuals, going as far as working toward becoming a lawyer with the help of attorneys Jessica Jackson and Erin Haney. Though it took her four attempts to pass the Baby Bar exam, Kim met the 560 or higher score requirement in October 2021. In April 2023 at the TIME 100 summit, she revealed she plans to take the bar exam in February 2025. Though Kim is still progressing toward a career in law, she's been able to make quite an impact with her platform since beginning her studies in 2019. She famously helped dismiss Alice Marie Johnson's life sentence for a non-violent drug charge and continues to focus on advocating for criminal justice and prison reform.
Meghan Markle hired Kim Kardashian's former bodyguard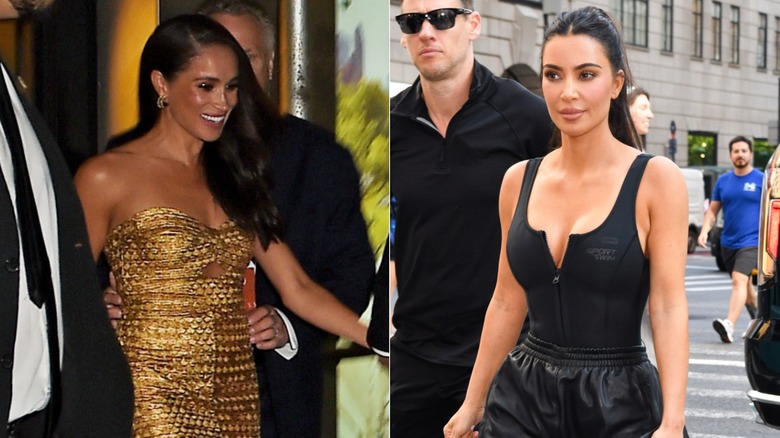 Mega/GC Images & James Devaney/Getty Images
In May 2023, Meghan Markle was spotted during a hike with a new bodyguard trailing her — a bodyguard who once worked for Kim Kardashian. According to The Sun, the protective services agent was part of Kim's security team in 2016 when she was infamously robbed of millions of dollars worth of jewelry during her stay at a Paris hotel. Though her team was blindsided by the robbery, which included Kim being tied up and held at gunpoint, the bodyguard remained on the SKIMS founder's security detail after the traumatic event. 
At some point in the years since, Kim and her bodyguard parted ways, but he's still protecting an extremely high-profile client — the Duchess of Sussex. The royal family rescinded all government-paid security for Meghan and Prince Harry after they decided to move to North America in 2020 in an attempt to get out from under the thumb of the British media. The lack of security support has been a massive source of contention between the estranged couple and senior members of the royal family in the years that have followed, with Harry speaking out about it in his and Meghan's joint interview with Oprah Winfrey and in their Netflix special "Harry and Meghan." The prince also wrote about it at length in his memoir "Spare," and even pursued the issue in court, which a judge ultimately dismissed in May 2023.
They previously shared a hairstylist and personal trainer
Andrew Toth/Getty Images & Manny Carabel/Getty Images
Bodyguards aren't the only industry professionals Meghan Markle and Kim Kardashian have shared over the years — the two celebrity women also had their tresses looked after by the same hairstylist and their exercise routines maintained by the same personal trainer. During the later part of Meghan's career as an actress in the legal drama "Suits," celebrity hairstylist Michael Silva was responsible for the duchess' chocolate-colored mane. Silva also worked with Kim for several years, most notably styling her locks in a sleek center-parted lob for the 2017 Met Gala. The celebrity stylist's star-studded client roster also includes Blake Lively, Heidi Klum, Zoë Kravitz, and many more.
Both Meghan and Kim also relied on celebrity personal trainer Tracy Anderson for fitness guidance during certain stages of their lives. While Meghan was acting in "Suits," she would follow 15-minute exercise videos by Anderson throughout the day, chunking out her fitness routine in bite-size increments to add up to a full workout by the end of the day. While the duchess relied on Anderson's help via video, Kim worked with the fitness trainer in person while she was pregnant with her eldest child, North West. In fact, Anderson not only helped the SKKN founder maintain her exercise routine while expecting, but she also assisted Kim with designing an at-home gym in the house she shared with then-husband Kanye West. Anderson has also worked with Gwyneth Paltrow, Jennifer Lopez, and Nicole Richie, among other prominent celebrities.
Meghan Markle and Kim Kardashian have a close friend in common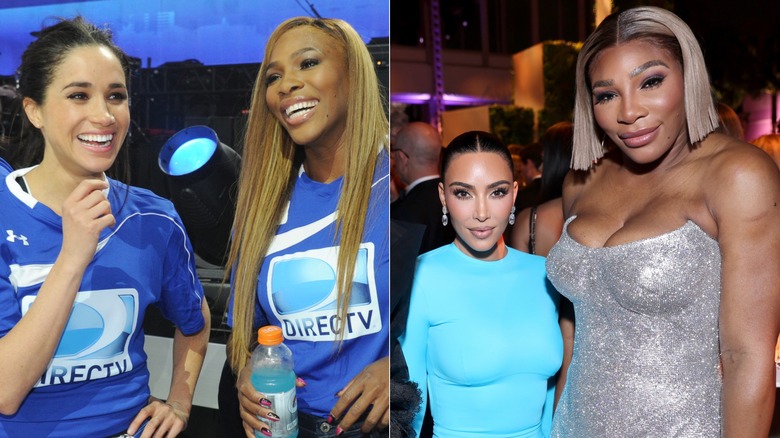 Kevin Mazur/Getty Images & Matt Winkelmeyer/vf22/Getty Images
The shared connections between Meghan Markle and Kim Kardashian don't stop at bodyguards, hairstylists, and personal trainers — the two globally famous women also share a very high-profile best friend. Years before she met Prince Harry, Meghan became close friends with tennis legend Serena Williams, and their friendship remained strong during Meghan and Harry's turbulent exit from the royal family. After the couple's interview with Oprah Winfrey, Williams made a public statement in solidarity with the duchess. "Meghan Markle, my selfless friend, lives her life — and leads by example — with empathy and compassion," the Grand Slam winner wrote and shared on Instagram (via Glamour). Williams added: "She teaches me every day what it means to be truly noble."
While Meghan and Serena Williams have been close friends going on a decade, the retired tennis pro and Kim Kardashian have been friends for double that amount of time. Similar to her relationship with Paris Hilton, "The Kardashians" star first met Williams when she was hired to organize the athlete's closet in the early 2000s. Though they've been labeled an "unlikely pair," the two women became fast friends, and they've maintained their bond in the decades since. In 2017, Kim lovingly reflected on the way Williams treats her friends during a conversation with Vogue. "Serena's the girl you can call and say anything to," she said. "She'll never judge you, and she's never too busy for you."
They've displayed a similar taste in fashion through the years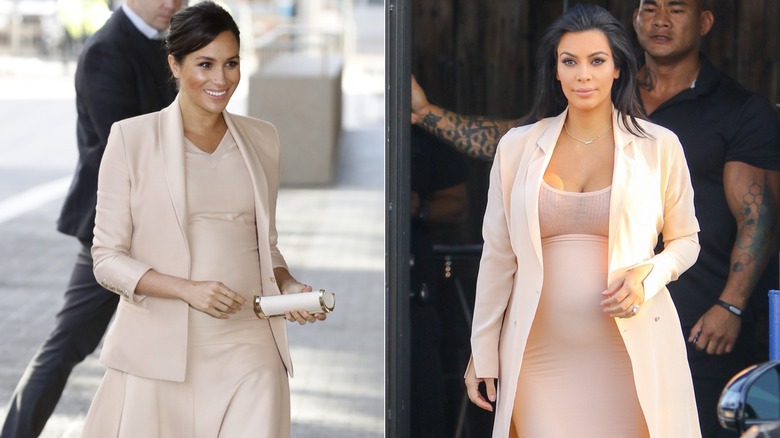 Bauer-griffin/Getty Images & Chris Jackson/Getty Images
Though Meghan Markle usually opts for more classic and demure looks than Kim Kardashian, both women have shown they have a similar taste in fashion throughout the years. Meghan and Kim both gravitate toward monochromatic ensembles, with one example being a similar nude maternity look each wore years apart. Ahead of the arrival of her eldest son, Saint West, Kim donned a curve-clinging blush pink maxi dress and a cream-colored, blazer-style duster jacket. A few years later when Meghan was pregnant with Prince Archie, she wore a similar outfit that was a bit more polished and professional, per fashion expectations for royal women. The duchess' look included a beige fit-and-flare dress with a modest V neckline and a tailored beige blazer with structured shoulders.
Similarly, both women were photographed in monochromatic ivory outfits that were undoubtedly alike. While pregnant, Meghan donned an off-white, knee-length turtleneck dress that loosely hugged her frame. She topped the dress with a matching duster jacket that had blazer-style lapels and the same hem length as her dress. Kim was spotted in a similar look, which included a cream-colored, knee-length ribbed turtleneck dress with an oversized oatmeal-colored coat overtop — and these are just two instances of many that exist. While the SKIMS founder definitely dabbles with more sexy and daring looks than Meghan, the two women seem to like the same style of clothing when it comes to more timeless and reserved looks.
Chrissy Teigen has publicly defended both women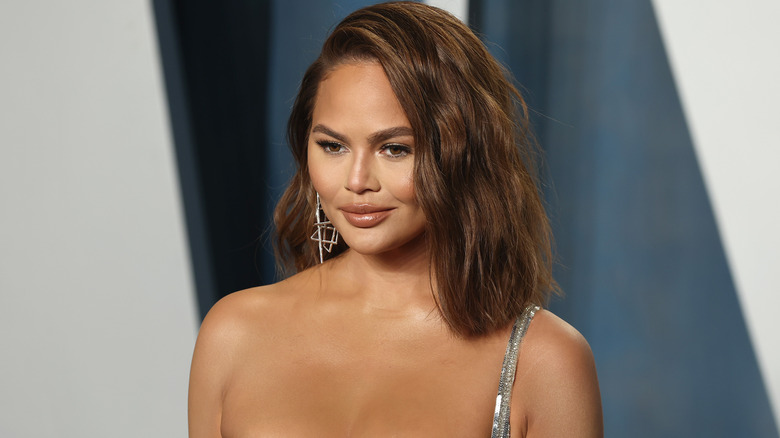 Arturo Holmes/Getty Images
Though Meghan Markle and Chrissy Teigen have never publicly disclosed a friendship, the two women have supported one another in recent years. After the former model and her husband John Legend suffered the loss of their third child, Jack, Teigen revealed Meghan had reached out to offer support, having experienced a miscarriage herself. "She had written [to] me about baby Jack and loss," Teigen told Andy Cohen during an appearance on "Watch What Happens Live." "She is really wonderful and so kind, and just as kind as everyone says she is." The duchess — pregnant with Princess Lilibet at the time — garnered support from the cookbook author ahead of her and Prince Harry's interview with Oprah Winfrey. Citing the contentious public atmosphere surrounding the couple, Teigen tweeted: "This meghan markle s*** is hitting too close to home for me. these people won't stop until she miscarries. f******* stop it." 
While Kim Kardashian and Chrissy Teigen have been close friends for years, the two women seemingly became estranged in the lead-up to Kim's divorce from Kanye West. Though she and Legend distanced themselves from West's controversial antics, Teigen shared words of support for the SKKN founder during her appearance on "Watch What Happens Live." The "Cravings" author opined to Cohen: "I know Kim gave her all for everything. It's honestly a shame that it didn't work out because I saw them being a forever relationship. I really did, but I know she tried her best."
A large part of their respective fortunes has come from media deals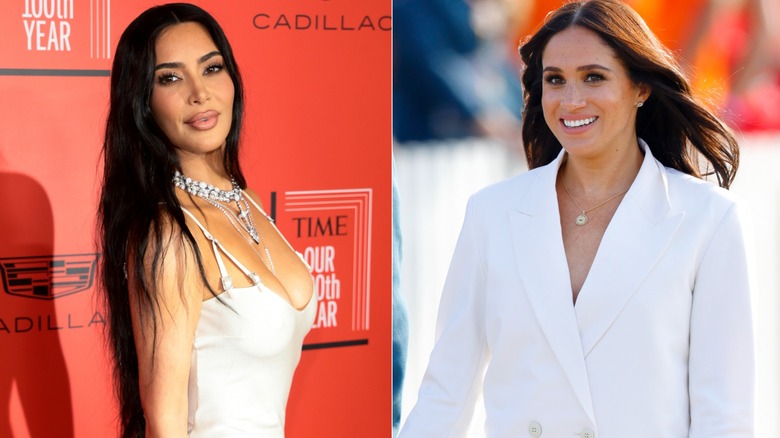 Dimitrios Kambouris/Getty Images & Max Mumby/indigo/Getty Images
Kim Kardashian skyrocketed to fame thanks to her family's hit reality TV show "Keeping Up With the Kardashians." Through the show, she reached global celebrity status, became known as a fashion and beauty icon, and gained the means to start several businesses including KKW Beauty, SKIMS, and SKKN. Though the original E! show came to an end in 2021, the Kardashian-Jenner women signed a deal with Hulu to continue documenting their lives with a new reality series titled "The Kardashians," which aired in 2022. Additionally, Kim is one of the most followed people on social media, ranking as the seventh most followed celebrity in the world on Instagram as of August 2023 (via Forbes India).
Meghan Markle also rose to fame through a career in television. Prior to her seven-year run as a cast member on "Suits," the duchess was a "Deal or No Deal" briefcase girl. Though she quit acting when she got engaged to Prince Harry, Meghan returned to her media roots after she and the duke parted ways with the royal family. The couple signed a deal with Netflix to bring a limited series about their life together, as well as a number of documentaries, to the streaming platform. The Sussexes also partnered with Spotify to bring Meghan's hit podcast "Archetypes" to life. They were meant to create other projects with the platform, but their partnership was nullified in June 2023.
They're both extremely close with their mothers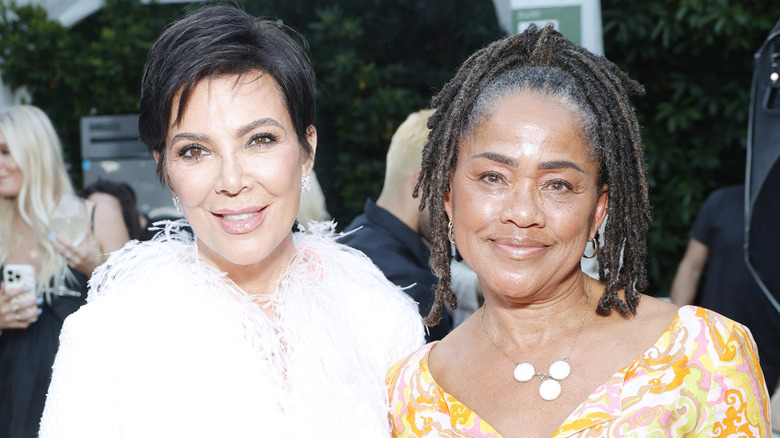 Stefanie Keenan/Getty Images
Both Meghan Markle and Kim Kardashian have tight bonds with their mothers. On numerous occasions, Meghan has addressed the close relationship she's shared with her mom Doria Ragland since she was a child. The duchess has credited her mom with fostering her passion for philanthropy, expressed gratitude for Ragland's steadfast support throughout her journey with Prince Harry, and revealed her mother nicknamed her "Flower" as a child, which she still calls Meghan to this day. "We can just have so much fun together, and yet, I'll still find so much solace in her support," Meghan wrote for Glamour of her relationship with Ragland. "That duality coexists the same way it would in a best friend."
Similarly, it's no secret that the Kardashian-Jenner family is extremely close-knit. Kim Kardashian and Kris Jenner have always had a special bond, with many of the businesswoman's fans — and other kids — calling Kim the favorite child. During a 2023 episode of "The Kardashians," the matriarch made a toast to the SKIMS founder, dubbing her "the leader of this family." Kim has also celebrated her mother's leadership many times throughout the years, including a heartfelt Instagram post shared on the maven's birthday in 2019. "You are the best mom in the entire world," Kim wrote. "Seriously my love and respect for you grows every single day seeing how you manage to take care of 6 kids, a million grand kids and make everyone feel so loved and special."
Meghan Markle and Kim Kardashian gravitate toward the same beauty products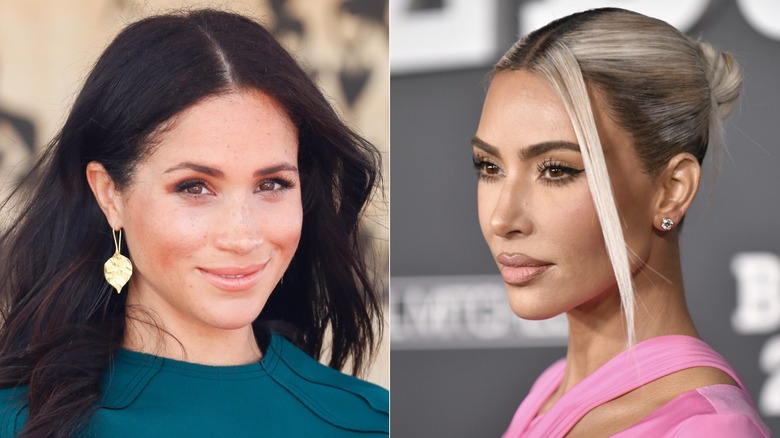 Chris Jackson/Getty Images & Rodin Eckenroth/Getty Images
Like their shared taste in fashion, Meghan Markle and Kim Kardashian also enjoy several of the same beauty products. In terms of skincare, the two both enjoy the Tatcha Rice Enzyme Powder. Meghan revealed her love for the exfoliation product during a 2014 conversation with Allure, heralding its gentle but effective properties. A few years later in 2019, celebrity makeup artist Mario Dedivanovic explained that the Tatcha exfoliator was a part of Kim's skin prep routine as well (via Elle).
Additionally, the two women have a favorite makeup product in common: the Armani Luminous Silk Foundation. Celebrity makeup artist Lydia F. Sellers explained to Refinery29 that she always used the Armani foundation on Meghan because it aligned with the former actress' beauty philosophy. "Every time I'd do her makeup, she'd say, 'Can we just make sure my freckles are peeking through? I don't want a ton of foundation.'" Sellers recalled. "It was more about the amount of product that went on her skin and keeping it really fresh and dewy, rather than caking it on." Kim made her love for the Armani product clear in 2015 when she was under the impression that it was being phased out from the beauty brand's product line-up. In a frenzy, the reality star tweeted: "Why did Georgio Armani discontinue my favorite foundation??? I'm on my last bottle & everyone I know uses this!!! Please make it again!"