Prince Harry Makes Unexpected Solo Trip To The Queen's Burial Site One Year After Her Death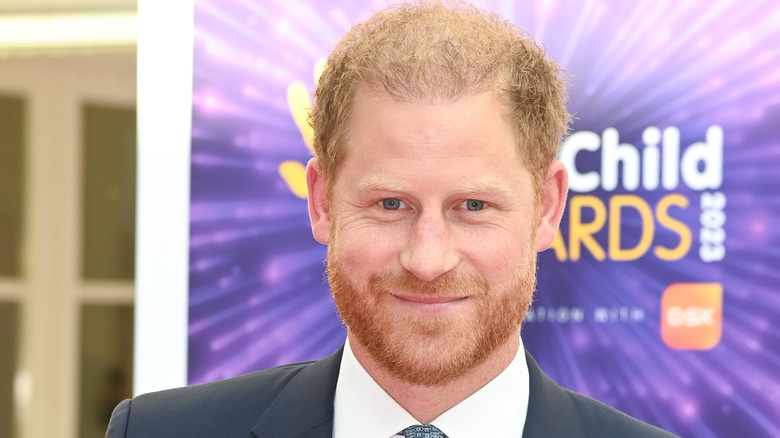 David M. Benett/Getty Images
It's said the late Queen Elizabeth would be devastated by the state of her family today. While her oldest son is rising to his new status as King Charles III, and grandson William, Prince of Wales, is already showing leadership potential, her younger grandson has all but severed his ties with the royals. Some experts believe the relationship between Prince Harry, Duke of Sussex, and his father and brother may never be salvaged in the wake of the duke's tell-alls. But despite the family rift, Harry didn't forget his grandmother on the first anniversary of her death.
According to The U.S. Sun and other sources, the prince was in London to participate in the WellChild Awards, which honor seriously ill children who inspire others despite their disabilities, as well as caregivers who keep them healthy and enrich their lives. From there, he was expected to go directly to Dusseldorf, Germany, where the Invictus Games will start on September 9. But to the media's surprise, Harry first made a stop at St. George's Chapel in Windsor, where the late Queen Elizabeth is interred. Page Six reports the prince was joined by his cousins Princesses Eugenie and Beatrice, but photographers caught Harry leaving the chapel.
Once again, an opportunity for a personal sit-down between Harry and Charles was missed, as the king and Queen Camilla are still in Balmoral for the royals' annual summer vacation. William and Catherine, Princess of Wales, were in Wales attending a memorial service at St. David's Cathedral.  
Harry and the queen were always close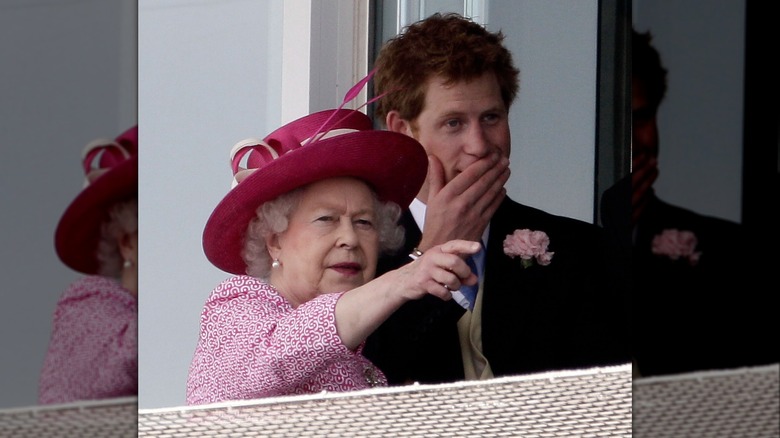 Matthew Lloyd/Getty Images
It would have seemed inconceivable that Prince Harry would completely ignore the first anniversary of Queen Elizabeth's death. Even in the midst of the drama with his family, Prince Harry's relationship with Queen Elizabeth was a loving one. Royal biographer Gyles Brandreth has said the queen was supportive of his marriage to Meghan Markle, Duchess of Sussex, and of his decision to pursue his own interests (per InStyle). Even after the infamous Oprah interview, when the palace was under pressure to respond to the Sussexes' accusations, it was Catherine, Princess of Wales, who reportedly insisted on the phrase "recollections may vary," per Marie Claire. Still, the queen wasn't afraid to put her foot down with Harry on occasion. People reports the queen made it clear to Harry and Meghan they couldn't step back from their royal duties and yet still expect to act on behalf of the family. This grandmotherly chiding didn't faze Harry, who thought so highly of his grandmother that he named his daughter after Elizabeth's childhood nickname. 
On September 7, Harry remembered the queen in his speech at the WellChild Awards, recalling that he wasn't able to attend the 2022 awards because of her death. "As you also probably know, she would have been the first person to insist I still come to be with you all instead of going to her," he said, per Hello!. "And that's precisely why I know, exactly one year on, she is looking down on all of us tonight."